Plastic Truck Toolboxes
Truck toolboxes are super handy to have mounted in the bed of your truck. Most of these boxes made for trucks are composed of either aluminum or stainless steel. These metal boxes are sturdy for sure, but can be a bit expensive. A plastic truck tool box is a perfect alternative, offering affordability and practicality. We've done extensive research to narrow down the various options available to just three top choices. Check out each review below!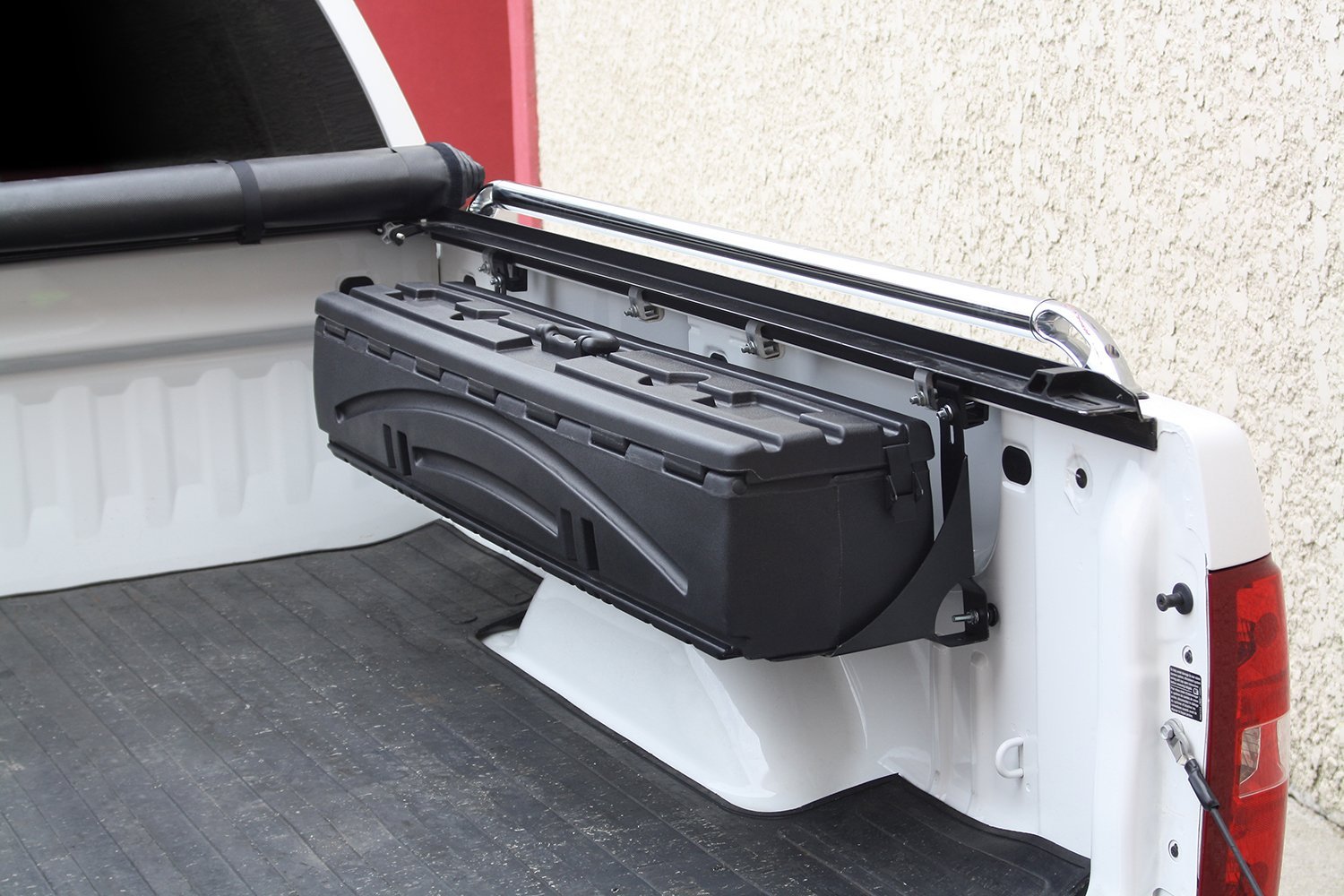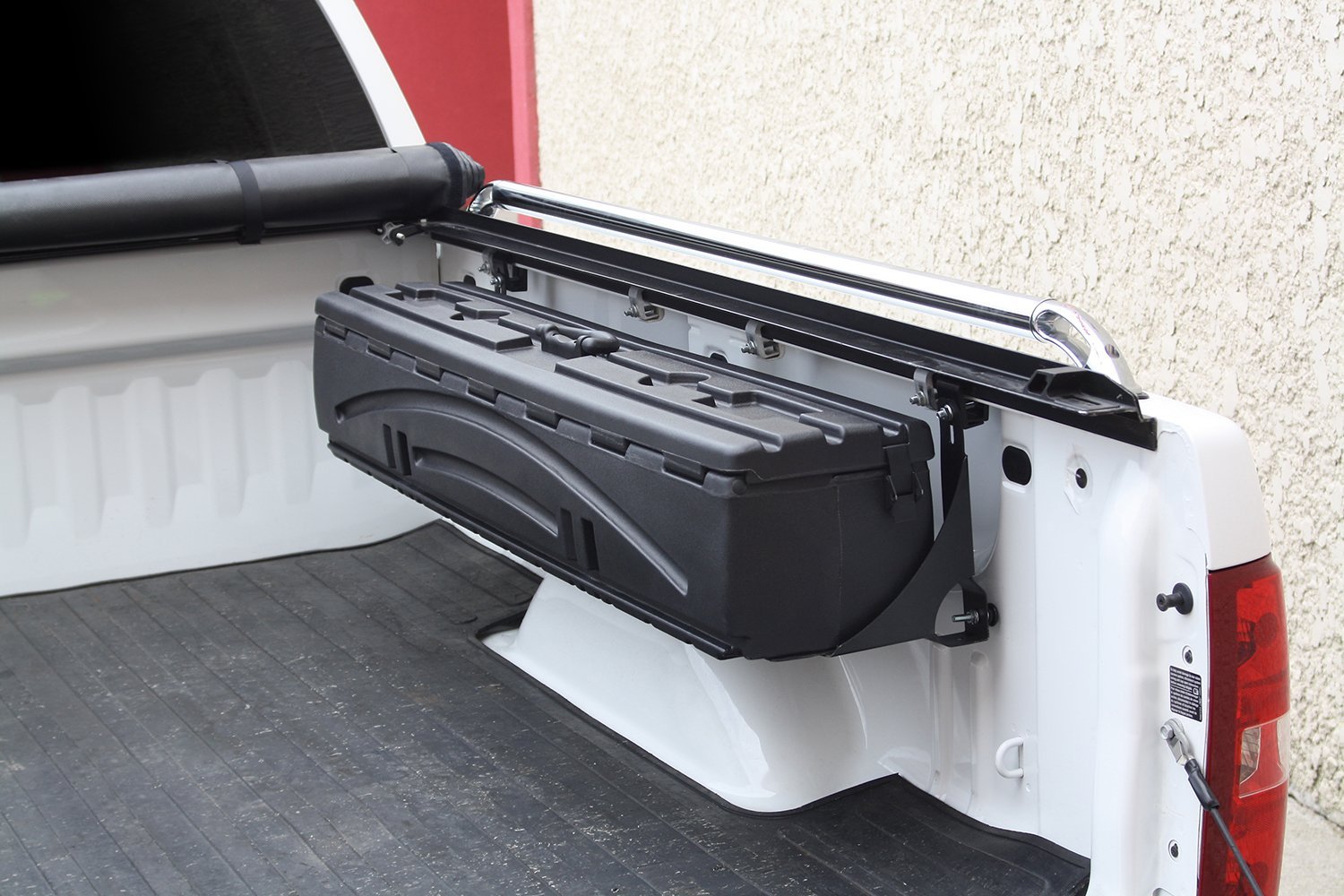 Quick Glance

– Sturdy plastic construction
– Compatible with tonneau covers, canopies
– Legal use as gun case
– Lockable
Style & Organization
The Du Ha Humpstor is a unique truck bed tool box. It is most similar to a classic side-mounted model, however it lies below your truck's bed rails, and above the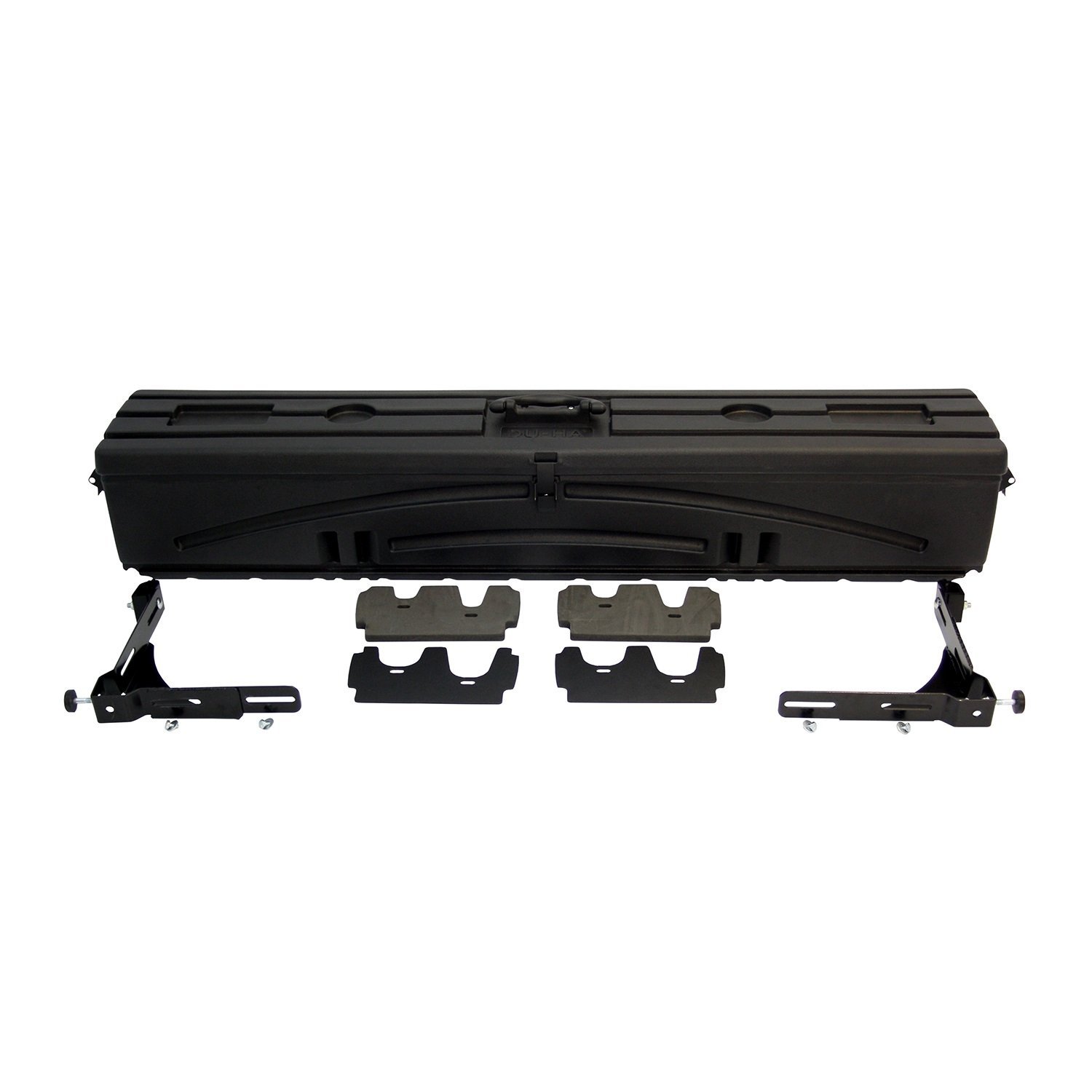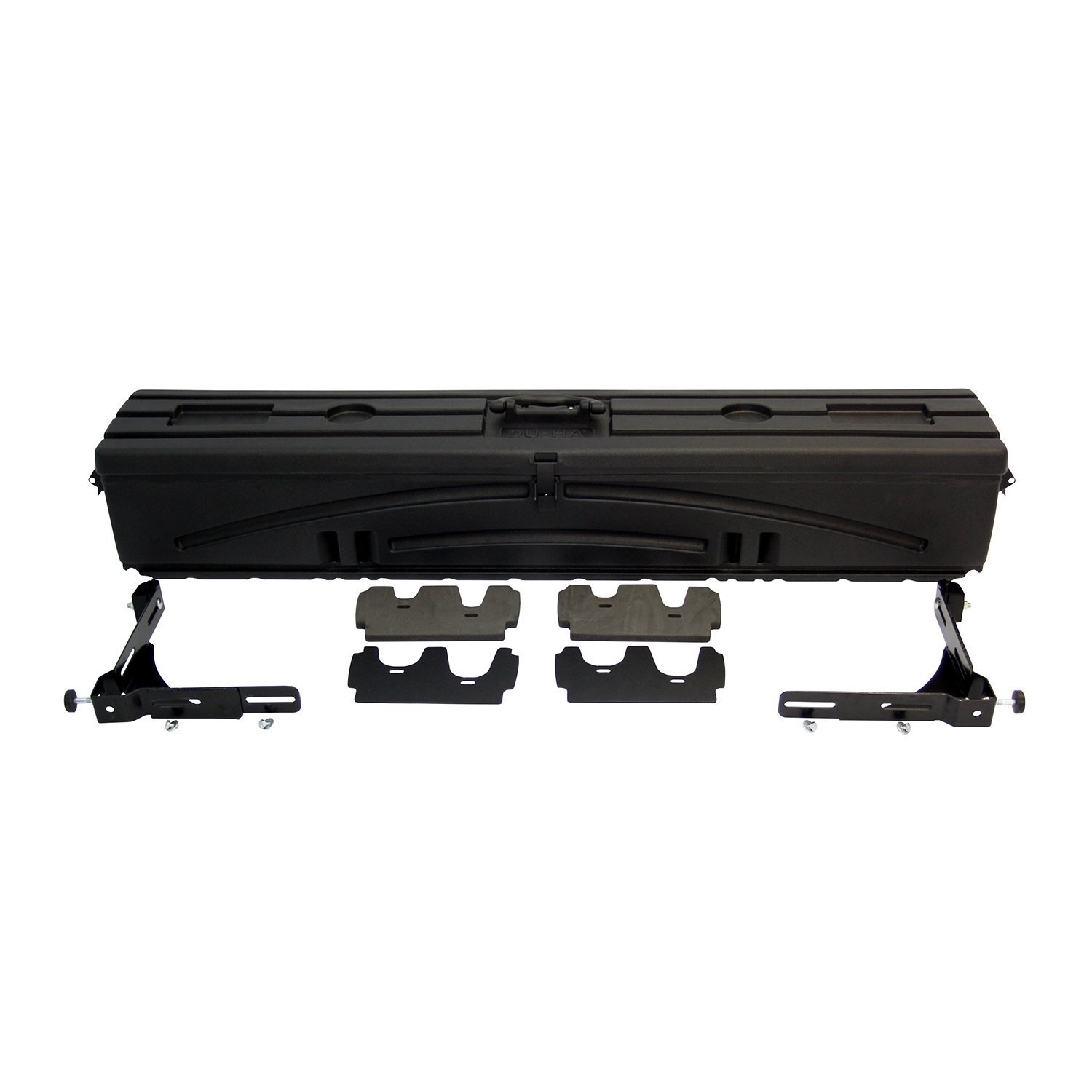 wheel wells. This makes the Du Ha a perfect option for use with a tonneau cover or canopy which both need to lie over your bed rails.
This plastic tool chest comes with 4 movable inner walls that can be used to create separated compartments for better organization. Or, it can be used as a single compartment for a legal gun case that can fit two shotguns, or one with rifle with a scope attached.
Materials & Measurements
The Du Ha plastic truck bed tool box is made of sturdy and solid heavy duty plastic. The plastic is thick-walled but lightweight and of superior grade. Two mounting brackets are included for installing. Installation is easy and takes just a few minutes, although may take longer to get it exactly at the height you want.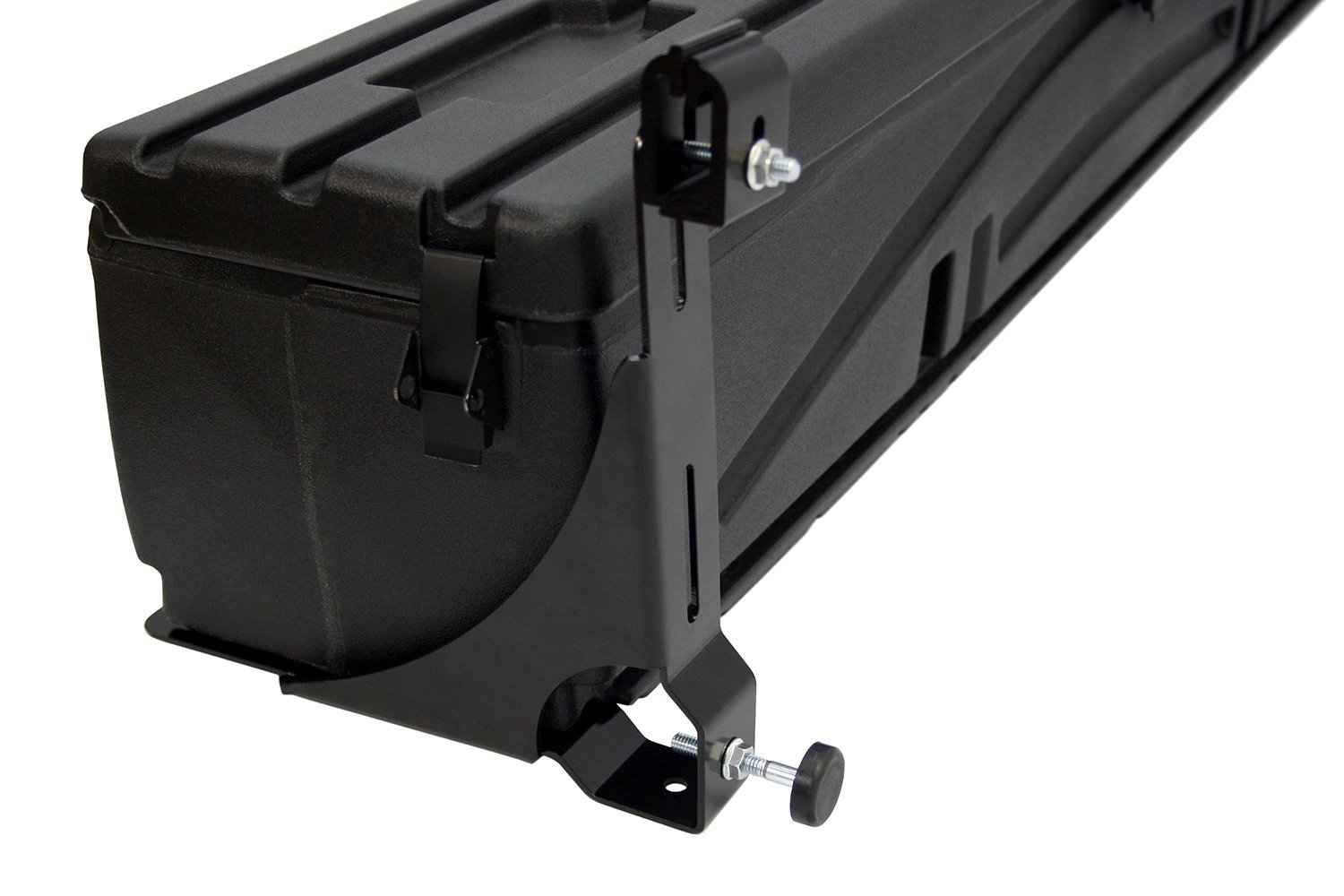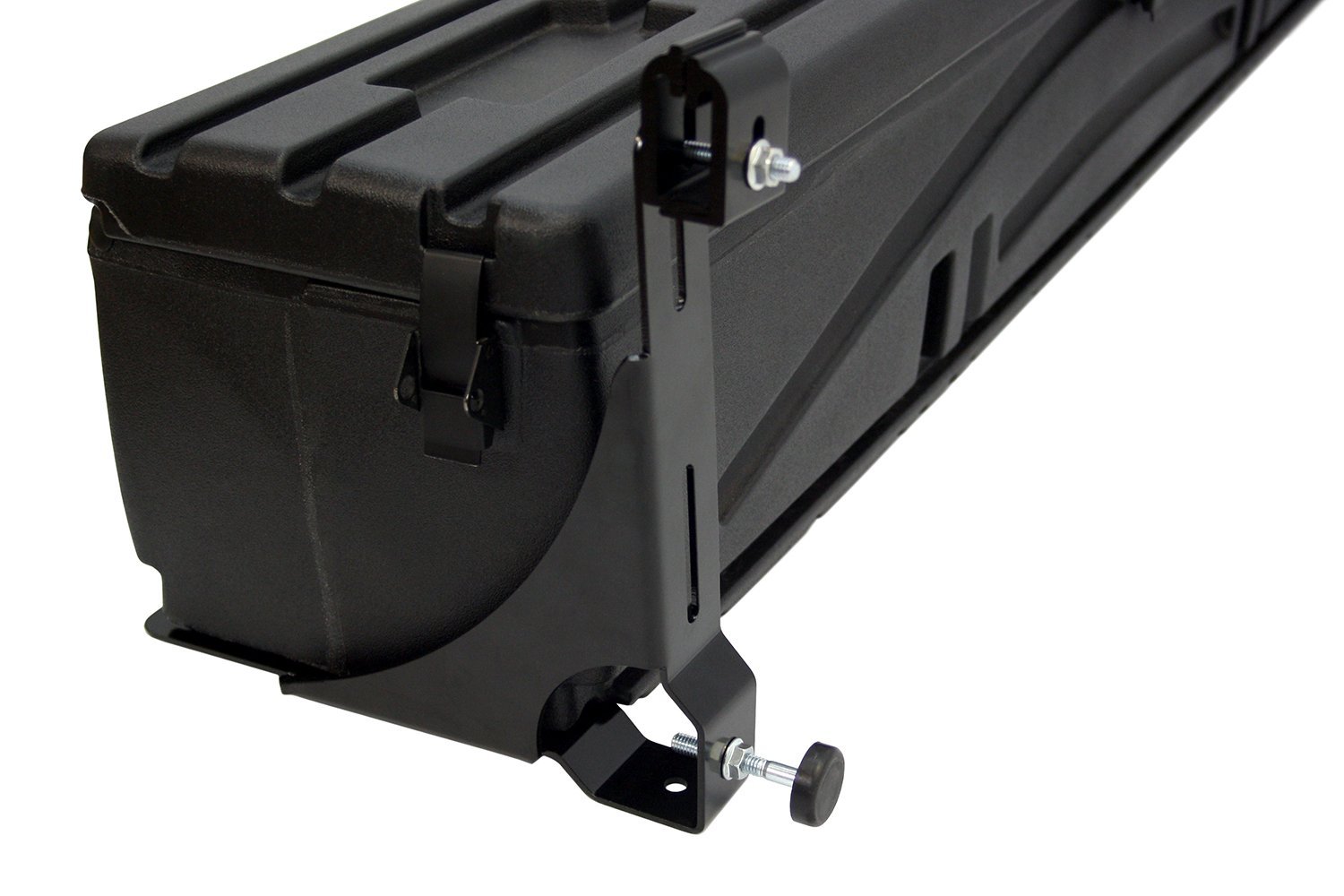 The brackets mount to to the lip of your bed rail, and then sits on the brackets and is fastened tight. Note: if you have a drop-in bed liner in your truck bed, this plastic locking chest will not work without cutting the liner, so you may want to consider a different option. The Du-Ha measures 76 inches long, and just less than 10 inches by 10 inches, width and depth. This should fit above the wheel well and below the bed rail of almost all full-size trucks. You may want to double check the measurements of your mid-sized or compact pickup truck to ensure it will fit though.
Security & Weatherproofing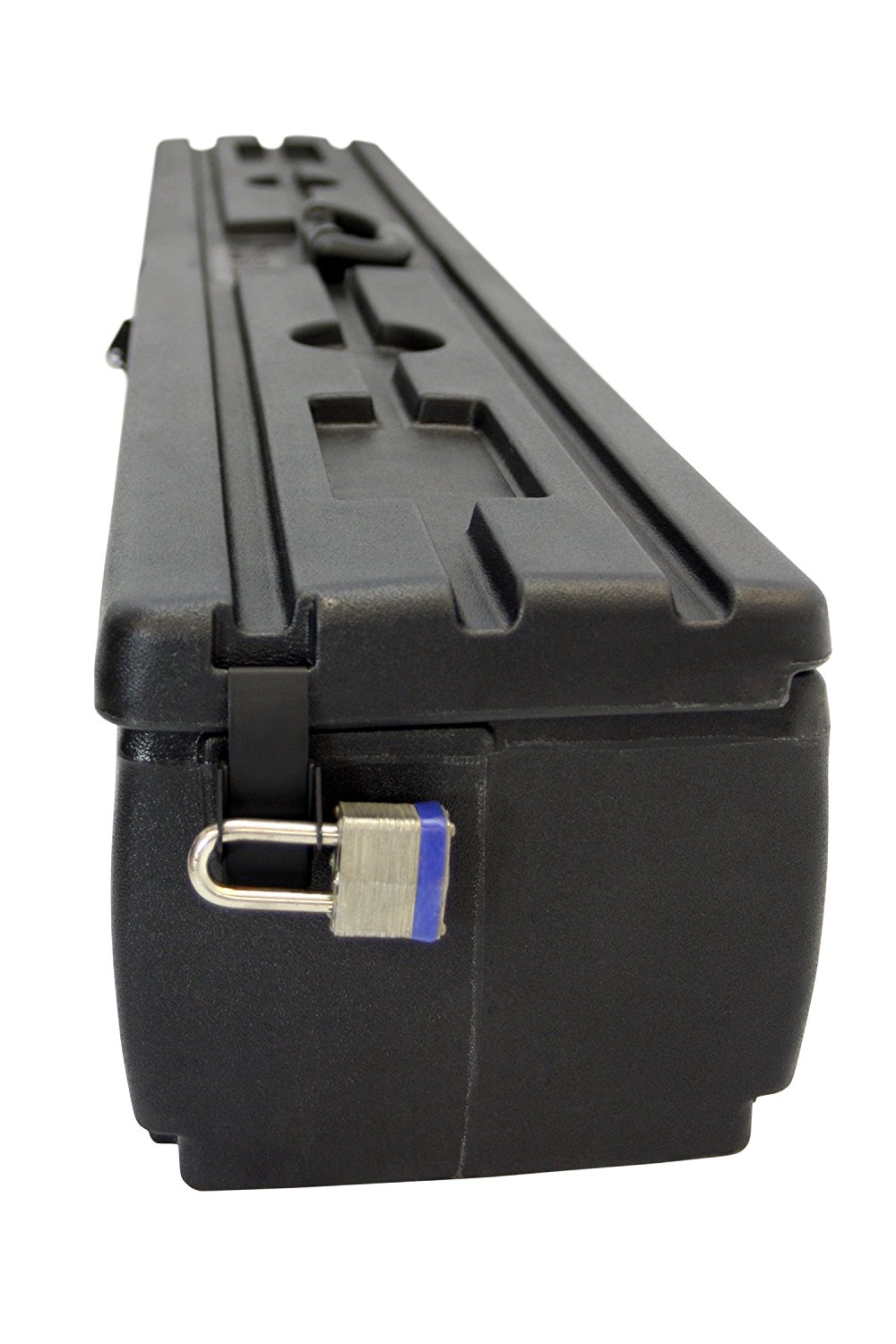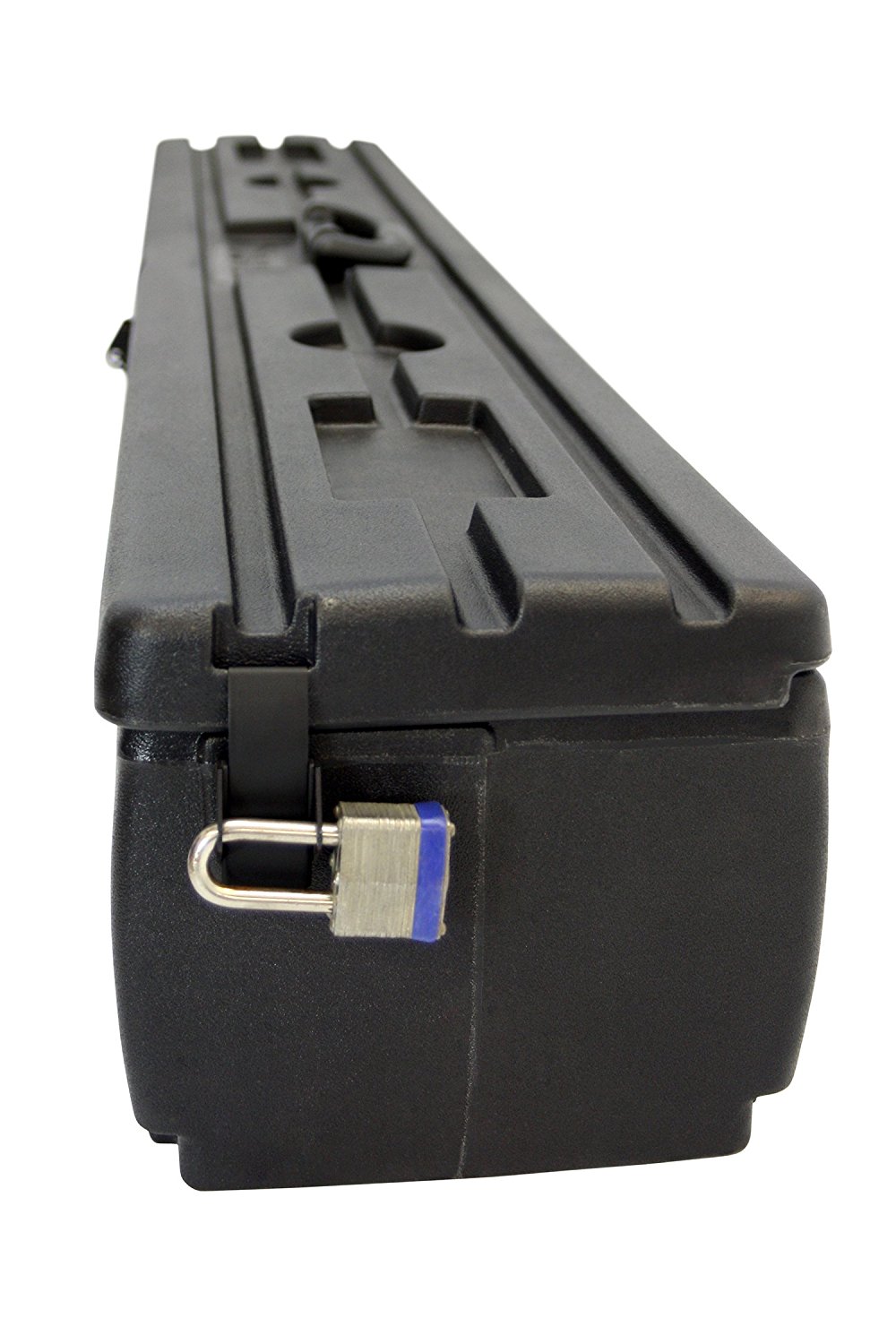 The thick plastic walls will prevent any thieves from even thinking about cutting their way in. There is no included lock on this, but latches on both ends and one in the middle can be used to place one to three padlocks to keep the box locked up tight. There is no weatherproofing strip along the lid or body of the box, so some water can seep inside if you're caught in heavy rain. If you use a tonneau cover this problem will be negated, but it's something to keep in mind. Taking the time to lay down a few strips of adhesive automotive weather stripping or some other type of adhesive rubber strip will create a water-tight seal if you wish.
Are These the Best Truck Toolboxes For The Money?
While they are a great bargain, the aren't always the best truck toolboxes for every application. Check out our in-depth buyers guide to learn more about the other types and styles available.
Recommendations
Overall, the Du Ha Humpstor plastic truck tool box is a great option for most folks. We love how it is mounted below the bed rails so that it's easy to cover up with a tonneau cover.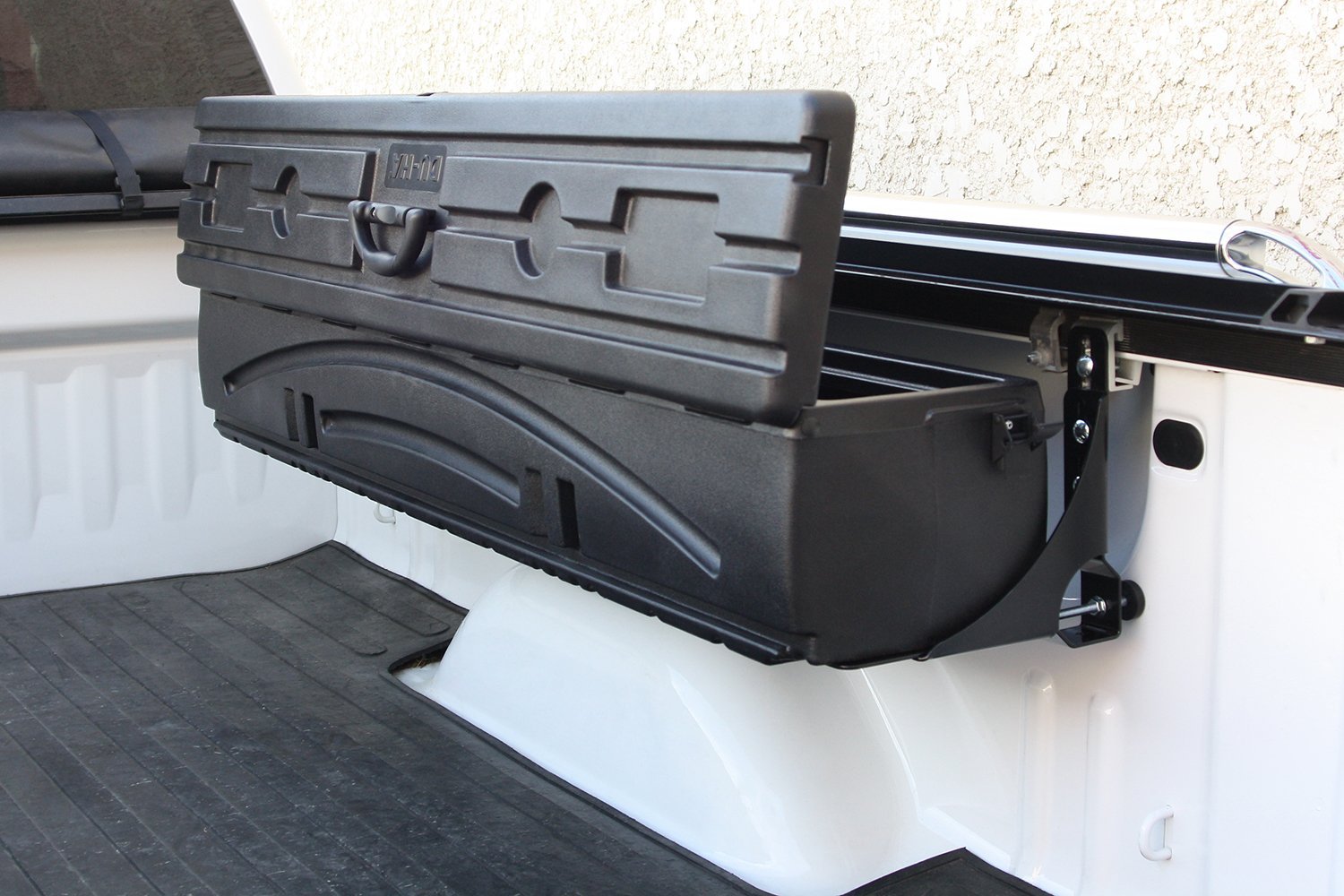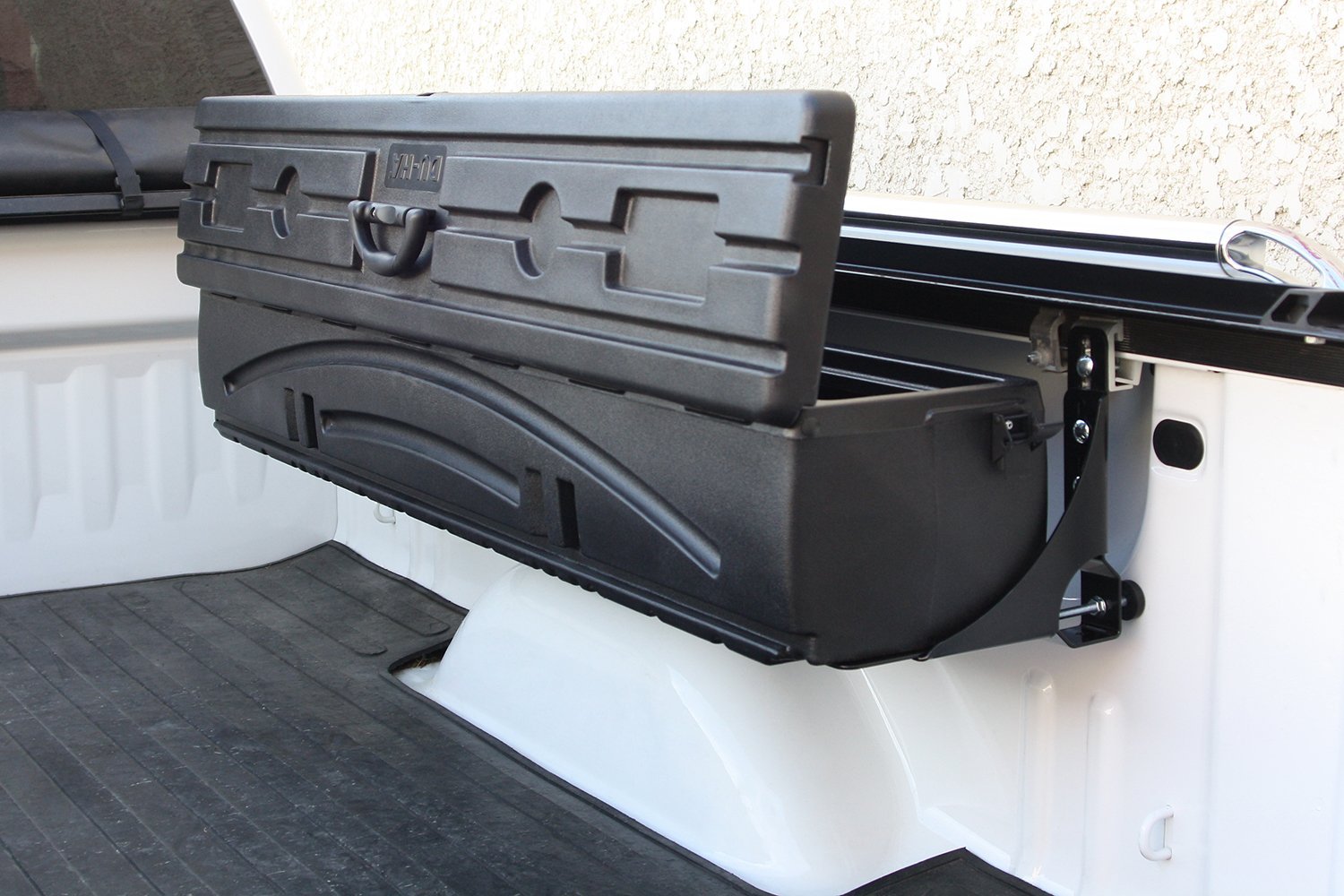 It also adds some great storage if you use a canopy without losing space on the floor of your bed. The lockable latches make it a legal gun case which would make it a great addition to your hunting rig. One drawback is that it is a little bit small, and is definitely not as big as some of the other metal tool boxes we have reviewed in the past. You could always get another one and mount it on the other bed rail. Overall this is a great affordable option.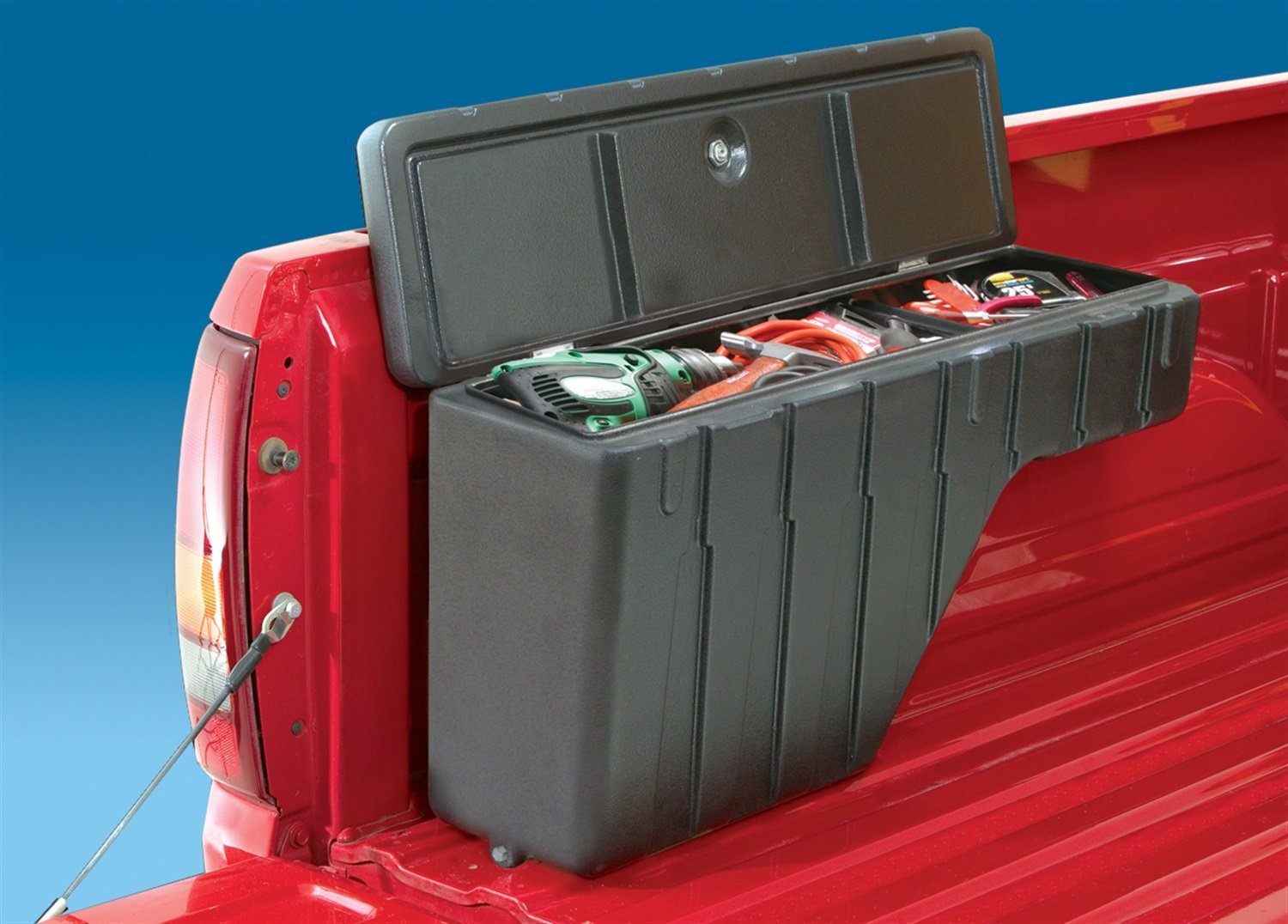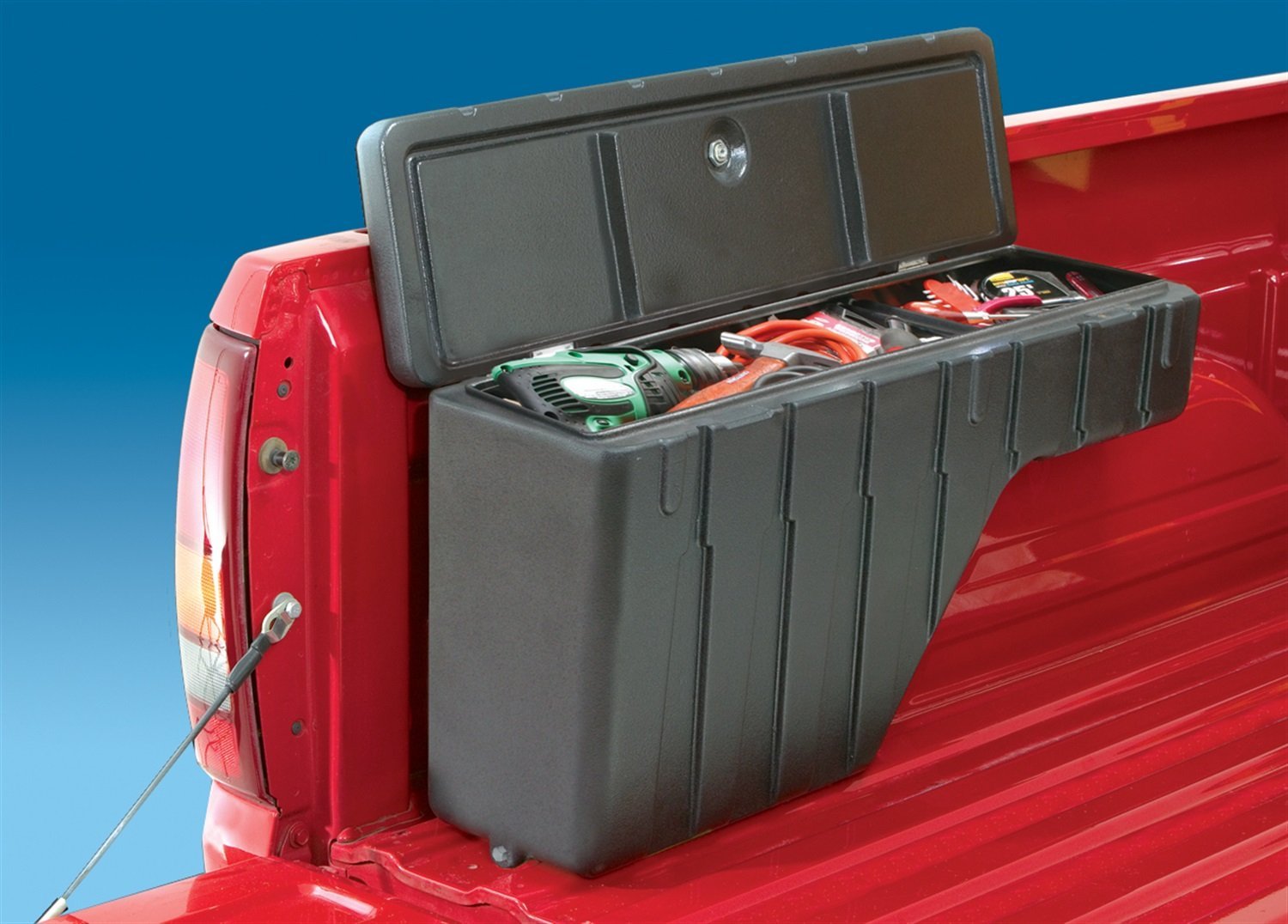 Quick Glance
– Compact wheel well style
– Optional marine-grade speaker
– Great for toolbox or tailgating
– Heavy duty plastic construction
Style & Organization
The VDP Wheel Well plastic truck toolbox is a wheel-well style tool box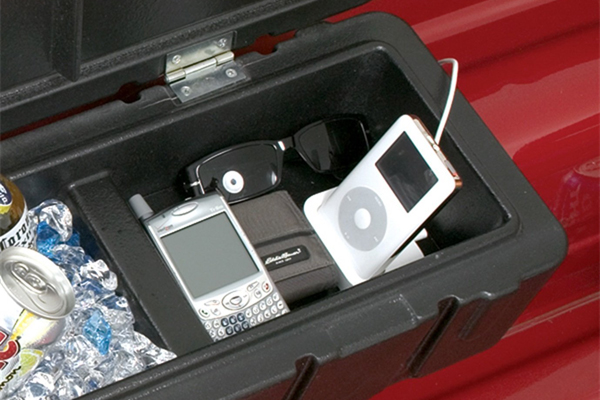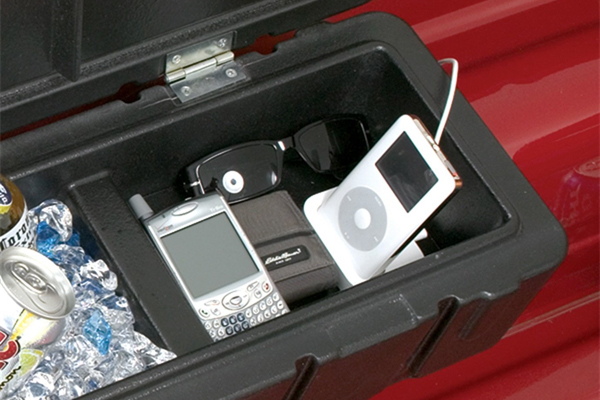 that sits in between your truck's wheel well and tailgate. Wheel well models are great because they use up that empty space that often goes unused. There are two compartments in this tool chest, one large and one small, that provides a great space for keeping a few tools organized.
Tailgating Companion
This toolbox is also a great companion for tailgating thanks to a few cool features. The large compartment makes a perfect container for ice, wile the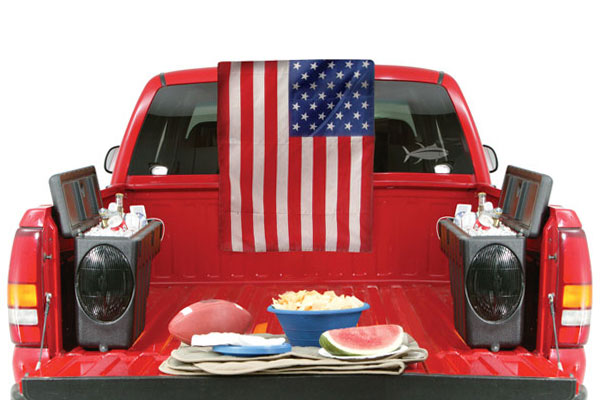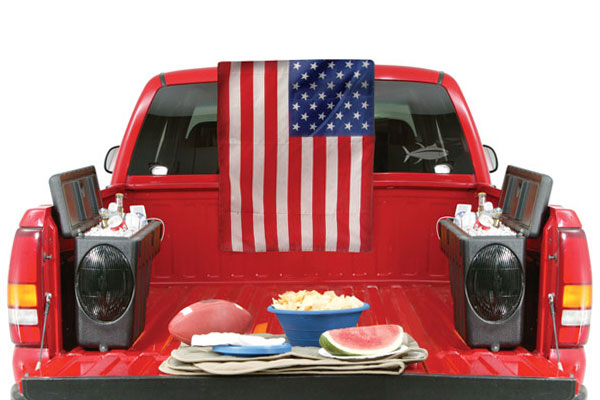 smaller container keeps your phone, wallet and sunglasses dry and safe. You can also choose the
to complete your tailgating party or camping trip. The speaker isn't amazing, but it will definitely crank some decent quality sound for what it is. 25 feet of speaker wire is included for you run the speakers to your stereo. 4 cup holders are embedded on the top of the lid to keep your drinks steady.
Materials
The VDP Wheel Well chest is made of heavy-duty rotational molded plastic.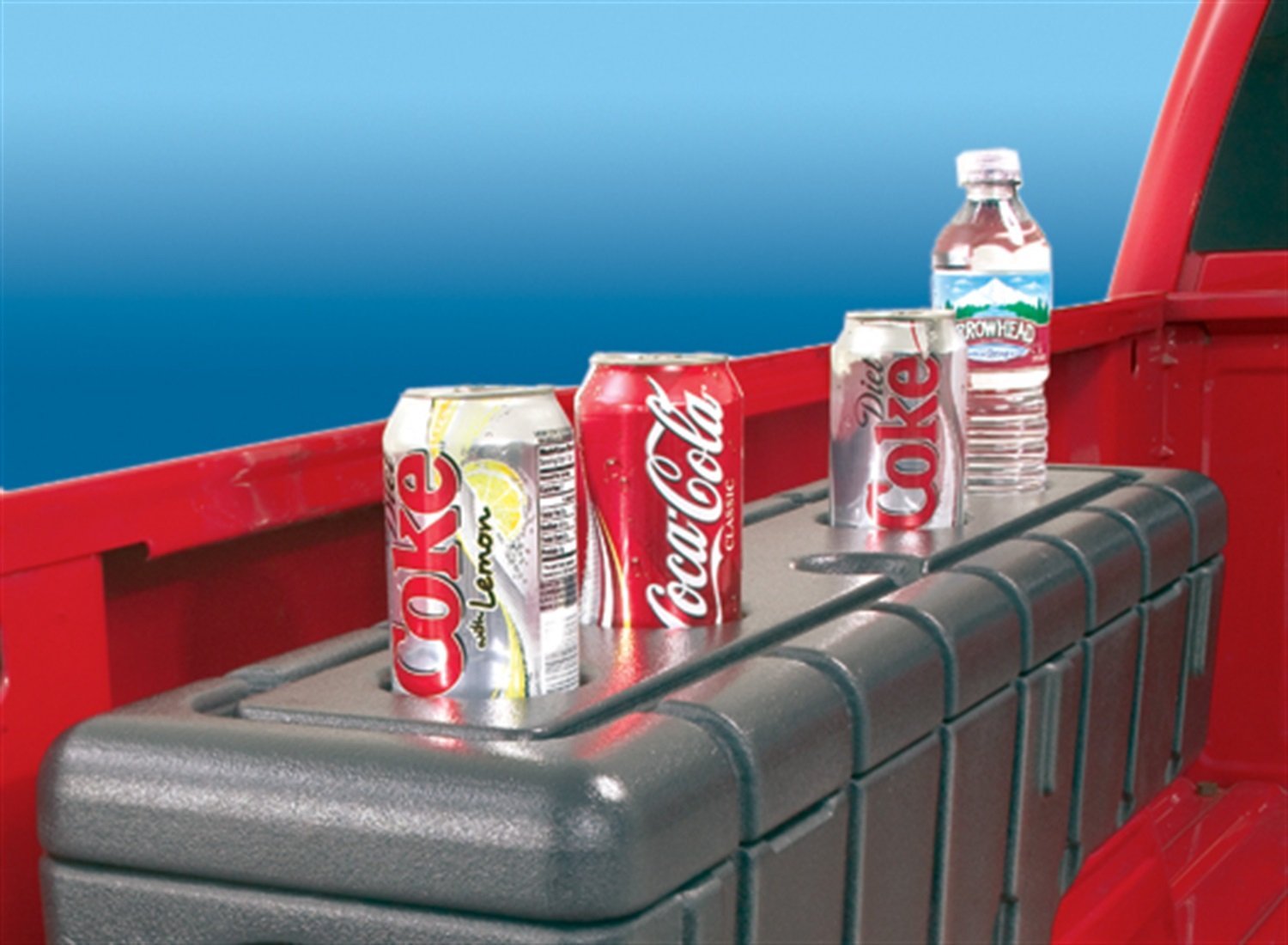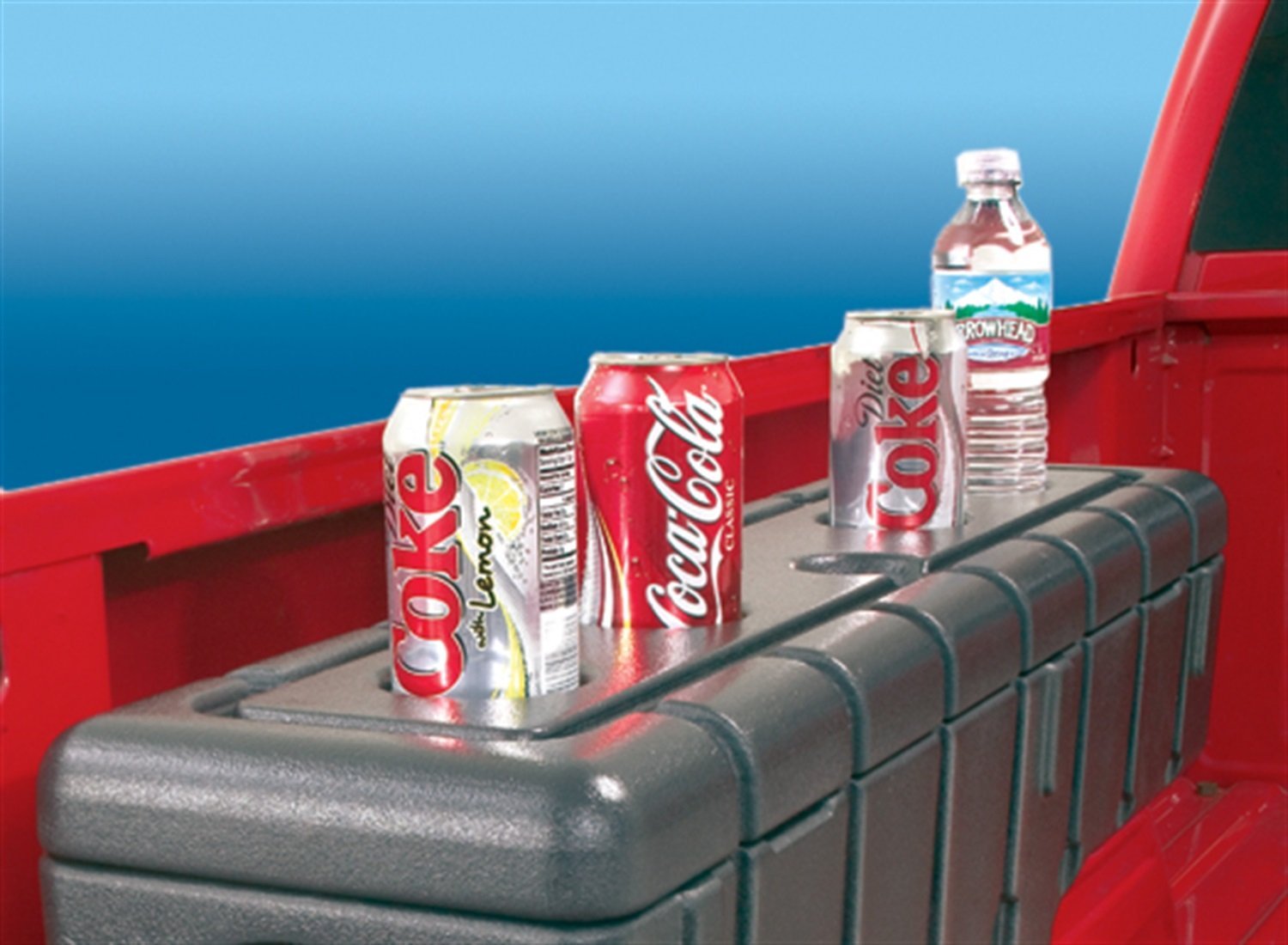 The plastic is thick, hard and durable. The lid is reversible so you can use it on either side of your truck bed – or since they are fairly small, you could purchase two for each wheel well for maximum storage. There are two sizes available, one for full size trucks (40 x 9.5 x 20) inches and one for mid sized trucks (32 x 8.5 x 16 inches). The VDP comes with all the materials necessary for mounting to your truck bed rail.
Security & Weatherproofing
The lid and body of the box fit together with a groove that keeps most of the water and dust out, despite the lack of a rubber strip. Adding weather stripping may just make it harder to close with this design however, so you could risk some water in after extended periods of time in the rain or snow. Because the lock is on the top of the lid, we can see the potential for water pooling there and causing rust (thought not for a while). If this ends up happening, you can always think about mounting latches on the side and using a padlock to keep it locked up.
Recommendations
All said and done, the VDP Wheel Well is another small, affordable option for some extra storage in your truck bed. The plastic is thick and durable and won't be breaking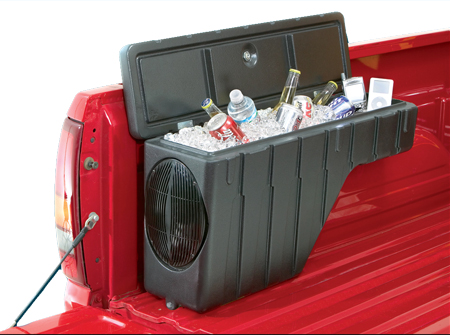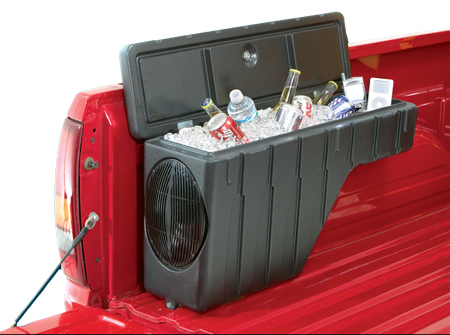 any time soon. The optional built-in speaker and large compartment can also function as tailgating companion, providing music, ice storage and a small dry storage space. Although there are a few minor design flaws mainly in the lid and weatherproofing, these tool boxes are still a great affordable option for keeping a few tools covered and locked up in your truck bed.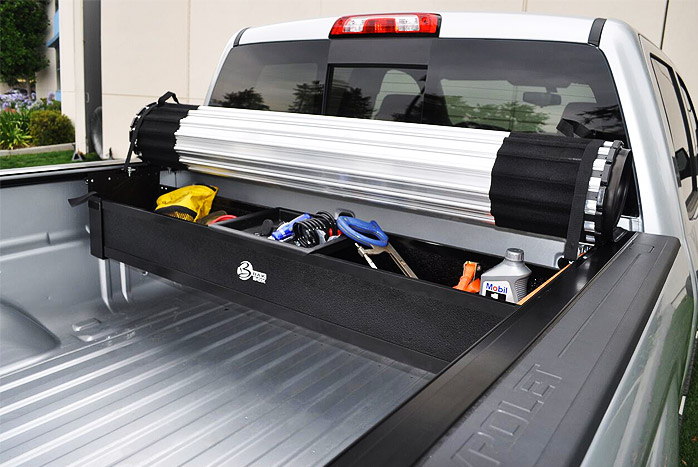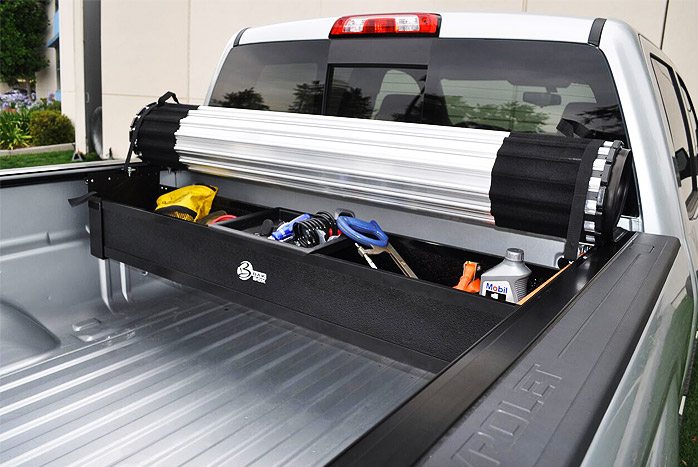 Quick Glance
– Designed for use with tonneau cover
– Strong FRP composite materials
– Unique folding design
– Easy installation
Style & Organization
The BAKBox (now BAKbox 2) is a unique plastic truck tool box that is meant for use in combination with a tonneau cover. The BAKBox itself is lidless, and so in order to keep your tools – or whatever else you are storing – safe and sound, you will want to use it with either a tonneau cover or canopy. The BAKBox mounts directly below your bed rails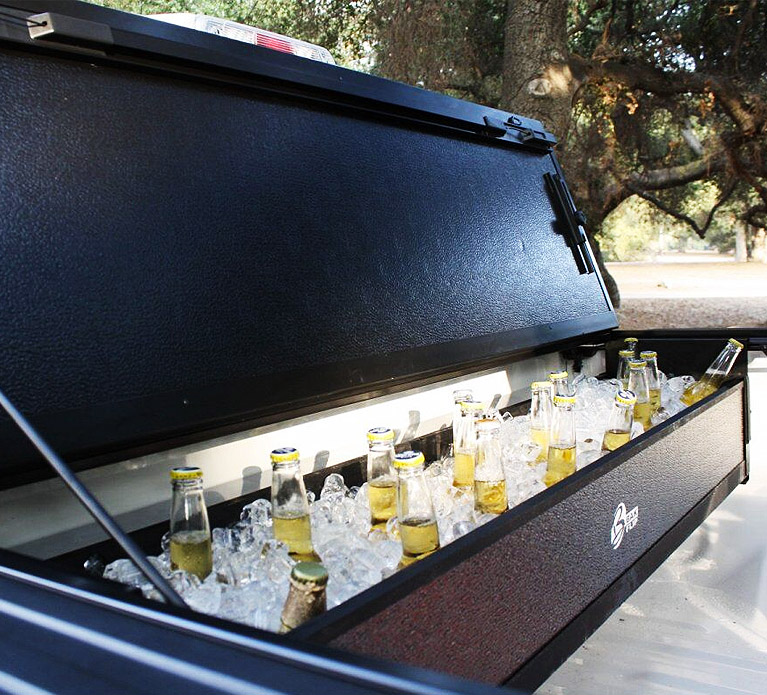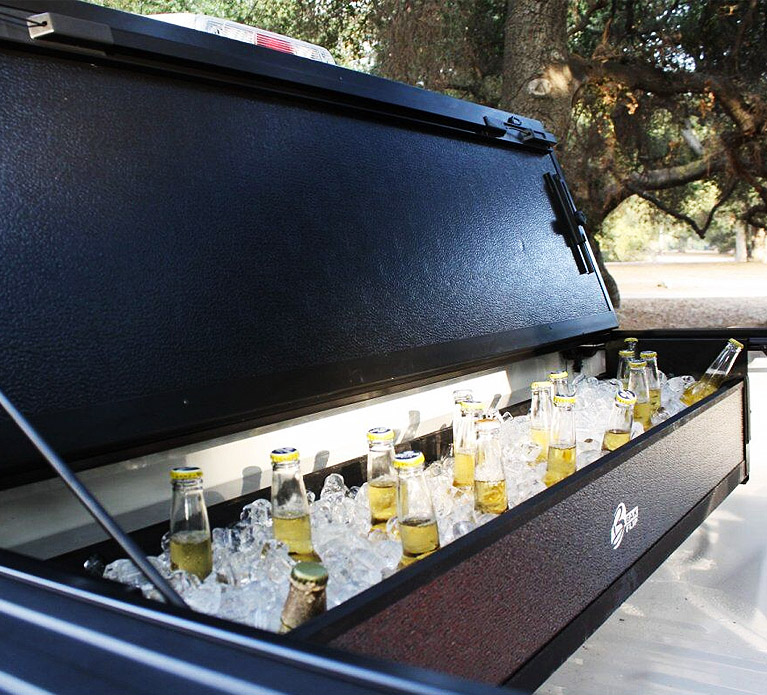 without requiring any sort of drilling using the included brackets. A small sliding tray is included that can be used to store some smaller items and separate the storage space into compartments on either side of the tray. When you're not using the BAKBox, it can actually fold up, providing a few extra inches of bed space and keeping it out of harms way while using the bed for hauling materials.
Materials
The BAKBox 2 is constructed from rock-solid FRP composite panels which BAK claims is more impact resistant than aluminum. We're not really sure about that but you can count on the plastic to be tough and won't break easily.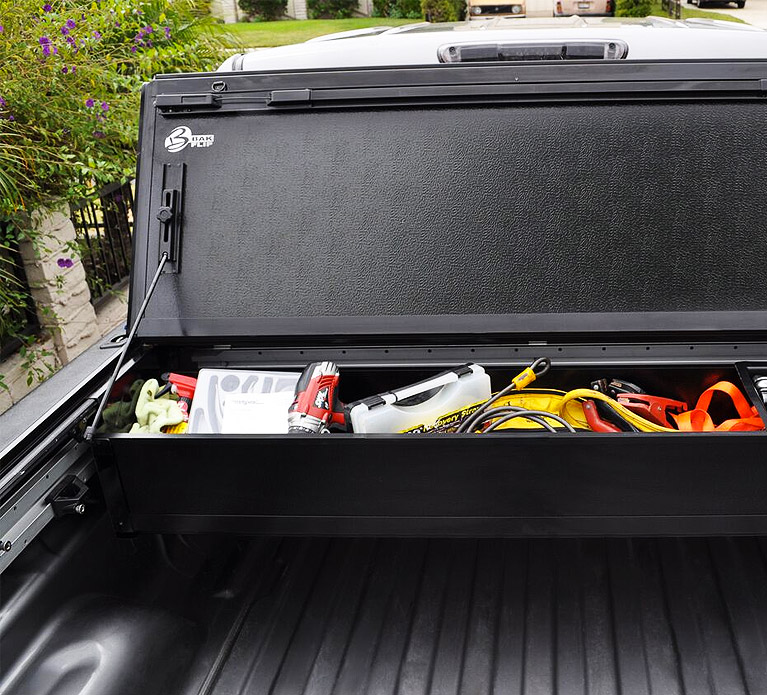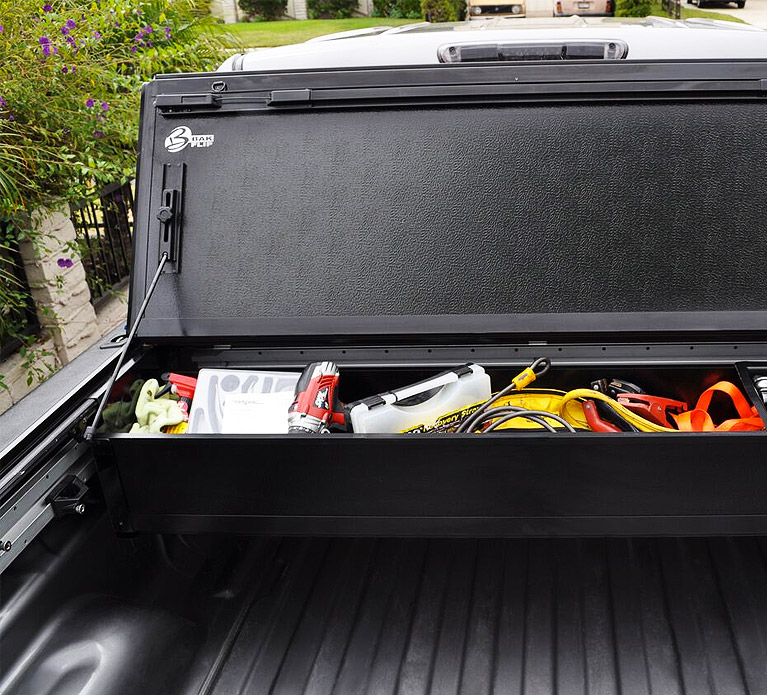 You'll want to make sure that it fits the bed of your truck before buying. This one on measures 65 x 10 x 8 inches. This means the box itself is 10 x 8 inches, and will fit in a truck bed that is 65 inches wide (Chevrolet Silverado and GMC Sierra for sure, for other models you will want to measure your truck bed to make sure it will fit.

Security & Weatherproofing
The BAKBox doesn't' have a lid, and so becomes weatherproof and secure only if you're using a tonneau cover or canopy that is watertight and lockable. You'll want to make sure if you're planning on storing anything valuable in it, that you have a tonneau or canopy. Without, it works great as a short-term storage space for things like full groceries bags, though.
Recommendations
Of all the models in this artic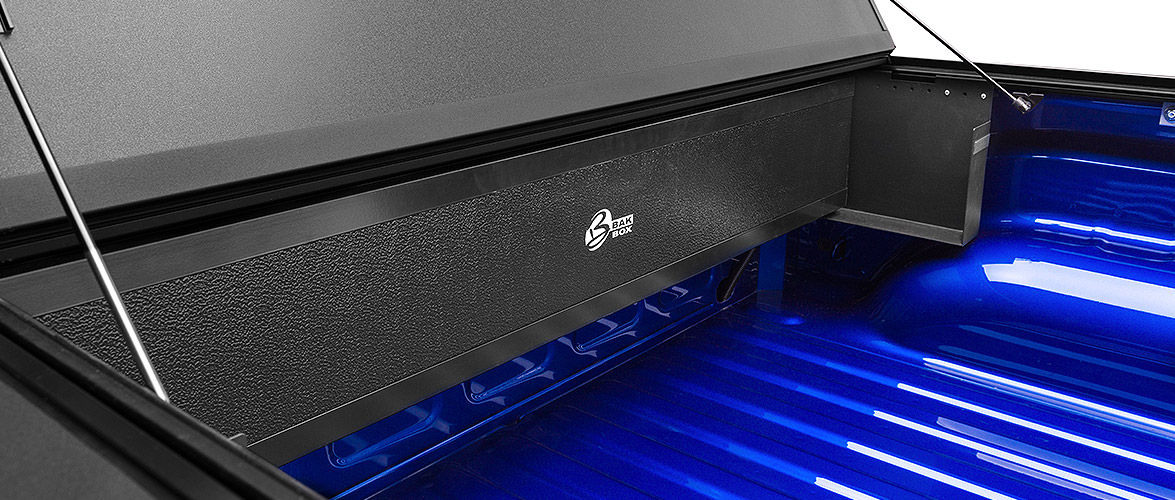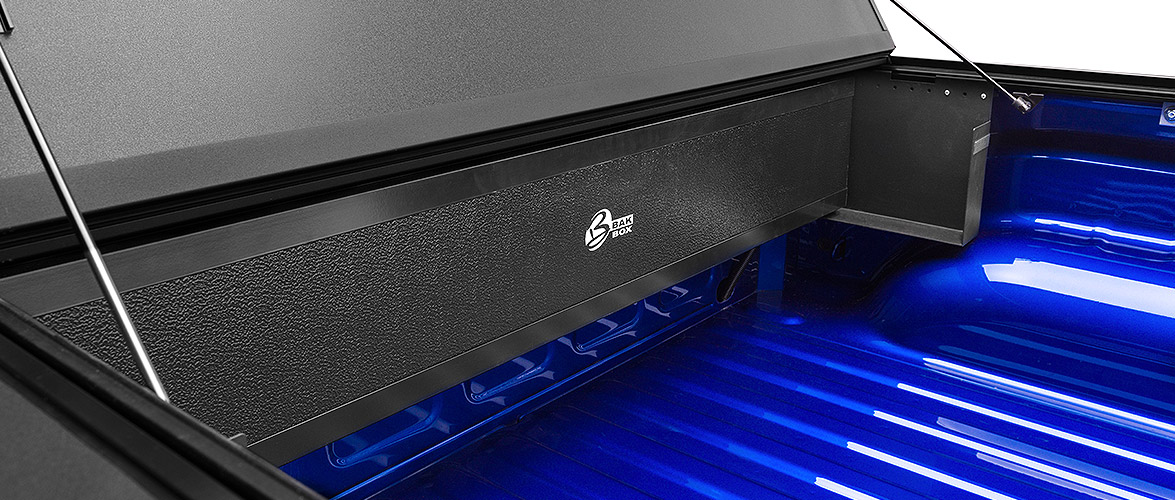 le, the BAKbox provides the most storage. It is very easy to set up, but you'll want to make sure it fits your truck before buying. Of course, the box is not its most useful without having a tonneau cover or canopy, but because of its design that lies below or flush with your bed rails, it works great with one attached. Please realize before ordering, there is no tonneau cover included with the BakBox 2, only the storage container! The
is a great cover to accompany this box. The FRP composite is strong and sturdy, and being able to fold away for extra space in your truck bed when not in use is a great feature as well. This is a great, non-traditional option for most trucks.
Did this article help you choose a plastic companion for your truck? Let us know in the comments below your thoughts or questions!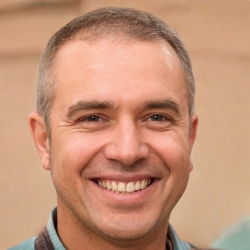 Latest posts by James Kennedy
(see all)