Decked Truck Bed Storage Review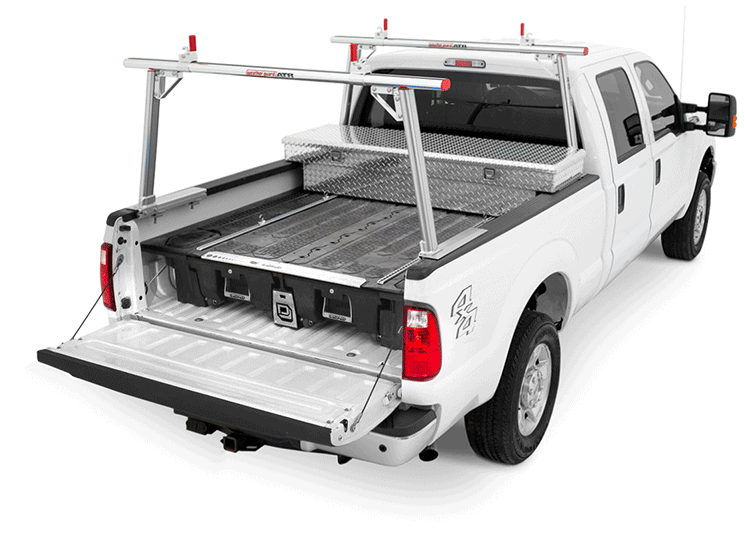 Today we are reviewing a fairly unique storage option. DECKED was co-founded by a man named Lance Meller, who came up with the idea while working as a downhill skiing sales rep. After spending a few winters sleeping under the canopy of his truck "spooning with skis, snowboard samples, tools" the co-founder tried to produce a wooden drawer system for his own rig. The result was a heavy, ugly, pain-in-the-ass DIY truck bed storage system. After three additional years of tinkering, extensive research and prototypes, they eventually produced DECKED, the
DECKED transforms your vehicle into a multifaceted, functional gear-and-tool-storage machine. It's an ideal companion for fishermen, tradesmen, hunters, campers, skiers, busy families and more. Check out the full article below of our DECKED Storage Solution Review.
Quick Glance
– Heavy Duty HDPE & Steel Construction
– Easy assembly, no drilling required
– Large, weatherproof drawers
– Fits full size trucks only
– 3 Year Limited Warranty
Style & Organization
The system is great for organizing your tools and toys. To get at the two drawers, you simply need to lower you tailgate, then pull and slide the drawers out towards you. The small plastic wheels make opening the drawers a breeze. The drawers are large enough to store most tools, and long enough to store guns or even golf clubs.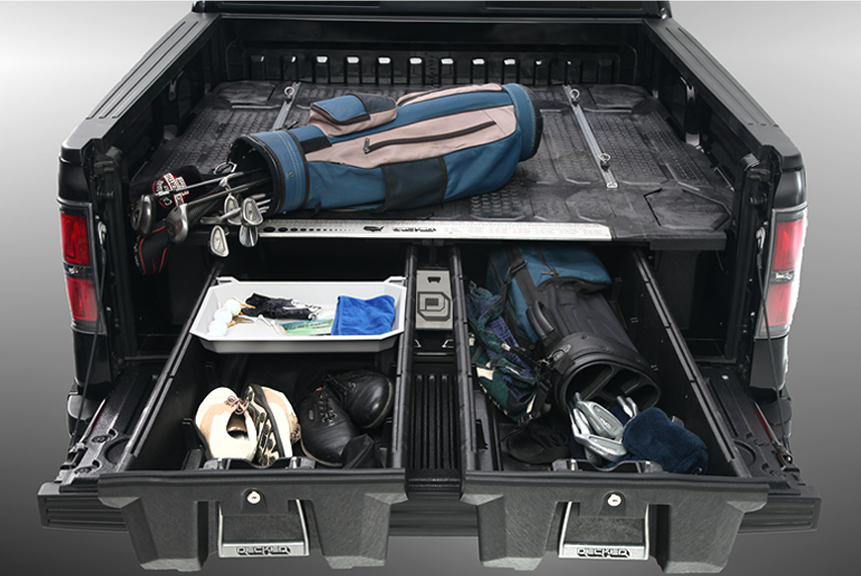 There are loads of accessories available with the DECKED truck bed storage system as well to keep the drawers perfectly organized such as dividers or specially fit tool boxes. They also added in a couple handy little additions to the storage system to the end of the box. A stainless steel ruler with conversions is mounted above the drawers, right above a bottle opener. A few cup holders are included as well as a little cherry on top.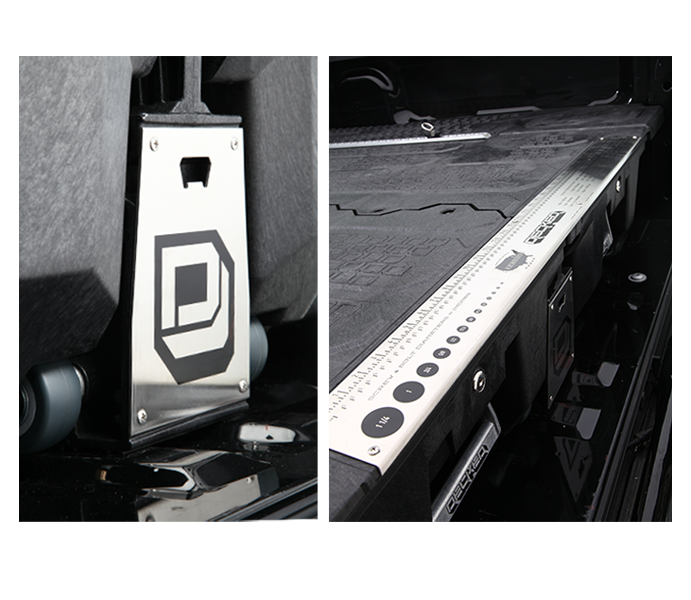 Because of the style of this unique organizer, it is a perfect storage option for using with a tonneau cover or canopy. Many truck tool boxes lie along the bed rails of trucks, making them incompatible with a tonneau or canopy.
This makes your bed perfect for a tonneau cover, and still keeps the function of the truck bed, since you can haul up to 2000 lbs of payload, although it does make your the back a bit shorter. Equipped with the right type of straps, you likely won't notice for most jobs.
You can also use a classic crossover style tool box with the organize installed. The DECKED storage system transforms your truck or van into the perfect camping or road-tripping rig, since you can put a full mattress on the storage space and sleep underneath your canopy or in the van.
Materials & Finish
This storage system is manufactured exclusively in the USA, from quality materials. The bulk of the system is made of HDPE (high-density polyethylene). HDPE is a great material to
make something like a vehicle storage system for several reasons. It has a very high strength to weight ratio, providing strength and rigidity with little extra weight. It's lighter than metal or wood, and stands up to the elements better since it is weather resistant, impact resistant and wear resistant. It is actually rated such that you can put a 2000 lbs payload in the back of your rig, on top of the storage system. Each drawer has an individual capacity of 200 lbs as well. Any metal components of the
is made from rust-resistant treated metals including stainless, e-coat, zinc chromate and galvanized steel. These treatments lend corrosion resistance to the strong, sturdy steel components of the system.
Security & Weatherproofing
HDPE is naturally weather resistant, so it's a perfect material for the the system to be made of. It won't warp like wood does, or rust like metals do. After installation, your truck bed will be weatherproof, keeping any gear or tools dry and rust-free. It's important to note the drawers are not airtight, so particulates in the air like dust, and sometimes mist can get into the drawers. Just something to keep in mind when storing certain things.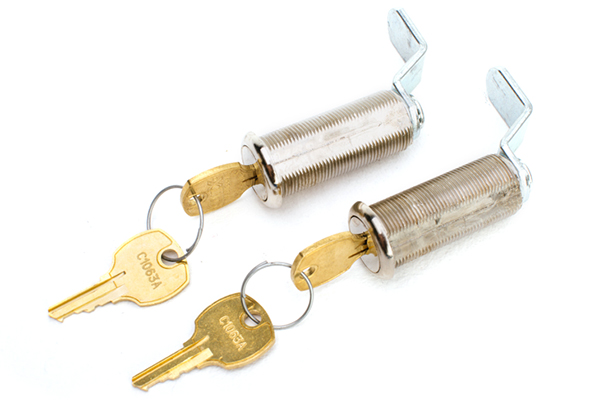 Locks are not included with the standard model, so you have to pick them up separately. They're only $40 for the pair. The reason they don't include them is that some folks that use tonneau covers or canopies may not need them.
Measurements & Installation
Assembling and installing the DECKED storage system is surprisingly easy. The tools you need for installation of the system are super common and you'll likely have
them laying around: a Phillips screwdriver, a 1/2″ wrench and a few sockets. Installing it the first time may take up to two hours, since you need to assemble all the parts. Assembly is easy and straight forward, and once it's all assembled, it takes about 15 minutes to install. If you ever need to remove it, it takes only about 15 minutes to take it out as well. They have a great video showing how to remove and reinstall the system. The great thing about the DECKED organizer is that there is no drilling in your truck bed required to install (in almost every standard compatible vehicle).
The system is attached using J-hooks in
each corner of the bed – super simple. Each system is made for a certain model of trucks to fit perfectly against the bed side walls, so you need to make sure you choose the right model. Unfortunately, due to the various sizes and styles of bed liners, and exact specifications, it is incompatible for use in trucks with a bed liner installed already.
Double check your truck is compatible before ordering though. At this time, the DECKED is only compatible with full size trucks. Autoanything also has a tool that lets you input your truck's make and model and year to ensure a perfect fit.
Accessories

Besides purchasing optional drawer locks, there are a few other accessories available. If you don't use a canopy or tonneau cover you're likely going to want to pick up the locks to keep your gear safe. Removable dividers can be mounted in drawers, keeping certain tools separate and organized. D-Boxes are the DECKED toolboxes that are specifically designed to fit in the drawers of the system. Three D-boxes can fit in one un-divided drawer.The T-track aluminum mounts bolt to the steel tubes in the deck of the system, allowing for mounting of both Thule and Yakima rack systems.
The Core Trax 1000 are tracks with a tie down loop attached, that bolt the same steel tubes. They can be used to more easily tie down large loads you may be hauling. The tracks are made of powder coated aluminum and the loops are stainless steel. Whatever activity you use your DECKED truck bed organizer for most, these accessories will make sure you're flawlessly organized.
Is DECKED The Best Truck Tool Box?
It's certainly up there, but in our review of the top truck toolboxes we found better options for those of you who don't want to fill up your whole bed or might not need as much storage.
Recommendations
Overall, the DECKED truck storage system is an amazing storage accessory for your vehicle. The design has been well thought out, and is perfect for so many different activities. The drawers are large enough to fit most tools, climbing gear, fishing rods, tackle boxes, camping gear, or even groceries.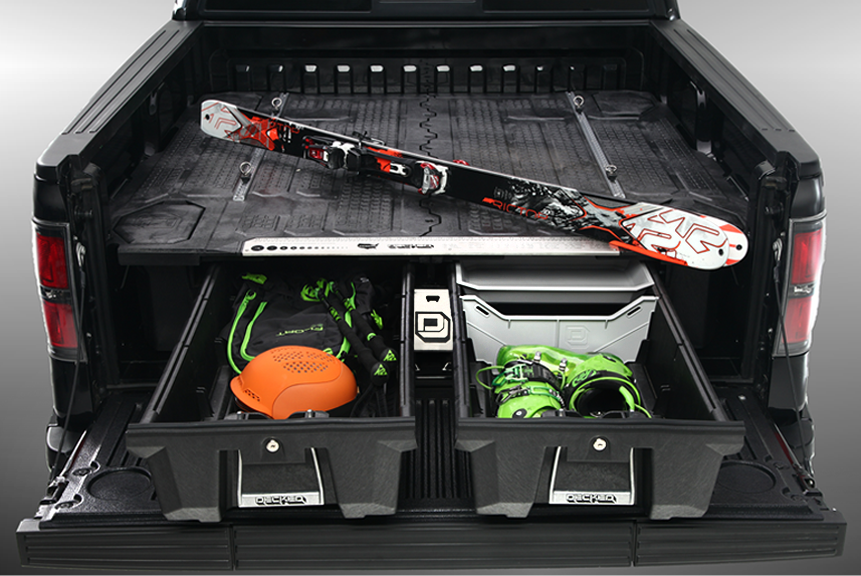 And, you can get the optional drawer locks to keep your tools and gear safe and secure or for use as a gun locker. It's a perfect storage system for use with a canopy or tonneau cover, since it sits on the truck bed floor rather than the bed rails. But it doesn't reduce too much usefulness of your rig since it's rated to hold up to 2000 lbs of payload, although it does reduce the height of your bed. It's made of heavy duty HDPE that stands up to any weather conditions, and the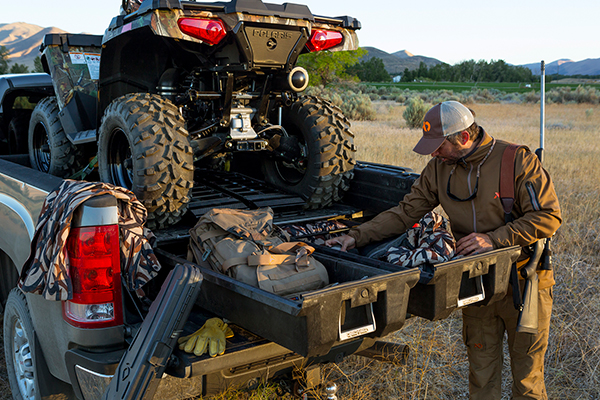 metal components are all treated with rust-resistant finishes. The DECKED truck bed organizer is easy to install and remove if needed, and is suitable for folks doing a variety of activities.
Let us know your comments or questions below regarding our review of this unique truck bed organizer. We love hearing from our readers!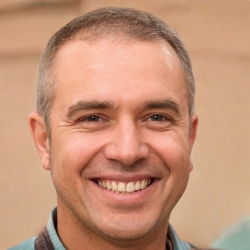 Latest posts by James Kennedy
(see all)