JOBOX is a brand of truck boxes produced by Delta Consolidated Industries. The JOBOX brand has been around for over 60 years, and producing high quality, rugged and long-lasting storage solutions. JOBOX truck tool boxes are built to last, with superior metal fabrication, practical designs and secure welds. If you're looking for adding storage for your tools or gear to your truck, a JOBOX is a great choice. We've looked at all the available JOBOX truck boxes available and put together a list of the three best models to choose from. Each of these boxes is from JOBOX's DeltaPro line and they surely won't disappoint. Dive into our JOBOX truck tool box reviews to pick the right one for your needs.
Jobox Toolbox Reviews
71″ JOBOX Crossover
61″ JOBOX Chest
48″ JOBOX Side Mount
Fits full size trucks
Standard, deep and super deep sizes available
Fits full size trucks
Mid size/trailer model also available
Fits full size or mid size trucks
4 Compartment organization tray
No tray included
No tray included
Self aligning latch pins
Self aligning latch pins
Self aligning latch pins
Super secure rotating and retracting gear lock
Two stainless steel paddle latches with one double cylinder lock
Super secure rotating and retracting gear lock
Foam reinforced lid
Foam reinforced lid
Foam reinforced lid
Auto-lifting shocks with steel guards
Auto-lifting shocks
Auto-lifting shocks with steel guards
Great all-around crossover box. May have to get into truck to reach certain tools
Great storage solution, can use with tonneau cover or canopy. Takes up truck bed space
Provides easy access to tools from side of truck. Can use with crossover box. May need to drill support legs into bed
$$
$$
$
Read More Reviews
Read More Reviews
Read More Reviews
One of Our Best Rated Truck Toolboxes
We did a review of the best truck toolboxes on the market, and jobox was one of our top rated contenders. Read the full shedheads writeup to get the whole scoop
1. Full Size Crossover JOBOX – Review

Quick Glance
– Crossover, single lid style
– Fits full size trucks
– Secure dual-rotary lock system
– Thick, rugged aluminum construction
– Standard, Deep and Super Deep sizes available
Style & Organization
First up on our list is the JOBOX crossover truck box. This classic style of tool box spans the width of your truck bed behind your back window, resting on the the bed rails. Depending on the depth of the box you choose, the box will either hang down into the bed or rest fully on the floor of the bed. A 4-compartment tray is included with this JOBOX crossover truck box, that slides back and forth within the tub or can be completely removed. The tray is great for keeping small tools and hardware organized.
Materials & Finish
This JOBOX is manufactured from rugged diamond plate aluminum. The aluminum is thicker than many of the other brands we typically see. The lid is reinforced with multiple layers of aluminum and is filled with foam to provide extra strength and rigidity without adding extra weight. JOBOX has coated
it in a tough Armor-Brite clear powder coating finish to help protect the aluminum from blemishes. Aluminum is rust-resistant naturally, so the finish helps to maintain that sleek shiny metallic look. This is a box that is functional and will also look great in the back of your truck.
Security & Weatherproofing
The single lid features two self-aligning latch pins, that will ensure the lid closes tightly in any scenario, even if the box expands or contracts slightly due to changes in temperature. Two auto-lift gas shocks help to lift the lid open, making it easier to access your tools. The auto-lifting gas shocks are protected by a small steel housing, protecting them from being damaged by your tools. The locks have a self-adjusting dual rotary lock system, which always provides a secure closed position and helps to prevent break-ins. The gear-locking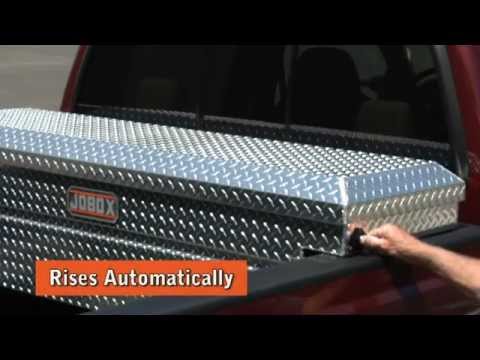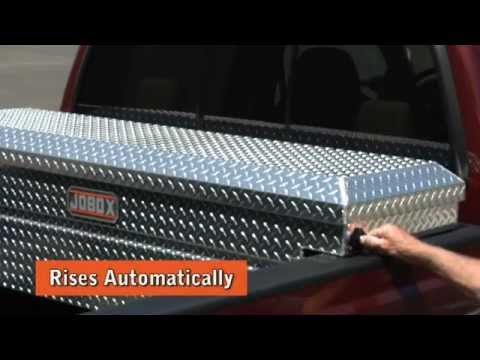 system has a rotating gear that ensures a secure close and can't reverse. The lock and latch systems are mounted on a strong steel bar that runs the length of the box for extra strength. The interior of the lid features a weather strip that acts to keep out moisture and dirt particles from entering the box. When closed, your tools will be kept clean and dry.
Measurements & Installation
This JOBOX crossover truck box comes in three different sizes: standard, deep and super deep. You should choose the appropriate model depending on the size of your truck, the height of your truck bed rails, as well as the amount of storage you think you will need. All three boxes measure 71 inches in length, so they fit full size trucks. They all feature a width of 21 inches, the distance the box will stick out towards the tailgate. Where they differ is in their depth. The standard model has a depth of 14.25 inches, the deep model 17.25 inches, and the super deep model 20 inches. Make sure you double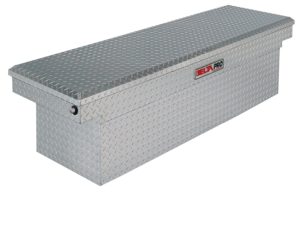 check the measurements of your truck and pick one that fits. Installation is simple like most crossover boxes. Once the box is laying at your preferred position on the truck, simple J-hooks are used to fasten the box to the bed rails, no drilling required.
Recommendations
These crossover models are great for any full size truck. The rust-resistant aluminum tub and reinforced lid is thick and rugged, and besides a few minor dents, should last a long time. We love the adjusting latch and dual lock systems, which ensure a tight, locking seal every time you close the lid. The design of the lid and locking system provides resistance of a 1000 lbs prying force keeping your tools safe. Having the option of larger sizes is also great, especially if you have a lot of larger tools you're planning to store. If you're in the market for a crossover style, definitely give these crossovers a look.
2. 61 Inch Chest Style JOBOX Review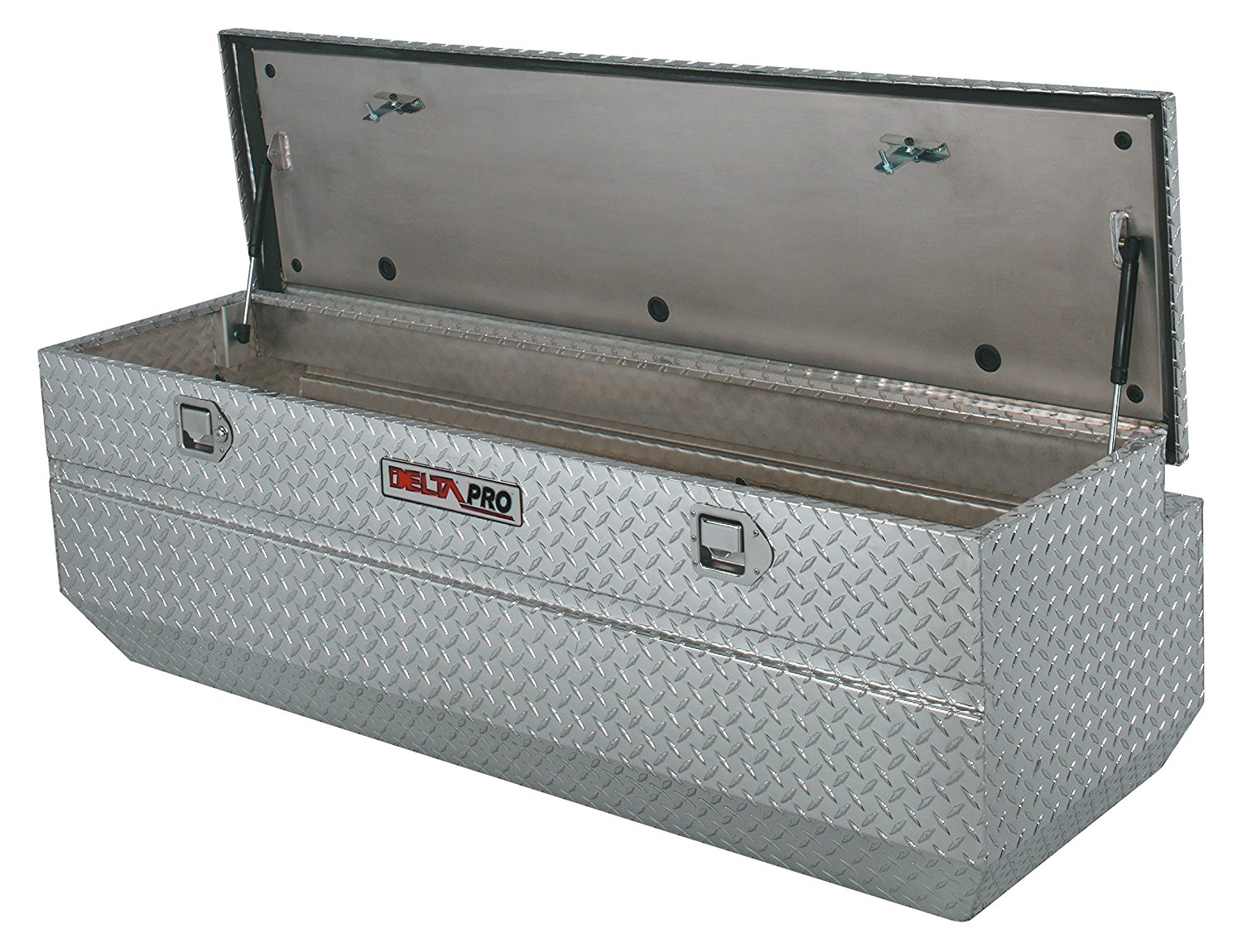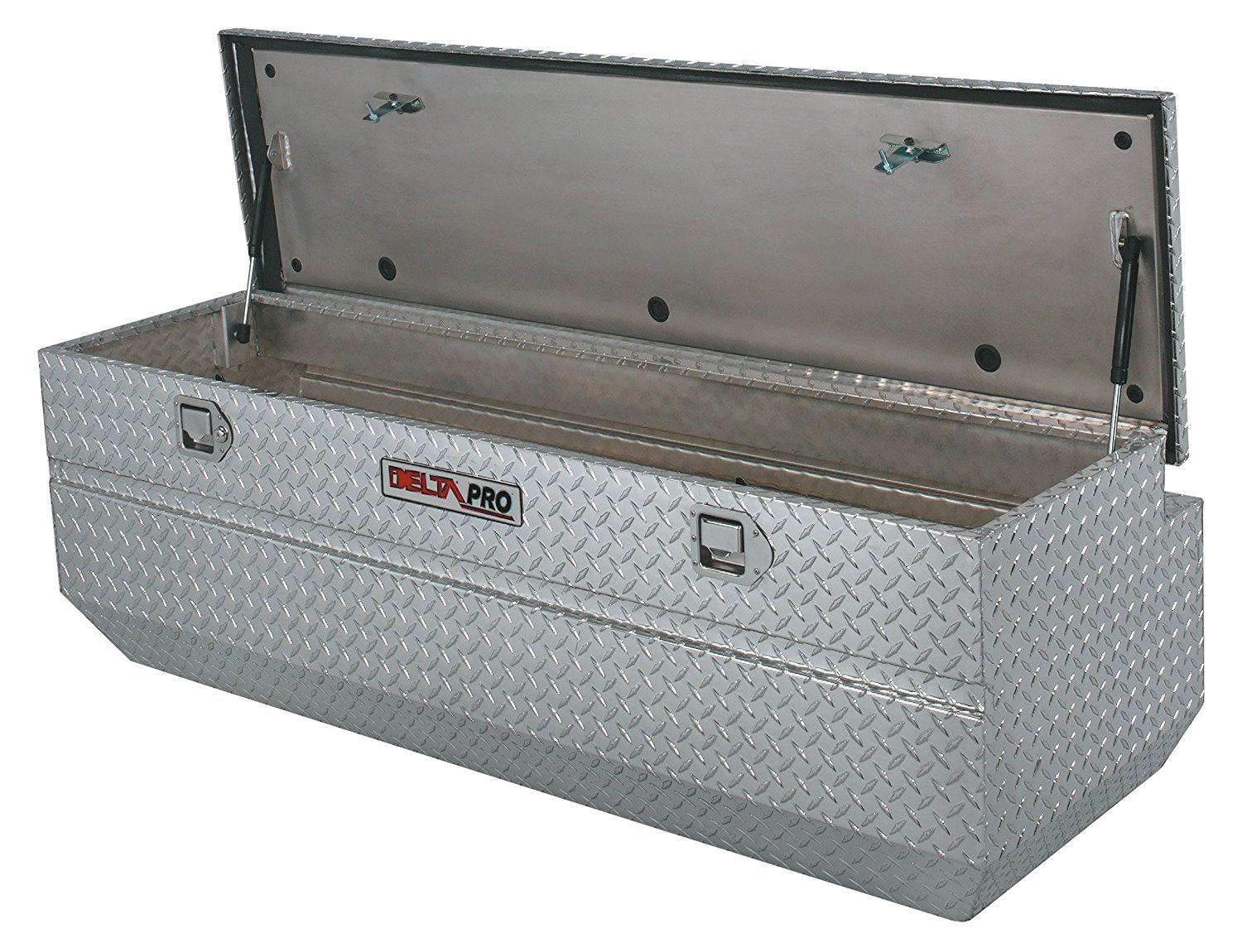 Quick Glance

– Chest style truck bed box
– Quality aluminum construction
– Self adjusting latches/strikers
– Full size trucks
Style & Organization
Next up on the list is the Chest style. Chest truck boxes are great for a variety of reasons. Unlike crossover boxes they are a large uniform rectangular shape making it easier to store larger tools. Chest JOBOX truck boxes sit directly in the bed of your truck bed, rather than resting on the bed rails. So, depending on the height of your truck bed rails, you can also use them with a tonneau cover or canopy since the bed rails are unused – which is great for many folks. They can also be used off your truck as a secure multi-purpose locking storage chest. It features a removable compartment tray to keep your small hardware and gear more organized. However, because crossover boxes usually hang down into the bed but don't take up floor space, you may have some reduced space on the bed of your truck with this chest.

Materials & Finish
This JOBOX truck box is made from high quality diamond plate aluminum. Aluminum is a great material for these because it is naturally resistant to rust and will stand up to the elements for a long time. This JOBOX truck chest is coated with an Armor-Brite clear coating to help maintain that nice shine. The lid is reinforced with foam and extra layers of aluminum to provide extra strength and rigidity, so much that you can safely stand on it without fear of bending. Because of how and where they are mounted, the auto-lifting shocks do not have a protective housing, but they are so far off to the side of the box you shouldn't have any problems with damaging them.
Security & Weatherproofing
Unlike the crossover style we reviewed above, this box features a different locking system. A single deadbolt style lock keeps your tools locked
up tight, similar to other brands. Paired with the adjustable lid strikers, the lid will always close and lock tightly and securely. The strong, reinforced lid helps to resist prying, keeping your tools safe. The inside of the lid also features a weather strip that spans the inner edge of the lid. When the lid is closed, the weather stripping produces a tight seal that keeps out any water, dust or dirt. Your tools should be kept safe from theft, dry and clean in this box.
Measurements & Installation

At 61 inches in length, this JOBOX tool box is designed for full size trucks. Because the JOBOX chest sits directly inside the bed, you will want to make sure that your truck bed can accommodate a 61 inch long box (measure the inside of the bed rails). The box is then 20.5 inches high and 19.5 inches deep. So, as long as your truck bed rails are taller than 20.5 inches, you can use this JOBOX tool chest with a tonneau cover. If not, the box is likely still compatible for use with a canopy, since the bed rails remain unused. Installation for chest style tool boxes like this JOBOX truck box is a little more arduous than a crossover model. The most secure method of installation for this box would require you to drill holes in your truck bed. Then, you can fasten the tool box directly to the truck bed through the floor of the box and truck bed. If that's a little too invasive for you, you can always drill a latch onto the truck bed and chain the box to your bed rails or something like that. And if you use a canopy or tonneau cover you could just use a ratchet strap to keep it from sliding around and trust your canopy and tonneau cover to lock it up safely.
Recommendations
If you're looking for a chest style storage solution, this JOBOX chest is a great option. Like the other JOBOXes, it is made with a rugged diamond plate aluminum. The reinforced lid is strong enough to stand on and resists prying. The lock on this box isn't quite as secure as the crossover model though, since it's a regular old deadbolt style lock and not the rotary gear-lock we saw in the crossover. If you're not phased by the more invasive installation process of this chest style box, and/or are looking for a tool box you can use with a tonneau cover or canopy, this could be the box for you.
3. 48.5 Inch Side-Mount JOBOX Review

Quick Glance
– Side-mounted, sits on wheel well
– Easy access to tools
– Can use with crossover tool box
– Secure rotary-style gear lock
– Quality, rugged aluminum manufacturing
Style & Organization
Last on our list is this side-mounted JOBOX tool box. Side-mounted tool boxes are a great addition to any truck for adding easy-access storage space. This "innerside" box spans the bed rails of your truck bed lengthwise, resting partially on the rails and sitting on or above the wheel well of your truck. The full-length compartment is great since you aren't limited to what type of tools you can store inside the box. This side-mount JOBOX tool box is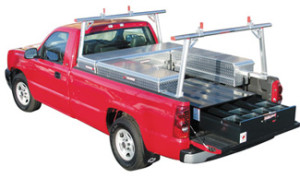 also great to use in combination with a crossover tool box, or even a second side-mount box for the ultimate storage solution, perfect for those in trades, or even hunters. Side-mounted boxes are easy to access your tools from, since you can do so from the side of your truck and don't need to get into the bed of your truck to open the box.
Materials & Finish
This box is made from the same rugged industrial grade diamond plate aluminum as the other models we reviewed earlier. The lid is reinforced with foam and extra aluminum to make it extra strong and resist prying and denting. The quality of this box rivals that of a WeatherGuard. The gas shocks help to automatically open the lid up to 90 degrees after pushing the lock button, and are protected by steel guards. The box has a great shiny metallic look to it, thanks to the Armor-Brite clear finish. The finish just acts to help keep that nice shiny, bright look, since aluminum is already naturally rust-resistant.
Security & Weatherproofing
This box is incredibly secure, thanks to the same rotary-style gear locking mechanism as the crossover model features. The gear lock ensures a tight latch every time the lid is closed, and prevents prying due to the one-way teeth of the gears. Paired with the auto-adjusting lid strikers, the latches close tightly without ever need adjustments from you. The strikers and lock are both mounted on a full-width steel console to add extra strength to the locks. The reinforced lid also increases the security of the box resisting prying and cutting. The strip of weatherproofing material outlines the interior of the lid and keeps moisture and dust from entering your box when closed.
Measurements & Installation
Installation for this side mount box is sort of half way between that of a crossover box and chest style box. The part of the box that sits on the bed rails can be fastened directly to the bed rails to give a
tight mount. But, depending on the height and length of your wheel wells, you may also want to use the included support legs that extend from the box down to the floor of your truck bed. It's suggested to drill these legs into the bed of your truck, but you could probably get away with not using them, or perhaps securing them to a piece of wood that sits in the truck bed instead.
Recommendations
This side-mounted model is a well-made and secure tool box rivalling that of a Weather Guard. The diamond plate aluminum is pretty thick and gives a rugged design that resists dents or prying. The rotary gear-lock is very secure, and along with the moving latches, provide a tightly closed lid every time that won't need adjusting. You can use these side-mounted JOBOX truck tool boxes with another one mounted on the other wheel well, or with a crossover box for extra storage. Your tools should be kept safe and dry in this box, and with easy access whenever you need them.
Did these reviews help you pick a new toolbox for your truck? Do you own one already? Let us and our other readers know your thoughts or concerns below!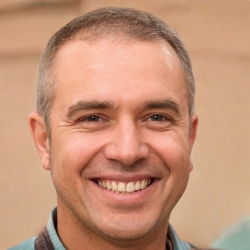 Latest posts by James Kennedy
(see all)