The Ultimate RTIC Cooler Review &
How to Choose Your Perfect Cooler
(2020 Update)


With summer right around the corner, you are going to need a cooler that actually works. If you're anything like we were, you've maybe been using the same, old icebox for years. Maybe it was even your parents and now you're using it – who knows. You've also probably looked at some other roto-molded coolers and wondered how they could possibly be so expensive. The point is, while the technology in coolers is fairly basic, it's also been improved on dramatically over the years. Chances are, you don't know what you're missing out on. One of the coolers you'll be seeing around the parks and beaches is an RTIC cooler. Reviews in online forums and on Amazon are very positive, but how does an RTIC cooler really perform?
We've updated this article for 2020, because RTIC has redesigned some of the features of their coolers to fix some of the areas that needed improving, from customer feedback. Overall, our RTIC cooler review is this: an RTIC is arguably the best cooler for the money, since you get the same premium build and performance, with a much more affordable price tag.
The Full Lineup of RTIC Coolers:
RTIC 20 QT
RTIC 45 QT
RTIC 65 QT
RTIC 110 QT
RTIC 145 QT
Capacity
24 cans
25 lbs ice
Capacity
36 cans
40 lbs ice
Capacity
64 cans
70 lbs ice
Capacity
110 cans
115 lbs ice
Capacity
145 cans
155 lbs ice
Colors
White, Tan,
Blue, Grey
Colors
White, Pink, Tan
Blue, Grey
Colors
White, Tan, Blue
Grey
Colors
White, Tan, Blue
Colors
White, Tan, Blue
Grey
Weight
17.5 lbs
Weight
25 lbs
Weight
36.5 lbs
Weight
48.5 lbs
Weight
59.5 lbs
Size
20″ x 15″ x 14″
Size
27″ x 16″ x 17″

Size
32″ x 17″ x 19″

Size
36″ x 20″ x 20″
Size
42″ x 21″ x 20″

Ideal For
Beach
Road trips
Camping
Kayaking
Tailgating
Ideal For
Day Trips
Weekend Trips
Fishing
Tailgating
Camping
Ideal For
Multi-use
Fishing
Hunting
Camping
Parties
Ideal For
Fishing
Hunting
Camping
Parties
Back-up Fridge
Ideal For
Hunting
Fishing trips
Big Parties
Long Trips
Back-up Fridge

CHECK PRICE ONLINE

CHECK PRICE ONLINE

CHECK PRICE ONLINE

CHECK PRICE ONLINE

CHECK PRICE ONLINE
Where Can I Buy RTIC Coolers?
If you're wondering where you can buy RTIC Coolers, there's really only two places – their website and Amazon. RTIC is a direct to consumer brand, allowing them to make more affordable products since they cut out the middle man.
We also often recommend ordering an RTIC cooler from Amazon, because although shipping is expensive for these large coolers, you can get free, two-day shipping with a free Amazon Prime trial.
Every Size of RTIC Cooler Review:
RTIC 20 Review
Perfect for day trips
Fits up to 24 cans, with ice
Newly improved, redesigned
Now has two drain plugs
Improved build quality from past iterations
Better quality rubber T latches
Aluminum handle for easy carrying
Can't beat the price
7+ days of ice retention
First up on our list of RTIC coolers is the RTIC 20 quart cooler. While it may not look like much, this is a perfect example of a product that is small, yet mighty. Because rotomolded coolers have such thick insulation to provide the superior ice retention, they are a little heavy. But, the smaller RTIC 20 ice chest is still lightweight, which allows you to easily carry it about for smaller day trips, but still with enough size to pack in lunch and snacks for the family, with ice packs or ice. Speaking of, it will hold ice for up to 7 days. Of course, this is dependent on a few things, but you'll for sure get 5 days no problem. It's available in four different colors to suit your style: white, blue, grey and tan (pictured above). Normally we recommend white, but because of the great ice retention and small size, it's a great opportunity to get something a little more flashy.
The locking aluminum handle with rubber handhold makes it easy to transport from point A to B. We love the 20 quart size, but of course, it really depends on what you're using it for, and the size of your group. RTIC recently released a new and improved design of their rotomolded coolers to improve on a few weak points that they had. One of the major points of focus was sourcing better quality rubber for their T latches so they don't degrade after lighter use. They've also added a second drain, for easier draining. And, they seem to have tidied up their manufacturing and the coolers look and feel great and durable.
This is the smallest hard RTIC cooler you can get, making it perfect for personal use, or for you and one other. So, if you're a family of four and want all of your lunches and drinks to fit in this 20qt cooler, you may need to consider a larger cooler. But if it's you and a buddy or two, you'll be able to easily fit 24 cans into the cooler (with ice) so you could always downsize to 12 cans to fit your lunch, too. It weighs 17.5 lbs when empty, so it's not the lightest cooler – consider the Softpak 20 for a lighter, yet similarly portable cooler if that's still to heavy – but you won't get the same ice life from a soft cooler. This cooler will hold ice for longer than you need it to, you'll likely run out of food or drinks before you do ice. Overall, if you want a small and portable rotomolded cooler, this is a perfect choice, and it's going to be easy on your wallet, too.
RTIC 45 Review
Great multi-use size
Fits up to 36 cans, with ice
Great updated design
Comes in white, tan, blue, pink and grey (above)
Two drain plugs for easy draining
Incredibly durable rotomolded design
High quality rubber T latches, feet and handles
Ice lasts 7+ days thanks to thick insulation
The RTIC 45 cooler is by far the most popular cooler, likely due to its versatile size. It's large enough for most uses: your lunches, drinks, and room for ice, thanksgiving leftovers, a drink bin at a party or tailgating. It's also big enough to hold your catch of the day if you use it for fishing. And, despite it being twice the size of the RTIC 20, it's still a manageable size to tote around to the beach, park or camping. Unfortunately, the 45 doesn't have wheels, so you either have to carry or (hopefully not) drag the cooler around. Thankfully the rope handles (can't see them in the picture above) are comfortable, and it's not too heavy of a cooler, even when full.
Speaking of heavy, the weight of the cooler is really the only downside to this cooler we can find. But, the weight is is a necessary trade-off for the incredible cooling and ice retention you get. This is one of those coolers that ice will last 7+ days, so it's a great companion for camping, fishing and really anything. This is variable due to many factors, but expect a guaranteed 5 days. With a capacity of 36 cans (with ice in there too) it's still on the smaller side, as far as coolers go. The next size up (65qt, we cover it below) holds 64 cans, but also adds 9lbs of weight. If you don't do bigger events, big fishing trips or long camping trips, go with this one.
With the new redesign of their coolers, RTIC has improved their manufacturing, with a new heavy-duty rubber for the latches, feet and handles that haven't been degrading nearly as quickly as before. The lid seals tight with a freezer grade gasket to keep the cold in nice and tight.
If you want to have the extra space, the 65qt is probably a better choice. Oh also – this is the only RTIC cooler that comes in pink, so if you want to have that flashy pink this is the one for you.
RTIC 65 Review
Most versatile size
Holds 64 cans, with ice
Great updated design
Four colors: white, tan, grey and blue (above)
Non-slip, lifted feet keeps cool
Virtually indestructible rotomolded design
High quality rubber T latches, feet and handles
More than 9 days of ice retention
Next up is the RTIC 65 cooler review. We're now stepping into the category of large coolers. Your old cooler was probably somewhere around the 65 quart range, so this is the size most people gravitate towards. The RTIC 65 has the size to serve you in any situation: from hunting, to picnics. It's a great pick if you think you'll ever need more size than the 45 has to offer, and only want to buy one cooler.
This cooler has everything the other more expensive brands of cooler have: the indestructible rotomolded construction, marine grade rope handles, and heavy duty rubber latches and components. It also has what some of those brands don't: more than 9 days of ice retention, and at a lower price. It still does have the heavy weight though. Can't anyone figure out how to make a lighter rotomolded cooler? For now, it's the price we pay for the incredible ice retention. After this 65 you're stepping into the big leagues of size, so unless you really need the space to use it for say, a back-up refrigerator, this is the one you'll want to cover all your bases, activity-wise. What more can we say? This is one of the best rotomolded coolers for the money that you can get, especially if you need the space.
RTIC 110 Review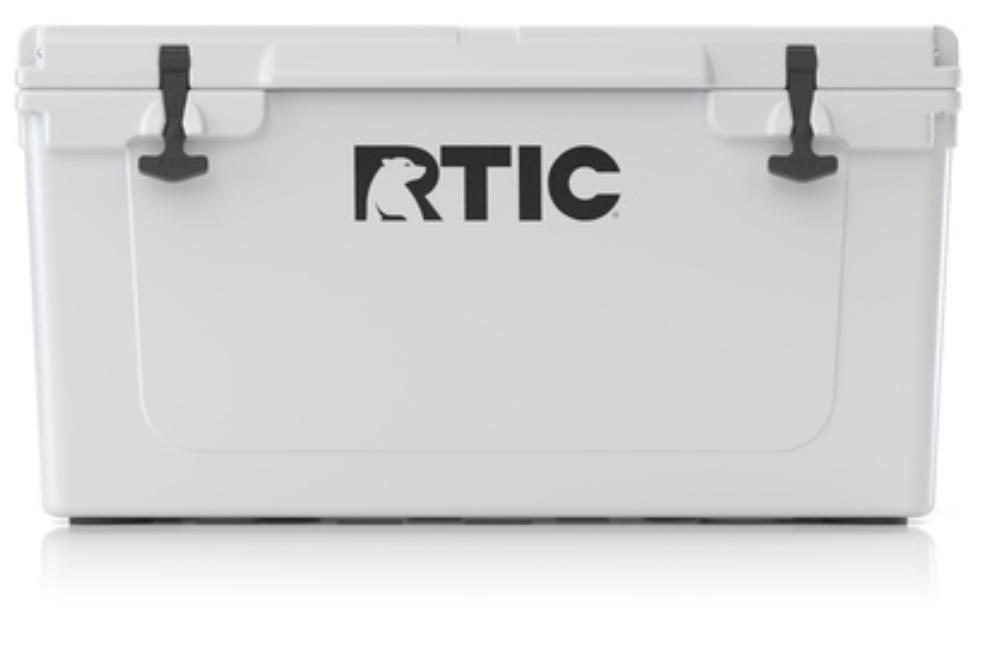 Large enough for all purposes
Holds 110 cans, with ice
Great size and value for the money
Four colors: tan, grey, blue and white (above)
Anti-slip lid useful as countertop
3″ thick insulation, tough rotomolded design
High quality rubber T latches, feet and handles
Ice lasts up to 10 days, save on ice costs with great ice retention
Now, we're in the big leagues. The RTIC 110 qt is their second biggest cooler, and it's serious about cooling. While typically the primary use for these larger coolers is as a hunting or marine cooler, many folks buy these for home use too. It's still small enough to fit in the back of any SUV, so many folks use these to transport groceries home from the store, especially those in rural areas. A lot of people use these as a back-up refrigerator as well. You don't need a backup generator to power your fridge in the event of extended outages thanks to the incredible ice retention. You just stick your ice in here and you've got more than 8 days of refrigeration – and all the space you need. Of course, how long ice lasts depends on so many things, but you've got a guaranteed 5 days to figure everything out before you add ice.
Of course, it makes the perfect hunting and fishing cooler, but not only because of the larger size. The anti-slip feet are an often-overlooked feature in a cooler, but when it's on the floor of the we boat and it's stuck in place, you'll be thanking them. The 3″ thick insulation will keep ice for literally over a week so if you're out in the bush or on the boat in remote locations, you'll be fine for ice with this ice chest. The thick walls lend itself to being sat on, stood on, and stacked on. The rotomolded design is tough and rugged and you don't have to worry about it breaking. You can read some more reviews about the 110 here, and you'll be unsurprised to know that people love theirs.
RTIC 145 Review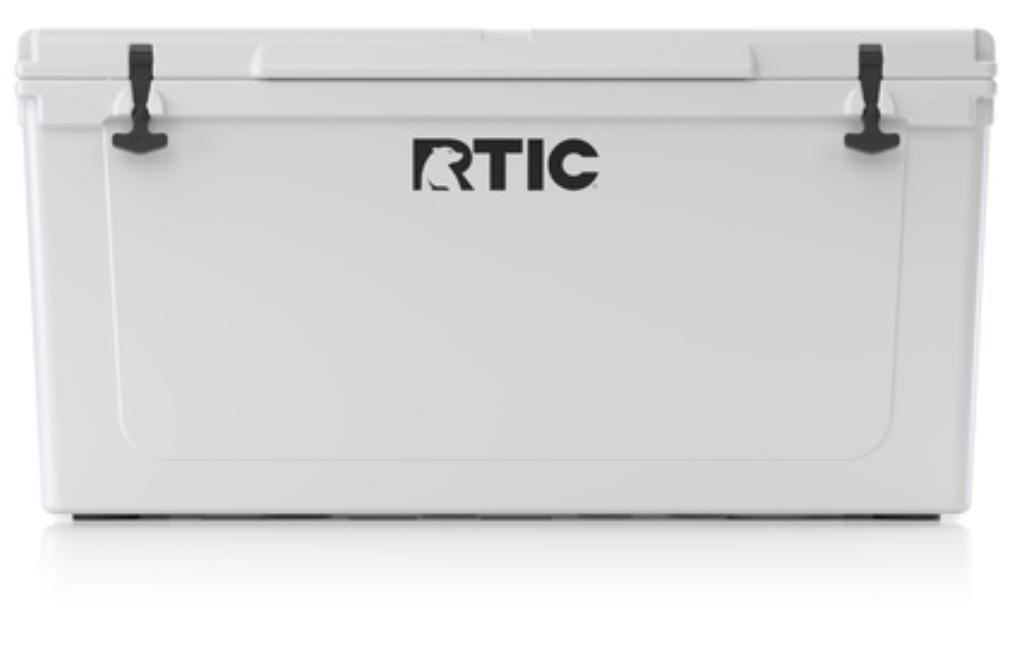 Basically a mobile fridge, great hurricane backup
Holds 145 cans
The biggest, baddest cooler you can get your hands on
Four colors: tan, grey, blue and white (above)
Lifted rubber feet keep surface cool
High traction lid
Freezer grade gasket seals lid
3″ insulation, rugged rotomolded design
High quality rubber components
Ice lasts up to 10 days
The last hard cooler on the list is now up: the RTIC 145 quart ice chest. This one is not for the faint of heart (and weak of arms). Similarly to the 110 (above), people rave and rave about their 145 quart cooler, for a few main reasons. First and foremost, the ice life. When RTIC says ice will last up to ten days, they mean it. The 3″ insulation, thick plastic exterior and freezer lid gasket insulate this thing like crazy. Of course, there are a few other cooler brands that can give you this kind of performance, but that leads us to the second biggest reason people love it: it's a fraction of the cost compared to the other big brands.
On top of the savings compared to other coolers, one often overlooked saving is just the cost of the ice. Sure, you need more to initially fill the cooler, but how often are you running to the gas station to replace it with your current cooler? Ice literally lasts more than 7 days, so not only are you saving on the convenience, but also the cost of adding ice. A cooler this big comes with a downside: it's quite heavy, at just under 50lbs when empty. So when it's filled with ice, cans, your quarry or a bunch of fish, it's even heavier. But, you should expect that with a big hunting cooler anyways.
A lot of people are actually buying these coolers for use as a back-up refrigerator during hurricanes and if they live in other areas where power outages are common. That's the thing about buying these big, oversized coolers is that they have a ton more versatility than a small cooler. As long as you have the place to store it, you can use this to hunt and fish, as a backup, and when you have your big family reunion, you've got all the space you need for food, drinks and leftovers. As far as colors go, you'll get slightly better performance from white, but people love the grey and blue, and they stay a little cleaner. You can't go wrong with the RTIC 145 if you need all that storage.
RTIC SoftPak Review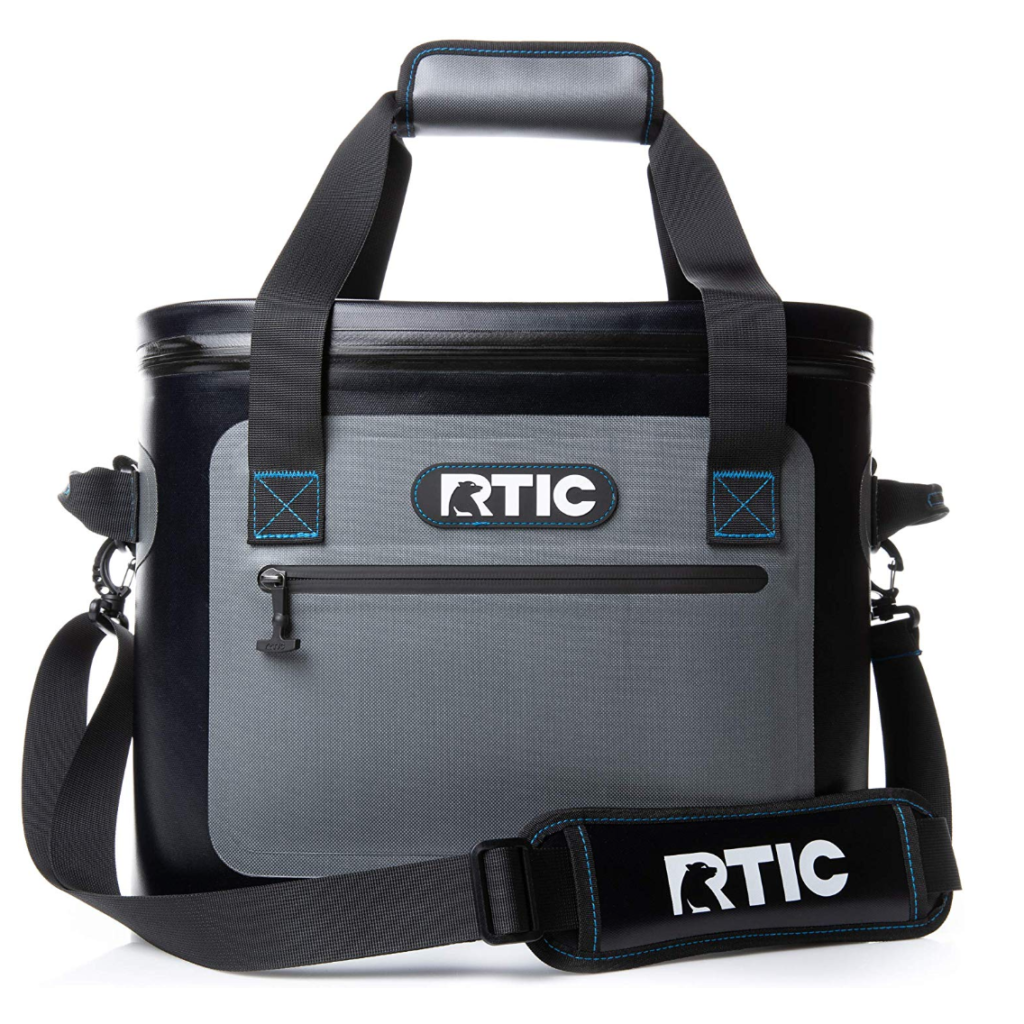 Lightweight, ultra portable
Three sizes: 20 can, 30 can and 40 can
Four colors available
Leakproof zipper, puncture-proof
UV resistant, anti-mildew
Laminated fabric and welded seams
No sweat design, won't condensate
2″ thick insulation
Surprising ice retention: up to 3 days
The last RTIC cooler review we have for you is a little different from the previous few. RTIC coolers also recently moved away from strictly roto-molded versions into a smaller "soft-sided" model: the SoftPak It doesn't have quite the same performance as its roto-molded cousins, but the 2″ insulation does an impressive job of keeping out heat, and keeping in the cold. This is an awesome cooler for day trips, trips to the beach, your lunch, or getting a few groceries like meats home that you want to stay cold. But, the insulation is quite thick and provides surprisingly good performance – we've seen up to 3 days of ice. You'll probably want a larger cooler if you need ice that long, but it's good to know you can get that kind of life!
The no-leak zipper is a great feature and combined with the durable nylon exterior will last you a long time. It's puncture-resistant, leakproof, UV-resistant and antimicrobial, so it's going to last you a long time. And no concern over that nasty mildew smell that can develop on some coolers over time. There are three sizes available, the SoftPak 20, 30 (pictured) and 40. Each holds the corresponding amount of cans. So again, they're not the biggest soft cooler you can get, but that's not what they're for. They're for having an on-the-go option, when you just need ice for the day.
RTIC 65 vs 110
One extremely common decision that people often have to make, is deciding between the RTIC 65 and 110 coolers. Unfortunately, RTIC doesn't make a cooler that's in-between these two sizes, so it often feels like either the cooler may be too small or too large. Here's how to decide.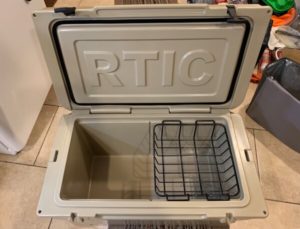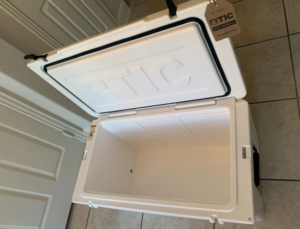 If you're more focused on keeping a tighter budget, and if your car or boat can't fit the 110, then the 65qt will most likely suffice. But here's who we usually recommend the 110 for. First of all, the 110 is really not that much bigger than the 65 – it's only 4″ longer, 3″ deeper and 1″ taller. Remember, a lot of the size of the cooler is just from the thick insulation. Now, this extra size does 12lbs to the cooler, but with substantial 55 more quarts of storage.
If you don't mind the extra weight of the RTIC 110 qt, and it can fit in your car or boat comfortably, you'll definitely at some point be glad you have the extra space – especially in the event of an extended power outage, if you have (or plan to have) a large family, or if you fish and/or hunt. You can see above that the 110 allows for an entire extra divider to be put in, allowing you to better keep your ice, drinks, food and whatever else, separate. You won't be disappointed, just try to think about how many things you need to fit in the cooler, and all the different times you may use it: if you can manage the extra space and weight, go with the 110qt.
Wondering about RTIC vs YETI coolers?
You may have noticed by now that this article only includes RTIC Cooler Reviews.
If you want to see how RTIC coolers vs YETI coolers compare, check out this article. The comparable size to the hard coolers would be YETI Tundra line. The YETI Roadie (20), YETI Tundra 45 and YETI Tundra 65 are their three most popular models, and most comparable to the RTIC 20, 45 qt and 65qt. The YETI Hopper is their soft cooler you could check out if you want to opt for the more expensive YETI's. RTIC and YETI are both great coolers, read the article linked to above for more info on how to decide between the two.
Check Out More Cooler Reviews
RTIC may be one if the biggest brands of cooler out there, but make sure you check out our cooler reviews to get the full scoop on popular alternatives and comparative ratings! While an RTIC ice chest is a great choice, there are some other good ones to consider.
Where's the RTIC Coolers with Wheels?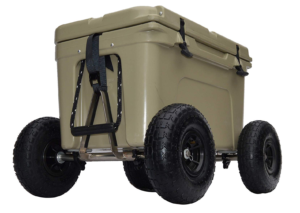 Unfortunately, RTIC doesn't currently manufacture a cooler with wheels, so you are (for now) stuck with carrying your cooler. They've been given tons of feedback regarding this, and there's only two or three competitors that currently make a wheeled cooler. But, there are some pretty awesome "after-market" wheel kits you can buy that will save your back – you can thank us later.
Quality of Manufacturing & Materials
These ice chests are manufactured using a process called rotational molding by which a hot, hollow mold is filled with molten plastic, while simultaneously rotating the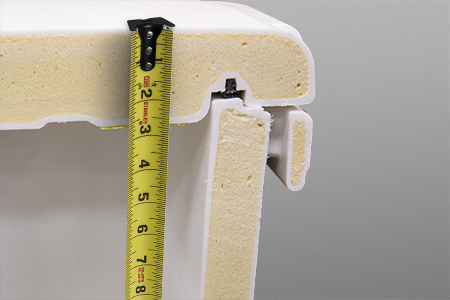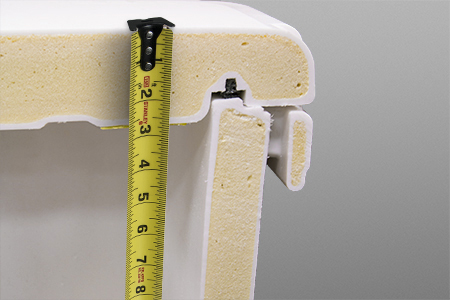 mold. The plastic cools while rotating, and as you add more molten plastic, you can produce thick, uniform walls with no seals. In the case of this type of icebox, the melted plastic is poured over thick foam insulation, encompassing the foam without any seals.
The resulting "roto-molded cooler" has no seals by which heat can seep into, or that wear and tear can expose the insulation. For boats and other marine environments, the seals can be damaged more easily as water can seep into the seals, ruining the insulation and damaging the cooler, making these coolers ideal for boating and other marine our outdoor environments. The thick (up to 3″ thick), sealed walls make the coolers virtually indestructible. Roto-molding is a more expensive process, making RTIC coolers a little more expensive than cheaper brands like Coleman. That being said, you'll save money on ice, the cooler will last you ages, and you're paying for something that actually works.
Pro Tip: Pre-Cooling
The insulation in these containers is extremely thick, and traps heat/cold very effectively. However, that can work against you. If your cooler is left in a warm space while not using it, it will absorb that warm ambient heat. Then, when you put your ice in, it will melt faster than usual because of the higher heat of the insulation. Try and store your cooler in a cool space (in a perfect world, a chest freezer), or if that's not possible, try this tip: By putting ice into the cooler a few hours before you are using it, you can cool down the insulation of the cooler, allowing your goods to stay cooler longer. Drain out any water that was produced from this ice and you're good to go!
Design Features

Not only are RTIC coolers built like tanks, but they have some nifty features included that make them perfect companions for whatever activity you're getting out and doing. Here is a quick short list of a few of our favorite features. Since we first wrote this article, RTIC has improved on their manufacturing and added a few great features as well.
The lid and body are molded so that the two front corners have a small hole which can be secured with a padlock, keeping your goods safe and secure from other people, or animals. They can also be used as tie-downs. When you hear about a cooler being bear-proof, this is what provides that. RTIC aren't technically certified bear-proof, so let's just say, bear-resistant, since you can lock it up and nothing will be getting in after that.
The heavy-duty freezer style rubber gasket mounted inside the lid produces a tight seal, keeping in the cold more effectively than other, cheaper coolers. It also acts to prevent food odors while camping resisting attracting any wildlife. There's also a locking system you can use by putting a padlock through one of the holes in the corner of the lid. One thing that people are doing these days is actually using dry ice with their coolers. If you are going to do this, you'll need to know that the gasket produces an airtight seal which is very dangerous when working with dry ice, so just please be careful!
The latching system is composed of two, T-shaped rubber latches that snap in tightly, making it easy to open and close, while still producing a firm marriage. In the past, these rubber latches would degrade over time, but RTIC improved on the manufacturing of them and now they don't have any issues with rubber quality.
The non-slip feet help secure the cooler to whatever surface it is on, and the slight lift prevents ambient heat from the ground or floor from heating up the insulation. The lid has a new traction grip top, which makes it a great surface to use either to sit or stand, or to put your tacklebox or something else on when you're not using the cooler.
RTIC actually has added a second drain spout to the coolers for easier and faster draining. When you have the lid closed, it's airtight, so when you open the drain it often drains slowly, glugging out. Opening the second drain helps break that airlock.
Some of these features are also found in Yeti coolers, RTICs main competitor. We compared the two in this comparison.

Did You Know?
The water that is produced from melting ice actually helps keep your contents colder? The water fills the spaces between the ice that air was previously occupying. This cold water is a better insulator than air, which helps keep the inside of the cooler cold, and your ice lasting longer. Too much water will cause your ice to melt faster though, so drain the excess!
Performance
The big claim behind RTIC coolers is that you can keep ice frozen up to 10 days. And let's be honest, it sounds pretty inflammatory. However, we can't rtic-ulate (sorry, had to) enough, that this is actually realistic in many situations.
Every person's results will differ slightly, since how long the cooler will hold ice is dependent on various factors such as:
– Did you use a "sacrificial bag of ice" to pre-cool the insulation?
– How much ice did you start with
– What type of ice are you using (small cubes or large blocks)
– What temperature it is where you use the cooler
– How often you are opening and closing the lid
Despite all the varying factors, we would expect you to get at minimum 7 days of solid use with ice still left over. That estimate is based on you going in and out of the cooler a few times a day, and having it being in a fairly warm environment. Any of the sizes of hard cooler we've covered above will definitely have you covered for a weekend camping trip. The larger coolers are popular choices for use as a backup fridge, with ice lasting more than 7 days, and as you maintain it by draining, and keeping it closed, getting up to that ten days is realistic in some scenarios. Again, there are so many factors that can influence ice life, you can be confident you'll get at least a week of ice, which is more than most everyone will need.
This consumer test showed that you can get 5+ full days of use and still have ice leftover, if you just throw the ice in and leave it. He only opened the lid once a day, but he did not use a sacrificial bag of ice, so that would also extend the performance of the coolers.Overall, they hold ice extremely effectively.

Sizes & Colors Available
RTIC coolers are now available in a much wider range of sizes, starting at 20 quarts and going all the way up to 145 quarts. They also have their soft coolers which come in three different sizes: 20, 30 and 40 can. They've also added a few different colors you can buy, our favourite being blue, but the 65 qt model also has a pink you could choose which is a nice flashy addition. Usually, an ice chest with a lighter color has better performance since it holds ice longer, but the colors are sometimes too cool to pass up.
Warranty & Customer Service
RTIC offers a guaranteed limited one year warranty for their coolers for their hard and soft coolers. There are a couple brands out there that offer lifetime warranties, but usually any defects from manufacturing that the warranty covers typically appear before a year is up. As far as customer service goes, we've had nothing but good experiences with their customer service. Of course, it sometimes just depends on who you get on the phone that day!!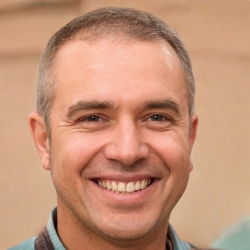 Latest posts by James Kennedy
(see all)