Article Updated: April 7th, 2018
With summer fast approaching, whether you are going to spend it fishing, kayaking, camping or just chilling at the beach, you're going to need the best coolers to go with you – one that looks good, can withstand the outdoors, and most importantly keep your food and drinks ice cold.

The Best Coolers for 2018
We've reviewed the most popular brands of coolers here at ShedHeads and narrowed it down to these 12, the best coolers of 2018. Whether you want to go for a premium brand like YETI, a cheaper alternative like RTIC, or a classic Coleman, this guide will help you find the best option for your needs.
Choosing the Right Cooler:
Sifting through all the different options and reviews online can be intimidating. We've taken out the guess work by compiling this list for you. Because different coolers do suit different activities better than others, we've separated them into the best for each category. Here's our list of the best coolers for every activity:
Spring 2018 | New Cooler Feature: Ozark Trail 26qt
Notable Features: Affordable, good ice retention, versatile size
The Ozark Trail cooler is a new cooler to the market, made to be a more affordable version of the RTIC and YETI roto-molded coolers that we have on this list. With a price point around the $100 mark, it's a super affordable model. But, this cheaper price isn't without its downfalls. It doesn't have quite the same ice retention as an RTIC, YETI or ORCA, but you can still get a good 2 days of ice or so, making it great for the beach, camping or road trips. It is a little on the heavy side as well, so for greater distances, especially when filled with ice and food/drinks, it can be a bit of a pain. We personally would go for a more durable and reputable model like ORCA, a product made in the USA and with a great warranty, but if you're shopping on a budget, it's worth a look. 
Best Cooler for the Money: ORCA 58qt
Notable Features: Cargo pouch on back, made in USA, lifetime warranty, great ice retention.
While YETIs have a great reputation, and Orions have some great features, when it comes down to it, ORCA comes out on top as the best cooler for the money. They've just done such a great job of balancing versatility, quality, performance and price. The pouch on the back is great for safely storing your keys or phone. The rugged design and materials make it bear-proof and the thick insulation can have ice last more than 6 days. The 58qt is a nice versatile size , but there are lots of sizes available. To top it all of, ORCAs are still made in the USA, have a lifetime warranty, and a portion of all profits is donated to wildlife conservation and Wounded Warrior programs. Doing it right.
Runner Up: It was a close race, and our runner up in this category is RTIC because of their affordability. Ultimately all the features of the ORCA make it the best for the money, though.
Our Full Orca Coolers Review:
Want to know more? We wrote an in-depth Orca Coolers Review for anyone who wants to learn about the nitty gritty details. We directly compared it to the Yeti – one of the most popular options on the market.
For The Beach: RTIC 45
Notable Features: Awesome ice retention, affordable
Although RTICs are considered by some to be knock-offs of YETI, they actually hold their own in terms of quality and performance. A lawsuit was even pursued by YETI which was settled (supposedly) amicably. When you compare the two brands side by side it's easy to see why, as they look almost identical. There are a few quality deficiencies, but they also come at a cheaper price. In general, we've actually found that RTICs have slightly better ice retention than YETIs making them great coolers for the beach. Even uncovered and in direct sunlight, you'll have lots of ice for the entire weekend. You can get past 7 days of ice if you're careful. 45 quarts is a great versatile size, but a 65qt might be better for larger groups or families. RTIC is in the midst of redesigning their roto-molded coolers though, so you should think about getting one of these while you can.
Runner Up: If the RTIC isn't catching your eye, our second choice for the beach would be a wheeled Pelican.
Our Full RTIC Coolers Review:
If you want a more in-depth look at this popular option, read our full RTIC review to get the lowdown.
For Camping: ORCA 40qt
Notable Features: Cargo pouch on back, made in USA, lifetime warranty, great ice retention.
ORCA coolers are among the best premium cooler brands, and unlike other brands like YETI that have outsourced to China and other countries, ORCAs are still manufactured in the USA. We absolutely love this line, but you might be wondering why we've also made it our pick for camping? This thick roto-molded cooler is made with quality materials and is extremely heavy-duty and durable. Your ice can last for 5+ days easily. It's also so rugged, that as long as you use a lock to close the lid, it can stand up to grizzly bears. One of the best features that other coolers on the list don't have is the nifty pouch bolted on the back, which you can use to store small accessories like your phone, keys or pocket knife. The ORCA 40qt is a great camping size for most folks, but there are larger sizes if you think you'll need the extra storage. Plus ORCA offers a lifetime warranty, so you can be confident it will last you years.
Runner Up: Once again, ORCA is on the list. If we had to choose an alternative to it for camping though, we'd go with a YETI. You don't have to worry about all your ice melting and being certified bearproof is a huge plus too.
ORCA vs YETI Comparison & Review:
ORCA is one of our favourite brand of coolers, and if you're interested in it, we'd recommend reading our full ORCA review and how they compare to YETI.
For Kayaking: Orion 25qt
Orion coolers have somewhat flown under the radar of the roto-molded cooler movement. But, they are some of the best-made coolers you can get. Orions are actually made by Jackson Kayak, a major producer of kayaks and canoes. They use their expertise in manufacturing to make impressively durable and quality coolers. Their insulation is at least 2″ thick in every wall and the lid of the cooler – unlike other brands whose lids are often thinner than the walls which is where the heat can seep in. As a result, ice will last you up to 7 days if you're diligent with keeping the lid closed throughout. It's got so many features that make it great for kayaking, fishing and other activities. The non-stick rubber lid pad, built-in bottle openers, low-profile aluminum latches, included divider/cutting board are just a few. Plus, it has a built-in aluminum track system, which can be used to mount YakAttack kayak fishing accessories. The only downside is that they are a little on the pricey side. BUT, Orion also provides a lifetime warranty, and are made in the USA. There is also a 65qt and 85qt model available if the 25qt won't suit your needs, but it's the best size for most kayaks.
Full Orion Coolers Review:
This mini-review really just scratches the surface of everything this model has to offer. To learn more, See our full Orion coolers review.
Best Soft Cooler: Polar Bear 24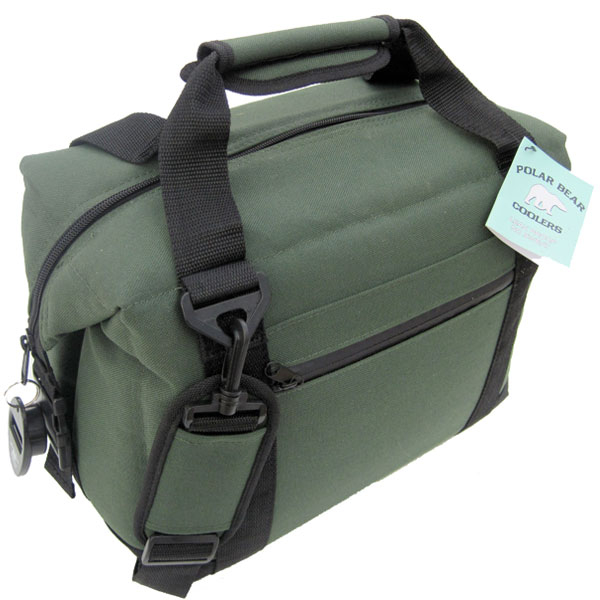 In this age of big, heavy-duty ice chests, sometimes a lightweight, soft cooler is what you need. Polar Bear's soft coolers are the absolute best you can get your hands on (in our opinion). Many people are hesitant to purchase a soft cooler because they aren't as durable as hard coolers, but Polar Bears are made with a tear-proof 1000-denier nylon exterior and a durable inner lining. Both are extremely tough, and they protect a very hi-tech and impressive open-cell foam insulation. Having a flexible soft container is awesome to shove into a packed car or fold up when it's empty, a feature often overlooked when purchasing a larger traditional cooler. Polar Bears are all backed by a lifetime warranty as well – excluding normal wear and tear. Because they are thinner,  You can get about 24-36 hours of ice so it's not more than weekend warrior. It fits 24 cans, and there is also a smaller 12 or larger 48 model if you need it. The built-in bottle opener has you covered if you opt for bottles over cans as well. A Polar Bear soft cooler is a great companion for so many occasions.
Runner Up: YETI actually makes an awesome soft cooler, called the Hopper Two, which is an awesome cooler and a great alternative to a Polar Bear.
Polar Bear Coolers Full Review:
While this is just one of many options available, there are a few things that make this specific model unique. Read our full Polar Bear Review to get the low-down on everything this brand has to offer.
Best Wheeled Cooler: Pelican 45qt
Although newer roto-molded coolers are extremely durable and great at keeping ice, they are extremely heavy. Thankfully you can grab a wheeled cooler like this Pelican, which lets you tow it around rather than carry all 35lbs of it (not including your bounty) in your arms. The 2″ thick high density foam insulation can give you 7+ days of ice which is one of the best we've seen. Pelican offers a lifetime limited warranty as well should there be any manufacturing issues. The wheels are surprisingly heavy duty, and will have you tearing up any terrain – even if you take it to a sandy beach. The lid has four cup holders, and the lid can be locked to protect your things from wildlife, or other campers (yeah, it happens unfortunately). A great tip to improve the organization of your cooler is to get one or two of these kitchen pans to sit inside the lip of the cooler like this. Pelican also makes an 80qt wheeled cooler if you want something larger, but keep in mind it's much heavier. 
Pelican Coolers Comparison & Review:
This is just one of the few products that Pelican offers, and if this specific one doesn't suit your needs, there are plenty of sizes and colors to choose from. Read Our Full Pelican Review if you want to explore some alternative options.
For Hunting: Grizzly 75qt
Grizzly coolers have all the features that you need in a hunting cooler: a heavy-duty and rugged design, a large capacity, bear-proof design, and up to 7 days of ice retention thanks to their roto-molded design. Their non-slip rubber feet will stay put in the back of your truck even on dirt roads, the included dry goods tray keeps your goods organized, and a embossed ruler on the lid is extremely handy for cleaning and prepping. Grizzly's are made in the USA, and offer a lifetime warranty protecting their products. Even if you're out in the bush for several days, your ice will stay frozen, for up to 7 days and maybe more. So if you are having trouble finding quarry you don't have to worry about running out of ice – or food, since 75qt gives you lots of space. Plus, when you finally bag your doe (or whatever you're hunting) there's lots of space to fit meat. There are a ton more sizes available too, so if you think 75qt is too big or too small, you've got options. 
Runner Up: Because RTICs have such incredible ice retention, they make for a great hunting cooler so we'd recommend checking them out for an alternative to a Grizzly.
Grizzly Cooler Reviews:
For more models and sizes, check out our detailed Grizzly Cooler Review to learn more about sizing, pricing, and unique features.
Best Marine Cooler: YETI 75qt
Although YETIs have a reputation for being unnecessarily expensive, they're arguably the most reputed, and still are cemented among the best brands of roto-molded coolers. Their trademarked rubber feet prevent any slipping around in your boat, and the thick insulated lid is sturdy enough to sit on. If someone loses their sea-legs and falls on it, or if you just want a better vantage point while using your fishing rod the lid is solid enough to sustain your weight. A wire frame basket is included with YETIs which helps keep some of your smaller goods dry and above the ice, or you can use to separate your bait from your catch. 75qt is a great versatile size, small enough for a single person to carry, but large enough for all the fish you just caught. There are several smaller and larger available if you need too. You can also get the optional divider which also functions as a cutting board – nifty! Your ice should last you at least 5-6 days in this YETI and although you are paying a little extra for the brand name, you're getting a high quality and reputable product in return. 
Complete Yeti Coolers Review:
Yeti is one of the most popular options on the market, and what we outlined here only just scratches the surface of what this model has to offer. Check out our Yeti Review to learn more about the models and sizes available.
Cheapest Cooler: Coleman Xtreme 70qt
By now you've likely noticed that many of these premium coolers are pretty expensive. Thankfully, there is a much cheaper alternative that can still provide ice for a few days. The Coleman Xtreme is the best cooler for the money, for the simple fact that it can hold ice for up to 2 days, at a fraction of the cost of a more expensive cooler. Just don't expect it to last nearly as long as the others on this list. The plastic is thin, the hinges are very flimsy, and the handles aren't the best either. But if you just need a cheap cooler that holds ice for a couple days, you can't beat the price. 
Detailed Coleman Coolers Review:
Coleman is one of the most respected brands when it comes to camping gear. Although their Xtreme cooler is among the best options for those on a budget, there are plenty of features that we didn't have a chance to outline here. For more information, check out our detailed review of Coleman coolers, or learn the specifics of this model in our Coleman Xtreme Review
Best Small Cooler: K2 20qt
Sometimes you don't need a big huge cooler, and just want something smaller for personal use for a day trip, beaching or ATVing. The K2 20qt is perfect for personal use. Although it is a little heavy, the insulation is thick enough to have ice last you 3+ days and it has an awesome padded shoulder strap that you just don't see from other brands. The strap leaves your hands free for whatever else you're bringing along: surfboard, folding chair or fishing rod. It can also fit about 18 cans, plus some ice packs, so there's plenty of room if you end up doing something with a friend.
Full K2 Coolers Review:
K2 doesn't focus on just compact coolers, they've got a complete lineup of affordable options that focus on ease of use and reliability. For more details about their models available, check out our K2 Coolers Review.
Best Day Cooler: Igloo STX 54qt 
If you don't need a cooler that will hold ice for up to a week, then there's no point paying for it! If all you need is a cooler that can keep your lunch and beverages cold for the day (maybe 2 if you really push it) this Igloo is a great choice. Although the majority of the cooler is plastic, it's quite thick and surprisingly rugged. The stainless steel hinges are a huge bonus since those are typically the first things to break on cheaper models. The lid is sturdy enough to sit on, and with a capacity that fits more than 80 cans in there, you'll have space for everyone's lunch and drinks. This is an awesome choice for BBQs, parties and day trips to the beach.
Igloo Cooler Review:
Igloo has plenty of options available for people looking for an affordable day cooler. While the model above is our personal favorite, you'll be able to learn about the other options in our detailed Igloo Cooler Review.
Best Lunch Cooler: Polar Bear 12
While some folks traditionally use tent-top hard coolers like classic Igloos, we prefer a soft-sided cooler like Polar Bear for a few reasons – most notably though their ability to be folded up and squished when empty. Polar Bears are extremely rugged, and nearly impossible to tear the exterior. They hold ice extremely well for 24 hours at least, and have a handy shoulder strap, your lunch will stay cold and it can even be a great beach cooler as well. The zippers are durable and tight to keep in the cold and keep out dust and sand. When you're finished with your lunch you can squish it up and fold it to make it smaller and save space in your locker or car. Be careful if you're packing a fork and knife with your lunch though, they're not that tear-proof. 
Full Polar Bear Coolers Review:
Wanna know more? Learn about the features offered in our Polar Bear Cooler Review. We'll go in-depth to find all of the pros and cons, so you can make the final decision to see if this model is right for you.
What's The Best Cooler for You?
We've given you plenty of high quality options, but which one best suits you needs? If you're still unsure, we'll help you understand the differences between them. Depending on how you intend to use it, what works for one person may not work for another. We're going to go through several key factors that you need to understand before you can find the right model.
Soft Cooler or Hard Cooler?
Most coolers can be divided into one of two different categories: hard sides, and soft sides. A soft side cooler typically has fabric or vinyl and uses a soft, malleable insulation. These coolers are much more inexpensive to make, and tend to be more portable. When not in use, you can simply fold them up and tuck them away. They are very lightweight, and easy to clean since you can just put them into the sink.
On the other hand, hard side coolers tend to have better insulation. Their rigid build allows them to keep your food from getting crushed or jumbled, and food will typically stay cool for upwards of an hour. The actual time they will stay cool depends on the type and thickness of the insulation, but they universally will last much longer than a soft cooler.
Buy a Soft Cooler If You're Looking For:
affordability
portability
ease of use
Buy a Hard Cooler If You're Looking For:
longevity
durability
better insulation
Roto-molded Coolers
One thing you may have noticed is that rotomolded coolers tend to be the best rated on our list – and there is good reason for that. But first, what exactly is a rotomolded cooler?
Rotomolding is a technology that allows manufacturers to easily coat a piece of foam insulation with hard plastic. They simply build the inside of the cooler out of a high density foam, then put it in a chamber full of plastic pellets. The plastic is heated, allowing it to become soft and malliable – but not quite hot enough to melt. The plastic will smooth out and roll over the foam insert, creating a hard shell around the insulation. Think of it like an M&M – where the chocolate is insulation and the candy shell is plastic.
There are two key advantages of rotomolded coolers. The insulation tends to be significantly better. In fact, almost every single one of these so-called 10-day coolers (meaning that they can keep your food cool for upwards of a week) are rotomolded. They are also incredibly durable, with some brands even strong enough to drive over them with a large vehicle!
The downside with rotomolded coolers is that they are extremely expensive – sometimes a few hundred dollars or more, depending on your size. If you want the best, this is the way to go. But if this is just something you're only going to use a few days out of the week, you might want to check out a more affordable option.
Want More Cooler Reviews?
At ShedHeads, we've reviewed dozens of different makes and models from plenty of different manufacturers. This guide was written as a summary for all of our other cooler reviews. If you want a more in-depth review of a model we mentioned in this guide, or to see a review of a specific model we didn't cover here, you'll find everything you need here. You can see a quick link to each model on the right sidebar, or you can check out a list of all of our reviews here.
Have a cooler you love, but we haven't mentioned? Own something on our list, and have something to add? Our reviews are based on our own experience, and we love updating our reviews to include our readers thoughts. Drop us a line in the comments, and leave our email if you want us to reach out to you. We'd love to hear from you!