If you're looking for a high-performance cooler, there are a lot of options out there. We've tested models from many different manufacturers. There are many differences, but one thing remains consistent. Rotomolded coolers will keep your ice frozen for close to a week, while basic coolers rarely last a day.
Engel Cooler Review 2020
Even though these coolers perform very well, this isn't usually the selling point. Some are more durable, others have handy storage features built in to them. Even though ice retention is the main advantage of these types of coolers, manufacturers are trying to find ways to set themselves apart from the competition. In some cases, this comes in handy. If you're going to be throwing your cooler in the back of your truck, then a model with built in tie-downs is a good buy. If you're fishing, having a tray to gut your fish in is a selling point. But not everyone is sold on features. Some of us just want something simple, that does it's job well. If this describes you, then Engel has a cooler for you.
As soon as we learned that Engel produces their own cooler rather than outsourcing their manufacturing, we knew that things were going to be different. If any company could come in and shake up the industry, it's these guys.
Why? Our first encounter with Engel coolers was when we were researching 12V refrigerators. Engel fridges use an extremely efficient compressor, and produce a fridge that uses 90% less electricity than standard models. It's so efficient that it can be run right off a solar panel.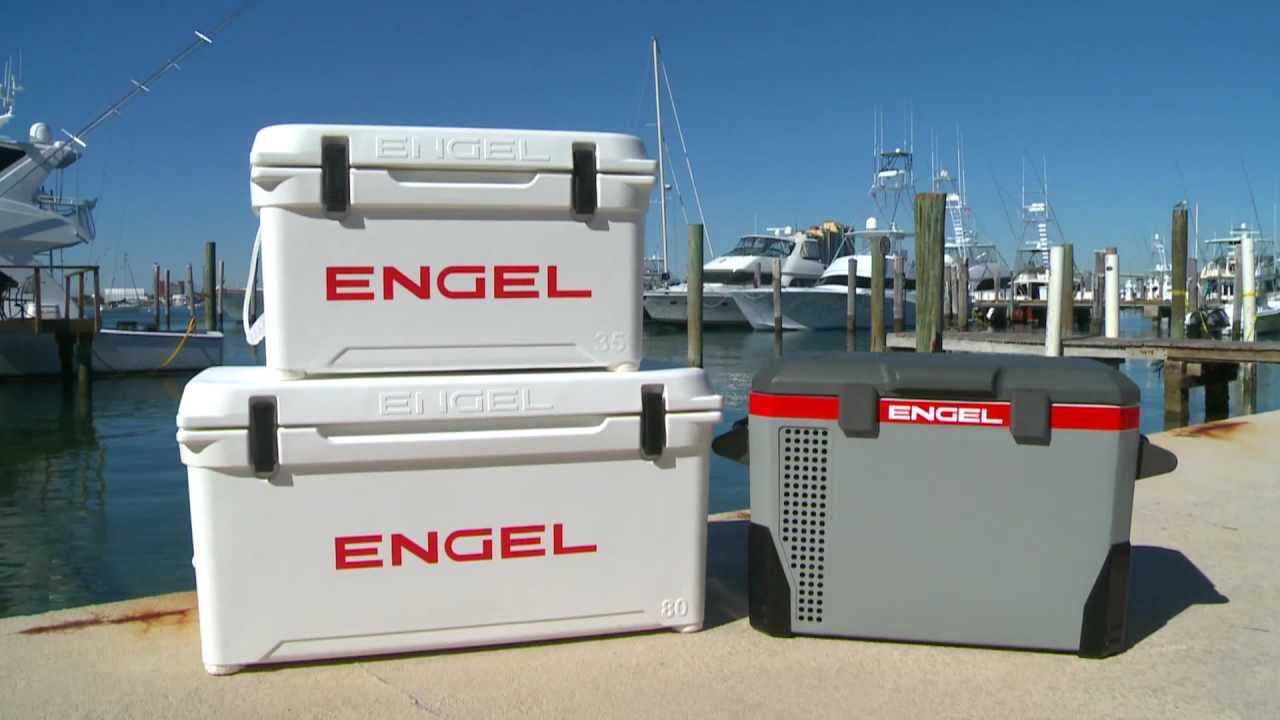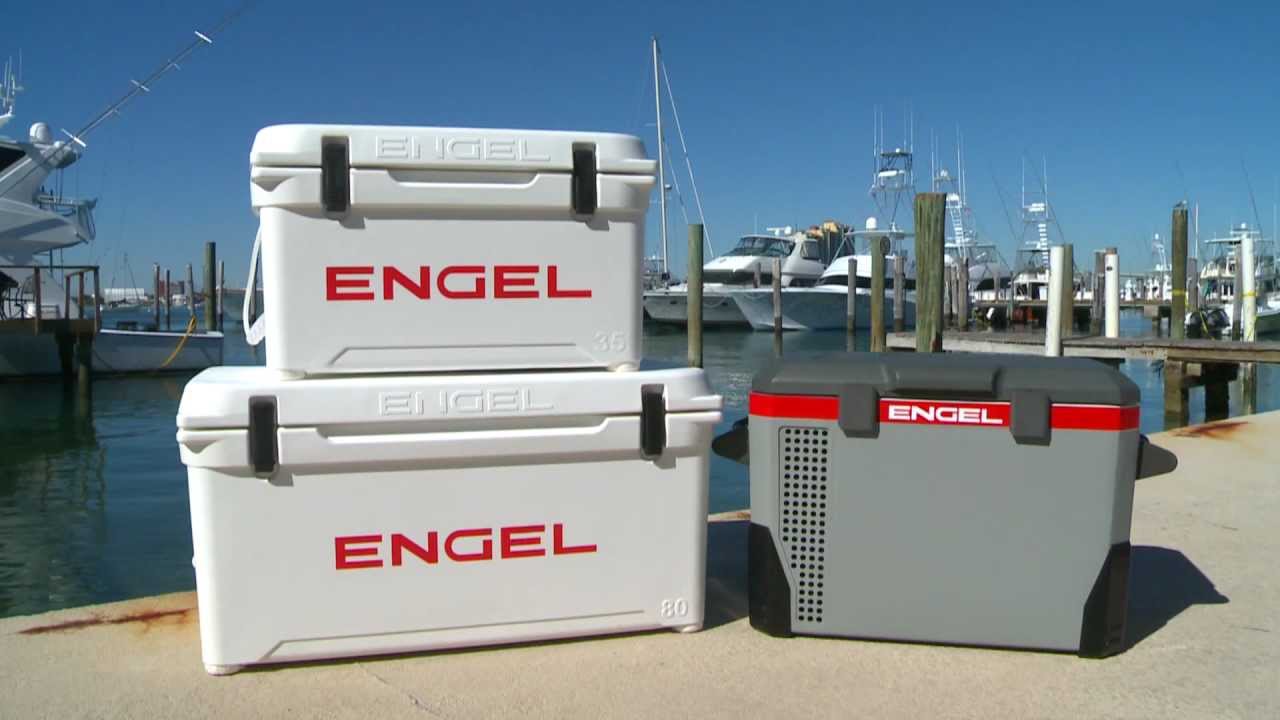 What does this have to do with coolers? One of the main reasons Engels fridges are so efficient is the polyurethane insulation. Although they are compact, they're insulated better than even the freezer you have in your home. If their coolers use the same polyurethane insulation, we expect to see some pretty impressive results. Let's go hands-on and find out how an Engel Cooler stacks up against the competition.
Engel Cooler Reviews:
Engel Backpack
Soft Cooler
Engel Airtight
Cooler/Dry Box
Engel High Performance Cooler
Ice Retention
Up to 3 days
Ice Retention
Up to 2 days
Ice Retention
Up to 10 days
Colors Available
Grey, Silver, Seafoam (pictured)

Colors Available
Camo, pink, white, tan, silver (pictured)

Colors Available
Grey, tan, white, pink, blue, seafoam (pictured)
Sizes Available
One size only

Sizes Available
13qt
19qt
30qt


Sizes Available
35qt
50qt
65qt
80qt
Up to 320
Full list below…
Ideal For
Beach
Boating
Hiking
Ideal For
Day Trips
Fishing
Tailgating
Camping
Ideal For
Multi-use
Fishing
Hunting
Camping
Parties

CHECK PRICE ONLINE

CHECK PRICE ONLINE

CHECK PRICE ONLINE
Looking for The Engel 12v Cooler?
Another popular product that Engel makes is their 12v cooler – one of the most popular 12v cooler/refrigerators you can get your hands on.
This article focuses on Engel's ice chests style coolers, not 12v coolers, so, check out our 12v Engel Cooler article if you want to learn about the Engel 12v cooler (that picture over there). If you're just looking for a regular cooler, not one that you plug in, keep reading to check out some of the sizes of the Engel Deep Blue coolers (their roto-molded coolers) further down.
Sizing of the High Performance Coolers
When you've got a brand name that's recognized all around the globe, I suppose you don't have to focus on coming up with a catchy name for your products. Known simply as the "Engel Cooler," individual models are identified by their storage capacity. Let's take a look at the different sizes and options available.
Engel coolers makes a single size of soft cooler, in a backpack form. This soft cooler holds ice up to 5 days in ideal scenarios, but more likely you're getting 1-3 days of ice out if it. They come with a shoulder strap for carrying it like a tote, or two shoulder straps to carry like a backpack.
They make 3 sizes of their dry box ice chest: 13qt, 19qt and 30qt. These coolers don't have the same kind of performance as the Deep blue coolers, but they provide an airtight seal making them great for a variety of short term storage uses.
Where they offer many different sizes is in their Deep blue rotomolded high performance coolers. These coolers, also known as the Engel Deep Blue coolers, have thick insulation and a tough rotomolded construction that hold ice up to 10 days. They're a big, bad bear resistant ice chest with 2 inches of insulation. This is the best Engel you can get in all aspects.
One of the things you'll want to pay attention to is the actual internal capacity of a cooler when choosing one. Some vendors of ice chest (Pelican, for example) rate their model numbers with the exact internal capacity. Others (like YETI Tundra coolers) use the external volume, so the numbers are always a little lower. Engel is pretty consistent with this. Keep in mind, a bigger cooler is not always a better cooler – as size increases, so does the weight. Pick a size that's going to suit all your needs, and not leaving you wishing you had more space! Here's a look at the full lineup of Engel high performance cooler:
The Engel Coolers Lineup
Engel 25

Specifications:

21 quarts

24 cans

18 lbs

Engel 35

Specifications:

35 quarts

42 cans

22 lbs

Engel 45

Specifications:

47.5 quarts

48 cans

26 lbs

Engel 50

Specifications:

48 quarts

60 cans

24 lbs

Engel 65

Specifications:

58 quarts

90 cans

26 lbs

Engel 80

Specifications:

74 quarts

100 cans

32 lbs

Engel 85

Specifications:

76 quarts

96 cans

35 lbs

Engel 123

Specifications:

108 quarts

130 cans

42 lbs

Engel 165

Specifications:

167 quarts

264 cans

58 lbs

Engel 240

Specifications:

229 quarts

347 cans

65 lbs

Engel 320

Specifications:

293 quarts

441 cans

82.5 lbs

Specifications:

36 quarts

24 lbs
Build Quality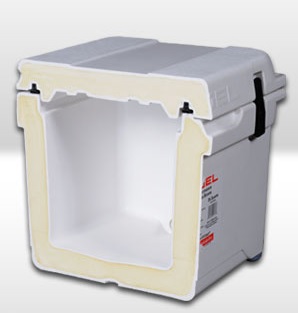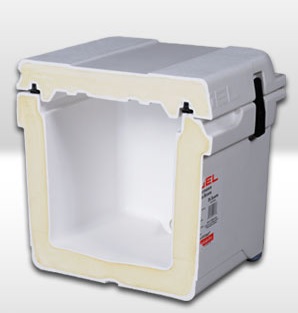 Like most high-end coolers, Engel manufactures every one of their products using rotomolding. They begin with a foam frame. This foam is about 2 inches thick on all sides – significantly more insulation than you'll find in your everyday, run of the mill cooler. They then partially melt plastic pellets and rotate them at high speed until they coat the foam. The end result is what you see here. The 2 inches of insulation allows Engel coolers to hold ice up to 10 days!
One of the things that's unique about the plastic they use is the additives. The coloring is 100% UV resistant. This means that even when it's out in the hot sun all season, the paint won't fade. It will stay looking like the day you bought it, no matter what nature throws at it.
Although the design is simple, it's incredibly durable. This is the kind of cooler that can survive being dropped, bouncing around in the box of a truck, and generally being tossed as needed. It's pretty utilitarian in this sense. Nothing too over the top, but always reliable.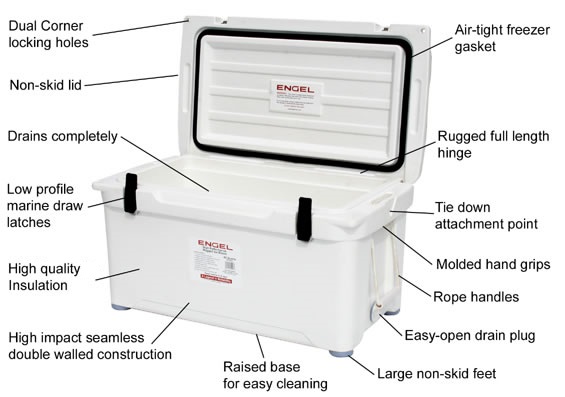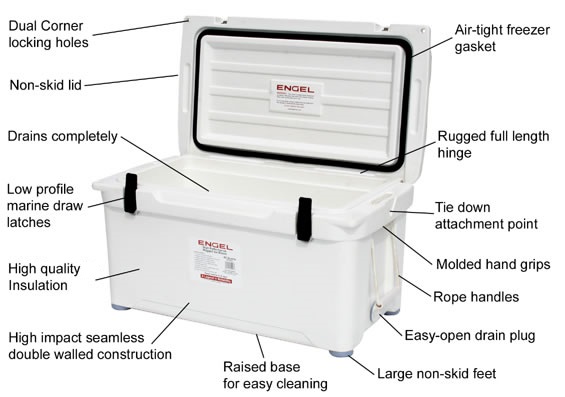 The hinges are molded right into the plastic, using a stainless steel pivot to keep things in place. Stainless steel won't rust and is incredibly tough and rugged. They're a little on the heavy side, due to the thick insulation, but the rope handles make it easy to carry around. The rope handles are of good quality marine grade rope so you know they'll last.
The latches are pretty firm to open and close which is important for a premium ice chest. Although it takes a bit of work, this pressure is important. Combined with the air tight gasket that runs around the edge of the cooler, when these latches are closed you've got an air tight seal. Bears won't smell your food, and your food won't be exposed to the elements. Speaking of smells, the coolers include a live bait tray making them perfect for fishing.
While the Engel coolers are pretty plain and simple, it's clear that they took time to make them extremely high quality. You're not paying money for a bunch of features that you may or may not use. Instead, you get something that does one thing and does it very well. A cooler from the Engel Deep Blue Series is the best Engel you can get your hands on.
Insulation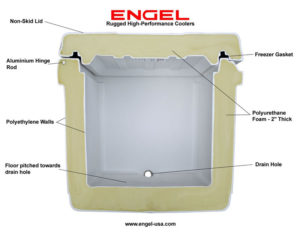 If you're comparing the external dimensions against competitors, it will appear as if these models have a smaller capacity. That would be true. This is because they use thicker insulation than almost any other option on the market. Did it pay off? In many ways, yes. Ice lasted a full day longer than the Yeti, and the results were comparable with Pelican. That being said, Engel uses more insulation than Pelican and those two brands were neck and neck. So even though it worked in this case, doesn't mean that you should just go and buy whichever option is the thickest. Most coolers on the market now boast comparable features.
Engel Vs. Yeti
Another common question we receive from our readers is just this: How to choose between Engel vs YETI? YETI coolers were one of the first rotomolded cooler brands, hitting the scene with their premium, durable design (and price tag), superior ice retention, and excellent branding. Yeti is one of the most popular brands on the market. No matter what comes out, people are always wondering how it compares to the best-selling cooler on the market. You'll be happy to know that they have a lot in common. If you're considering any Engel coolers vs YETI, there's a few things to consider.
First of all, you'll notice the two coolers appear to be extremely similar, but there are some noticeable – and important – differences in the YETI Engel debate.
To get the argument of ice retention out of the way quickly, you can expect quite similar performance. Both cooler brands claim ice life up to 10 days, though it's important to not that this is in ideal situations. More realistically, expect around 7 days for both. On average though, Engel does hold ice slightly longer in head to head tests.
Both models can support dry ice, both are bear proof, and both are roto molded with 2″ insulation. YETI coolers have their characteristic rubber T-latches, while Engel coolers have a basic rubber latching. It's pretty much just a design difference, though if we had to choose, the Engel seems to hold a bit tighter. Engel coolers come with a warranty is up to 10 years, depending on the cooler you buy, vs YETI coolers come with a warranty of only 5 years. Engel coolers are also more affordable than a YETI cooler, so if you're shopping on a budget, Engel wins that one. At the end of the day, both brands are two of the best coolers on the market, and you can't go wrong either way.
Accessories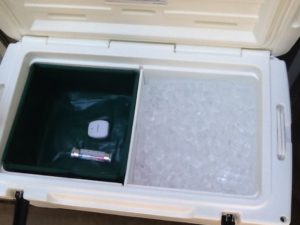 Although this cooler is pretty bare bones, Engel does offer a number of aftermarket accessories that can add additional functionality. Our two favorite options is the divider and the hanging basket. The divider is a simple sheet of plastic that slips into a groove in the center of the cooler. This is water tight. You could, for example, keep your beer in a mixture of ice and water. That ice won't last as long due to the water, but it will keep your beer colder. After all, how long was that beer really going to last anyway?
The other side you can keep your meats, veggies, or anything else that needs to stay dry. The basket, on the other hand, is for food you want to keep out of direct contact with ice. The sandwiches you packed for the day are the perfect example.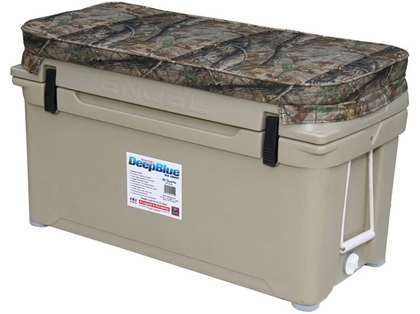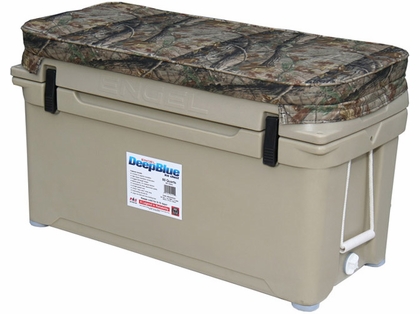 If you picked the larger model, you can even get a large plush cushion that helps the cooler double as a seat! Can't get more versatile than that.
Design
There are a few different color options available. The most popular is the white, which is as plain as they come. There is also a camo brown that would look great at any campsite, or a haze gray that seems more like a shade than anything. But if you really want something unique, you can spring a few bucks for the camo one. This is authentic realtree graphics, making it a great choice for the avid outdoorsmen, or just dads who want to keep their teenagers out of their beer stash. They've since added a few other colors as well: pink and blue.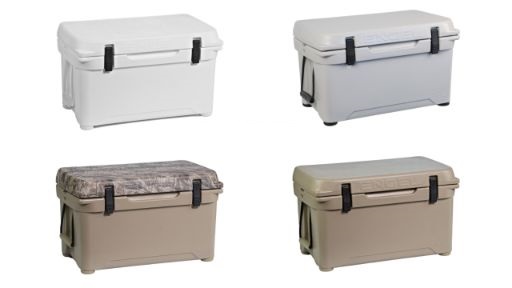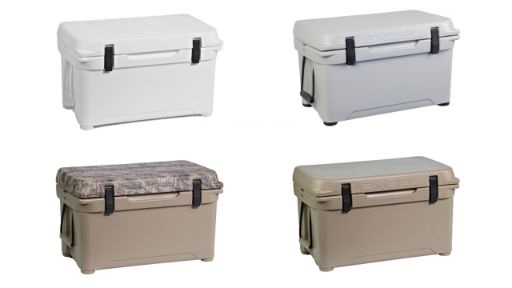 Our recommendation? Get the white. White is simple, easy to clean, and doesn't show scratches. After several years, the white option will still look great.
Warranty
When a company stands by their product, it's a sure sign of reliability. In this industry specifically, warranties are typically much longer than we're used to seeing. Some companies offer as little as three years, while others offer lifetime. Engel has a five-year warranty.
What does the fine print say? This is a limited warranty. This means that they're replace any defective part unless it's clearly not the fault of manufacturing. This could go either way. If your cooler sustains sufficient and visible damage (for example, falling out of the back of a truck) it's possible they may say no dice. They also state that they may simply ship you a replacement part instead of replacing the unit as a whole, but this (fortunately) only applies to the seal. Every other component isn't user replaceable, so you'll be getting a new cooler if needed. That being said, this is one very durable cooler. The chances of needing to use the warranty is slim to none.
One of The Best Coolers
We wrote a guide identifying the best coolers for 2020. Click here to check it out, and see how it stacks up against the competition. With so many options out there, we put together these cooler reviews to help you choose the right one for you and your needs.
Final Verdict of our Review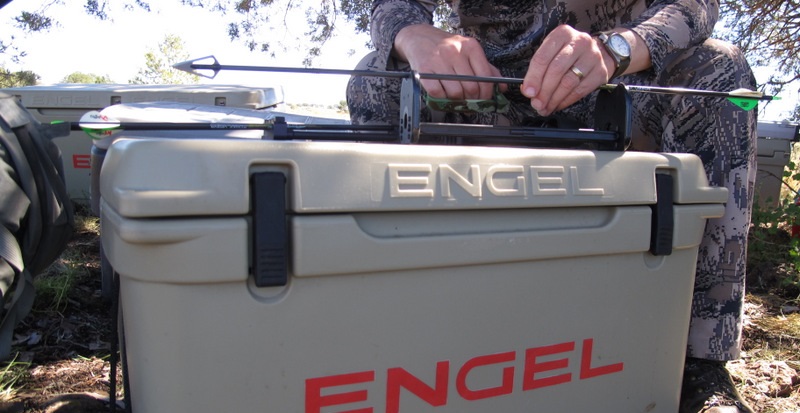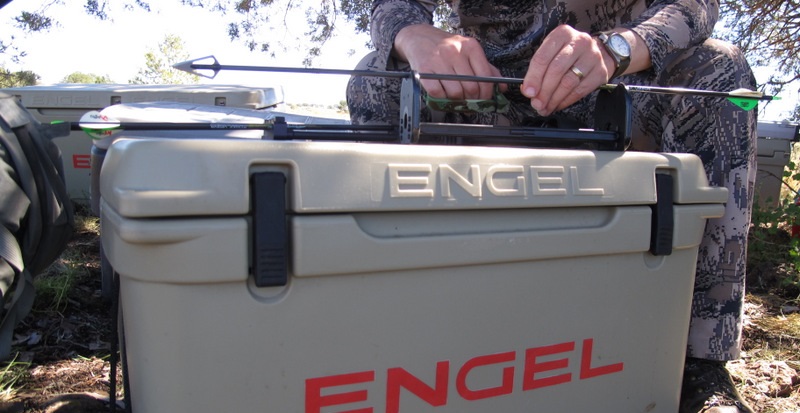 If you're going to compare a high end rotomolded cooler to the standard models you can pick up at Wal-Mart, the difference is night and day. Any option with dense insulation and molded plastic will last several days, where most turn your ice to slush by the time the sun sets. But when you start to compare one high end model to another, the differences are a little more subtle.
Engel coolers are the utilitarian option. They're utilitarian, and don't offer many bonus features unless you're willing to buy accessories. That being said, they are still one of the most affordable options on the market, and they manage to have some of the longest ice retention we've seen. The only model that compares to this is the Pelican, which costs quite a bit more. But, the ice retention of an Engel is comparable to that of a YETI Tundra, so in the Engel vs YETI debate, it almost solely comes down to price.
If you want something simple that does it's job well, this is a great buy. Your food will last a week, and your purchase will last many years, even if abused in an Engel Deep Blue. You'll be hard pressed to find a better cooler.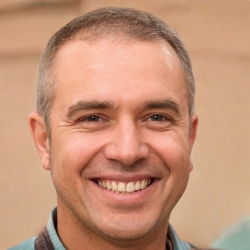 Latest posts by James Kennedy
(see all)