With so many different options on the market, the best soldering irons can help you fix up your broken electronics and circuit boards, for arts and crafts, making jewelry and more. Soldering irons have uses for casual hobbyists and professional tradesmen alike. 
A soldering iron is a small pen-like tool with a metal end that when hot, can melt solder, a special type of metal alloy that can fuse two materials together. The tip can be heated either through a gas like butane, or more commonly with electricity.
Although there is a bit of a learning curve, a good soldering iron can be the difference between a tough job and an easy one. So it's easy to see why anyone with even a bit of a DIY experience needs one. Because not all models are alike, we spent dozens of hours trying out different models, and deciding which options we liked the best.
The Best Soldering Stations
This might seem like a lot of options, but soldering is a practice that's used in all types of applications. Choosing the one that's right for you means determining what types of projects you'll be working on, and determining how often you'll need to solder. We broke our choices down into several categories. First, we'll look and see how our top choices compare to one another. After, we'll go in-depth to find out what each model has to offer.
Top 3 Choices Compared
Weller WES51
X-Tronic Digital Iron
Weller WLC100
Price:
$$$
Price:
$$
Price:
$
Warm up Time:
Fast
Warm up Time:
Moderate
Warm up Time:
Slow
Ergonomics:
Excellent
Warm up Time:
Average
Warm up Time:
Average
Recommended For:
Regular Users
Recommended For:
Casual Users
Recommended For:
Infrequent Users

CHECK PRICE ON AMAZON

CHECK PRICE ON AMAZON

CHECK PRICE ON AMAZON
The Best Soldering Irons For Experts & Novices
| Image | Name | Price | Wattage | Heating Element | LCD | Temperature Adjustment | Changeable Tips | Self-supporting Stand | Safety Shutoff |
| --- | --- | --- | --- | --- | --- | --- | --- | --- | --- |
| | Weller WES51 | $$$ | 50W | Nichrome-wound Stainless | ✓ | ✓ | ✓ | ✓ | ✓ |
| | X-Tronic 3020 | $$ | 75W | Compensated Steel | ✓ | ✓ | ✓ | ✓ | ✓ |
| | Weller WLC100 | $ | 40W | Iron-Plated Copper | X | ✓ | ✓ | ✓ | ✓ |
| | Tabiger Kit | $ | 30W | Steel | X | ✓ | X | X | X |
| | Hakko FX888D | $$$ | 70W | A1516 Alloy | ✓ | ✓ | ✓ | ✓ | ✓ |
The 5 Best Soldering Stations Available Today
Now that you've seen our three favorite options, let's take a more in-depth look at them. In addition to the three you've already learned about, we'll also be taking a look at some other popular choices we can recommend.
These reviews will focus on what the iron is useful for, who should buy it, and what key features you might be interested in. If you've already go an idea as to what you want, you can skip to the best soldering stations on Amazon.
1. Weller Soldering Iron WES51
Weller is a name that you will recognize if you've do any sort of research into soldering irons. They're a trusted brand that makes quality products and this analog soldering station is no exception. We like this analog model as opposed to a more expensive digital one, for a few reasons.
Primarily, it gets hot quickly and stays there. The temperature settings are accurate and sensitive. The pencil of the iron is well weighted, which allows you to make careful, more precise movements. It's slim design keeps things ergonomic, so you won't find yourself suffering from hand-strain after an extended usage session.
It comes with a 1/16″ ETA tip but you can get all sorts of different tip sizes for whatever project you are working on.  This little kit includes a receptacle stand to rest the iron when you're not using it, so to safely protect your work space, project and your fingers! The stand also has a space for a sponge for cleaning the tip. If you're going to be using it a lot, consider picking up a few extra tips or you may work through them pretty quickly.
Although it may seem like model is a little bulkier than some, we really loved the design. Weller separates the holster from the power station. The only reason you'll need to touch the power station is to turn it on, or to adjust the temperature. You can simply shove this out of the way towards the back of your work station. The separate holster is nice and compact, so you can place it right next to your project. This makes it easy to pick the iron up as needed, and reduces the space needed immediately in front of you. This is great for when you're working with larger boards or projects, and one of our favorite parts of this model.
Overall, this is a high quality product that is suitable for professionals and hobbyists. If you're still unsure, check out more consumer reviews on amazon to see what other buyers have to say.
2. X-Tronic Soldering Iron
Although digital is usually more expensive than analog, this X-Tronic digital display station is actually quite affordable. Just like the last station we looked at, the temperature is still controlled by a dial. But this dial has a much larger range of motion. Quickly flipping from a low temperature to a high temperature might take a moment, but you have extremely precise control that you won't find elsewhere.
As you turn the dial, the display reads out your temperature set point. Once it's settled on a specific setting for a few moments, the display goes back to reading the actual temperature of the tip. This means that you'll know exactly when your iron is ready – no more guessing games!
Everything you need is mounted on the compact base: the temperature control, the cleaning sponge and the receptacle to rest the pencil in when you're not using it. This design is more compact and portable, making it a great choice for casual users who want to store it when not in use.
It gets hot quickly and maintains a good heat. The silicone-coated cord is nice and flexible, so you won't have any ergonomic issues. The iron itself isn't the most comfortable model we've used. If we had to use it day in and day out it might not be our first choice, but for an hour at a time or so you'll have no issues at all. We'd recommend this option to casual users, but you can check out more user reviews on Amazon to find out how other consumers are putting this soldering station to work.
3. Weller Soldering Iron WLC100
We finish our top-3 list with another Weller soldering iron. While this one isn't quite as premium as the first Weller we reviewed, it's still got some great features making it a viable option.
The station has a built-in holster to hold the pen when not in use. The cushioned foam grip on the iron is a little larger than the others on the list, but it's nice and light and we actually found it to be a little more comfortable to use. Included is a 1/8″ screwdriver tip, so you may need to consider picking up a different size depending on your project. The temperature control isn't quite as accurate or sensitive as the more expensive Weller above, but it's still easily adjustable.
It heats up a little slower than others, but does a great job at staying hot. Even though you're giving up a few conveniences, casual users might not notice all that much. We're talking an extra minute or so to heat up, and a little more space used on your desk. If these sound like fair tradeoffs for a great bargain, then this is the station for you.
4. Alternative Option: Tabiger Soldering Iron Kit
This Tabiger doesn't have a power station the way the other ones on the list do. Instead, the iron plugs directly into your household power outlet via the 1.5m long cable.
There is a little stand on the bottom of the iron you can flip out when not in use. This will keep the tip off of your table, giving you a way to put it down while placing components, or while waiting for it to heat up.
We don't typically recommend stand-alone irons, but unlike most option this one has a temperature adjustment located on the handle. There are many options like this, but what makes this one stand out is the complete kit it comes with.
Included are 5 extra tips, all of varying sizes. This allows you to work on a variety of projects without having to buy any accessories. You also get a little solder. There isn't much, but there is just enough to get you started. You could work your way through 10 or so small repairs, or one small DIY project.
You also get anti-static tweezers, a solder sucker (great for removing bad components!) and a compact case to carry it all in.
If you want to be ready for a few small repairs, this is the iron to get. It's extremely affordable, compact, and simple to use. But if you are planning more project-based jobs, this might not be the best option.
5. Alternate Option: ZENY 2-in-1 SMD Workstation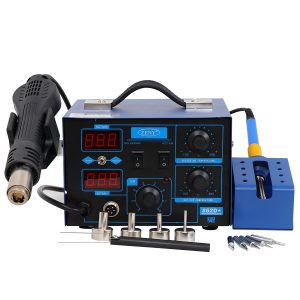 If you're working with surface mount components, your typical soldering station just won't fit the bill. Surface mount components can have hundreds of solder pads. If you're trying to remove an old chip with the intention of replacing it, you'll find the hot air gun in this station to be a godsend.
In order to remove a chip you need to melt the solder on all of the pads at the same time. Trying to do this one by one with an iron just isn't viable. The ZENY station does give you everything you need for standard soldering jobs, but they also throw in a heat gun that make it easy to add or remove surface mount components.
Although the station is much larger than simpler models, it's still much more compact than having two separate units. Because it's designed for precision work, the all-digital display helps you carefully control your exact temperature, so you can get the job done right the first time.
ZENY includes a variety of tips, making you read to tackle almost any project. While this isn't for your typical hobbyist, anyone who wants to work on complex electronics will find that this is the station for them.
The Best Soldering Station Accessories
Want a little more functionality out of your new purchase? While some of these include everything you need to get started, there may be a few key components you're missing. Additionally, there are a few optional add-ons that can really make your life easier!
Solder
Without solder, your new iron is useless! But you can't just select any solder, you've got to find the type that best suits your project.
Rule #1 – NEVER use solder intended for plumbing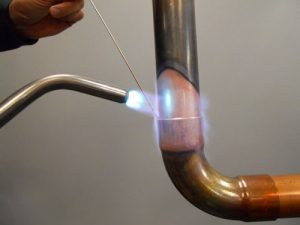 Plumbing solder is dirt cheap, and comes in bulk. One of the biggest mistakes you can make is to purchase something like this, assuming that you'll have everything you need for years to come. Plumbing solder contains acid that is designed to help etch through grease and help pipes create a bond. If you use this on a printed circuit board, you can destroy the electrical trace located inside.
We primarily recommend flux-core, lead free solder. Leaded solder is a little easier to work with as it has a lower melting temperature. However, if you have any of the irons on our list you'll have no problem working with lead free solder.
Flux core just means that there is a bead of flux located at the center of the solder. Flux cleans the electrical contacts and helps create a conductive bond – something that is essential for your joint to function correctly.
The next question you need to ask yourself is what size do you need? For simple electronics work, anything with a diameter between 0.711 and 1.64 should work fine. Smaller diameter solder is more precise, but you'll use a lot more for larger joints. Larger solder is easier to use and lasts a long time, but you lack the precision you'd get with a smaller roll.
For beginners we'd recommend starting with 1.22mm solder – this is the same thickness of an 18 gage wire. This provides a good balance between ease of use and accuracy. It's forgiving, but you won't struggle to get enough solder on the joint.
Tips
The size and shape of your soldering tip will determine how you lay your bead. Different tips are suitable for different applications, and each have their own sets of pros and cons.
Before you buy any tip, the first thing you should do is find out what is compatible with your iron. You don't have to buy the brand name tips. A weller iron can easily be used with 3rd party tips. But you do have to check the size in your user manual and make sure you select something that matches.
Next, consider the shape of the tip. A chisel tip is the best place to start for beginners. it has a nice flat surface so you can hold it in place, and by positioning it in different ways you can work with a variety of different wire and component sizes. Chisel tips are great for through-hold breadboard, surface mount devices, wire-to-wire joints, and even de-soldering components. It's a bit like the jack of all trades tip.
Hoof tips are great for drag-soldering multiple surface mount pads, although this is definitely a technique for advanced users! But if you plan to work with SMD devices, a hoof-tip can help you take on more advanced projects.
Conical tips are much harder to use. They can be very precise, but we'd recommend them only to advanced users. If you're experienced enough to use a conical tip, you're probably not reading this section so we'll skip over these.
Sponge or Brush
You need something to clean off the tip of your soldering iron, and there are two ways to do that. Most users just damp a sponge and wipe off the tip when necessary. This is going to be the number one choice for simpler jobs, as it's easy to clean and re-use.
if you're removing a lot of solder or doing big jobs, you might want to get a brush. These look like the scrubby pads you'd use on tough dishes. They're able to remove lumpy or burned-on residue from your iron, and are a great purchase if you're having a tough time keeping your tip clean.
Helping Hand
You ever try to solder two different components together WHILE holding your iron and solder? Let's be honest, you've only got two hands. While some skilled technicians wield their irons like a sword, most of us will struggle in the beginning without a little help.
Instead of bribing your friends to give you a hand, why not use a mechanical helping hand? These tools feature two alligator clips and a magnifying glass. This lets you hold your components in place, and get a better look at your projects. This is a cheap add-on, and we couldn't imagine trying to solder without one.
What We Looked For
There were a few key features we looked for when purchasing irons to test. Once we had them on our bench, we also had a list of criteria that we used to grade them.
Price
The first factor was Price. There are many inexpensive options on the market, but you can also find many professional-grade tools that cost hundreds of dollars. After interviewing dozens of professionals who solder all day, we determined that these high-end units are generally not necessary. They were designed for very specific applications that required a great deal of precision. In fact, most technicians never felt the need to upgrade from their midrange model. In our initial testing, we found that irons that range in price from $10 to $75 can be good enough to support the needs of most users.
Power
After looking at the specifications, we determined that a good soldering iron would use a minimum of 30 watts. In this range, irons can heat up quickly and be ready to work without a long wait. Additionally, this power is required to maintain an even temperature when being exposed to cold boards and solder. If you go any lower, you'll find that you have to wait a long time to use your iron, and also will have to take frequent breaks.
Temperature
Within the temperature category, there were two key things we wanted to look for. We wanted to select irons with an adjustable temperature so that they could be used for a variety of projects. It was also important that the adjustable range covered all of these different needs.
Once an iron was up to temperature, we wanted to see that the iron maintained the desired setting consistently. Some models would vary wildly, or didn't stay very accurate. If this was the case, we rejected the irons and moved on to something that would.
Ergonomics
This one is simple: the iron has to be comfortable to use! Anytime precision work is involved, an awkward or uncomfortable tool can really make a job frustrating. Although not everyone is going to be using their iron regularly, we made sure that every option on our list would be comfortable for regular, long term use.
Additional Features
While not a core requirement, there were a few key things that helped us find the best soldering stations. We looked at the irons compatibility with commercially available tips. It was important to us that tips could be replaced easily, and that consumers would have the choice to use 3rd party tips if they so desired.
We also considered any bonuses that were included with the station. Was there a case? A kick stand? Any additional feature that we found to be useful factored into our decision making process. But if we found that a soldering iron had too many gimmicks and didn't perform as well as competing models, we'd overlook the bonuses. Usefulness is key.
The Five Types of Soldering Irons Available
Soldering irons can be dividied into three separate categories: Pencil, adjustable, cordless, torch, and station. Each of these have their own sets of pros and cons, and it's important to understand the differences between them so you know why a station could be advantageous to you.
Stations
A soldering station is essentially an all-in-one device. It includes a stand that allows you to place the iron somewhere safe when not in use. While some users might just lean their iron up against a sponge or on the table, this puts you at risk for burns and damage. Additionally, anything making contact with the tip will make it difficult for the iron to regulate temperature.
Not only does a station make it easy for the iron to maintain a consistent temperature, but most models offer an adjustable dial on the face that lets you control the temperature setting. Depending on the type of project you're working on, the size of the area you need to solder, and the metals involved, different temperatures are needed for different processes. Having an iron that is adjustable allows you to work on a variety of projects without needing a variety of tools.
Adjustable
Adjustable irons work just like the station, but don't include the base. You'll usually find a temperature dial somewhere on the body, often at the back. Adjustable irons are a great addition to a permanent work bench, but are not ideal for beginners. If you don't already have a workspace set up with a holster for your iron, you're better off getting a station.
Pencil
Pencil irons are by far the cheapest. For this reason, they're the most common models you'll find in your local store. Many of the technicians we interviewed started with a pencil iron, but most quickly upgraded.
Pencil irons plug straight into the wall and do not provide any kind of temperature adjustment. This limits the types of projects they can be used for, and the lack of a stand or holster creates an ergonomic hazard that makes them difficult to use.
Cordless
Wireless irons are popular among technicians that need to solder on the go. Aircraft and automotive technicians, for example, commonly use a cordless model. But there are only a few specific circumstances where we could ever recommend a model like this. They tend to devour batteries, with some models only lasting 20 to 30 minutes. Additionally, they have a much lower temperature threshold and heat up quite slowly. You might chew through half your battery life just waiting for the iron to get up to temperature.
If you have to solder somewhere that you won't be able to run an extension cord, this can be a good option. But in most cases, it's best to pass over these models.
Torch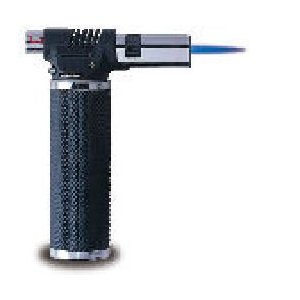 Torch soldering irons aren't really an iron at all. This gas-powered tool shoots a carefully controlled flame out of the tip that allows you to heat metals up to a specific temperature. If used on electronics, soldering torches can destroy all of the nearby components to the area you'll be soldering.
Torches are generally used for brazing – a technique where copper pipes are joined together using solder. Because you have to heat up a large amount of metal quite quickly, a torch is the only way to get the job done. But when soldering electronics, this is simply the wrong tool for the job.
Using Your Iron For The First Time
Even if you've never picked up a soldering iron before, you can still successfully make your first connection with just a little practice. Once you get the hang of it, soldering is actually quite simple. That being said, there is a chance of personal injury or damage to your equipment if you don't follow the correct procedure. To help you get started, we'll run through the absolute basics with you.
If you've already got some time behind the bead, this guide might not be for you. However, feel free to leave a comment and share your tips and tricks with other beginners who may be reading this article.
Step 1: Gather The Correct Tools
There are several things you'll need to get started, most of which have been covered in this guide. Of course, you'll need your iron and some solder. We also recommend grabbing a helping-hand (the tool, not a person!) to help you hold all of your components.
There are also a few things you'll need that weren't covered in this buyers guide. You'll need side-cutters for trimming wire, as well as the legs of your components. Wire strippers are essential if you're not going to be board-mounting your components. Even if you are, strippers are cheap and VERY handy to have around the house, so we'd recommend you grab a pair.
If you're doing repairs, you might want to grab a solder wick or a de-soldering brush. This will help you remove damaged components and clean the contact for replacement. They're also handy for correcting mistakes, which happen to anyone (even us experts!)
Step 2: Understand The Process
Solder is a combination of metals that melt at very low temperature. Where electronics are involved, solder turns to liquid at only 400 degrees farenheit. This is why it's important to get the right type of solder. The stuff used for plumbing can heat up to 900 degrees, so it generally won't melt with a regular iron.
What you're going to be doing is placing the component where it needs to go, then heating up both the lead wire as well as the pad you're connecting it to. Once these items have had a chance to warm up, you'll touch your solder to the component and keep the iron on until it's fully melted. Once you remove it, it will only take a few moments for the solder to solidify.
If you want more information, you can check out our article on how soldering irons work.
Step 3: Prepare Your Iron
Straight out of the box, your iron isn't quite ready to use. Before making your first connection, you've got to tin it. This process is pretty simple. Just let your iron get up to temperature, then touch a little dab of solder onto it. You want to be very conservative here. You don't want the liquid solder to drip off of the iron, you just want a nice thin coating around the tip.
Step 4: Heat Up The Components
With your component mounted on the board, hold the tip of the soldering iron so that it's touching both the component and the pad. If you're soldering wire, you can twist the wires together and hold your iron across the connection. Keep it there for 10 to 30 seconds. Once you think it's warm enough, tap the solder to the components you want to join.
It's important that you don't place the solder on the iron. Just touch it directly to the electrical lead. If the components aren't hot enough, it won't melt. If it does melt, continue to apply it until you have a nice little bead around the parts.
After you remove the strand, you can continue to hold heat on the components for 5 to 10 seconds. You should see the liquid metal cling against the components, rather than pool around it.
Step 5: Remove Heat
Pull the tip away from your components. It will take a few seconds for the liquid to solidify. You can tell because the nice shiny top will eventually glaze over. Once this happens, give it a few moments to cool off. For basic jobs, you are done now. But if this is a crucial connection, you can check the resistance with a multimeter.
If you're soldering wire, you can give the cables a little tug to make sure they're tight, and check resistance across the entire point.
that's all of the basics! If you need more clarification, check out one of these videos to follow along.