What's the Difference Between a Surge Protector vs. Power Strip?
Many people think that the two terms are interchangeable, but that isn't quite the case. A surge protector by comparison, is a device that protects your electronic devices from power surges or spikes. When a surge in power occurs, the device shuts off delivery of electricity to your electronics, protecting them from shorting out. A power strip is a small block with multiple electrical outlets that allows you to plug in more electronic devices than just two in a standard outlet. It may also extend the reach of your wall outlet a few feet or so. Where the confusion comes from is that many modern power strips also include built-in surge protectors, while some do not.
Surge protectors also come in varying forms like those for your entire home, but typically come in the shape and form of a power strip. Surge protectors also differ from circuit breakers in that a surge protector absorbs the excess electricity, protecting your electronics from overload, while a circuit breaker simply shuts off the flow of electricity to your devices in response to a power spike.
What does this mean for you? Just remember that not all power strips are also surge protectors.

What to Look for in a Power Strip
1. Maximum Amp Rating
The maximum amp rating dictates the maximum amount of electrical current you can safely draw through your power strip. In other words, how many electronic devices you can plug in and use safely. Most power strip models have a rating of around 15A, meaning you can safely use as many electronics as you want, as long as their total power draw doesn't exceed that number.
For example, if your cell phone charger draws 1A, your printer draws 2A and your computer charger draws 3A, you're well below the 15A rating of the power strip. Taking the risk and overdoing the maximum amp rating of your power strip can produce excess heat in the cables and produce shock or fire hazards.
2. Surge Protection
Not all power strips have surge protection built-in, but these days many do. Power surges are typically measure in a unit of energy called Joules. When looking at how much protection a surge protector provides for your electronics, this is what you want to look for. The higher the number, the greater the protection from surges. Power spikes can come in various sizes and while many smaller surges you don't even notice, they can steadily degrade your electronics. You typically want to look for one with at least 700 joules of protection. If you have many more expensive electronics you are worried about, consider a larger rated one or even an entire household protector.
3. How Many Outlets do You Need?
Power strips are great for organization. Where is this power strip going to be plugged in? Your office? The kitchen? Beside your bed? The number of outlets can range from 3 upwards of 12. Of course remember that no matter how many sockets it has, you probably shouldn't use them all if you're going to exceed the maximum amp rating of the strip you decide on. It's always better to get more than you think you will need though, because plugging an additional strip into an existing one (daisy-chaining) is not recommended and can be a fire hazard.
4. How Far Does it Need to Reach?
If you only need the additional sockets, then you don't need to worry about this. But, if you want to have the plugs reach a few feet further from your wall outlet, consider a longer cord length like an 8-foot one. If you want to hide it behind a desk or dresser, consider one with a flat or rotating plug.
5. Warranty
Many power strips that have built in surge protection will offer a warranty and device protection up to hundreds of thousands of dollars. While it sounds great, we have heard of a few horror stories of companies not honouring the warranty because it can be so difficult to prove that the device was used properly, according to the manufacturer or they can just claim that the warranty is void. Make sure you follow the manufacturer's instructions to a tee as far as proper use if you want any hope of getting your damages covered.
Now that you know what look for in your new power strip, and how to use it safely, let's dive into our list of the products we recommend!
The 8 Best Power Strips of 2017
Best Belkin Power Strip
Belkin Advanced 12 Outlet
Belkin has been a trusted brand of third-party electronic accessories for ages. Although this Belkin power strip isn't the cheapest one on the list, it's arguably the most complete and reliable. The entire bar is rated for 15A and the 12 outlets ensure that you won't run out of space, even if you have larger or oddly shaped plugs. It has a built-in 3940 joule surge protector, tied for the largest and most capable on our list. The two USB ports have a 2A rating, so charging is fast, but if you use both it diverts to 1A each, slowing any charging. The 6-foot cord makes this a versatile device for anywhere in your home or office. Factor in the $250,000 connected equipment coverage and lifetime warranty, and you can see why we love this Belkin power strip so much. Read 433+ More Reviews
Best USB Power Strip
Poweradd 3 Outlet
If you don't need as many outlets as the Belkin and still want USB ports, this Poweradd is a great option for a USB power strip. It has just 3 outlets, maintaining a smaller, slimmer size and is only rated for 10A as a result, since you likely won't be running that much out of the 3 sockets. The 5ft cord is probably long enough for most uses in the home or office. The 2.1A USB ports charge your phone or tablet quickly. This is a smaller and more affordable model, and while it does not include any surge protection, it does feature a power overload circuit breaker that shuts off the flow of electricity to your devices. It's also backed by a 2-year warranty. If you need an affordable USB power strip, this is a good way to go. Read 349+ More Reviews
Best Tripp Lite Power Strip
Tripp Lite 7 Outlet
Tripp Lite is an American manufacturer of electronics that has been in business for almost a century. This 7 outlet Tripp Lite power strip is a great choice for most uses. It has a 15A rating, a pretty standard maximum, and a 4ft long cord to help you reach where it needs to go. An awesome feature is that the 7th socket is mounted at a right angle to the rest of the outlets, for use with larger plugs. That way you don't have to take up another socket which can be super annoying. This Tripp Lite has a built-in 1080 Joule surge protector, backed by a lifetime warranty and a lifetime $25,000 equipment coverage. Read 3005+ More Reviews
Monster Power Strip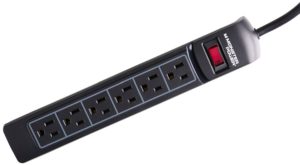 Monster 6 Outlet
Monster is another brand that produces high quality electronics. This 6 outlet Monster power strip is no exception. It's rated for 15A, which is more than enough for safe use in most households. It's got a heavy duty 4ft cable, is wall mountable and has a built-in surge protector offering 720 joules of protection. Monster also backs that with a $25,000 connected equipment warranty. 720 joules isn't the largest, but for the price it's a great deal. This is a great choice for most households for your work desk, TV and cable box or most other uses. Read 61+ More Reviews
Best Travel Power Strip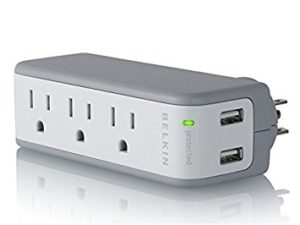 Belkin BZ103050
Ever been in an airport, hostel or café trying to charge your phone, camera or laptop, but there are no available outlets? Chances are if you've done even a little travelling, you've run into this problem. This handy little Belkin is awesome for travellers. It has 3 AC outlets and 2 USB ports to charge whatever you and your travel companions.It uses a rotating standard North American plug so if you plan on using it in other countries, keep in mind you'll need to grab a suitable adapter. It's nice and small, With a built-in 918 Joule surge protector you can count on it to protect your devices even in areas with somewhat unreliable power sources. Plus, you can use it at home. It has a lifetime warranty and $75,000 equipment coverage which tells you how confident Belkin is in this little guy. Read 7572+ More Reviews
Best Flat Plug Power Strip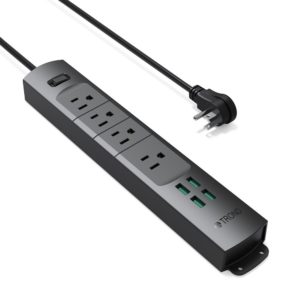 TROND Prime II
Having a flat plug power strip is extremely convenient. While many of these power bars have large, thick plugs that stick straight out from the wall, this TROND model has a low profile flat plug. The plug is about the same thickness as most household baseboards, which allows you to put a dresser or desk snug against the wall without the plug impeding it at all. The cord is 6ft long so you're not at all limited to where you plug it in. It has 4 standard sockets, and 4 charging USB ports. A built-in 1440 Joule surge protector keeping your devices safe from power spikes, although the bar is rated for 10A of current, unlike some of the other 15A models on the list. Read 185+ More Reviews
Best 12 Outlet Power Strip
Belkin 12 Outlet
Sometimes, 4-6 outlets just isn't enough. With 6 regular outlets and 6 spaced out block outlets, you should be able to find space for everything. There are inputs for a coaxial cable and your phone, so it's perfect for protection and decluttering of your office or home theatre area, organizing your TV, video game consoles or sound systems. The nifty cord clip helps keeps all the wires in check. It's rated for 15A and has a built-in 3940 Joule surge protector to make sure your devices are all safely protected. And it's backed by a $300,000 device connection coverage and lifetime warranty. It's also got a flat plug so that doesn't stick out so you can save on space. Although it has coaxial and phone input/output, it doesn't have USB or ethernet. If you want a 12 outlet that also has either USB or ethernet connections, check out this slightly more expensive version. Otherwise, this 12 outlet Belkin is a great option. Read 7663+ More Reviews
Best Outdoor Power Strip
Bestten Heavy Duty 7 Outlet
Okay, first thing's first. There's really no such thing as a fully rated outdoor power strip. We're sure you're well aware of the equation "water + electricity = bad" and that's the kind of thing you'll run into trying to use a power strip outdoors. However, if you're looking to use one that's say, right outside your back door, on the deck, under cover, then most of the ones on this list should do fine. If you're going to be using it outside your workshop or garage during the day while it's dry, then this heavy duty Bestten should do the trick for you. It's got a 9ft cord, a built-in 600 Joule surge protector a 3 year warranty, and is wall or ceiling mountable. It's metal so you don't have to worry about it cracking or breaking easily. BUT keep in mind, it's not waterproof, since there are no true outdoor power strips available. Read 183+ More Reviews
If you really do need to extend the reach of outdoor electronics, we suggest picking up a SockItBox like this one. It's the best way to safely cover your extension cord connections and will last you in all types of weather.