Whether you're a business owner, work from home or in an office, or just need a consistent and reliable power source, an uninterrupted power supply can be an absolute life-saver. Uninterrupted power supply units (or UPSs) are devices that supplant your electrical devices with power, when your electricity input fails, such as during a power outage or surge. They also typically have built-in surge protectors to protect devices from any power surges or spikes. As opposed to a backup generator or emergency power system, a UPS provides instantaneous protection from any power interruption. Energy is stored in built-in batteries that automatically engage when the power supply is cut.
Whether you've spent hours editing a video, inputting data into a massive spreadsheet or if you're four pages into an essay, a power outage can be catastrophic if you haven't saved your work on your desktop computer before power cuts out. A UPS ensures that you don't lose your unsaved progress.
Even if you use a laptop computer, what good is your laptop if the internet doesn't work? While a UPS can run your desktop workstation for around 5 to 15 minutes, it can power a smaller unit like your modem and wireless router for up to 6 hours. One of the best uses for these handy devices is to quickly save your projects, shut down your desktop computer and power just your internet connection for much longer.
These are just a few examples of why a UPS can be so useful.
The Truth About Uninterruptible Power Supplies
There is a common misconception about how long a UPS can actually power your devices for. Generally, if it is connected to your large work station and the power goes out, the batteries will only power your entire work station for 5-15 minutes, also depending on the size of the batteries in the UPS unit. This is just enough time to save your work, send that last email, safely disconnect any devices and shut down your computer properly. If you are hoping to power your station through a power outage for several hours, you're better off looking into a backup generator. However, a UPS still proves its worth in its ability to provide uninterrupted power to your device allowing you to safely finish what you are working on. Then, you can switch over to a generator if you need.
Once you have saved all your work, if you've done so quick enough, then you can switch over from your computer to powering smaller, less power-drawing devices such as your digital phone base, a phone charger, wireless modem and router. That way you can stay connected while the power is out. While these units can only power full on work stations for a few minutes, they can power a wireless modem and router (10W draw) for up to 6 hours. That being said, you only leave your computer and monitor plugged into the battery backup, you can get up to an hour of use from some units, depending on the power draw of your devices.
This the true usefulness of a UPS: allowing you to safely wrap up your work, then shut down and power something smaller like your phone charger or wireless router.
What to Look For
Now that you understand the usefulness and limitations of a UPS, we can look at what the most important things to consider are when looking to buy one.
1. Maximum Wattage Output
For this, you'll want to decide what devices you will plug into the unit, and calculate the maximum power draw of all of the devices combined. Most UPS have a maximum output between 350W and 600W, so you'll want to make sure that your computer, hard drive, modem etc. (everything you want to be backed up by the uninterrupted source) doesn't exceed that amount.
2. Battery capacity
This is a simple one. The greater the battery capacity (watt hours), the more time you'll have when the power cuts out. The batteries of a 86 watt hour UPS can't power a large 300W+ station for much more than 5 minutes. So if you think you'll need more than that, consider a larger capacity like a 168 watt hour unit which should give you around 15 minutes from a 300W draw. Most networks (modem/router combo) are around 10W, so you can get several hours powering just that.
3. Warranty & Device Protection
Many brands offer impressive warranties and several thousand dollars of device protection with their units. This is definitely something to consider, as UPS failure could be catastrophic to your work and devices. However, if you want any hope of having a successful warranty claim, make sure you follow the manufacturer's instructions for installation, use and maintenance exactly as described in their manuals. Any slip up here can void your claim leaving you out potentially several thousand bucks. We've also heard a few horror stories of device coverages being honoured, but only partially. Make sure you read the fine print in that case!
4. Volt-Amperes
Generally you will see these devices rated using the unit "volt-ampere" (abbreviated VA) which is a simplified power rating, but it tells you pretty much the same thing that the wattage rating of a unit would. VA is another measure of power, and will tell you how much power output one of these UPS devices can produce. As with the wattage rating, the higher the number, the more power it can produce for your devices. Unfortunately there's no way to quantify exactly how long it will power your electronics, since everyone's set up will differ in the power requirements.
5. Trusted Brands & Products
You don't want to mess around with your expensive electronics, so it's important to buy only trusted brands and products. No point in getting one that won't actually work! We've done the research, reviewed more than 20 UPS units, scoured the internet for more customer reviews and we've narrowed it down to this short list for you to choose from.
The 5 Best UPS 2017
APC SMT1500


This floorstanding APC unit features 8 standard outlets, backed by a surge protector and each one with battery backup, so it's great for work stations. You can get your network, hard drives, computer and displays all plugged in. This 1500VA/1000W unit will kick in automatically during power surge and power your devices while you quickly save your work. Another great feature of this unit is that it also functions like a power conditioner, automatically adjusting input voltages from smaller surges and spikes at a safe level preserving your hooked up devices lifespans. We love the LCD display that gives you an accurate reading of the status of your unit. Because of the huge power output of this UPS, you can expect impressive battery life from it, some folks getting more than an hour from their entire work station space. The fan can be a little noisy when power is out and the unit is working, but that's a small price to pay. Read 348+ More Reviews
Power output: 1500VA/1000W
Notable features: LCD display, power conditioning, low battery alarm and battery-on alert, 3-year limited warranty
Tripp Lite SMART1500LCDT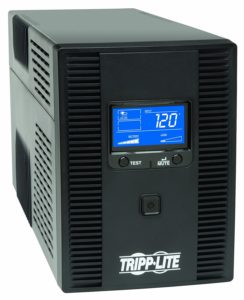 Tripp Lite is another great brand of electronics, and this UPS unit is no exception. This 1500VA/900W unit has 10 standard AC outlets and a ton of other great features. The LCD display is bright and informative, giving an accurate reading of the battery's status as well as input and output information to help you track your usage. While the APC above has all 8 outlets surge protected and with battery backup, this Tripp Lite is a bit different. While all 10 of the outlets have surge/noise protection, only 5 of the outlets have battery backup. Connecting the crucial components of your work station that need uninterrupted power will allow you to avoid overloading the unit and give you better battery life once it kicks in. The battery should have enough juice to power a 75W drawing work station for almost an hour and a half. Another great feature is that two of the outlets have extra spacing for larger bulky plugs. This is a great unit to protect your electronics from surges and to provide some backup power in the case of outages. Read 728+ More Reviews
Power output: 1500VA/900W
Notable features: LCD display with power draw and battery status, 10 surge protected outlets, 5 outlets with battery back up, coaxial (cable) and ethernet outputs, 3-year limited warranty with $250k device coverage
CyberPower CP1500FCLCD


CyberPower UPSs are some of the best on the market. This 1500VA/900W unit will have you protected during power surges and outlets with its impressive battery life. The 12V/8.5Ah batteries are also user replaceable, so if the batteries start to go after a while (depends on your use/outages) you can cheaply replace them. This unit has a serial output (displays/projectors) which is a great feature many other UPS don't have, as well as a couple USB ports. Of the 10 surge protected outlets, 5 of them are backed up by battery, which is where you want to connect your vital devices. This is great so that all your work station components are protected, but the battery will last longer powering just your necessary devices. Battery life varies depending on your use, but you should be able to get more than an hour from a 100W power draw, pretty standard for a 1500VA unit. Read 2318+ More Reviews
Power output: 1500VA/900W
Notable features: LCD display with battery status, runtime in minutes, power draw info, 10 surge protected outlets, 5 with battery back up, slim design, ethernet, serial, coaxial and USB outputs, 3-year limited warranty and $500k device coverage
APC BR1000G


If your work station isn't very large, you may not need 1500VA, and can save some money by going for a smaller, cheaper 1000VA model like this APC. This small and slim tower has 8 outlets, all with surge protection, but just 4 with battery back up. It also has APCs AVR (automatic voltage regulation) which functions like a power conditioner, providing safe voltages to anything connected, even when not on backup power. This helps to extend the lifespan of your electronics by protecting from small surges and spikes that often occur unnoticed. The lower output won't power your devices for as long, maybe around 10 minutes from a 400W draw. But most computer/monitor combos run at around 160W and the battery should give you about 30 minutes of run time at the power draw, more than enough time to save and shut down everything properly. If you have a smaller station and don't need as much power this is a great option. Read 2371+ More Reviews
Power output: 1000VA/600W
Notable features: LCD display with battery and load status, 8 surge protected outlets, 4 battery backed up, coaxial and ethernet inputs, 3-year limited warranty
CyberPower CP1500AVRT


While larger 1500VA units tend to be more expensive, CyberPower has packed that amount of power into a more affordable package. The most notable feature the CP1500AVRT lacks is a LCD display, opting for LED indicator lights instead. If you're using it the typical way – saving your work and safely shutting your units down until power returns – not having an exact measure of battery shouldn't matter that much. It has 8 outlets, all surge protected and 4 of them with battery back up which is where you'll want to plug in your more vital devices, the ones that need uninterrupted power. Despite the lower cost, this unit still has coaxial, ethernet and serial ports, which should be perfect for most work stations. 1500VA should power smaller setups (~120W) for up to an hour, and a modem/router combo (~10W) for several hours This is more of a no-frills model that still maintains excellent protection and performance. Read 238+ More Reviews
Power output: 1500VA/900W
Notable features: LED indicator lights, 8 surge protected outlets, 4 battery backed up, coaxial and ethernet inputs, 3-year limited warranty
Bonus Video:
Feeling handy? Check out this hack to replace the batteries of your UPS with a car battery for amazing battery life