Ranking the Best 5 Cook Tops of 2018
If you're looking to move from a traditional stove to a cooktop, it can be an intimidating search for the right one. There are an incredible amount available, from various manufacturers, making it hard to choose the right one for your kitchen. Even if you have a certain brand in mind, you can then also choose from gas, induction and electric cooktops. The best cooktop is also going to depend on your specific needs and budget. We've done our research, so you don't have to, and narrowed it down to these 5 options.
1. GE Profile 30-inch Downdraft Electric Cooktop PP9830DJBB
Pros:
4 radiant cooking elements allow you to cook evenly and quickly on a glass surface
Cooktop "On" indicator light allows you to know when an element is too hot to touch
All cooking elements are combined in one area thanks to the cooktop's Bridge Element feature
GE's "Fits Guarantee" ensures a precise fit to make replacements easy
Downdraft exhaust system pulls steam and smoke out of the kitchen
9″/6″ Power Boil Element accommodates various pan sizes and produces powerful heat extremely fast
Knob controls have a black glass surface that gives the cooktop a modern look
Control lock protects the cooktop against accidental activation
Cons:
Power Boil Element can be a little too hot to simmer
Hard to keep clean unless using special cooktop cleaner
Final Verdict:
The GE Profile Electric Cooktop is a great option that keeps a nice, even heat for your pots and pans. You can use different pan sizes on the cooktop thanks to the 3,000-watt 9″/6″ Power Boil element that quickly produces powerful heat and boils water extremely quickly. However, this element may be too hot for some applications when you are simmering on low, and you'll want to use a different element for that. The control lock protects the unit from accidental activation. The "On" and hot surface indicator lights also tell you when elements are active and too hot to touch. Since the downdraft exhaust pulls smoke out of the kitchen, you don't need to worry about having a smoky cooking area or a range hood. The unit also looks sleek in any kitchen with its modern style. Overall, this is a great option from the trusted GE Electronics.
2. Empava 34-inch Stainless Steel 5 Burner Gas Cooktop
Pros:
Large center burner is awesome for large pots
Recessed cooktop burners allow for easy balancing of multiple pots and with large spacing between elements
Bridge burner fits small sauce pans and large grill adapters and griddles
Dual ring's inner ring can be used to simmer soups and the outer ring can be used to boil water quickly
Gas allows for much greater control of temperatures
Comes with removable and dishwasher-safe grates
11K BTU burners provide heat for various cooking options
Post-cooking cleanup is easy due to stainless steel cooktop surface that wipes clean quickly and helps contain spills
Longer than other cooktops, allowing for more space between burners, but less counter space
Cons:
Knobs require some pulling to remove them
The stainless steel surface will scratch if you're not careful so make sure you use a non-abrasive cleaning pad or cloth
Non-continuous Burner grates make tipping pots and pans more likely
Final Verdict:
The Empava has dishwasher-safe parts, so cleanup is quick and easy. You don't need to worry about spills or dust or annoyingly stubborn grime. The unit has five burners, so you can make your favourite dishes easily and quickly. Having the center burner is awesome for larger pots, and the spacing of the rest of the burners ensures you can use all 5 at once if needed – like at Thanksgiving or other holidays. Stainless steel cooktops can be difficult to keep scratch free if you're not careful, but otherwise looks great in any kitchen.
3. Frigidaire FGGC3047QS 30-inch Gas Cooktop
Pros:
Seamless recessed burners are easy to clean
LP conversion option and LP conversion kit
Cooktop contains spillovers for easier and quicker cleanup
Angled front controls
Five sealed burners
Cast iron continuous grates are dishwasher-safe and grates allow you to move heavy pans and pots without lifting them
Low simmer burner is perfect for cooking sauces and delicate food
Unit is ADA-compliant and has express-select control
Cons:
The stainless steel surface can scratch if you're not careful. You need to use a non abrasive pad if you have messes that have to be scrubbed.
Can be difficult to squeeze 5 pots/pans on at once since it's only 30″
Final Verdict:
This stainless steel Frigidaire cooktop has a large center burner with a versatile BTU-rating. The unit has 5 sealed gas burners, so you can choose the one that suits your needs. It looks amazing in a kitchen with its stainless steel, and the cast iron grates are not only dishwasher safe, but functional too. The continuous design make it difficult to spill and the recessed cooktop and sealed burners contains any boil overs or spills. The simmer burner works really well allowing for great temperature control, and while it does have 5 burners, it may be more difficult to fit 5 pots and pans on all at once since it is only 30″ – compared to some larger models.
4. Bosch NGM8055UC 800 30-inch Stainless Steel Gas Sealed Burner Cooktop
Pros:
Unit is equipped with centralized controls
18,000 BTU burner
Comes with cast iron continuous gates
Five sealed burners
Durable metal knobs
Easy to install
Cons:
Inferior stainless surface can produce burn marks/stains if used at higher temperatures for long periods of time
Center burner is the best for boiling, the others are not so great
Final Verdict:
This Bosch Cooktop allows you to cook a lot of dishes at once as it has five sealed gas burners. It provides the power and burning elements you need. The unit has durable metal knobs that give it a professional feel. The stainless steel used on the surface isn't treated the same as some of the other models though, and can produce burn marks/stains which are unsightly and difficult to remove. 
5. WindMax Brand Design 34-inch Black Titanium Stainless Steel Cooktop
Pros:
Five gas burners
Stainless steel top construction is easy to clean
Cast iron burner grates are extremely durable
Electronic ignition
Features a black titanium stainless steel gas hob panel
3300W/H burner heat input
34″ is longer than other cooktops, which allows for more space between burners, but less counter space
Cons:
Gas regulator and pipe are not included
Not the most attractive option (in our opinion)
Final Verdict:
The WindMax Brand 34-inch Black Titanium Stainless Steel Cooktop allows you to cook foods like a professional chef. It has five gas burners that allow you to cook from a low simmer to high heat. It's got cast iron grates that are durable and easy to clean, but in our opinion, it's not the best looking option out there, compared to some of the others on the list.
We hope that this list helped you choose a cooktop for your kitchen! If you have any questions or suggestions, drop us a line below!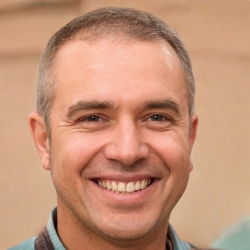 Latest posts by James Kennedy
(see all)