Unfortunately, no matter how heavy-duty a tool is, it's going to need some maintenance or replacement parts at some point. A chainsaw is no exception to that, and it can be costly to constantly take it in to be sharpened by a company. And if you think it's unnecessary, you've never tried to use a dull chainsaw! It can make even a small job much more difficult and arduous, and also unsafe. A dull blade requires you to use more force, increasing the risk and severity of kickbacks. In this article, we'll show you how to choose a chainsaw sharpener so that you can get your saw as sharp as possible.
How To Choose the Best Chainsaw Sharpener
There are a few different types of sharpeners out there to choose from, and to be perfectly honest, it's hard to straight up say that one type is better than the others. They all have their own unique set of benefits and drawbacks. What we've done is picked the best of each type, and outlined the pros and cons of each method so that you can decide which one you think will be best for you.
Buffalo Tools Electric Chainsaw Sharpener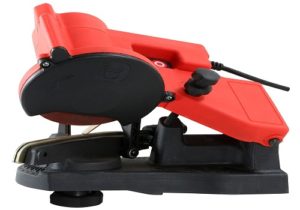 If you want to sharpen your blades like a pro, then you may want to consider an electric sharpener. This is the kind of store that business will use if you take in your saw to be sharpened. This Buffalo Tools is a great companion for someone wanting to get the most out of their chains. It mounts directly to your work bench and plugs into standard outlets. Rather than a file, it uses a single 1/8″ grinding wheel that rotates at 4200RPM, which means less time spent on each blade. With this tool, you want to be really gentle, because the wheel needs to only make slight contact with the blade to sharpen and also to avoid degrading the blades too much. The guide you mount the chain to will allow you to make small adjustments to the exact angle you specify giving you a precise result. While you will save time using this tool, you do need to take the chain off the bar in order to mount it to the guide which is a short extra step. Overall, this a great ~$35 investment for those who use their saws often and around the house. Read More Reviews
Pros: Quick, saves time, can get blades extremely sharp and at a precise angle
Cons: Takes up counter and storage space, must remove chain from bar, not very portable since you need electricity
Dremel Attachment Sharpening Kit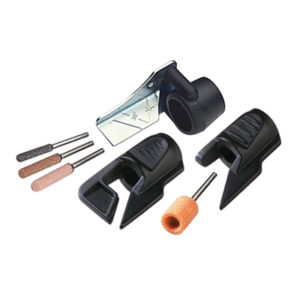 If you don't want to invest in a more expensive electric model, but still want the time-saving power, then this dremel attachment kit may be better suited for you. Included in this kit are several different grinding stone attachments that hook up to most dremel tools transforming your dremel into a sharpening machine! You can also use these grinder tips to sharpen up your other garden tools like shovels, hoes or garden shears. It's also not the most portable unless you have a battery operated dremel. The three tips included are a 7/32″, 3/16″ and 5/32″ so you should find one that fits your chain. There is also a small metal gauge/guide to get the right angle on your blades. Obviously, you need a dremel tool to make use of these tips, but if you do, you can get the same sharpening capability as an electric tool like the one above and save some money too. Read More Reviews
Pros: Versatile, make the most of a tool you own already, can leave chain on bar
Cons: Need to own a dremel, not extremely portable unless you have a cordless dremel
Husqvarna Saw Filing Kit


If you don't want to deal with any fancy devices, then this basic filing kit is probably for you. Husqvarna is a trusted brand of chainsaws and power tool accessories, and they've produced some high quality files here to hone up your blades. This kit is made for chains made by Husqvarna and other similar brands like Oregon, Jonsered and Carlton, so you'll want to make sure it fits your chain. The two round files included are 5/32″. If your chain is larger like 7/32″ it will work just fine. The flat file is to be used for the depth gauge fins in combination with the depth gauge tool. There's also a small red plastic handle that the files slide into, which makes it more comfortable to use. This little kit is great – it's affordable, and super compact, plus you can keep the chain on the bar. For the newer lumberjacks among us, it may take some time to perfect your technique, since without a guide it can be more difficult, btu it will be worth it in the end. Manually filing your chain can be time consuming, but if you're going to be doing any work in the bush and need something small and portable this is the way to go since you don't need any power.  Read More Reviews
Pros: Affordable, very portable, can keep chain on bar, classic solution, 
Cons: Time consuming, made for Husqvarna so you need to make sure it fits your saw (5/32″ file)
Granberg File Mount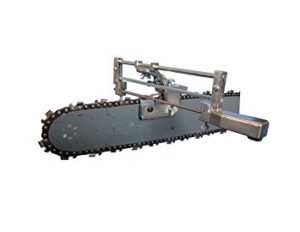 Because using a manual file like the ones above can be a little bit tedious, this file mount system may be a better solution for you. Manually filing takes some time to perfect, so you may spend quite a while on it until you're good at it. This file mount system mounts directly to both sides of the bar of your chainsaw, and attaches the file to an arm. Then, you can quickly sharpen each blade, move the chain, and bring the arm with the file right back down. This will significantly speed up your sharpening and is our favourite option on the list. You can check out the video below to see why we like it so much. Read More Reviews
Pros: Can sharpen quite quickly, can keep the chain on the saw
Cons: Works better with a flat even surface, not quite as portable as file alone
Don't agree with our ratings? Do you own one of these sharpeners? Maybe you have another product to recommend? Drop us a line in the comments below, we love hearing from our readers!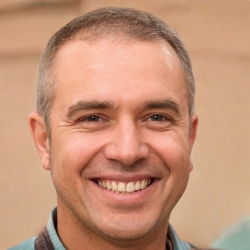 Latest posts by James Kennedy
(see all)