Critics are calling it one of the most powerful flashlights on the market. The manufacturer even makes the insulation that it has as much power as an atomic bomb. With all of the sensationalist hype towards this inexpensive flashlight, it's hard to take it very seriously. Is this a product that's actually worth your time, or is this just another as-seen-on-tv bargain-bin product?
Here's the thing: the Atomic Beam has a lot of street cred. Not so much that we couldn't write it off as just good marketing, but enough that we decided to give it a second look. In this review, we're going to be pitting it head to head with other popular alternatives. We'll show you the good, the bad, and help you decide if this is something you should purchase for yourself.
Atomic Beam Review
We purchased an Atomic Beam 30 days ago, and we decided to put it to the test. We're going to take a look at this inexpensive flashlight from a few different perspectives. How bright is it? Will it last? Is it comfortable to use? What features does it have? These were all questions we went into. But before we get too in-depth, let's compare it to several popular competitors.
[comparison table]
What's In The Box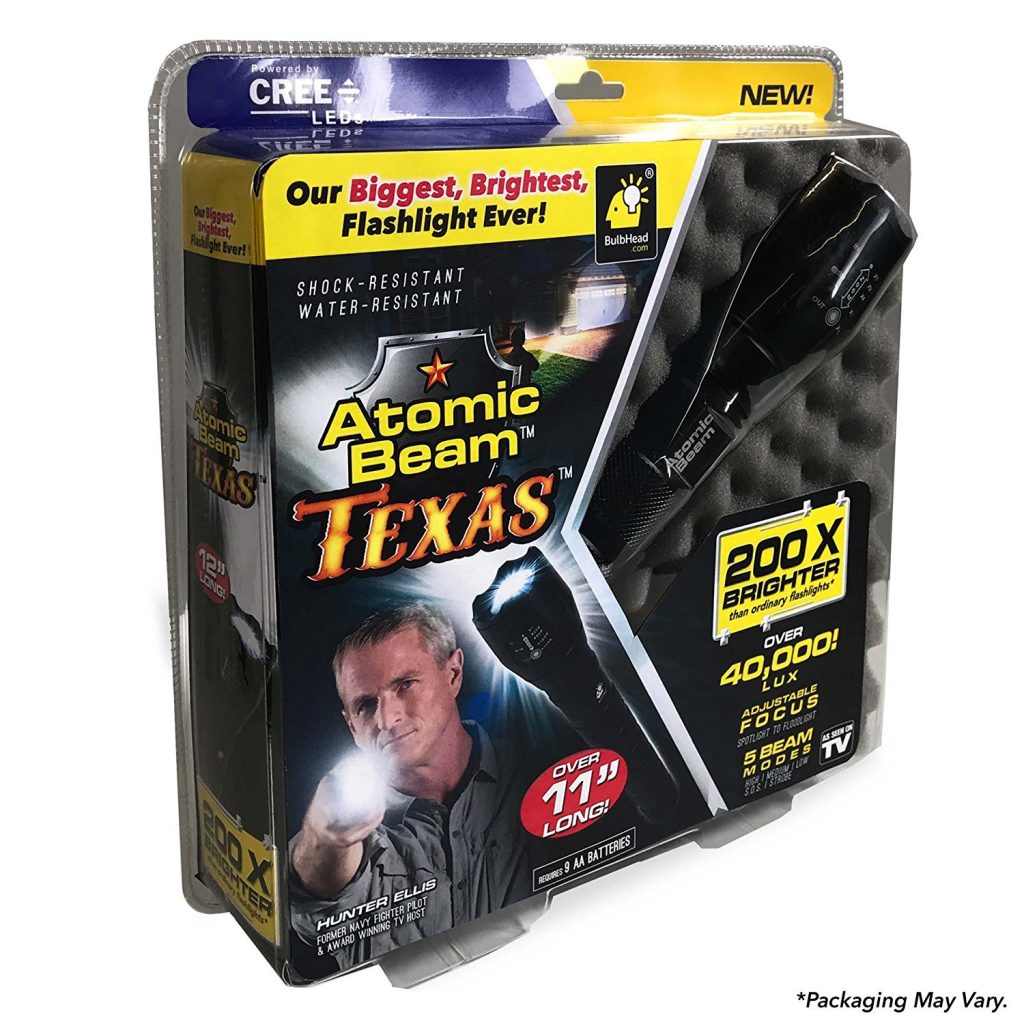 The packaging is pretty generic, and designed in a similar fashion to many other as-seen-on-tv products. It comes in a very flashy blister pack, and even has a cameo appearance from that dude off practical-to-tactical. But celebrity endorsed or not, we prefer to review these products based on their actual merit – not just by who's on their payroll.
Instead of the typically frustrating blister packaging that most products are still using (seriously, why?!) Atomic has a handy pull-tab that makes it easy to open. You don't need a pair of scissors, and you won't end up slicing your hand on an errant piece of plastic.
The packaging is fairly sparse. You get the flashlight itself, with all of the accessories (like the battery and the crown cap) mounted on it. There is no real manual of any sort, so we'll walk you through the features here.
Key Advantages
Atomic markets this flashlight as having four key advantages. First is the compact design. It's smaller than many other tactical flashlights, but still comfortable to hold in the hand.
It also has an adjustable focus – letting you choose between a wide beam, or a small focused beam with a lot more brightness.
It comes with five beam modes (which we'll get into a little bit later) and is made from an incredibly durable aluminum case. In the next part of the review, we'll be going through these features one by one to see how they stack up to the competition.
Brightness
Atomic Beam USA claims that their lantern is 40x brighter than a standard flashlight. While these numbers are a little skewed, they're not entirely inaccurate.
Flashlight brightness is measured in LUX. A typical non-led flashlight will produce about 150 lux, while the Atomic beam produces 5000 LUX.
This certainly isn't the only 5000 LUX flashlight on the market. There are many other competitors. However, this is one of the cheapest. If you are comparing against flashlights in the same price range, most of the models you'll find will be 1000 to 2000 LUX.
Numbers aside, how bright is it? Well, trying to look directly into the flashlight is downright blinding. If you focus the beam, you can see over a massive difference. On a foggy night, you can see the beam of light rise into the sky a shockingly long distance. For the money, you're not going to find a more powerful flashlight.
Battery Life
To get the flashlight up and running, you need to unscrew the cap on the bottom and insert three AAA batteries. These batteries are NOT included, so you'll need to buy your own. What we did is purchase some rechargeable lithium AAA batteries. If you are using the flashlight a lot, then you're going to burn through these batteries fast. On the brightest setting, our standard batteries only lasted four hours, although you can triple this to 12 hours on the lower settings.
We'd recommend saving a few bucks by investing in some rechargeable lithium batteries. Lithium batteries last three times as long as standard disposable types, so you'll improve your battery life and save money having to swap out batteries.
Because this flashlight uses a standard Cree LED, the battery life is comparable to that of similar flashlights. Granted, this varies with the brightness. A flashlight that is half as bright will last twice as long. So if you compare this to a generic flashlight that isn't nearly as bright, you'll probably think that the battery life is fairly abysmal. But if you're on the market for something this bright, then you're not going to get much better with any AAA powered flashlight.
Some models on the market are rechargeable, which can offer better life for a premium price. In our eyes, going with rechargeable AAAs gives you the best of both worlds, even if it adds to the cost a little.
These are the batteries we'd recommend using with the atomic beam. Not only are they inexpensive, but they include a charger. You don't need any fancy high-end batteries with this flashlight, so buying these affordable ones will help keep costs low and save you money in the long run.
Durability
The Atomic Beam is made from a fairly thick aluminum frame, and has a very rugged look to it. Chucking it on the ground and tossing it around did result in a few scratches to the smooth black finish, but overall resulted in no loss of functionality.
One of my favorite features of the Atomic Beam Lantern is the fact that it's waterproof. We submerged it in a tubful of water for over an hour, and there were absolutely no problems with it. This truly is a decent flashlight for the avid outdoorsmen, and we have no complaints in this regard.
Features
For the most part, the atomic beam flashlight is pretty simple to use. You push the button to turn it on, and push the button again to turn it off. But there are a few additional modes it has for different applications.
There are five modes in total. Hold down the button to swap between bright, medium, and low. The lower modes drastically improve battery life, and are still more powerful than a standard flashlight. It also has flash mode, which blinks the light quickly to send a signal. Finally, you have an SOS mode, which morse-code's the universal signal for "HELP." A neat feature to have, although we're not entirely sure how useful it would be in the real world.
Final Verdict
Overall, there are a lot of things we really liked about the atomic beam. It's inexpensive, durable, and fairly easy to use. The one downside is the fact that you have to buy your own batteries. But even if you go ahead and purchase a set of rechargeable AAA batteries, you're still coming in well under the typical cost for a high-brightness LED flashlight. After using it for a month, we're happy to give the atomic beam two big thumbs up.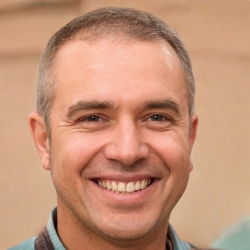 Latest posts by James Kennedy
(see all)