Hydraulic Log Splitter Reviews: The Best for Your Needs (2020 Update)
If you've spent any amount of time chopping wood, you know that it can be very physically demanding. Using an axe or maul is arduous and takes a toll on your back, knees, arms and hands. Although the activity can be fun and good exercise at first, it quickly gets old. Lifting, cutting and stacking wood takes a long time when you have to do every step by hand. Hard woods can be especially difficult to split and will take more than one swing to do the job. Freshly cut word has more moisture packed in the wood, and makes it even more laborious to split. Thankfully, there is a solution that greatly reduces these physical demands: a hydraulic log splitter.
Comparison Table: Our Log Splitter Reviews Summary
Check out this quick comparison of the best splitting mauls on the market today. For the full reviews and specs scroll just a little further down or navigate using the sidebar!
Model
Dirty Hand Tools
Lumberjack Electric Splitter
Boss Industrial Splitter
Champion
Southland Outdoor
NorthStar
Logger Joe
Category
Best All-Around – Top Rated
Most Affordable
Best Electric
Powerful but Affordable
Great Performer
Most Powerful
Best Manual Splitter
Weight
600lbs
100lbs
100lbs
400lbs
475lbs
600lbs
87 lbs
Cycle
Time
11 sec
16 sec
15 sec
14 sec
17 sec
14 sec
N/A
Force Output
22 tons
6 tons
7 tons
22 tons
25 tons
37 tons
10 tons
Power source
Gas
Electric
Electric
Gas
Gas
Gas
Manual
Maximum length of logs
24″
20″
20″
24″
26″
24″
18″
Maximum diameter of logs
36″
10″
12″
36″
36″
38″
20″
Portability
Wheels & trailer hitch
Wheels only
Wheels only
Wheels & trailer hitch
Wheels & trailer hitch
Wheels & trailer hitch
Wheels only
Notable Features
Fastest cycle time, reliable and powerful engine, fuel saving features, vertical splitting
Small, Compact, Electric
Small, Compact, Electric
Low oil auto shutdown, log cradle
Low oil auto shutdown, log cradle, vertical splitting
Low oil auto shutdown, vertical splitting,
No electricity or gas required, even young people can operate
Price

CHECK PRICE ONLINE

CHECK PRICE ONLINE

CHECK PRICE ONLINE

CHECK PRICE ONLINE

CHECK PRICE ONLINE

CHECK PRICE ONLINE

CHECK PRICE ONLINE
Top Rated (ShedHeads Pick): Dirty Hand Tools 22-Ton

In our opinion, and most folks will agree, the Dirty Hands Tools 22-ton is the undisputed best choice. This splitter should do any and all jobs you ask it to.
This gas-powered model features a 6.5 HP 196 cc Kohler engine that is powerful and reliable. The DHT will run all day for you without a hiccup. The engine, paired
with the hydraulic system produces an impressive 22-tons of force, more than enough for most pieces of wood. The wide steel wedge makes quick work of even the widest of trunks.
As well, the DHT has a staggeringly fast 10.9 second cycle time. That means that it takes the splitting arm only 10.9 seconds to split your chosen piece of wood, and return to resting position. This is one of the fastest splitters in the industry. What would be the point of buying a hydraulic chopper if you spend just as much time outside because you are waiting for the hydraulic arm?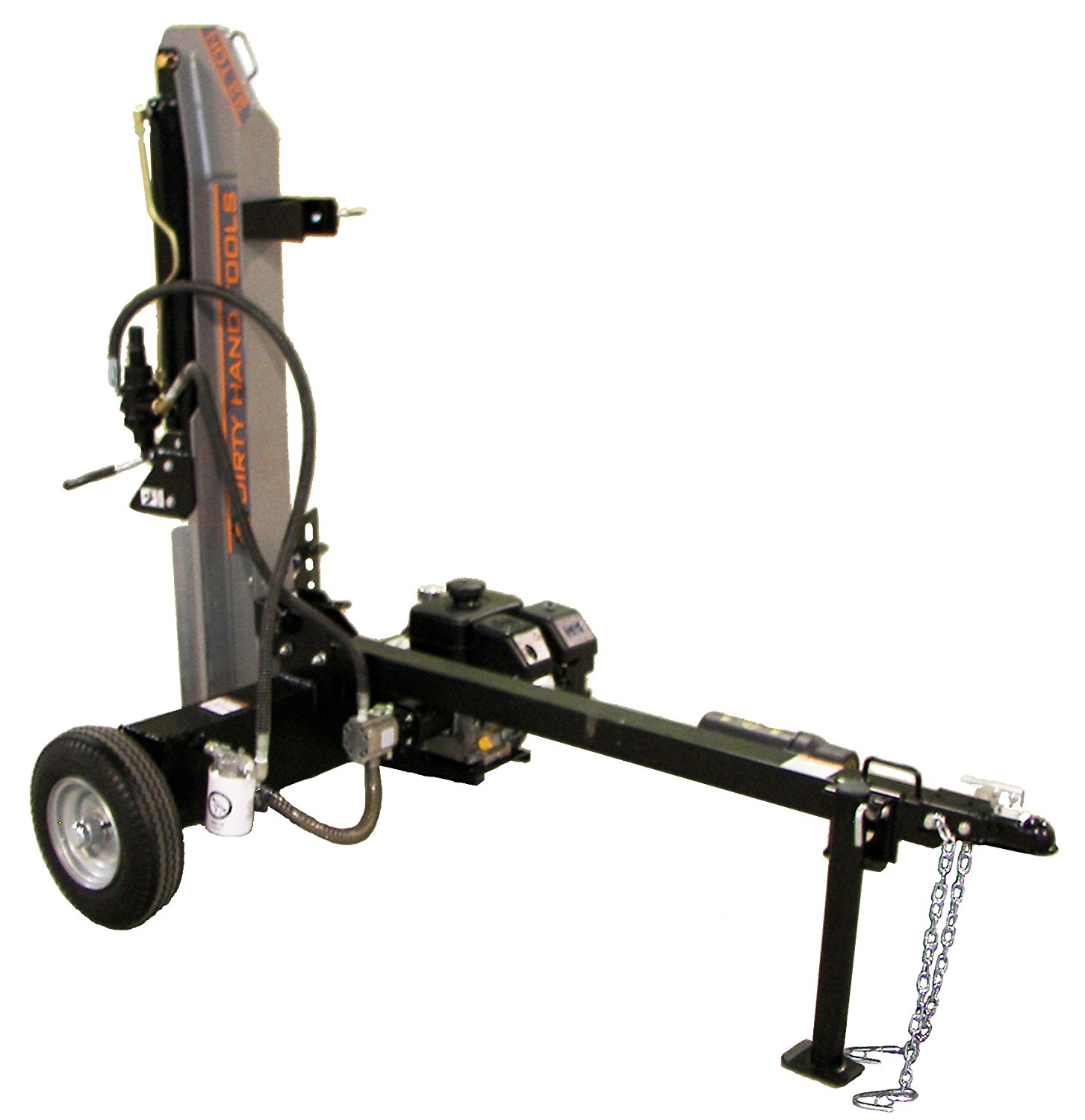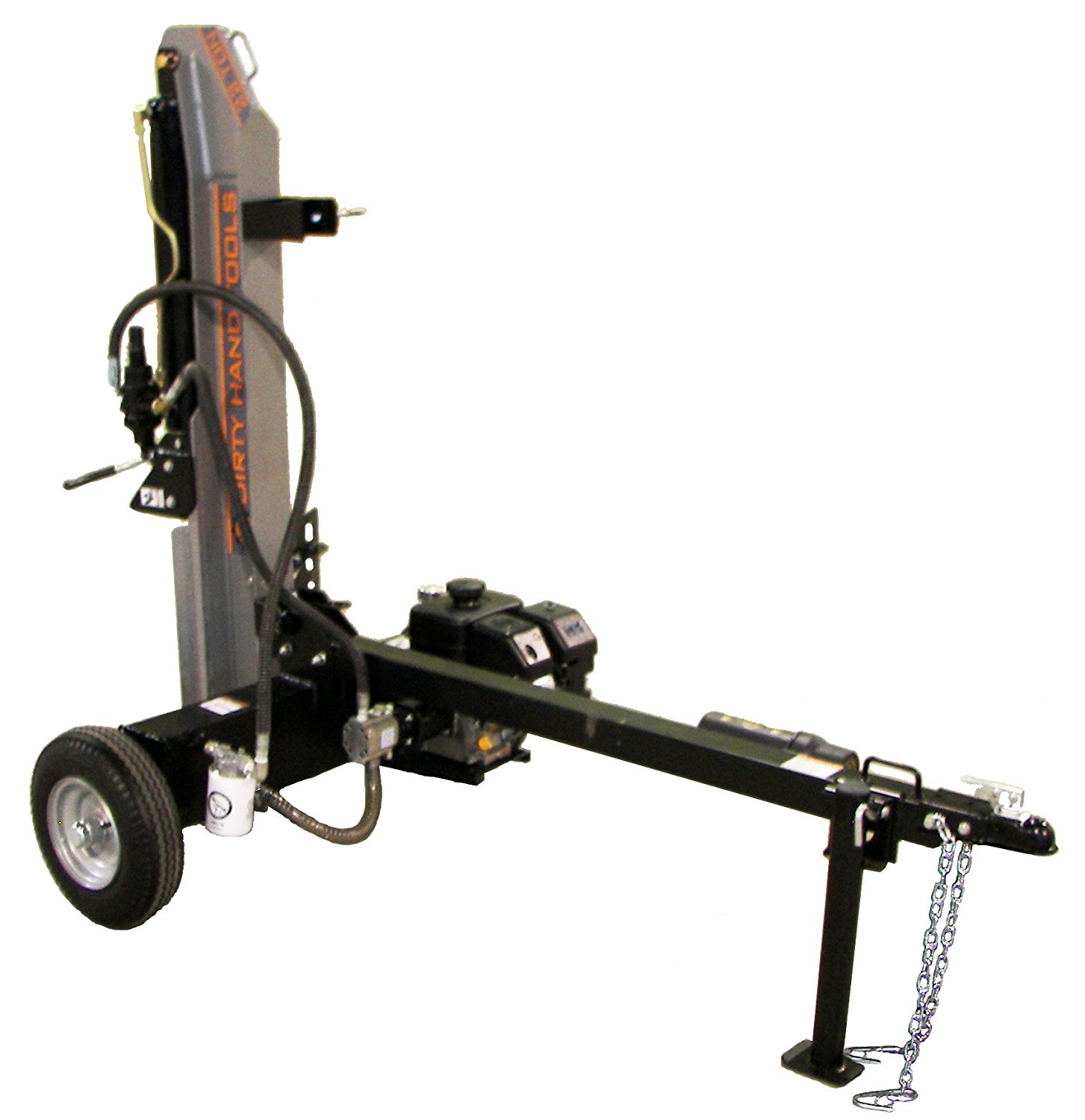 The splitter features a catcher built into the cradle, that makes it easier when splitting larger wood. This allows you to split up to 36 inch diameter pieces with ease. The cradle is large enough to split up to 24 inch long logs, great for those who like longer pieces in their furnaces. The arm also can swivel into a vertical position, making operation easier for some folks. Because you don't have to lift the logs onto the cradle but can just roll them under the arm, you save yourself a ton of effort.
This DHT 22 ton hydraulic is towable, with a 2 inch ball hitch coupler and safety chains. The heavy duty rubber wheels hold air well and won't need replacing for a long time. Overall, folks are extremely pleased with their DHT 22 ton, and is the reason why it's our top choice for the best gas log splitter you can buy. Plus, you can order it online and have it shipped straight to your door.
Cheapest Option: Lumberjack Electric Log Splitter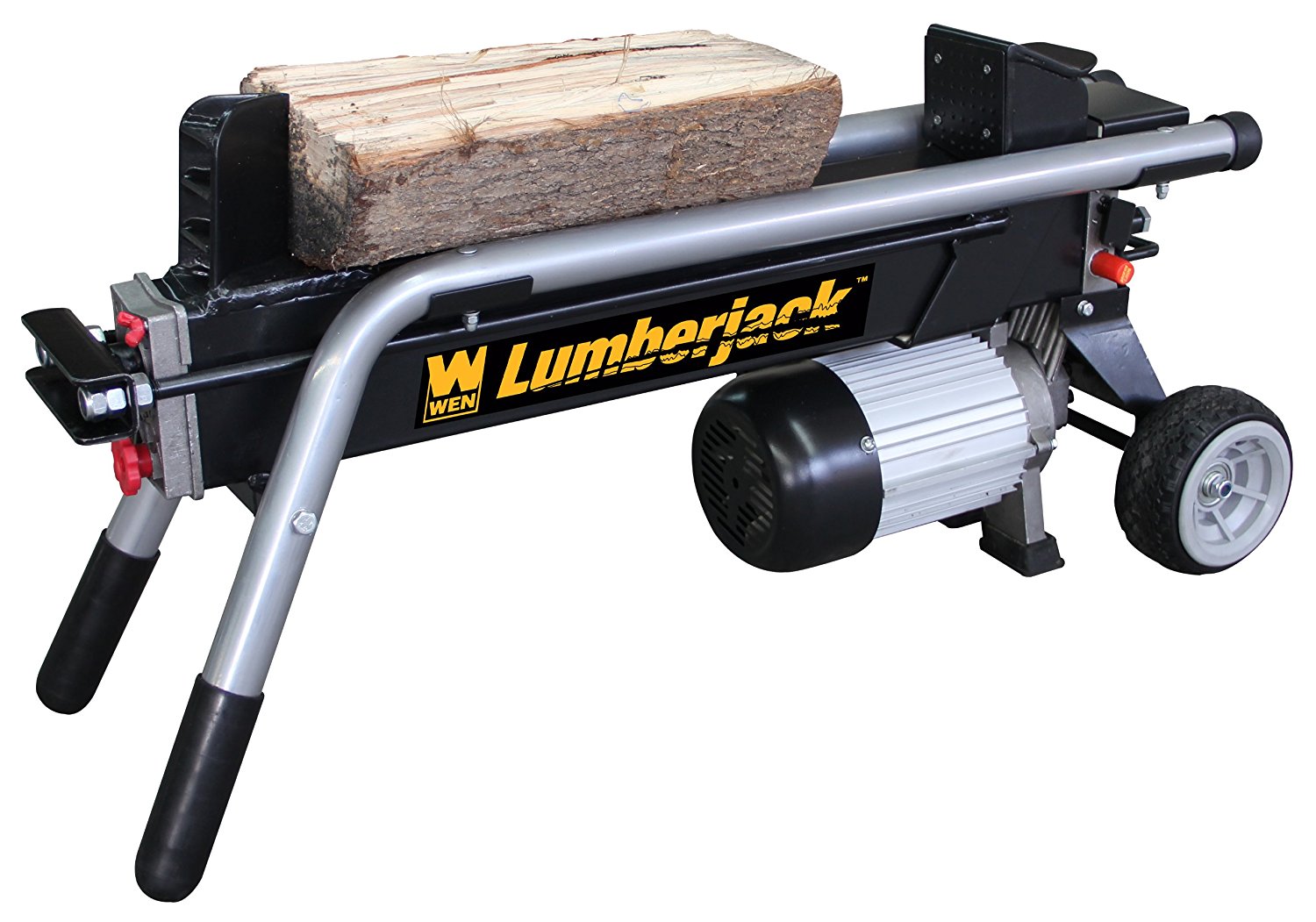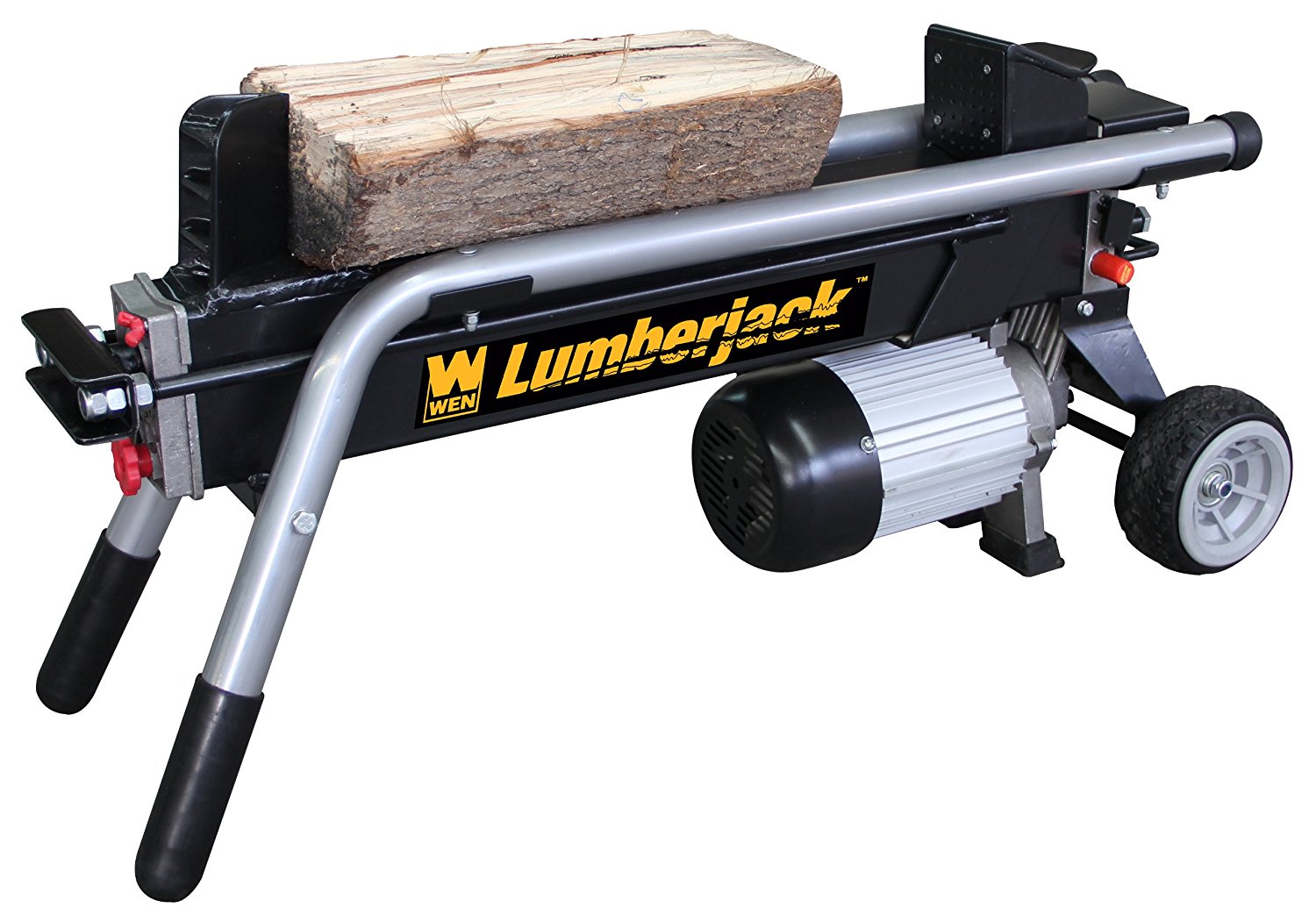 Our pick for the cheapest hydraulic chopper you can buy is the electric WEN 6-ton Lumberjack. This small and ultra-portable electric log splitter packs a surprisingly powerful punch considering its size. The 2-horsepower engine is powered by a standard household outlet, which forces your chosen trunk into a 4.5 inch using a 4×4 inch push plate. WEN claims that you can split wood up to 10 inches using the Lumberjack, which is possible, but it gets a bit difficult at that size. They definitely need a few rounds to get fully split. The aluminum cradle is solid, but we could see it denting over time if you are really throwing the wood hard onto the machine, so be careful. The cradle is nice and long though, so you can split logs up to 20.5 inches in length.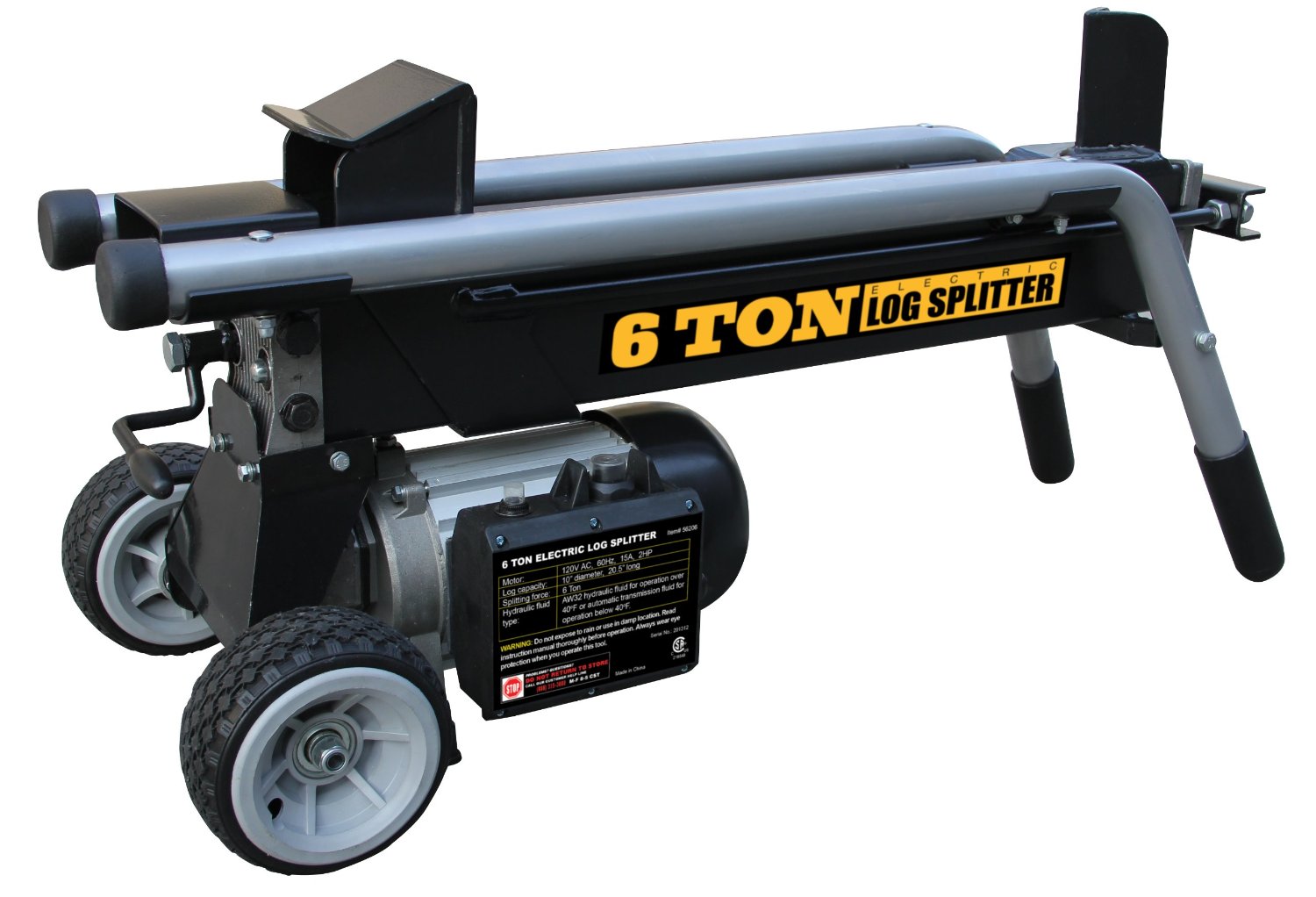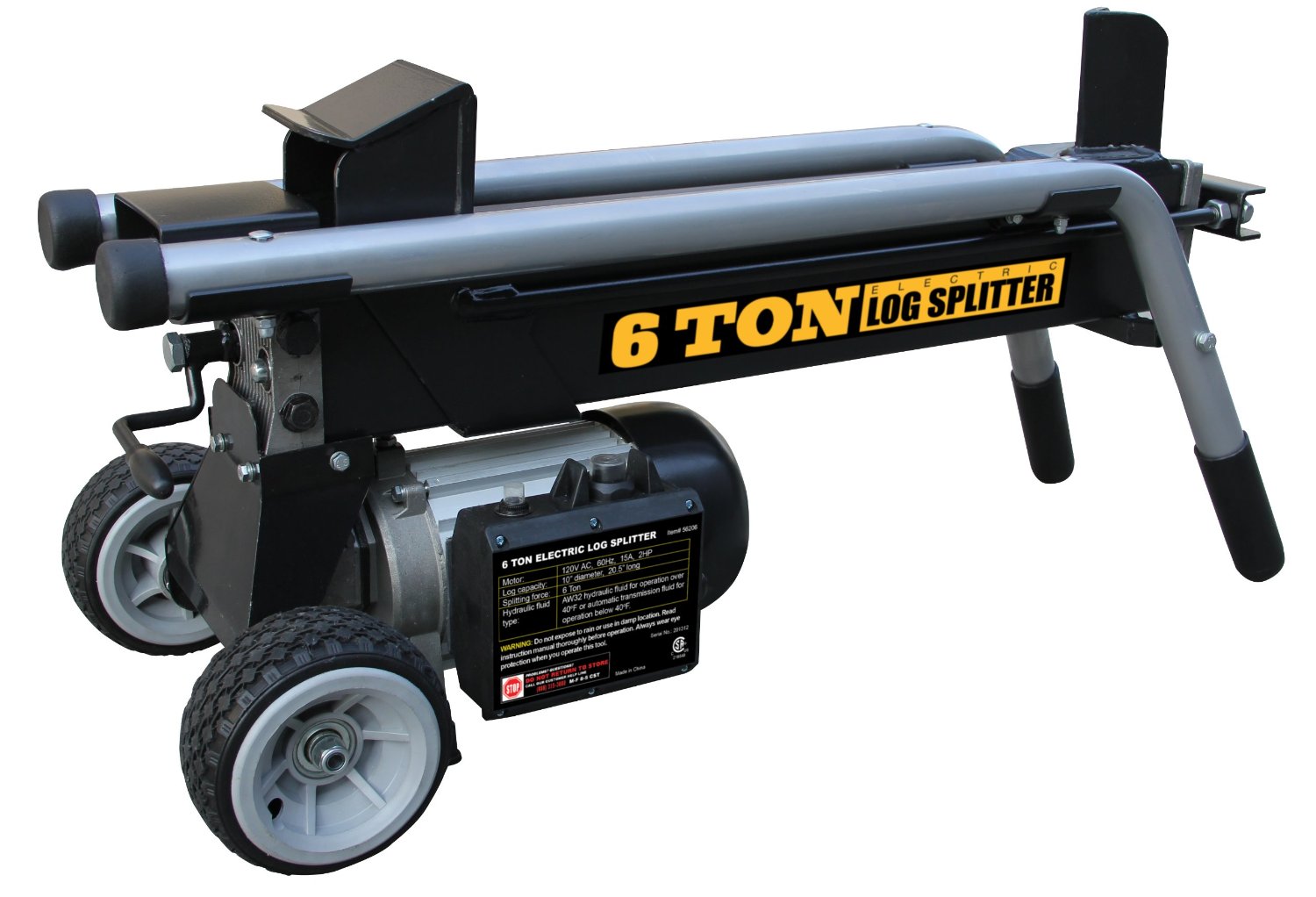 The push plate forces the log against the wedge using 6-tons of force. This is more than enough force to split dry wood and softer woods, but definitely not for tougher, fresher cut trees. If you have the time to dry your wood, or maybe you get it delivered and can keep it covered for a while to dry, you should have no problem. Then you can split the wood as you need it, because the Lumberjack is so small and simply needs plugging in to operate. Being powered by electricity has its perks, being less-expensive to run and own, and without any fumes so you can operate it safely and comfortably in a garage.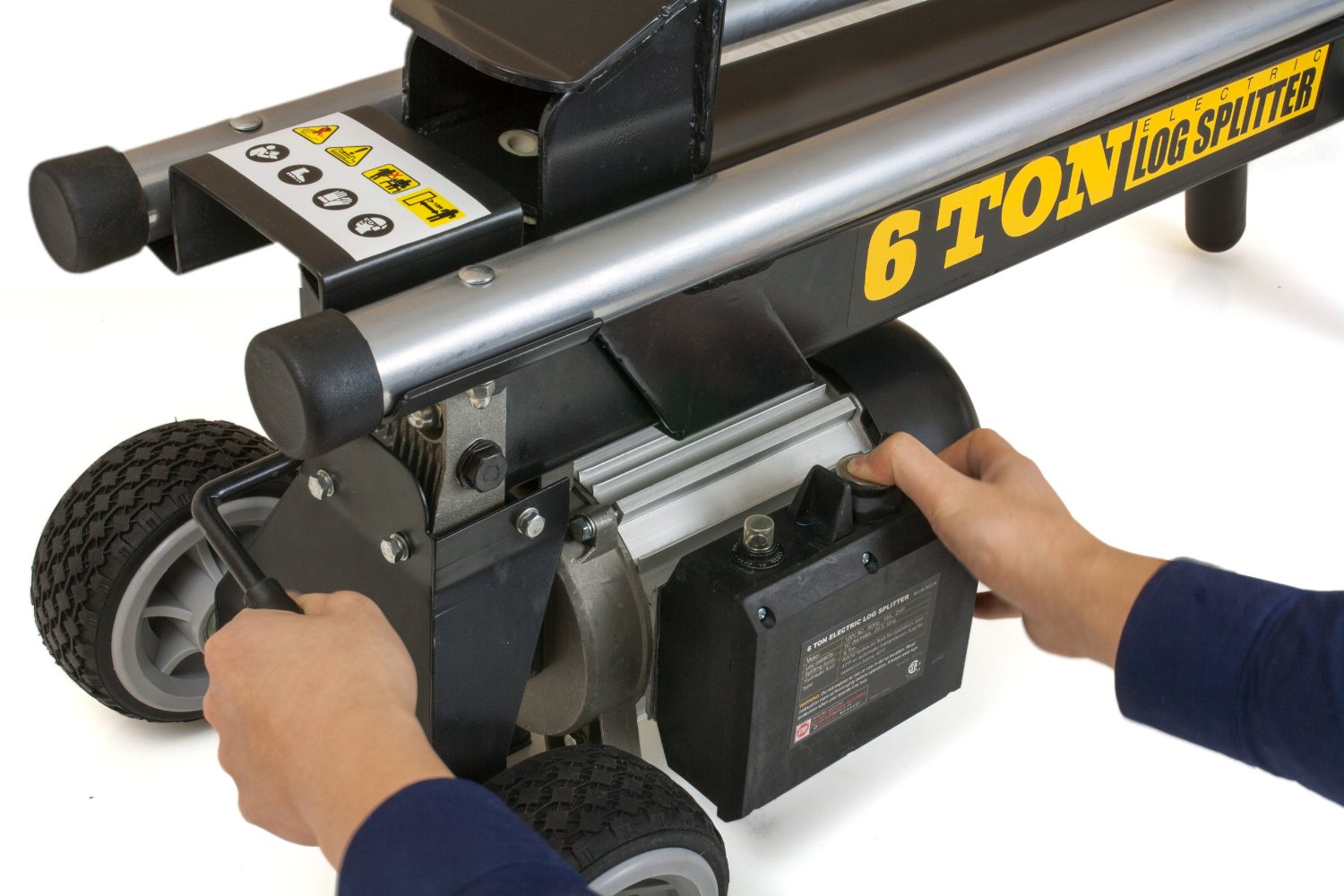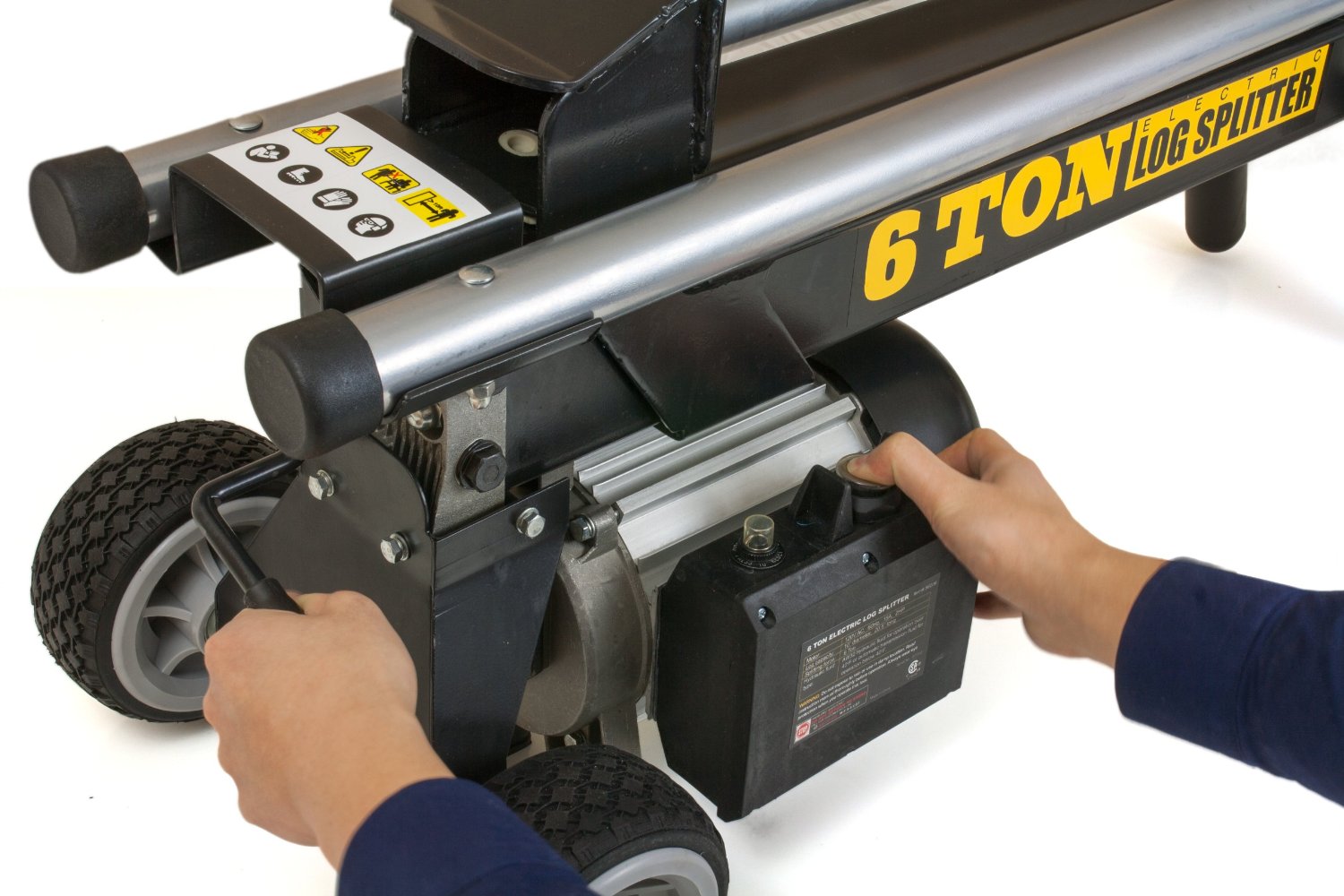 This electric model is compact and (relatively) lightweight, at just over 100 pounds. It has to comfortable rubber-grip handles and two 6-inch never-flat wheels which make it safe and easy to transport wherever you need. The splitter is designed so that both hands are needed in order to operate the machine, so it is safe even for kids to use. Being electric has its perks, since it is cheaper and cleaner. It's a very affordable model. However, it won't generate as much force as a gas-powered one. so if you are going to be splitting wet, heavy, hard-to-split wood, this might not work for you and you may need to spend a little more dough.
Best Electric Log Splitter <10 Tons: Boss Industrial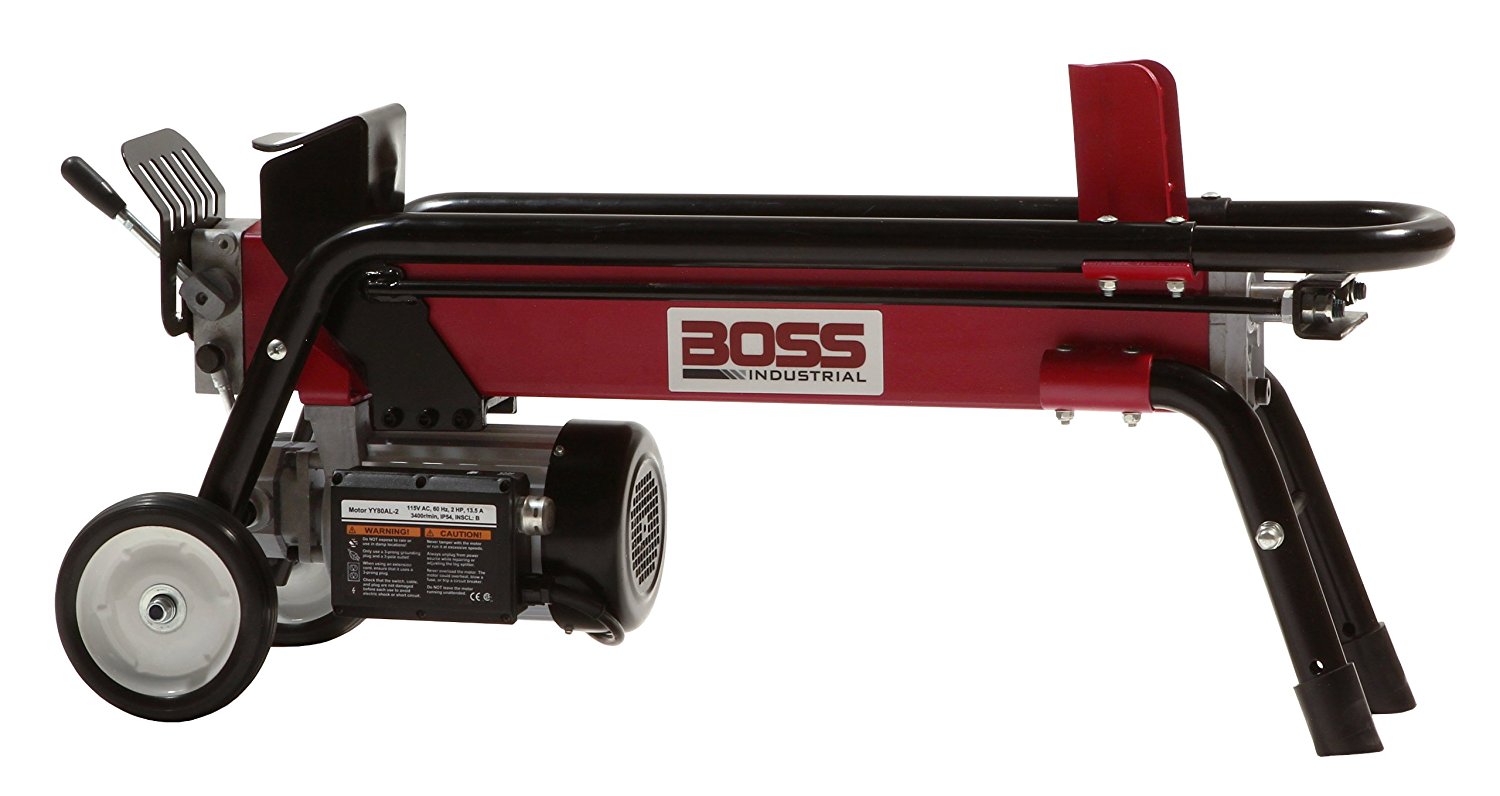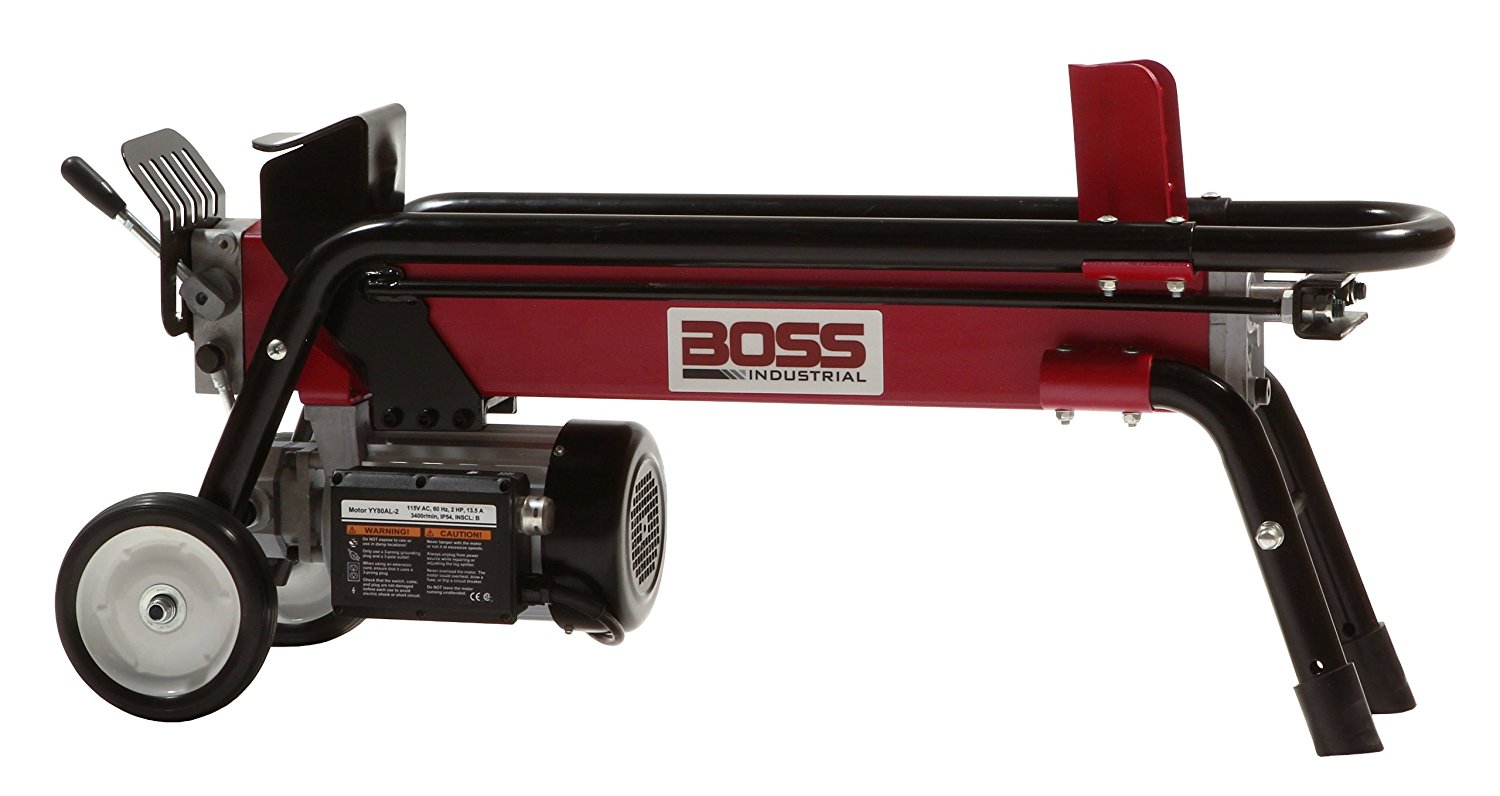 Let's step up a little bit to a slightly more powerful electric mode. The Boss Industrial ES7T20 is a 7-ton that packs more power than the 6-ton WEN model. Remember, although a one-ton increase doesn't sound like much, but that's 2000 pounds of force we're talking about. The Boss ES7T20 is small and lightweight, weighing just over 100 pounds and 40 inches in length. The handles on one end double as the legs it sits on, and the wheels on the other end make it a breeze to move about as needed.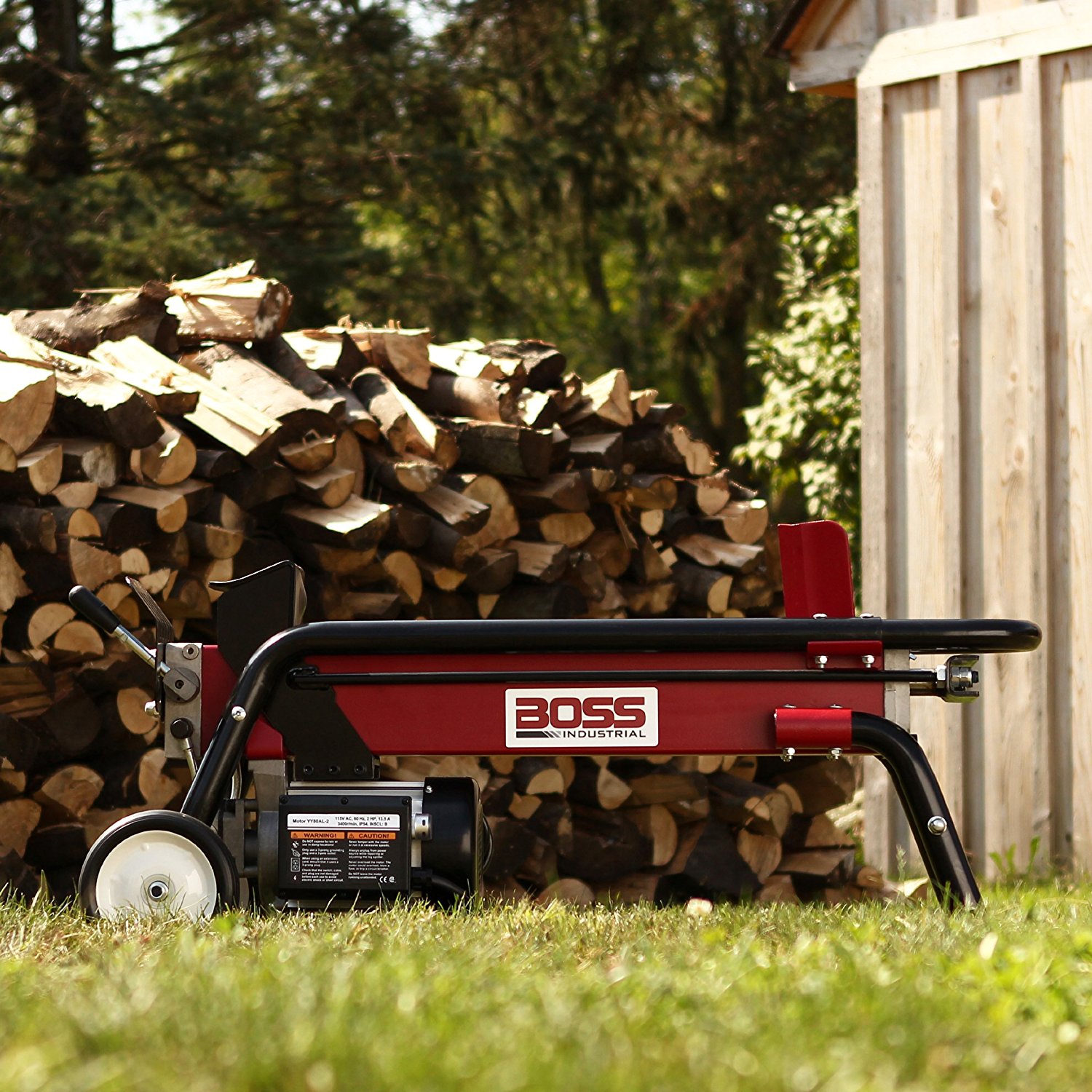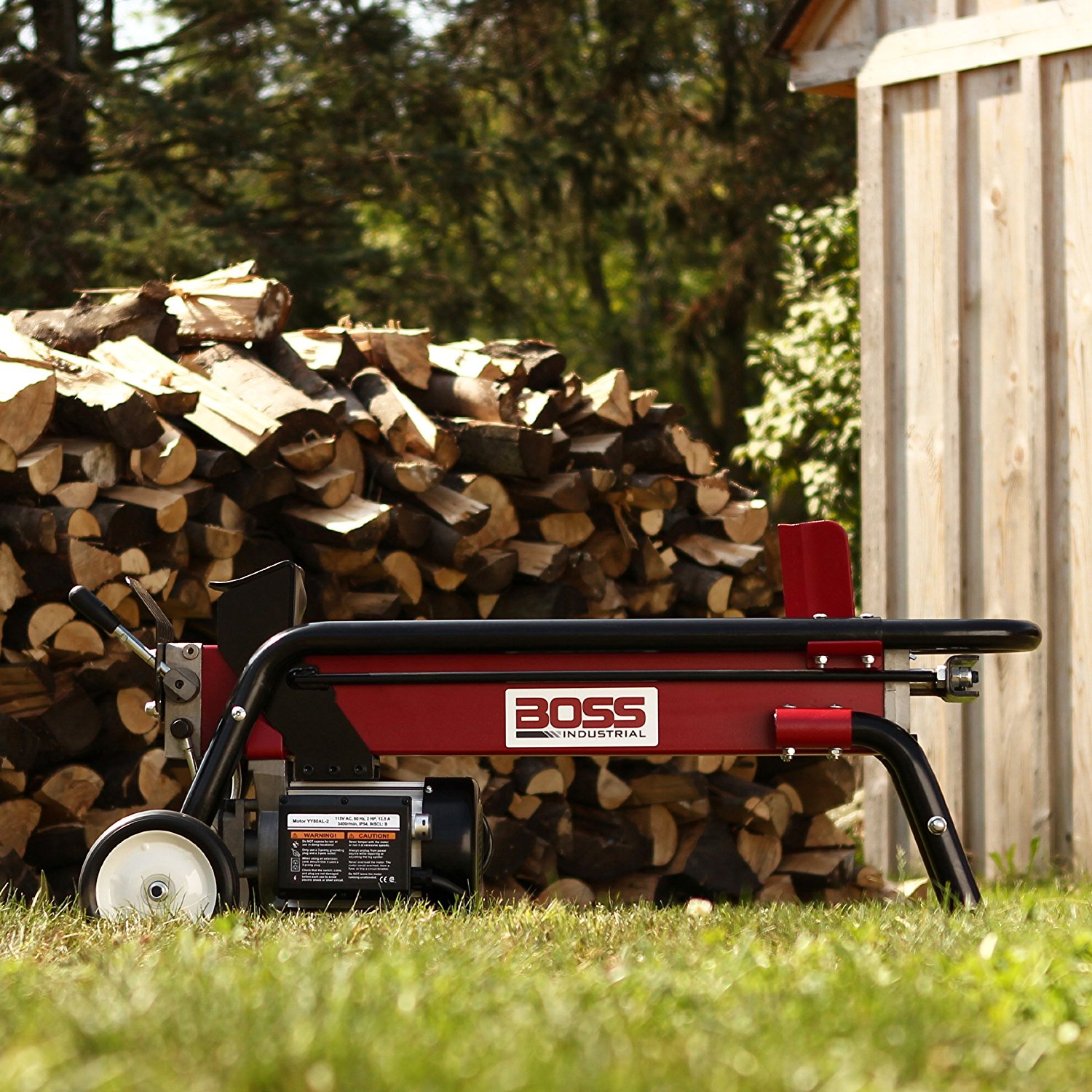 The 2-horsepower electric motor produces enough juice to split logs more than 12 inches in diameter, up to 20 inches in length. This unit produces enough force to split most dry wood easily, but takes a little extra time with wetter, heavier wood. So make sure you dry your wood before you split, or you may want to invest in a more powerful version. The electric ES7T20 is extremely easy to operate, and starts up with the push of a single button, no cranking of leashes like gas models.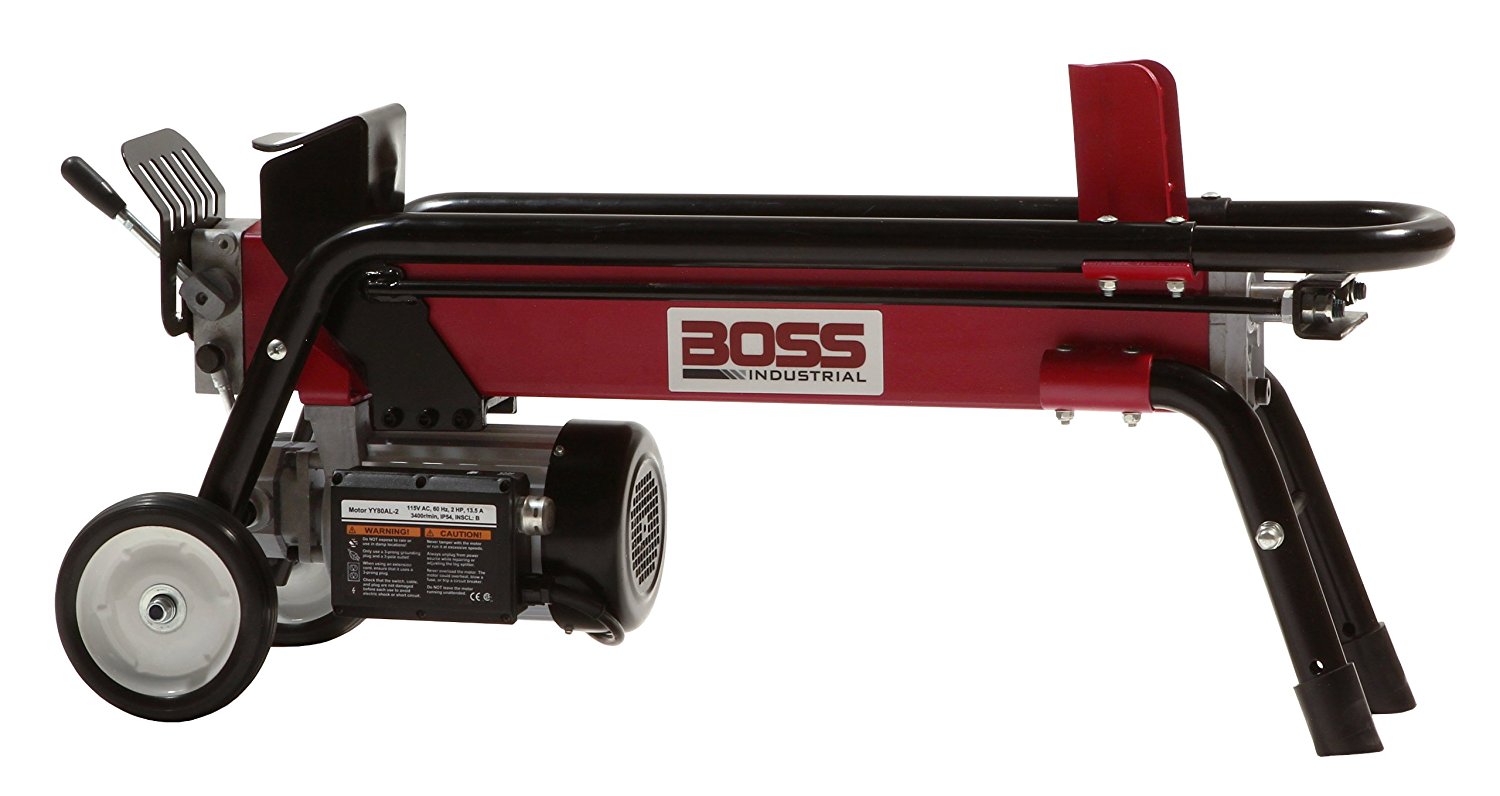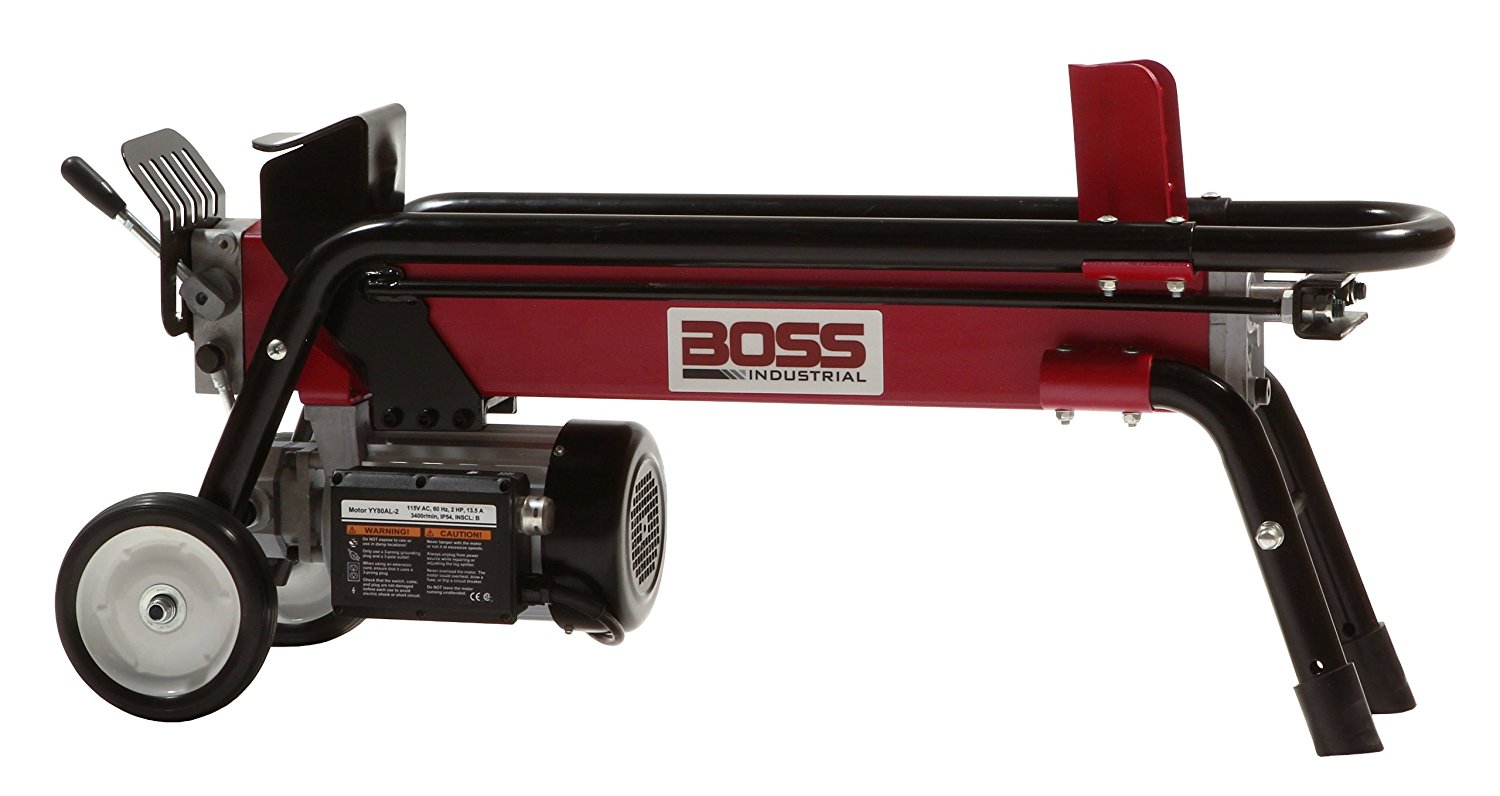 The one-handed operation makes it quick and effortless to split wood, and having your other hand free can help get you organized for the next log. Just be sure to keep your other hand clear from the press. The ram will automatically return to starting position once finished splitting, so you can let go of the operating button and start loading your next piece, keeping you working efficiently. Like all of the best log splitters that run on electricity, this 7-ton model isn't super versatile, since it requires to be plugged into a power outlet. If you are using it to split logs in your backyard or shed where you have power nearby, it's a great option.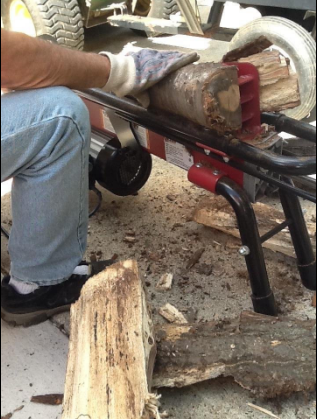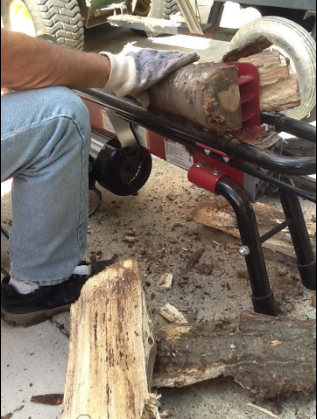 The compact design and portability of the Boss Industrial ES7T20 make it a perfect fit for your backyard or shed. If you are worried about the fact that you may need to be splitting larger, wetter trees and you want a little bit extra juice, you can also have a look at the 8-ton model. Again even though it's only one ton extra, that's a whopping 2000 pounds of force being added. This chopper is best suited for sections under 20 inches in length, and around 12 inches. If that sounds like the majority of wood you use, then definitely give this electric model a look.
Best <10 Ton Gas Log Splitter: Champion (Discontinued)
Update, January 2018: Unfortunately this log splitter has been discontinued and you can't find it new anymore.
The main reason people are drawn to electric, is that they come in lower-tonnage models, at a more reasonable price. Why buy a 22-ton gas model if you won't use all that force? However, a major drawback to electric is the reduction in versatility and portability. If you are looking for a hydraulic splitter for smaller, dry wood, but also need it to be portable, not relying on electricity to power it, then the gas-powered Champion 90720 7-ton compact may be a great option for you.
The Champion 7-ton splitter is our pick for best buy (gas log splitter) under 10 tons. The Champion combines the compact, lightweight benefits of a smaller electric model with the portability and versatility of gas. The rig weighs about 140 pounds, but the handle and never-flat wheels make it a breeze to move around, considering its heavier weight. The splitter itself is 45 inches long and 20 inches wide at its widest, making it small enough to store easily.
The machine is powered by a reliable 80cc OHV engine, supported by a 0.4-gallon fuel tank which can hold 0.4 quarts of oil. There is a low-oil shutoff sensor, which if the oil gets too low will shut down the engine to prevent any permanent damage to the inner components. Champion recommends using 10W-30 motor oil in the engine. The hydraulic system uses AW32 universal hydraulic fluid and produces an impressive 7-tons of force.
The Champion can handle pieces of wood up to 20 inches long, and is actually surprisingly capable of larger diameter as well. This rig can handle logs up to 24 inches thick, but it will likely take a few more bites to get to the size you want. Regardless, the machine is fast and efficient. It is a decently fast 20-second cycle time, so you can get through 180 cycles per hour. Depending on the size of trees you're splitting and what size you're looking to reduce them to, that could be 180 pieces in an hour – much faster than splitting by hand.

Because the Champion is gas-powered and light, it's a perfect companion for taking up to the property and splitting right then and there. It's a great option for a cheaper, less powerful gas model. If you are cutting lots of fresh, knotty, difficult wood, you may want to look into a higher-force model. But, if you're cutting drier, lighter wood less than 20 inches in length, the Champion 90720 7-ton is an amazing compact, capable splitter.
Best 22 Ton Log Splitter: Champion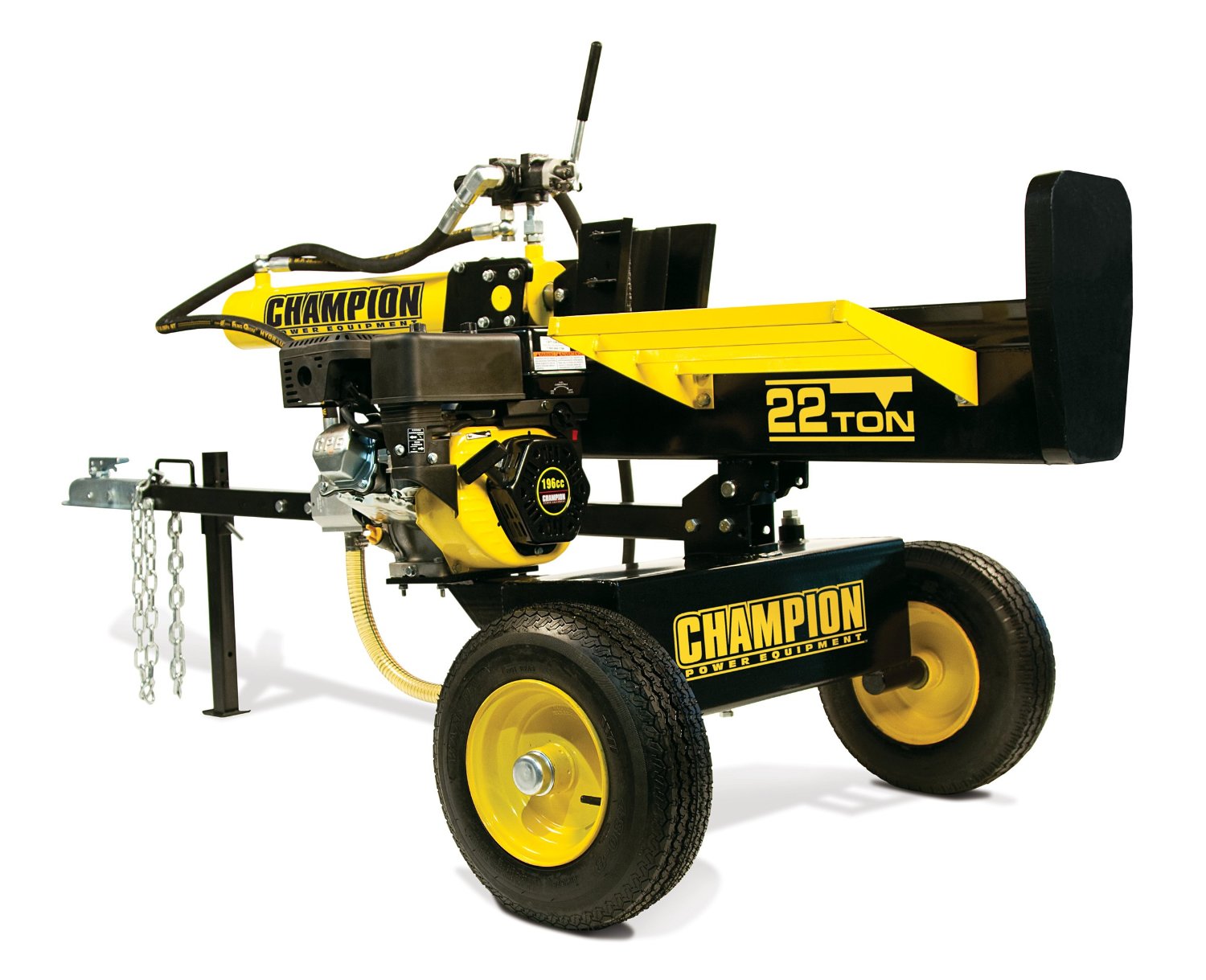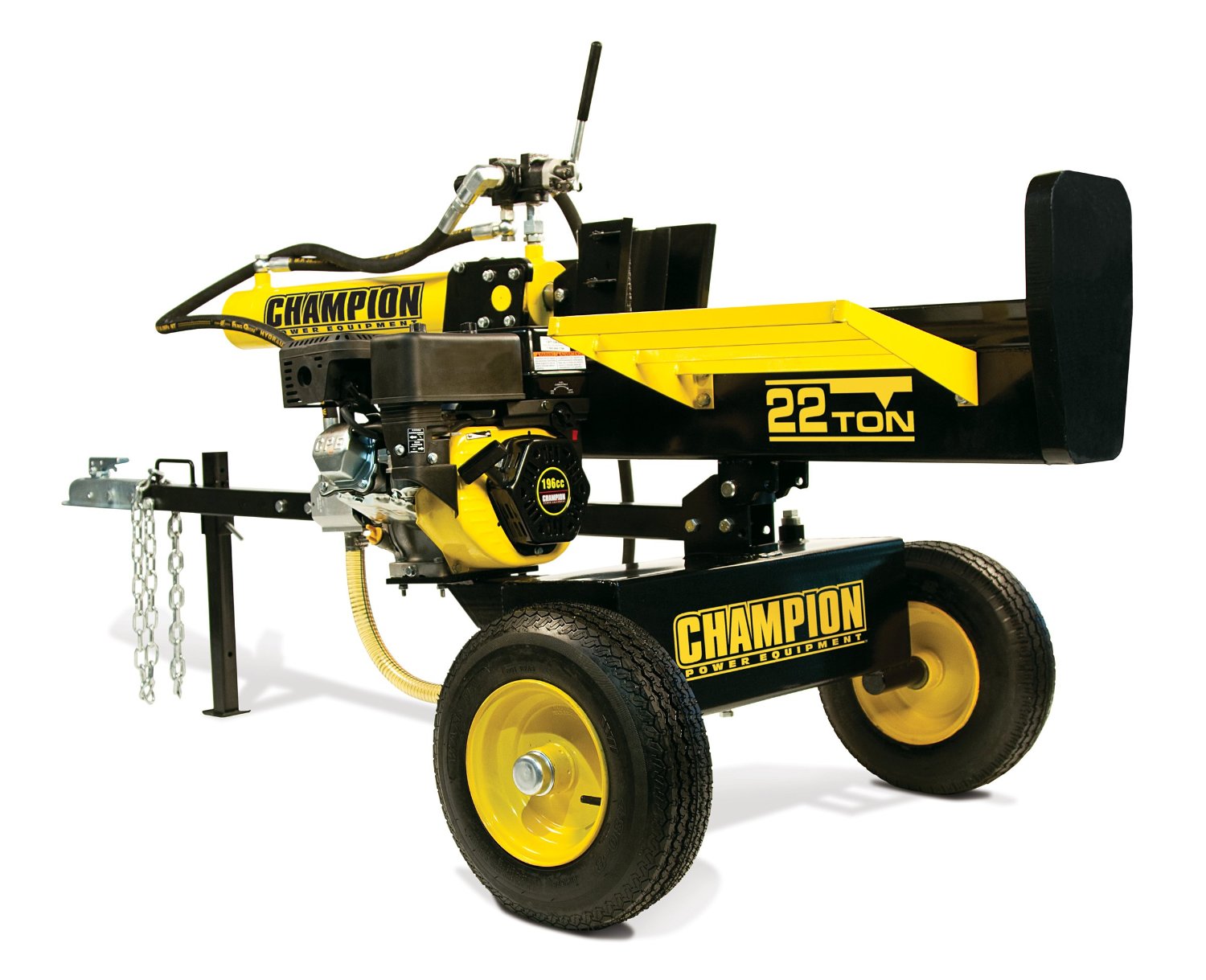 The Champion 22-ton splitter is our pick for the best in its 20+ ton class. It is a well-built, reliable machine with good portability and a massive amount of force produced. Unlike the smaller electric models or lighter gas models, this bad boy will crush almost anything you throw at it, producing a whopping 44,000 pounds of force. If you are looking for more power than a sub 10-ton model, this could be the one.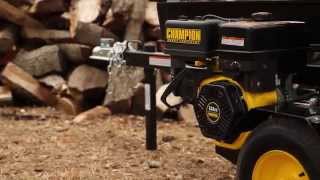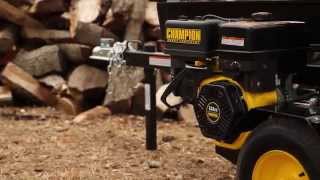 This model is ideal for taking anywhere you need it. It has a built-in towable trailer arm with a 2-inch ball hitch. So if you want to take it right to the trees, or lend it to a friend, you just connect it as you would any trailer and tow away. The DOT approved tires are heavy-duty so you shouldn't ever have to worry too much about the inconvenience of a flat tire. There will be assembly required, but it's very modular and straightforward, as long as you follow the instructions. Keep in mind you will need to also pick up 10 gallons of hydraulic fluid to prime up the cylinders for use. The splitter is powered by a Champion 196 OHV 5-horsepower engine with a cast-iron sleeve. The 1-gallon 5-horsepower gas tank should last you through the day, and the engine has a low-oil automatic shut down. This is a great feature so that if you're splitting away and forget to check the oil level you won't risk permanently damaging the engine. The arm has a great 14 second cycle time, enough time that it's safely operated, but not so slow that you'll be out there all day.
The cradle of the Champion 22-ton is long, accommodating up to 24 inch long trunks. It's also rated for 100lbs. We'd be surprised if you were splitting 100lbs 24 inch pieces regularly, but if nothing else it's just good to keep in mind to keep the heavy stuff off of it when you're storing it while not using. Unlike the smaller units we've covered already, this splitter will have no problem with fresh, wet or knotty wood. If you're going to be splitting a lot of thick hard wood like oak, you may need a more powerful splitter but most people have no issue with the 22-tons. You can split most diameters with ease, even up to 36 inches – although it may take more than one go at it. If you are splitting that size, it may be easier to use the vertical-splitting position. The cradle and splitting arm pivot to a vertical position and the arm then thrusts downwards. This allows you to simply roll or place them under the arm, rather than lift them onto the cradle, great for big, heavy logs or simply when you get tired later in the day.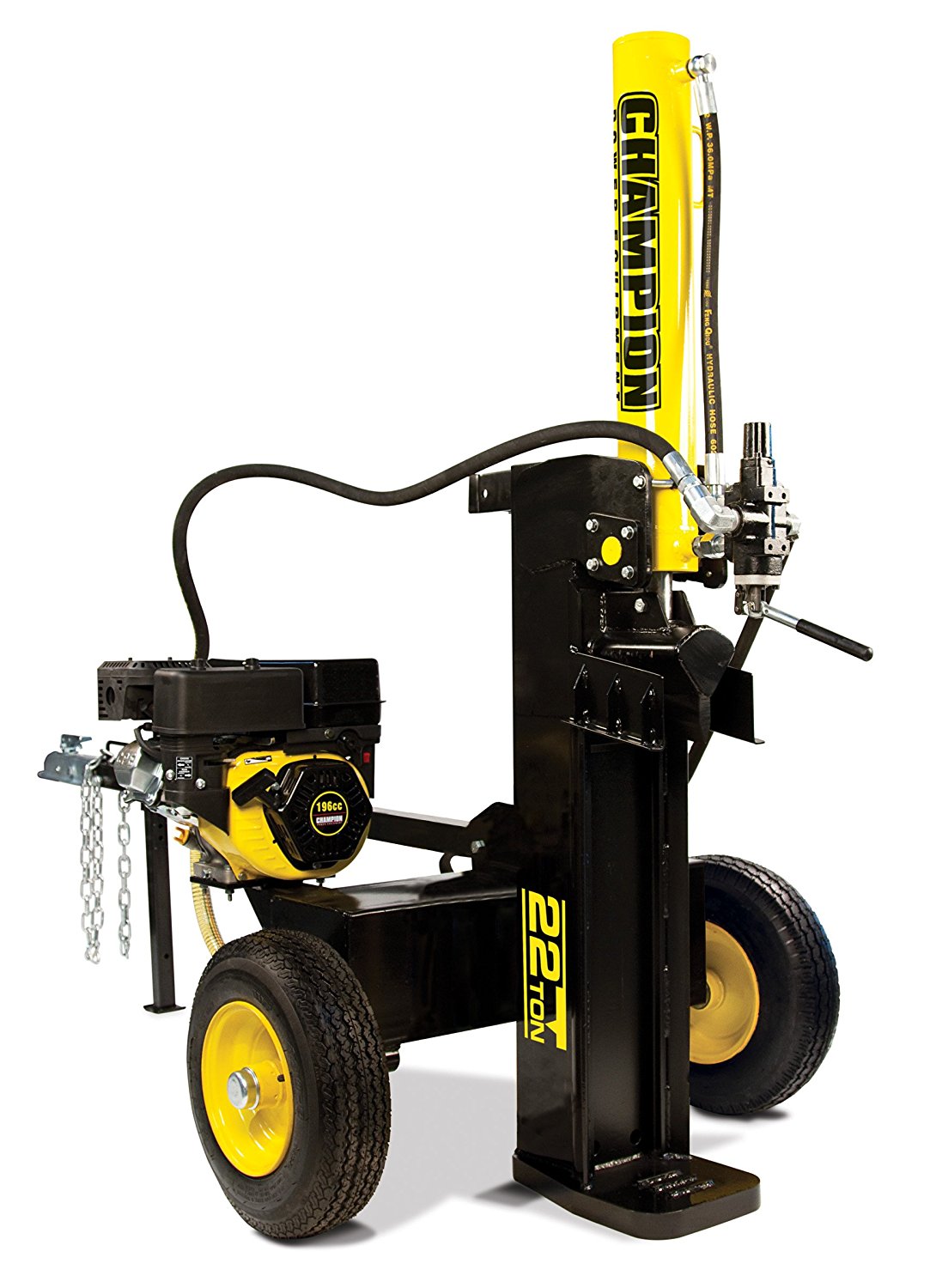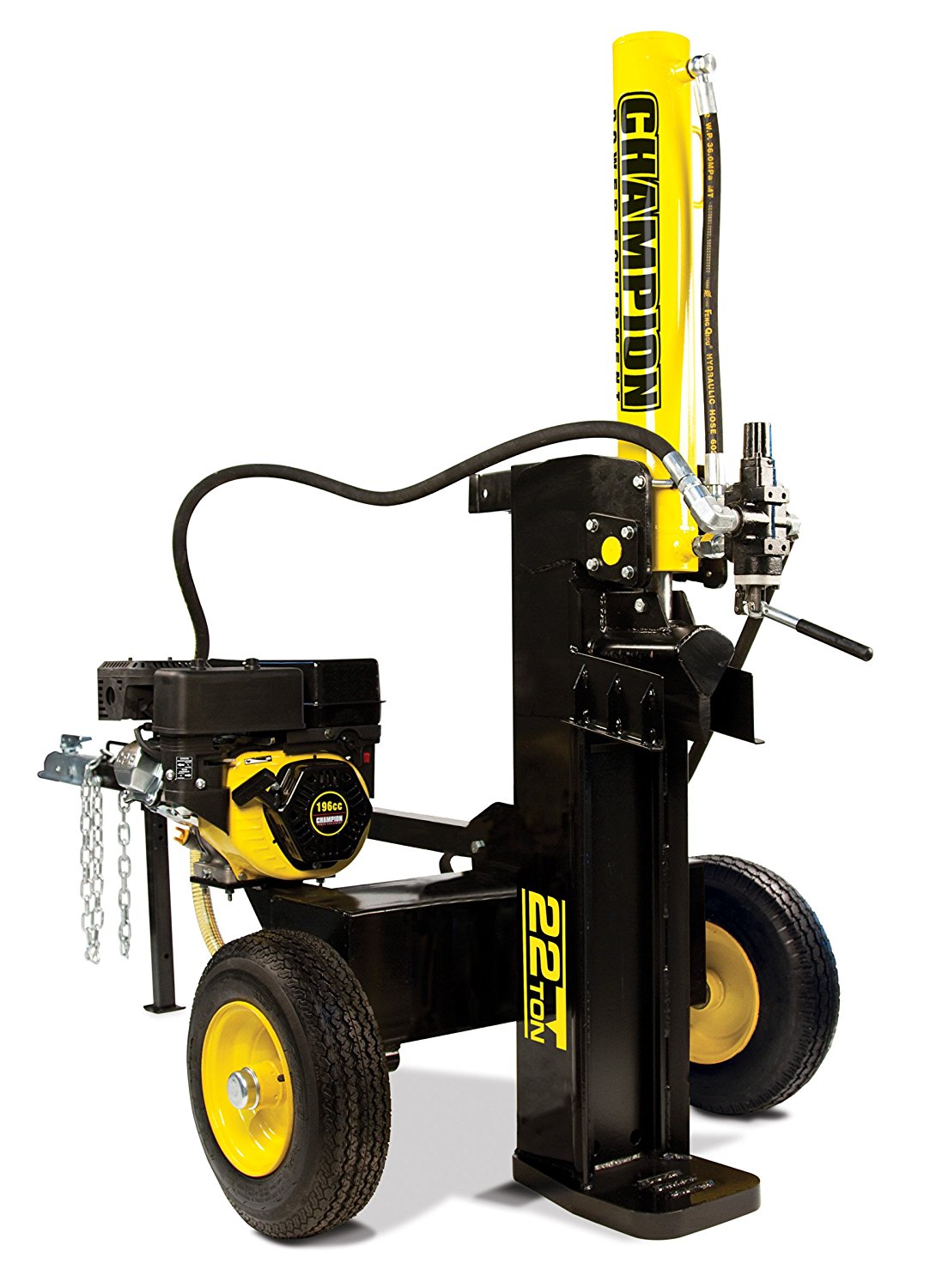 Overall, the Champion 22-ton Hydraulic Log Splitter is a great machine for splitting wood. It's built tough, made from good quality materials. It is easy to to setup and assemble, and is very portable. Simply tow the machine from the 2" ball hitch to wherever you need it to go. The 5-horsepower engine will keep it running strong through long days of work. A splitting force of 22-tons should cut with ease, even those up to 36 inches. If you prefer, the arm can also function vertically, which may be preferable for some situations. This is a great all-around design for the price, that will make your long days much easier.
Best 25 Ton Splitter: Southland Outdoor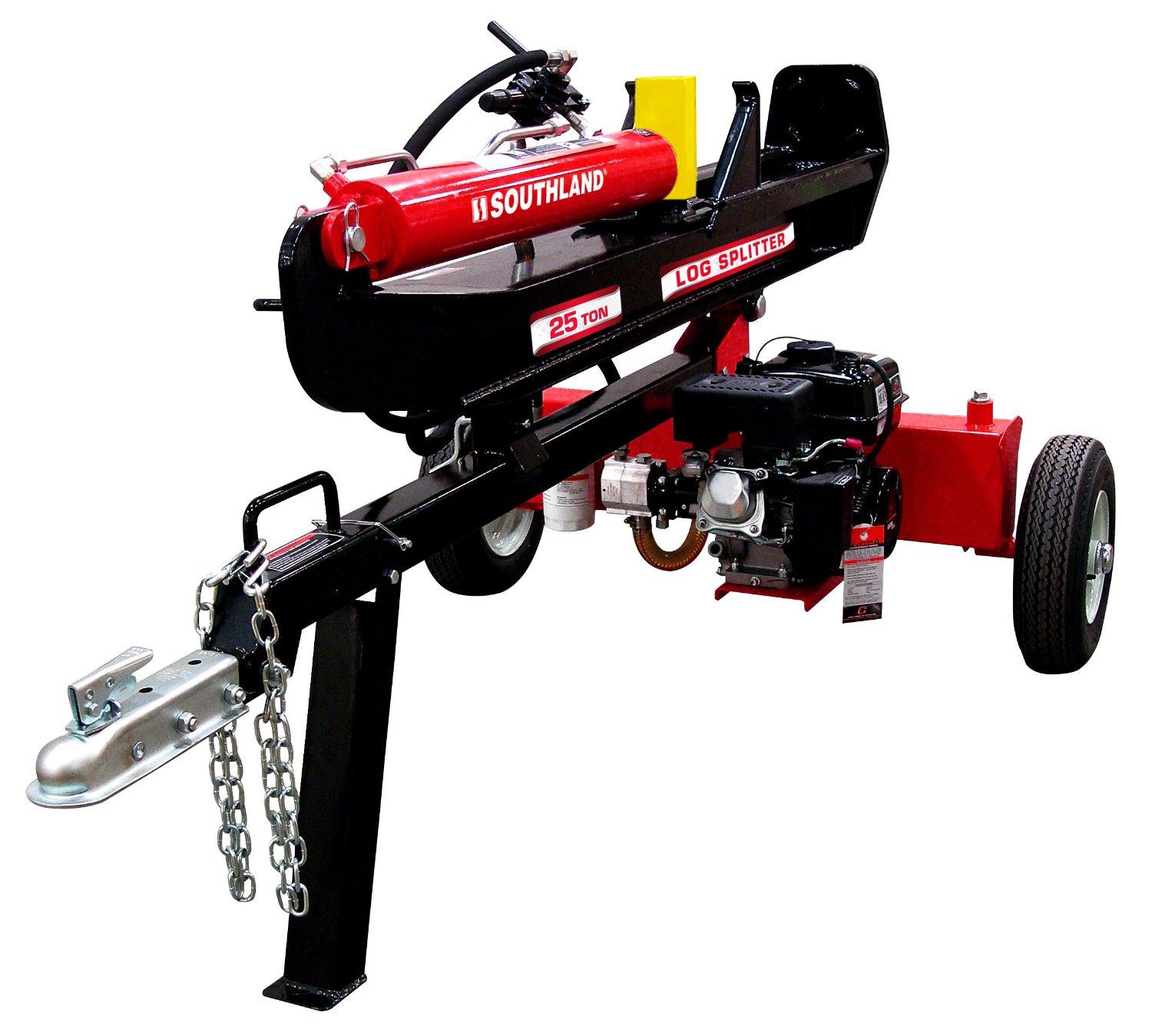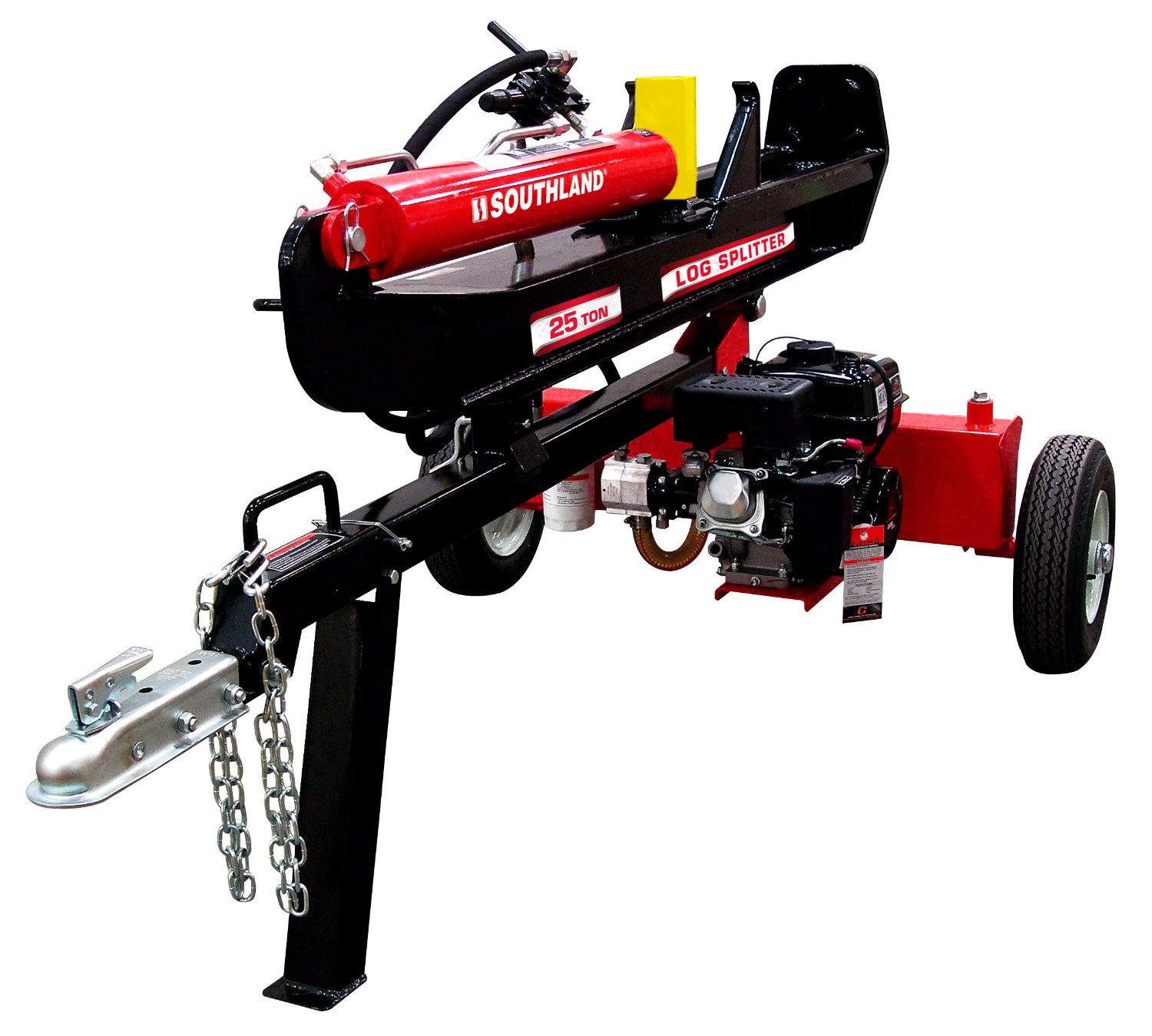 While Champion 22-ton is a great option for some, it can lag while splitting thicker, harder wood. If you're going to be consistently splitting tough wood, you may want the extra juice that comes from a 25-ton splitter, like the Southland Power Equipment 25-ton gas-powered. The Southland 25-ton splitter is super powerful, but like Southland puts it, "cuts your logs as smooth as butter." Let's have a more in-depth look.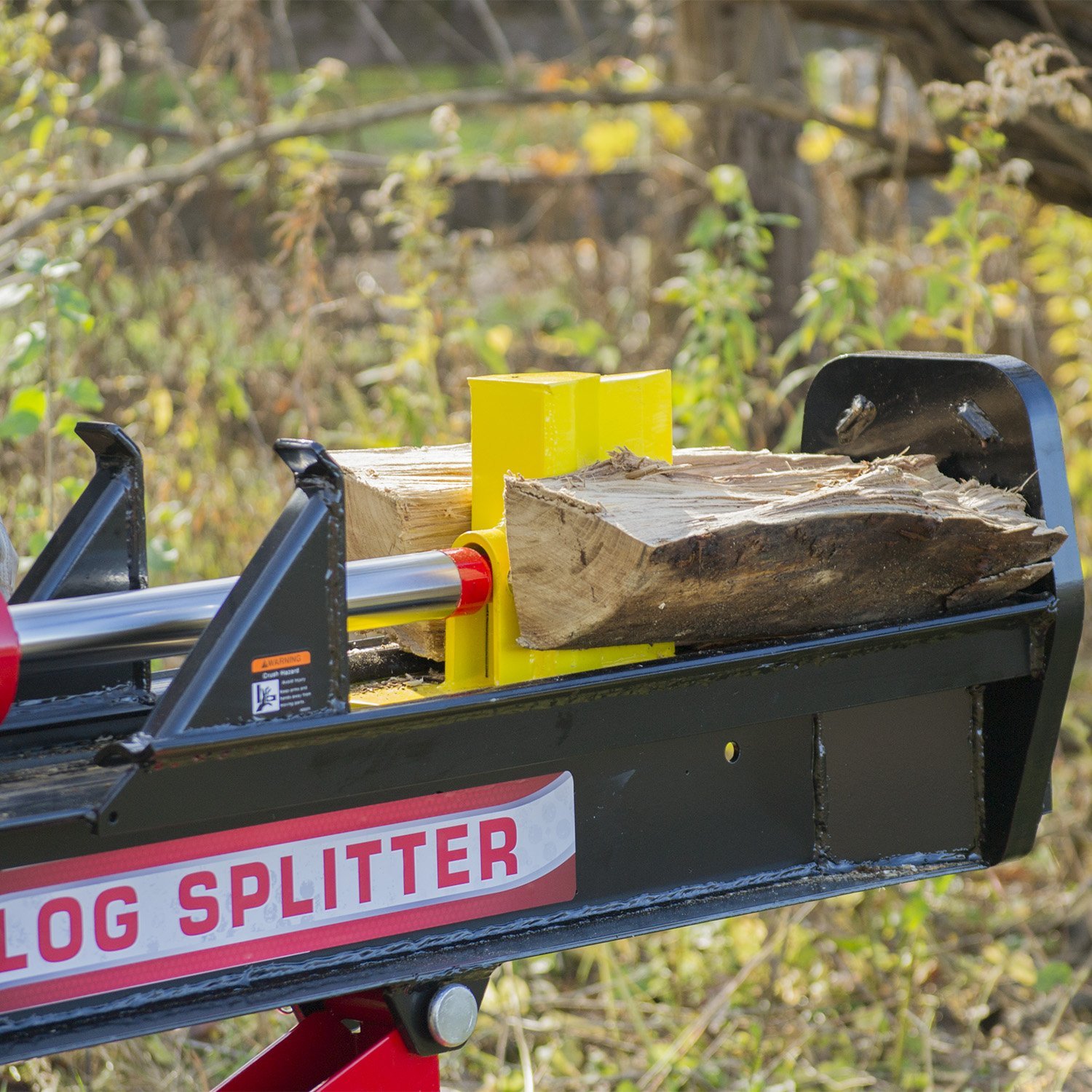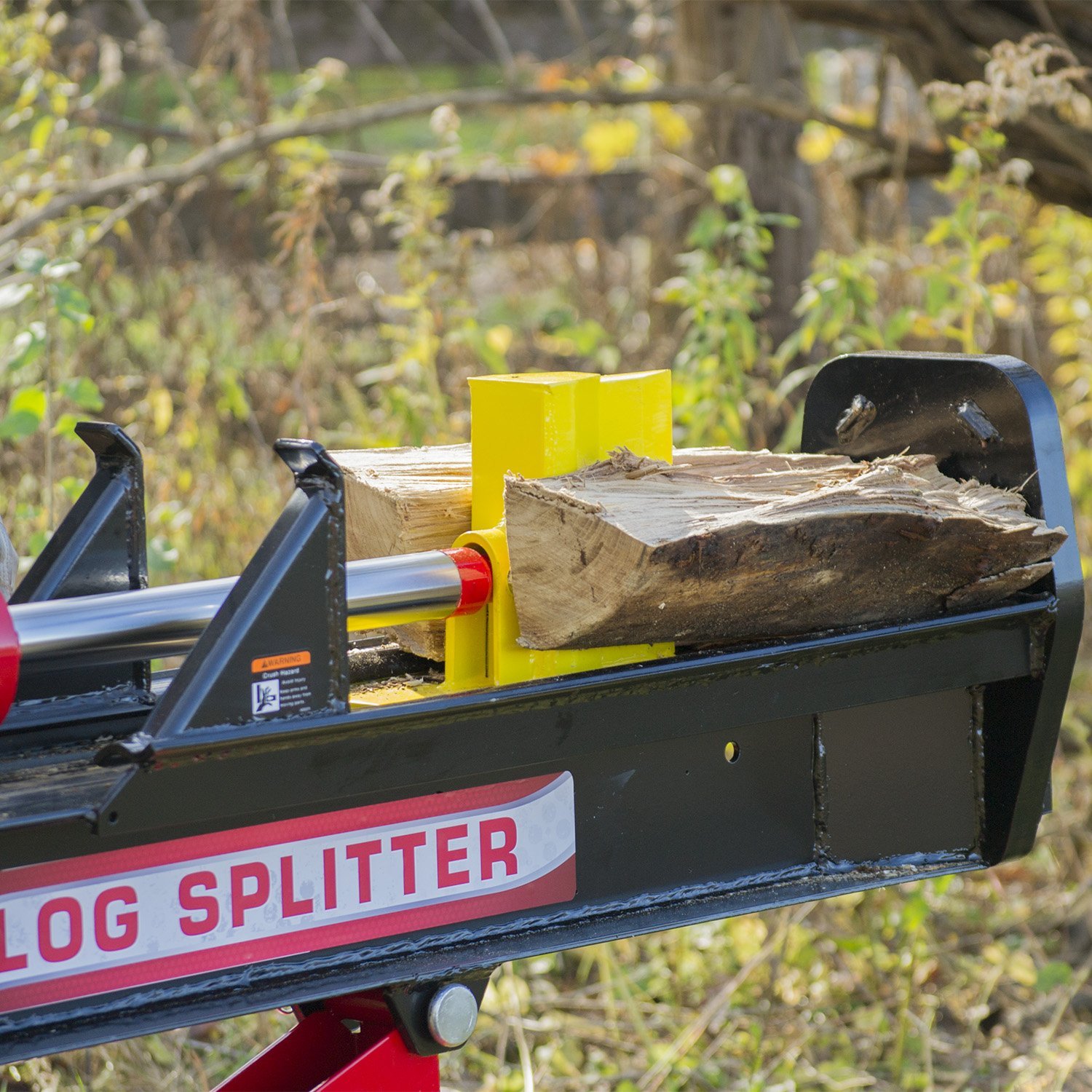 This hydraulics are powered by a 208cc OHV engine, that produces 8.5 foot pounds of torque to power the hydraulic system. The hydraulic system is amazing, transferring the force produced by the relatively small engine into 50,000 pounds of cutting force. Smaller models may not be able to produce the force necessary for splitting certain types and thicknesses of wood. 25-tons of force should be enough to easily handle almost any log. The 8-inch heat-treated splitting wedge can effortlessly split logs up to more than 36 inches wide, although it may take more than one go. The log cradle is long enough for 26 inch long pieces. You won't have to worry about cutting your logs short enough for your splitter, just cut them to the maximum your furnace can manage (and you can lift). Like most larger splitters, the Southland Power Equipment 25-ton is towable, with the included 2-inch ball hitch attachment on the towing arm. The 16-inch pneumatic tires are mounted on DOT approved wheels, rated to a maximum towing speed of 45 MPH.
If the logs you're splitting are too heavy or you have a bad back, you can swivel the cradle and arm into a vertical splitting position. The back plate becomes the surface you place the log on, so you don't have to lift the log on the cradle. The full cycle time is only 17 seconds, so even if you have to run the wedge all the way to the plate, it only takes less than 20 seconds per split, saving you valuable time.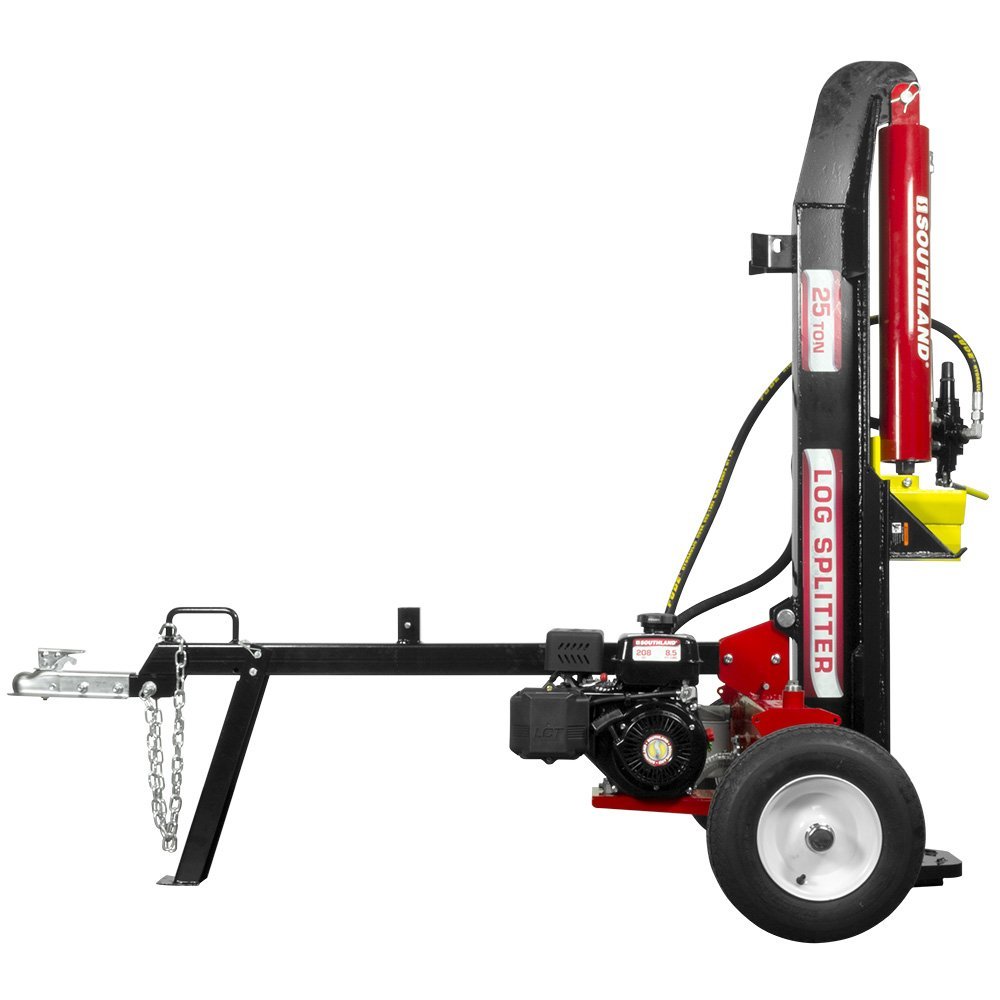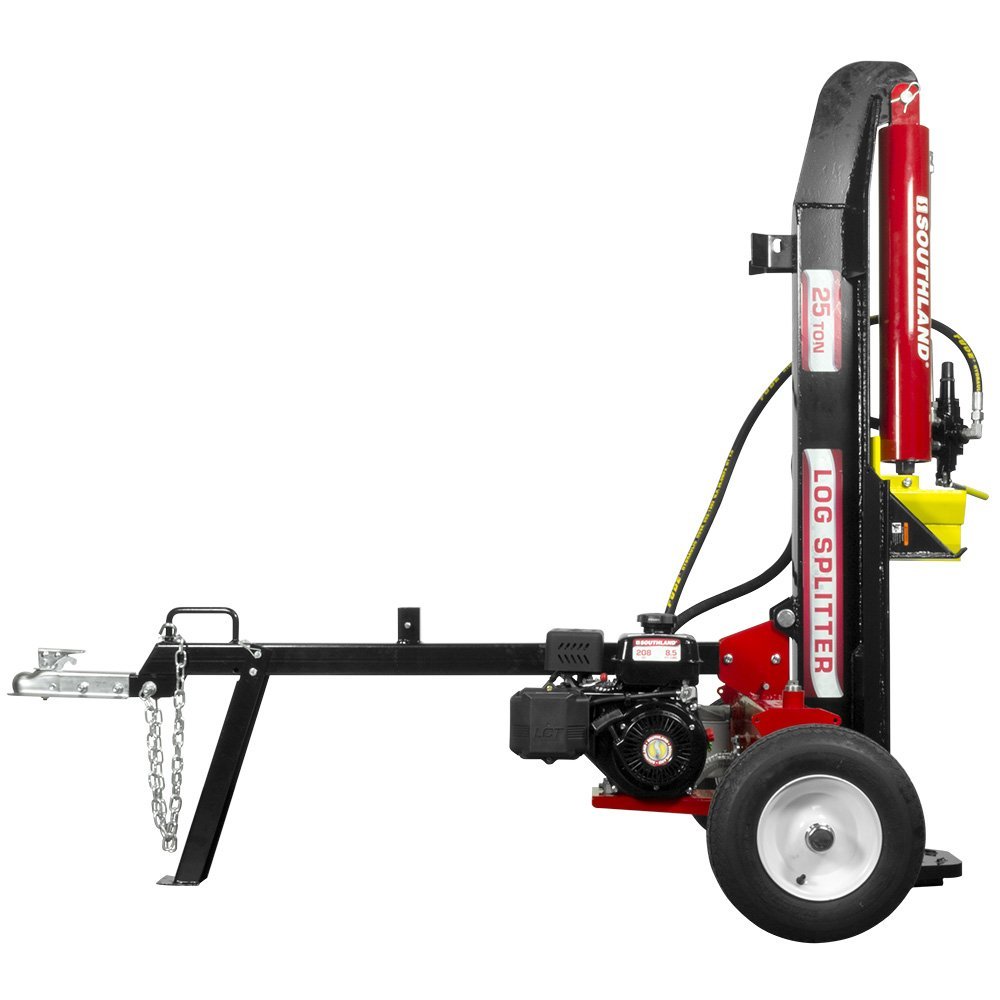 Assembly of the machine is fairly quick and easy, as long as you follow the directions closely. You should have it up and running within a day. Just make sure you also pick up some compatible hydraulic fluid and motor oil beforehand. The engine also features an internal oil delivery system. The system gives the motor extra lubrication to all the inner components and bearings which helps to reduce any build-up, extending your engine's life. The splitter also includes a unique extended warranty. The 3-2-1 warranty provides a 3-year warranty for the steel frame, a 2-year warranty for engine problems, and a 1-year warranty for the hydraulics. All warranty coverage is provided by Southland so you'd have to contact them for more information or issues.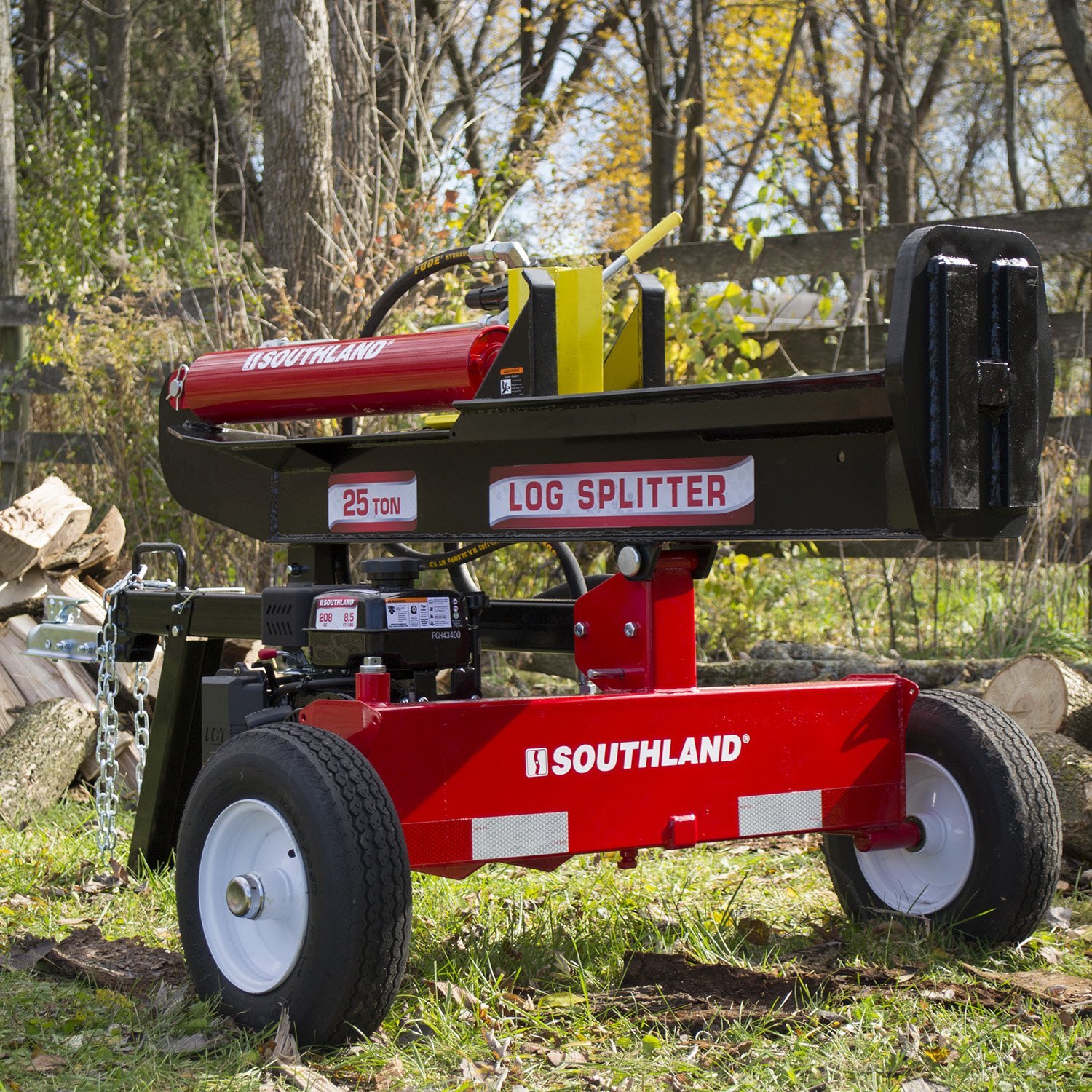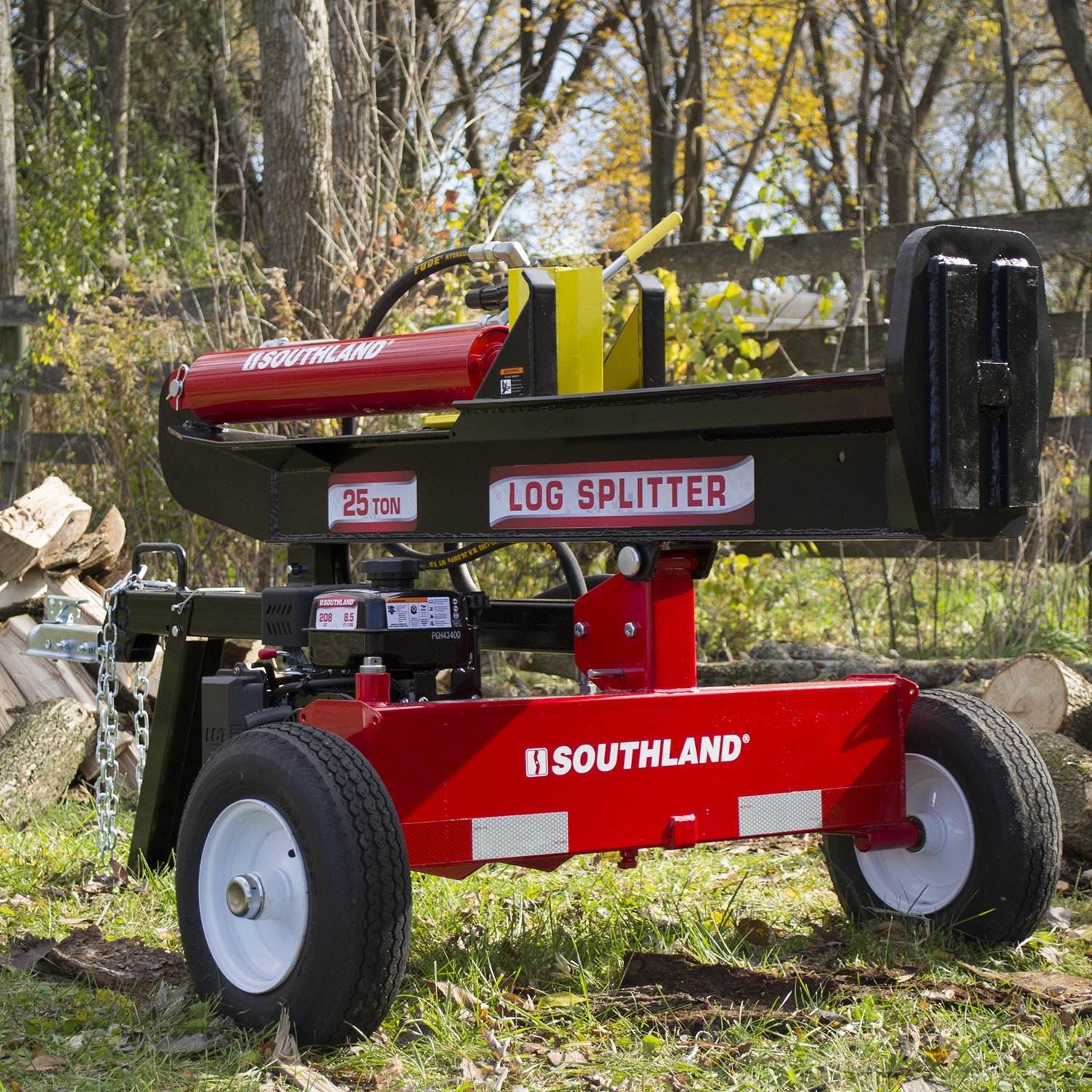 At 25-tons of force produced, the Southland Outdoor Power Equipment gas-powered is a very powerful machine. You shouldn't have any trouble splitting most logs, regardless of how wet, thick or knotty they are. The cradle can handle up to 26-inch long logs which is a huge plus for many. It can handle logs of more than 36 inches in diameter, but it will take more than one cut most likely. The 8-inch wedge should handily split smaller diameter logs in one go. The 17-second cycle time ensures you can quickly work through your whole pile, and the optional vertical splitting position is ideal for larger logs or for tired and sore backs. The Southland 25-ton splitter is a great option for those who need the extra power.
Most Powerful: NorthStar 37-ton Log Splitter
If you've been reading through these log splitter reviews and are thoroughly unimpressed with the power for these units, well it's time to change that. This next machine is an absolute beast. The NorthStar 37-ton log is a crushing monster. This is the absolute best splitter over 30-tons you can buy, and will not disappoint. The NorthStar will split any log you feed it, producing 74,000 pounds of hydraulic force.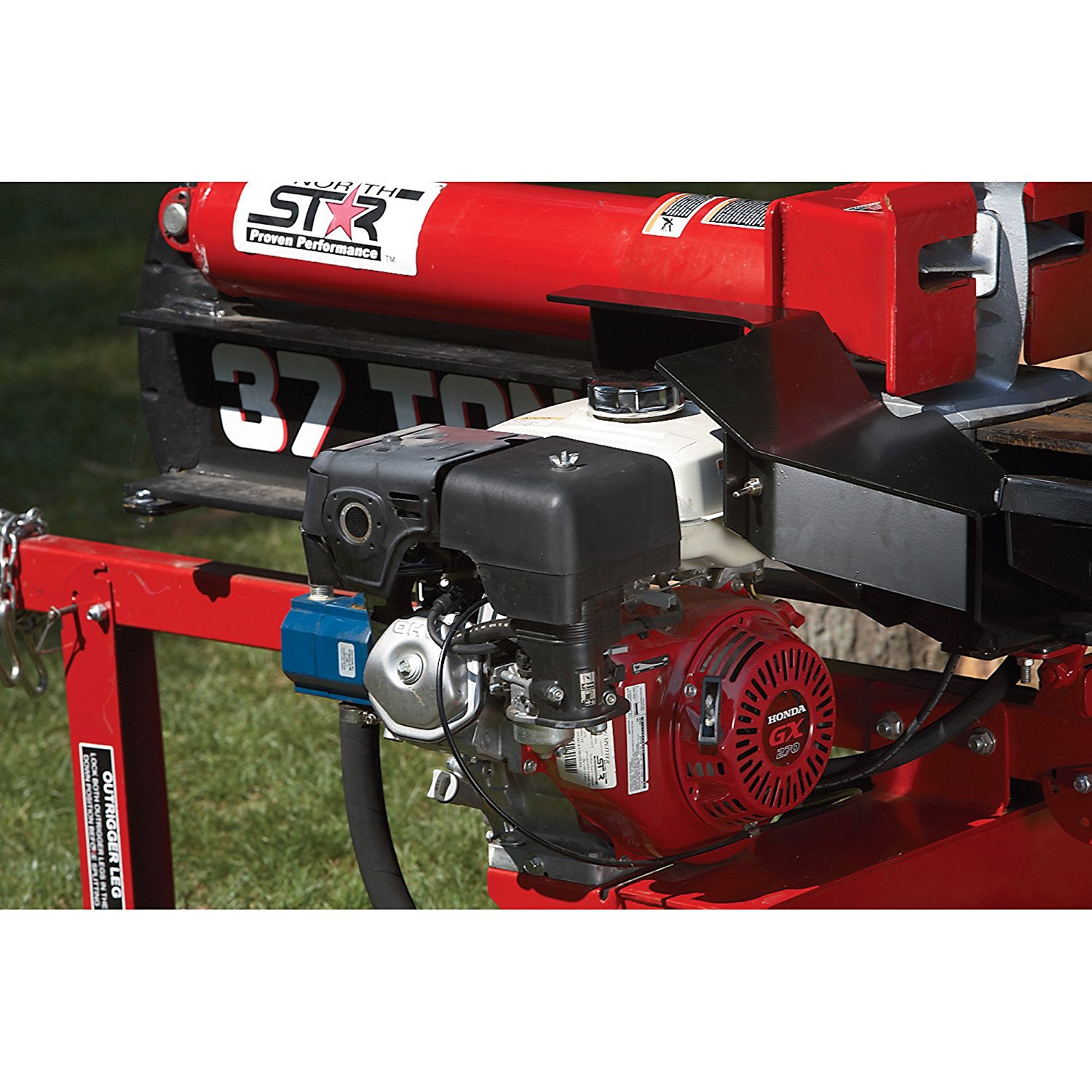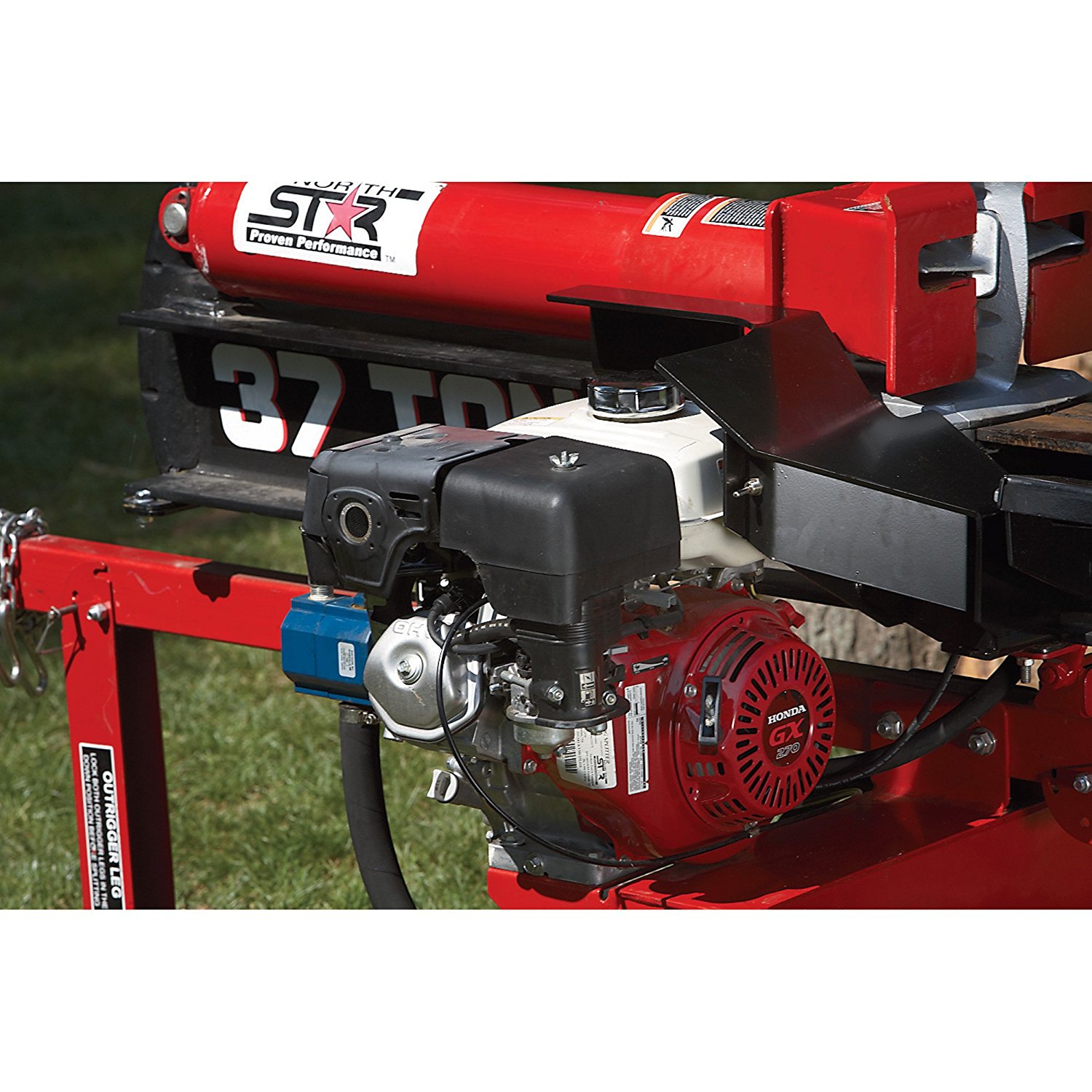 The NorthStar is powered by a GX270 270cc Honda engine, a reliable and powerful motor. It also has a great fuel-saving feature in the idle-down mechanism. The idle-down reduces draw from the engine when you're not actually splitting – like when loading the next log – which saves gas and produces less noise. The intelligent hydraulic pump can automatically sense and adjust the flow and pressure required of each job. In other words, it knows when it needs to draw power to split a log, and when it can relax and lower the draw when in rest. The two-stage pump provides equivalent power as a single-stage pump, but while using less horsepower, saving you gas. The engine also has an automatic low oil shutdown feature, to avoid any permanent damage should the oil get too low while using.

The machine includes a default wedge for splitting, but you can also pick up the optional 4-way wedge, so you can quarter logs in a single split, rather than cut the same log three separate times. As well, the arm is capable of converting from the classic horizontal splitting position to a vertical position. If you are splitting in a flat area, the vertical cutting position is great to save energy, since you don't have to lift the logs onto the cradle, just roll them under the wedge and engage the device. This is great for really large, heavy logs, or once you start to get a little tired.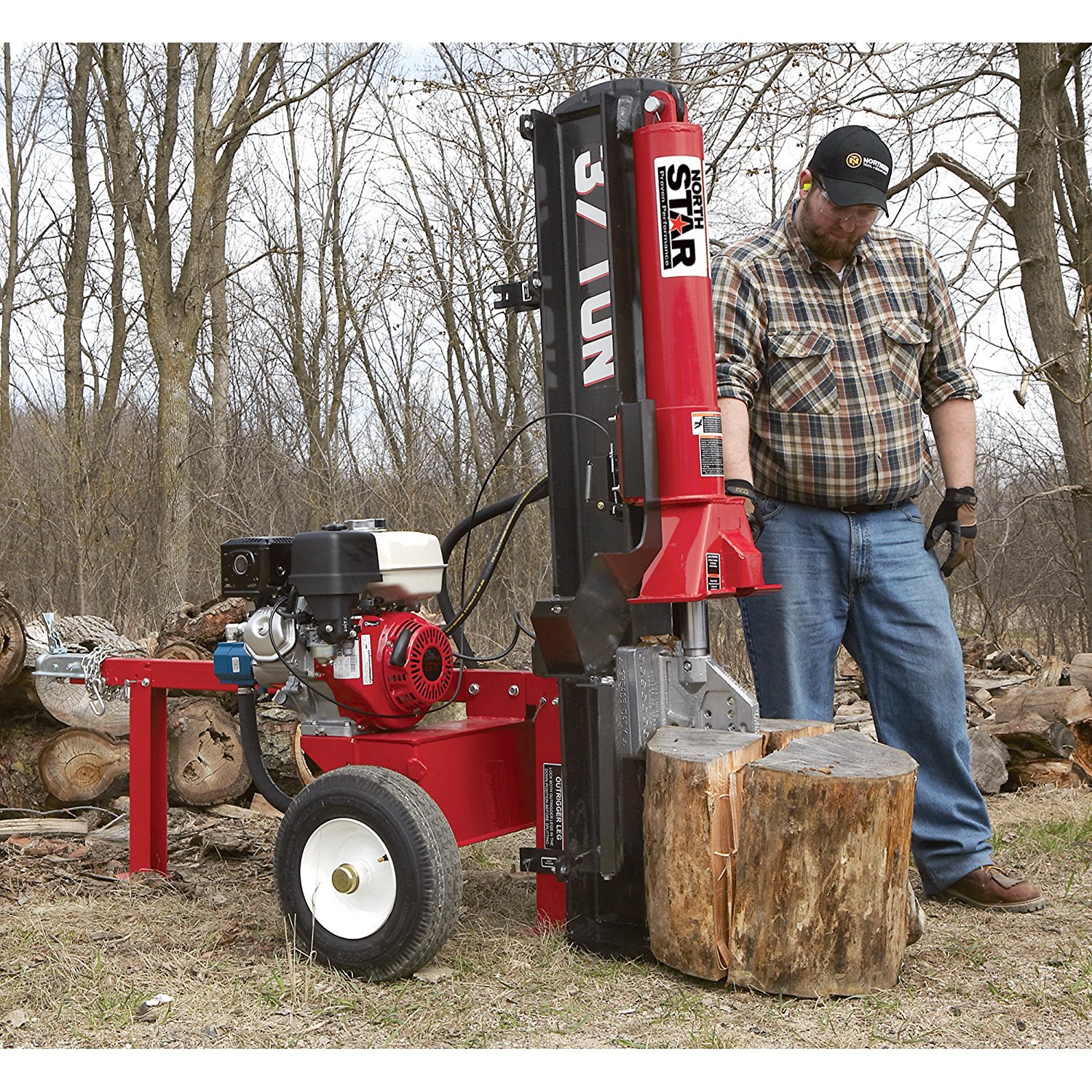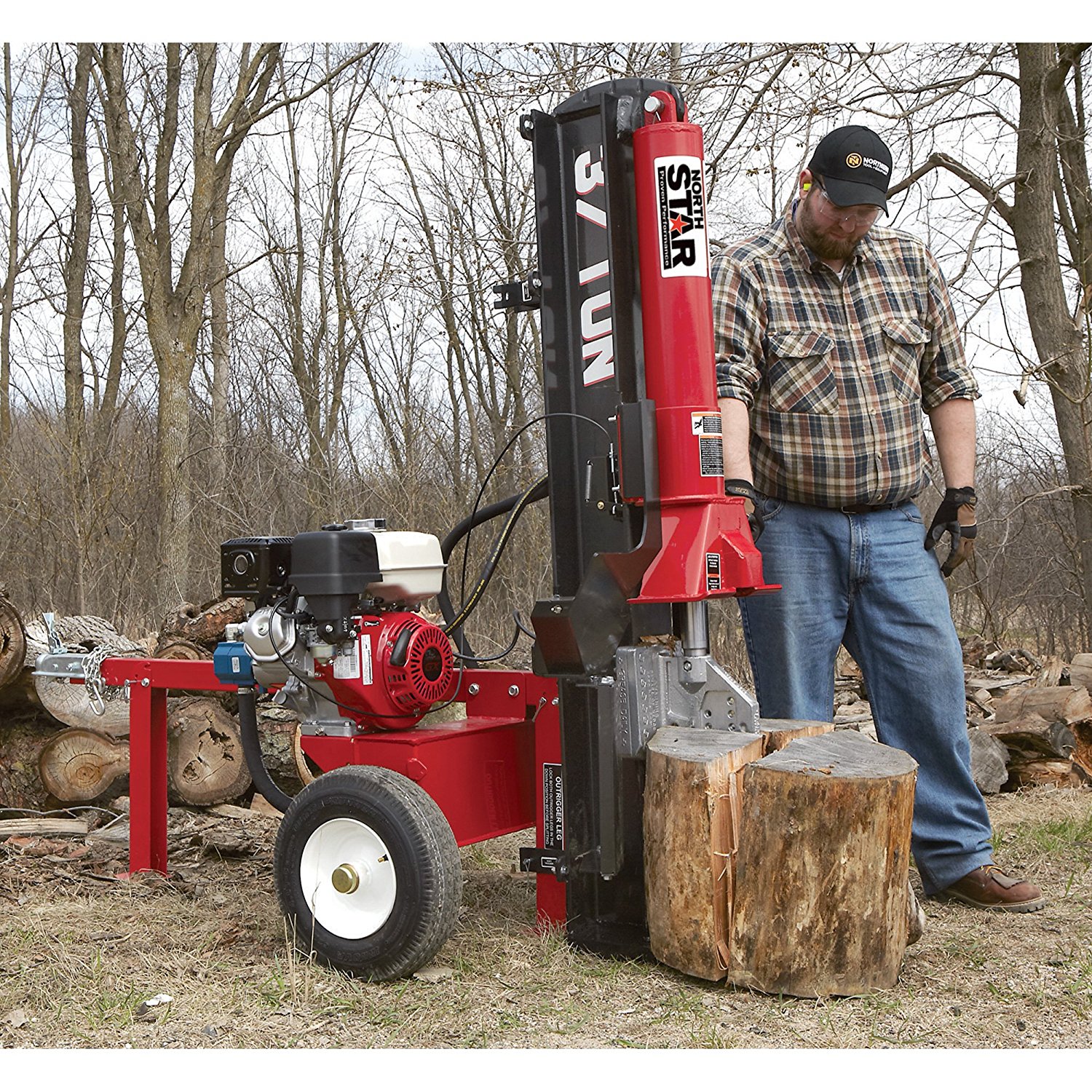 The NorthStar can handle logs up to 24 inches long, which is great for larger furnaces. This splitter will handle even the toughest, wettest, knottiest wood with its incredible power. The cradle is large enough to handle even the widest logs, and also features log catchers on the sides. The NorthStar is super powerful and sturdy, but as a result is very heavy – around 600 pounds. It has a built in tow-hitch arm, so you can tow it behind your truck or SUV. The heavy-duty wheels stand up to regular use. This gas log splitter model is perfect for bringing up to your property or anywhere in the bush to split for days. Make sure to bring a jerry-can with extra gas if you're going to be out splitting all day though.
There's really not much more we can say about the NorthStar 37-ton. This thing is an absolute monster, and will split any wood you feed it. It's heavy duty, built to last and will definitely get the job done. The reliable Honda engine will keep it running for a long time, and the two-stage pump and auto-idle features make it fairly cheap for gas consumption. It does have a large oil capacity, so make sure you stock up and fill it properly. The vertical position is great for larger, heavier logs, but it also works great horizontal. If you are looking for the best splitter with the best force output, you've found it.
Best Manual Log Splitter: Logger Joe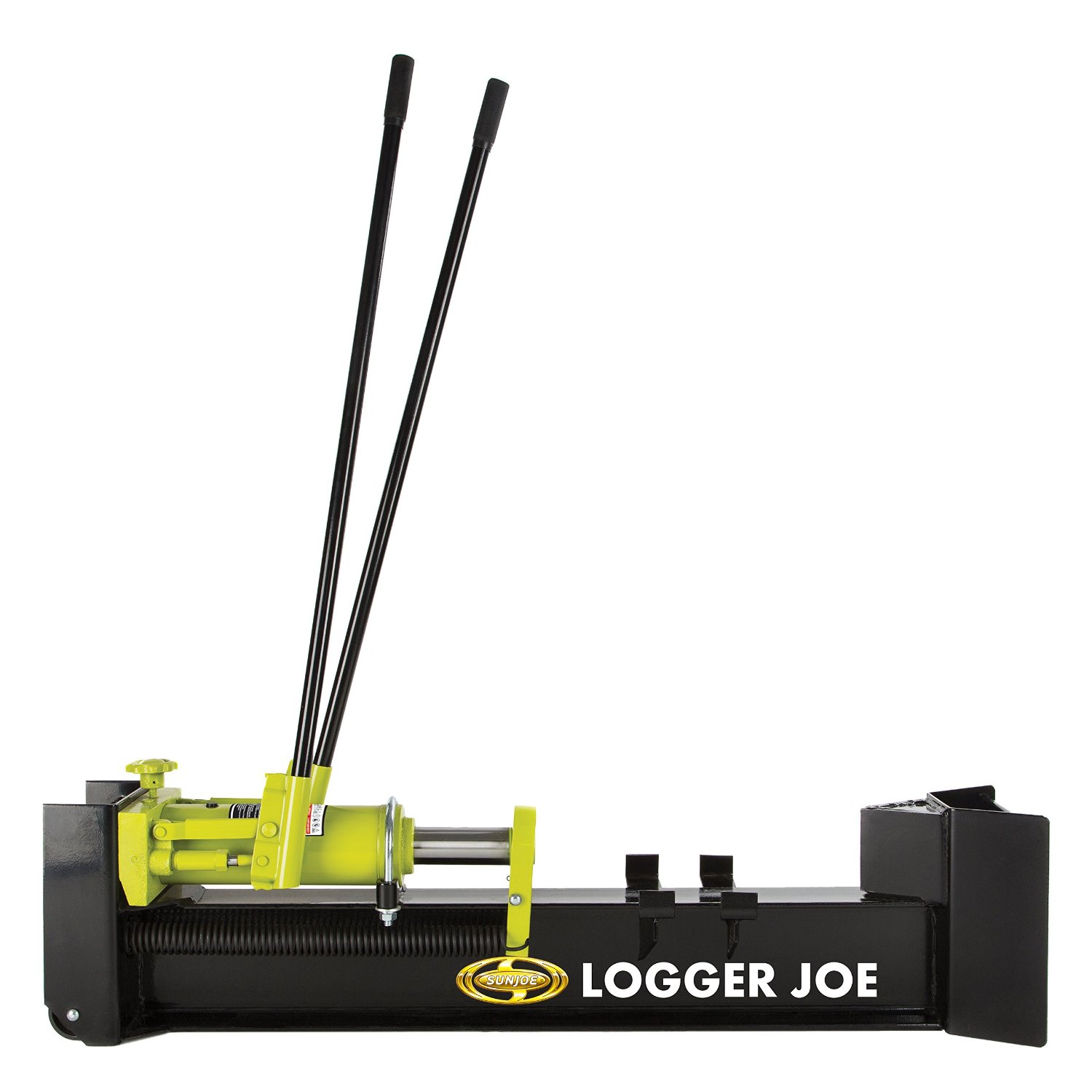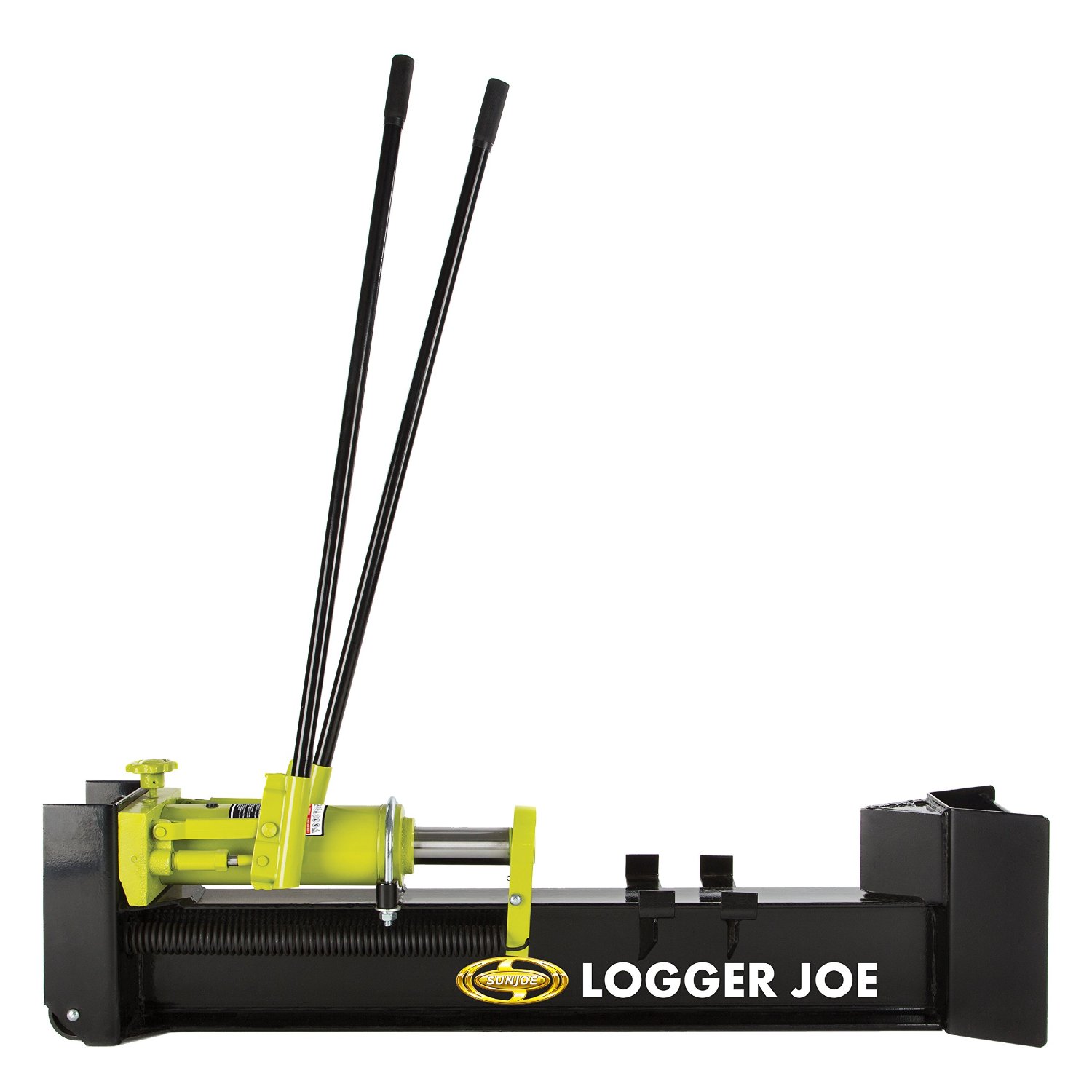 Our last option, the Sun Joe LJ10M Logger Joe isn't gas-powered or electric like the others. It is still uses hydraulics to produce, but is manually operated. Although you may be looking for something that takes some of the physicality out of wood chopping, this hydraulic press requires a little more work then the others. However, although you have to manually operate the device, it is extremely compact and portable (as far as hydraulic wood splitters go) and is still a great option for some.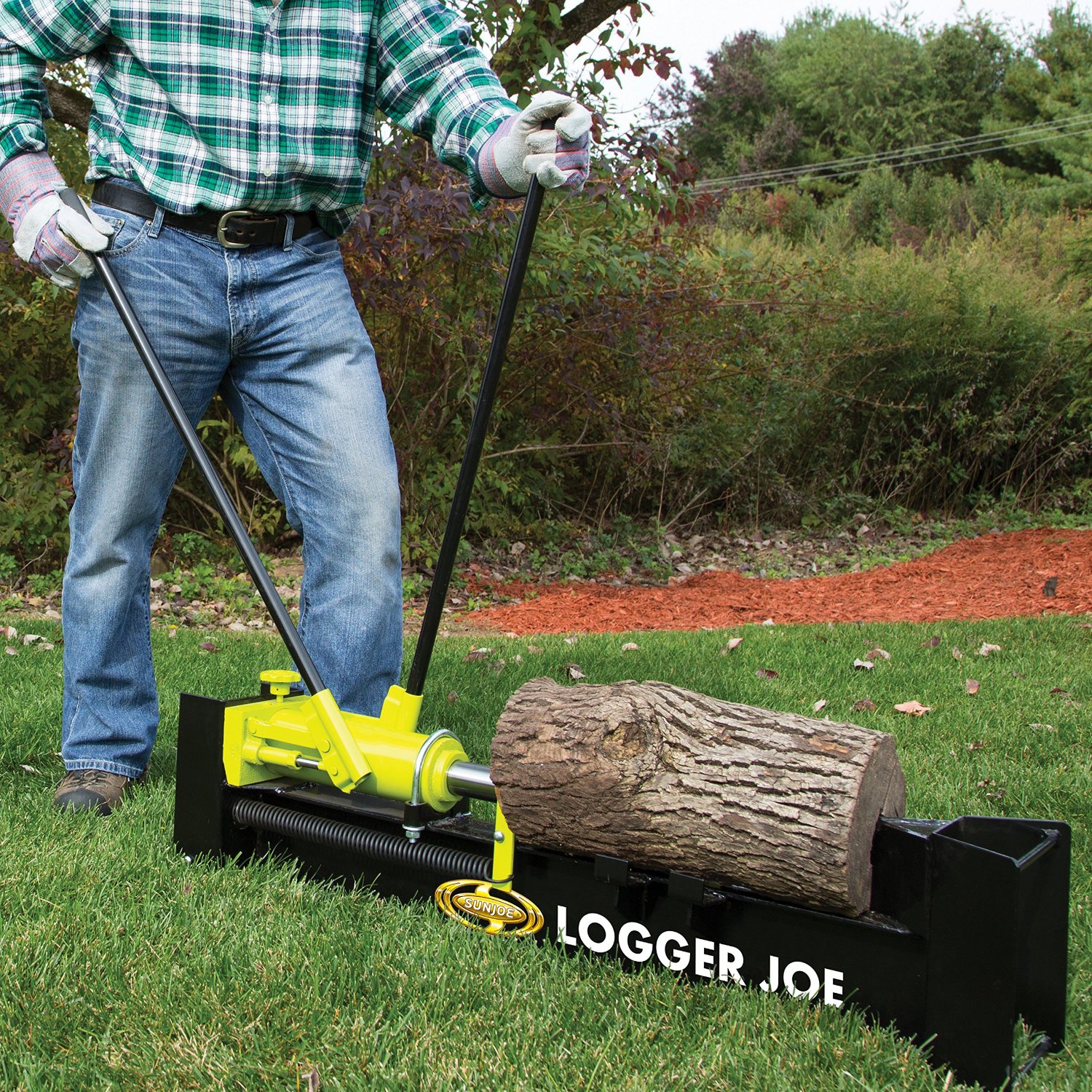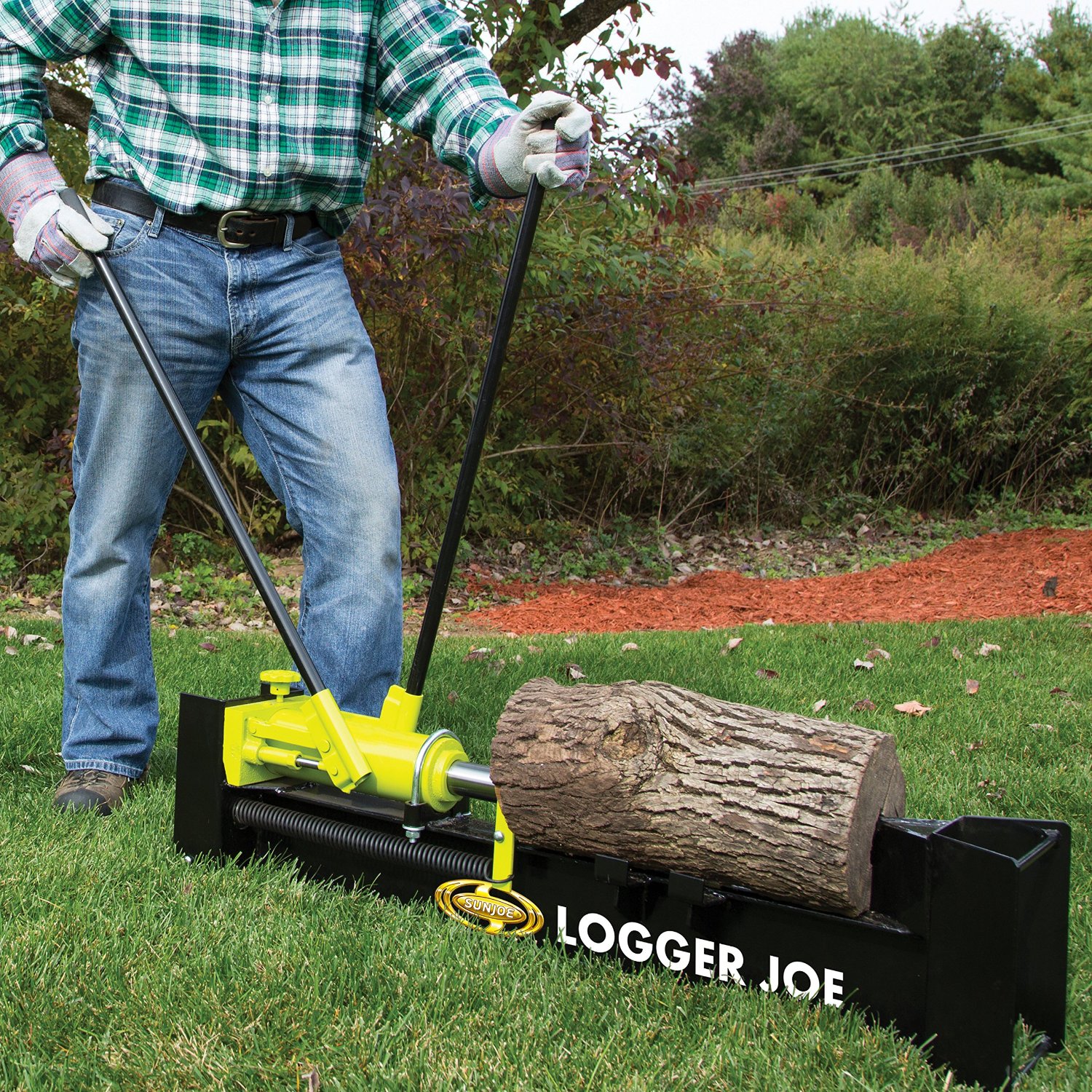 The Logger Joe isn't powered by electricity or gas, but instead you pull/push on two long levers in opposite directions to produce the mechanical advantage. The levers move very easily, and even a child can split logs effectively using the Logger Joe. The handles work cooperatively to form a 2-speed pump that generates a 10-ton force to split the logs. The hydraulic pump then forces the log onto the splitting wedge, splitting dry, small logs with ease (larger wetter logs take more time and are a bit more difficult). The cradle ensures even larger logs are kept straight and steady while splitting.

The Logger Joe is versatile, but also comes with its own set of drawbacks. For one, the splitting can be a little slow. It takes time for your arms to pump the press through to split a piece of wood, especially for wetter logs. But with 10-tons of force, the job certainly gets done. Another drawback is that it can only fit a maximum of 18-inch long logs. So if you prefer to burn longer lengths, this may not be a good option for you. If you're trying to keep it small and affordable, the 6-ton WEN Electric Lumberjack can fit up to 20-inch logs.
But if those details don't deter you, then the Logger Joe is still a great device. It's sturdy, built with durable steel, and includes a 2-year warranty from the manufacturer. The steel is coated, but if you find after a few years of use that the pain starts to chip in places you may want to treat it to avoid rust.

The Logger Joe is fairly light (compared to the other toys on this list), at only 87 pounds, and is easy to move around and store. Because the two levers are removable, it can be easily stored in a garage or shed. It's also easy to throw in the back of the truck and take up into the forest. The two wheels on one end make it easy to roll where you need it. Although it won't generate as much power as an electric or gas machine, it's best suited for smaller, dry logs. It's very easy to operate and takes little effort to pull the levers. In all, for the price and what you will be using it for, it's a phenomenal manual tool that will save you time and energy when splitting wood.
What is a Hydraulic Log Splitter?
Log splitters are a great alternative to manually chopping wood and can save you time and energy, and can also be much safer for people of all ages. We won't get too deep into the science behind how these tools function, but let's do a quick basic run-through to better understand how they work so you can better pick one for your needs. Hydraulics in general provide a mechanical advantage through applying pressure over a large area, and then transferring that pressure to an area of a smaller area. The pressure produced by an engine applies pressure to a larger fluid-filled tube and transfers it to a smaller tube or piston, which then allows the chopper to focus a huge amount of force (think anywhere between 4-30 tons) into the splitting wedge.
In other words, the machine does all the work for you!
Choosing the Right One for You
Log splitters come in all shapes, sizes, power, and can be gas-powered or electric. So in order to choose the right one for you, it depends on what you will be using your chopper for the most. In order to determine what size and how powerful your rig should be, it largely depends on what type of wood you will be chopping and in how much wood you will be splitting. Then you can pick the best log cutter for your needs.
Electric Log Splitters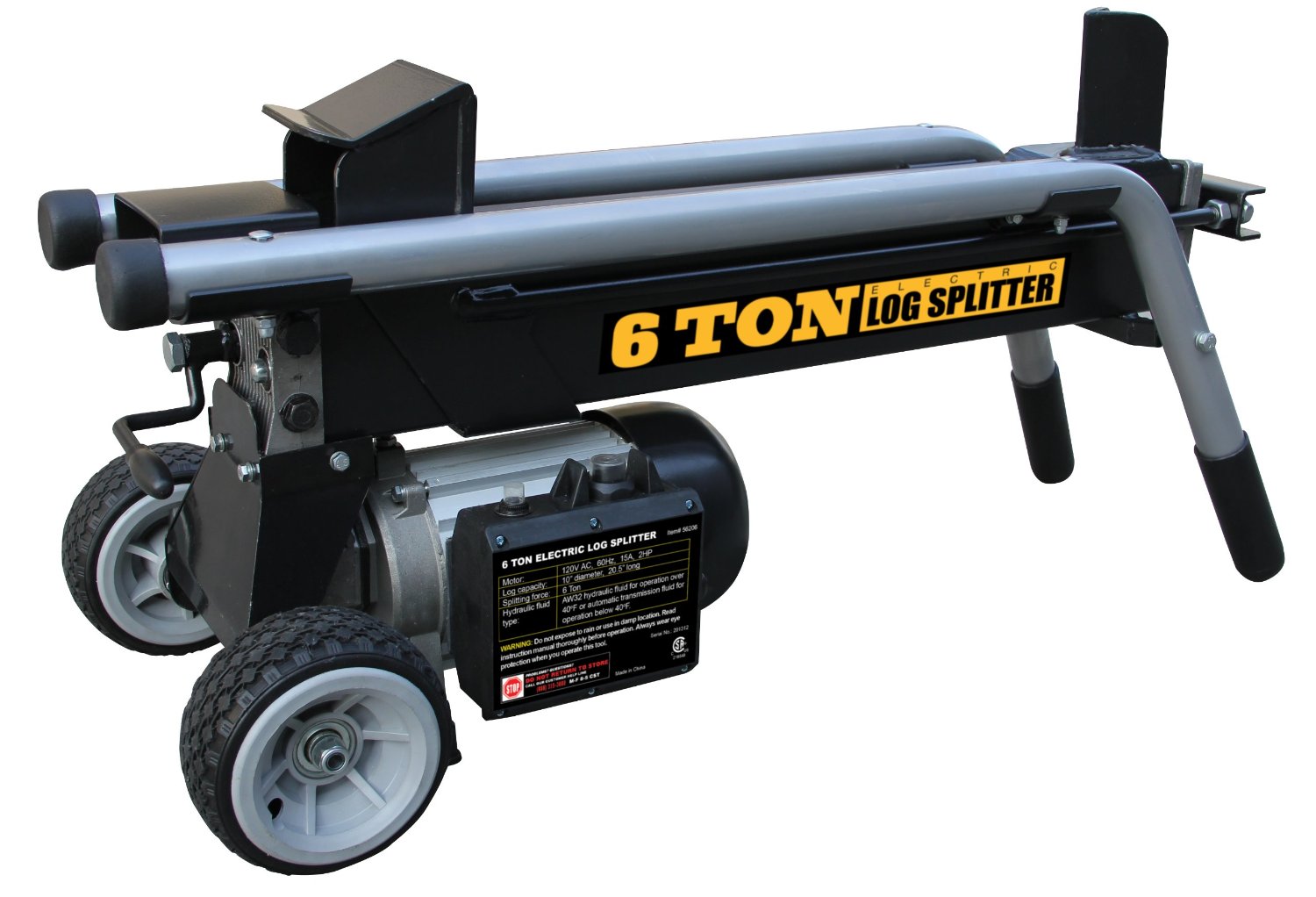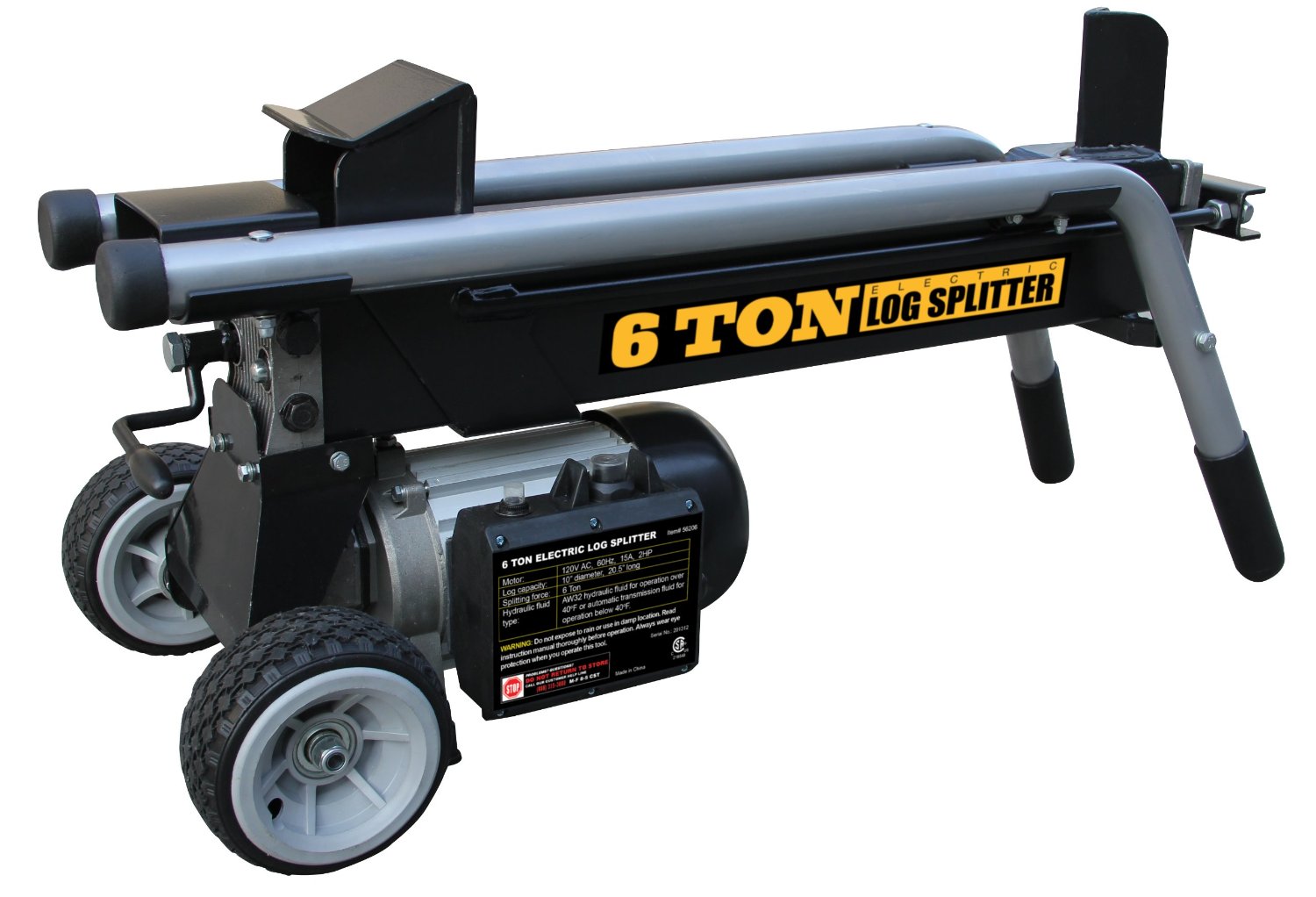 The first question to ask yourself when is whether you prefer a gas-powered or electric model. Electric models are appealing for many folks since they are often smaller and cheaper. However, they do have some drawbacks. They're won't be able to produce as much force as gas-powered models, so are ideally suited for smaller, dryer logs. If you are going to be using the machine mostly for firewood, then you're probably fine to go with an electric splitter. However, keep in mind since it is powered by electricity, you will need to be within reach of a power outlet which reduces the versatility of it, so you won't be able to take it up into the bush without using a generator (eliminating the benefit of being electric in the first place). Due to the absence of any fumes being produced, they are also more comfortable to work around for long periods of time, and more environmentally friendly.
Gas-Powered Log Splitters
Gas-powered wood splitters on the other hand, can typically produce much greater force than their electric counterparts, typically around 20-tons and greater. They don't often make lower-force models, simply because at that range there's no point wasting gas when you can use cheaper electricity to produce an equal force.
If you are going to be using your rig for large pieces and freshly cut wood, which is saturated with moisture and sap, you will likely want a more powerful gas model to tackle these jobs. An electric splitter just won't cut it (pun intended) and you may find yourself having to finish those logs manually. As a result of the increased power, the best gas log splitter models will be bigger and heavier, reducing their portability slightly. However they include a built-in tow hitch connection to tow behind a vehicle. Because you don't need any sort of electrical input, these machines are ideal for those who will be doing the majority of their work up in the bush. You will however need to pick up gas and monitor the oil level to maintain the machine.
How Much Force (Tons) Do You Need?
Once you've decided between an electric or gas model, you still need to decide how powerful of a wood splitter you will need. If you will be using it mostly for firewood from smaller trees, then you likely only need something that produces under 10 tons of force. Most firewood will have had some time to dry, which reduces the amount of moisture that has built up in the plant tissues. This results in a piece of wood that is more easily split. If you are splitting drier wood, typically fitting logs with dimensions of equal to or less 18-20 inches long and 12 inches diam
eter, check out a splitter that produces around 4-8 tons of force.
If you are going to be working with larger, freshly cut wood that is larger than 20 inches long and 12 inches in diameter, then you will likely want to look at a more powerful model. Freshly cut wood will be much tougher to split due to the greater moisture level. If you will be working with knotty wood or notoriously hard-to-split wood like elm, then you will need the extra power of a 20+ ton splitter. Any model that produces greater than 20 tons should be enough to handle most sized logs, up to 24-26 inches long and more than 16-18 inches thick.
The Best Log Splitters You Can Buy
Now that you have an idea of what you need from your new toy, we've reviewed dozens of machines and compiled this list of the best log splitters for you to choose. We've chosen the most popular models within the following categories for your convenience. Below are two quick comparison tables for you to quickly compare various models. The full reviews of each category can be found further down the article.
We hope these reviews have helped you choose a splitter for your home! We'd love to hear from your experiences in the comments below!
Latest posts by Shed Head
(see all)