Tonneau covers are one of the best truck bed accessories you can get for your pickup truck. Whether you're just commuting around the city or working construction, there are a variety of benefits including better protection for your pickup truck bed, your tools, better fuel economy, and the ability to secure a load easily.
Reviewing the Best Tonneau Cover Models of 2020
No matter what your budget or needs are, there is sure to be a truck bed cover on the market that will exceed your expectations. We'll be taking a look at the top tonneau covers on the market. We'll show you the differences between them, and help you find the one that meets your needs.
The Best Tonneau Covers of 2020, Reviewed By Our Experts
Time to get to our list of the best truck bed covers on the market. There are a few different types, so hopefully you can choose the one that best suits your needs.
The All-Around
Best Tonneau Cover

BakFlip MX4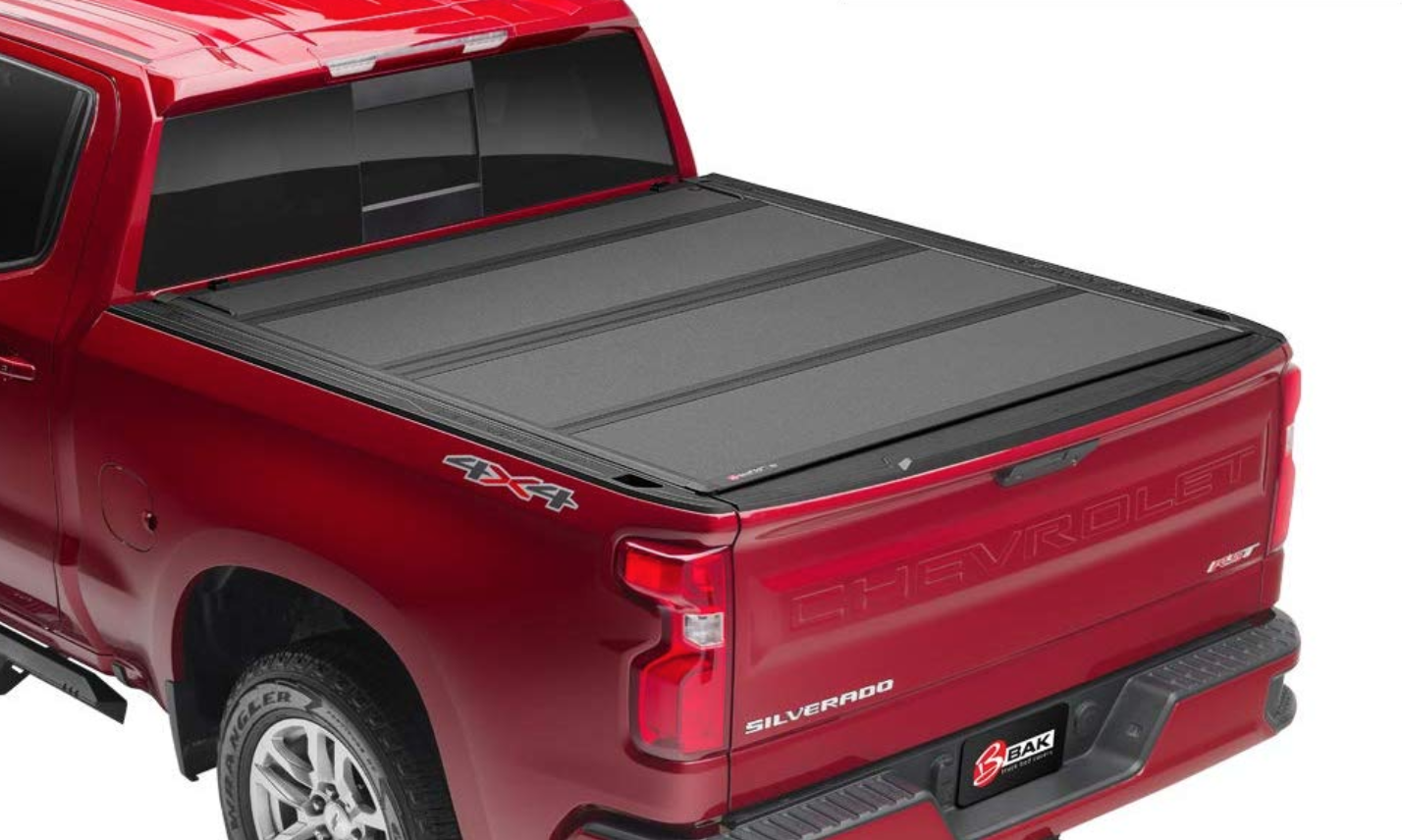 We've reviewed BAK truck bed products in previous years, and while they were good products (like the BAKFlip G2), they've continued to build on their successes (and failures) to constantly refine and improve their tonneau covers, leading us to: the BAKFlip MX4 a hard folding tonneau.
The latest model of the BAKFlip, it's got all the great features we like to see in a tri-fold tonneau cover, but with fewer of the drawbacks of other brands.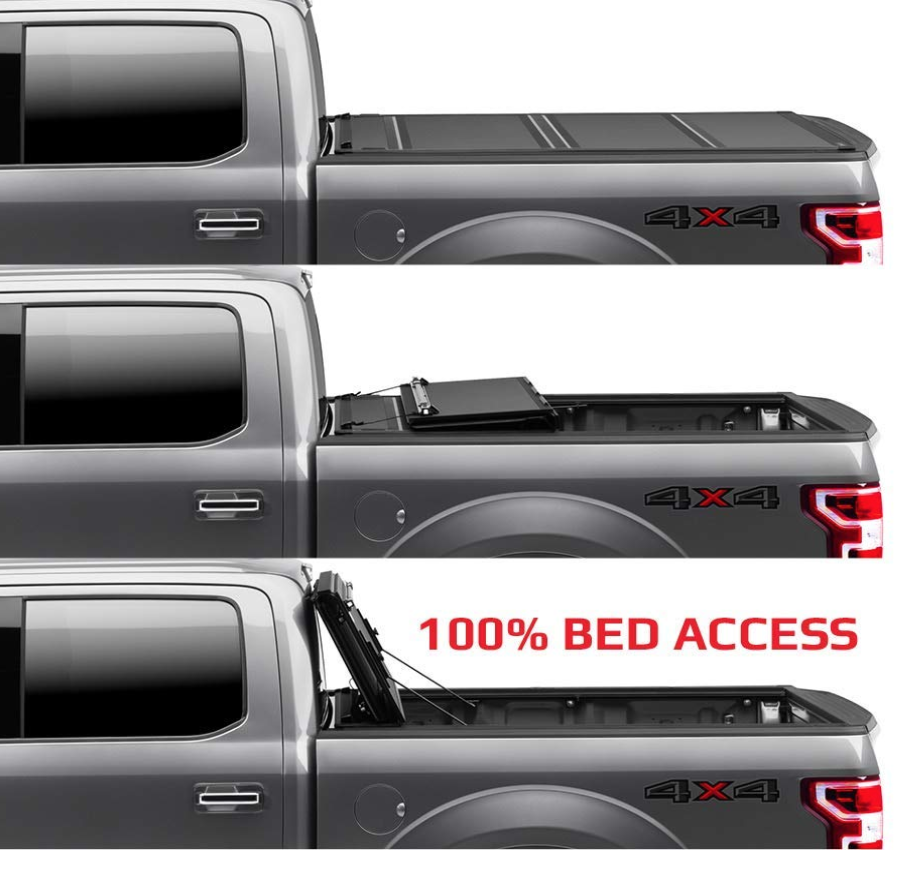 Most notably is the 100% full truck bed access. Most folding hard covers only give you 2/3 of the truck bed when folded up. The BAKFlip has this extra little hinge that gives you full access to the pickup truck bed. Installation shouldn't take longer than 30 minutes, with no drilling required.
The durable aluminum panels give you the ultimate security, so you can rest easy knowing everything you store inside the truck bed is safe and sound. It's also rated up to 400lbs, so if you need to store, and also haul, you can stack up to 400lbs worth of gear on top. It's super easy to install as well, and with no drilling required.
BAK gives its products a hassle-free 5 year warranty, has a US-based support team, and their products are made in the USA as well. They've got a size to fit every pickup truck, and although it's more expensive than some other no name models, it's worth the cost, and is the best truck bed cover you can get your hands on, period. You could always check out an older model of BAKFlip, the BAKFlip G2, which is still among the best tonneau covers, to save some bucks, but you'll miss out on the improvements.
Best Tri-Fold Tonneau Cover:
MaxMate Hardtop Tri-Fold Truck Bed Cover
The tri-fold tonneau cover design is arguably the most popular type of
cover we see. The back clips firmly into place at the back of your pickup truck box, and a rigid frame has three pivot points that allow you to fold the it up like a piece of paper.
Many consumers rely on the tri-fold tonneau cover as it makes for an extremely rigid construction while remaining lightweight. This style of cover is ideal for people who want to have their bed either fully open or fully closed. They generally do not latch at the inner folds, so if you want it to be secure you have to keep it at either the beginning or the end of its extendable range.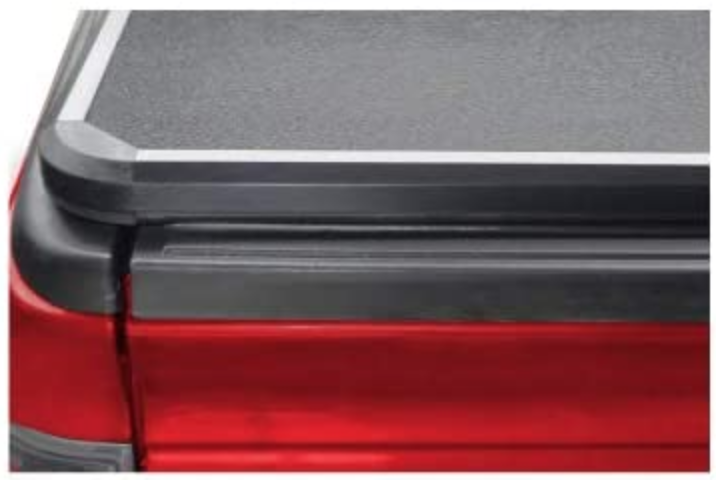 Another benefit of this design is just how lightweight it is. Anyone using a smaller pickup truck (half ton or smaller) will appreciate the fact that there is very little added weight. But that doesn't mean that it's not strong. It's reinforced with aluminum for strength and security – you can put 500lbs onto the top if you need. It also sits flush with your bed rails, providing a waterproof seal, and is very easy to install , especially for a tri-fold tonneau cover.
MaxMate is a new brand of truck bed cover, but that gave them the advantage to improve on all the failure points of other brands. Maxmate's tri-fold tonneau cover is a hard cover, patented bed cover with some great features. The textured cover is very low profile, providing fuel efficiency and not affecting the aesthetics of your rig.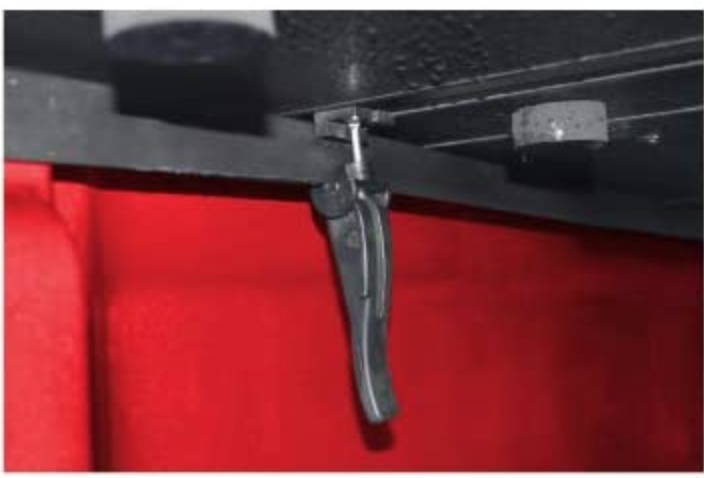 You want to make sure you measure your truck bed and select the right model for your pickup truck, but there will definitely be a size for your truck. It's really easy to install though – maybe 30 minutes at the most – and you shouldn't need to drill any holes. If you're looking for an inexpensive truck bed cover, this is one of the best tonneau covers you can get, and you'll want to consider.
Best Rolling Tonneau Cover:
TruXedo TruXport
Next up is the TruXedo TruXport soft cover. The biggest draw for soft vinyl rolling tonneau cover over a tri-fold tonneau is the access to your pickup truck bed when not in use. Because many tri-fold tonneau covers still jut-out a foot or so even when folded all the way up, depending on what you're hauling the bed, the tonneau cover is in the way. A rolling cover allows you to remove the truck bed cover all the way to the back window fitting whatever you need into your truck bed.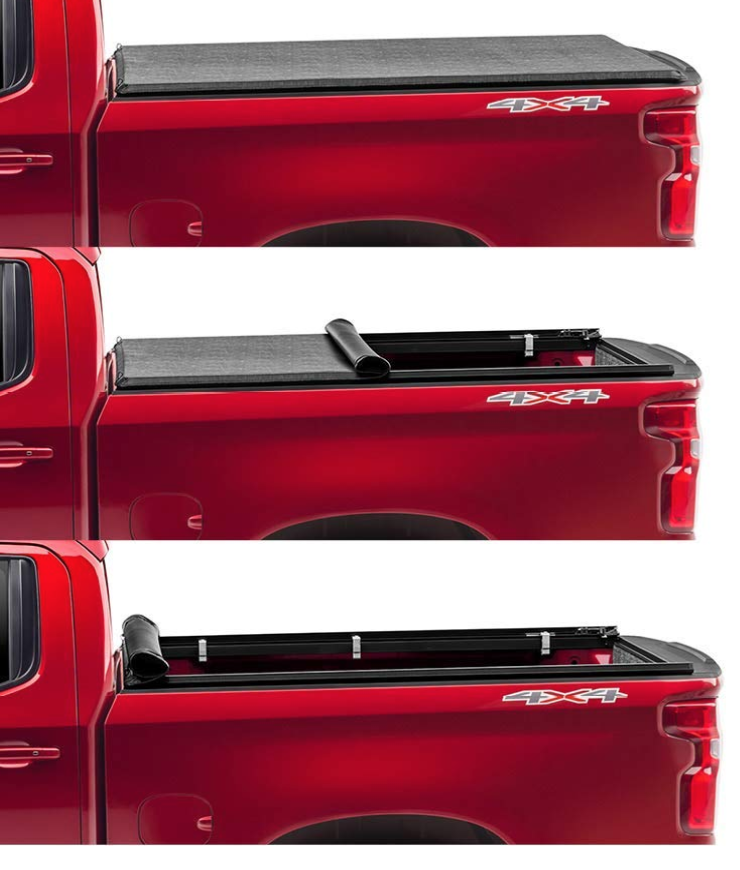 TruXedo is a trusted brand of tonneau cover and pickup truck accessories, and the TruXedo TruXport rolling cover is no different. It's got all the great features that we look for, in a soft vinyl material. The cover itself is made from a thick and durable synthetic leather grain material, a marine-grade vinyl. It provides a seal against the elements protecting anything in your truck bed from all types of weather.
This material of the TruXedo TruXport won't crack or split with use, making it an ideal choice for anyone who intends to keep their truck for many years. This is not something we commonly find with affordable products like this. Usually you're stuck with something inferior unless you're willing to throw down some serious money.
The soft vinyl of the TruXedo TruXport can be rolled on or off in a matter of seconds, making it easy to remove for cleaning or any other purpose. This marine-grade vinyl is tough and durable and built to withstand the elements.
Best of all, there is no drilling necessary to install. It's held down with stainless steel clamps. Even though these are often considered the cheaper style, our tonneau cover reviews have always had nothing but good things to say about this style. You won't get the same protection and security from a hard cover, but you get ease of use and versatility as a trade-off. The TruXedo TruXport is one of the best tonneau covers you can get if you want a rolling soft cover.
Best Retractable Tonneau Cover:
Roll-N-Lock Retractable Tonneau Covers
Next up is a more unique style of Tonneau Cover – a retractable model. Tri-fold tonneau covers are great for protection but annoying to use. Rolling covers leave you a little more exposed, but are easy to use. Retractable covers like this one by Roll-N-lock solves both problems: ease of use with maximum protection.
As you can see, you still get the same low profile design and appearance as other hard folding tonneau models. Their M series hard tonneau has a unique vinyl-over-aluminum design gives you a durable outer layer, with the security and strength of being reinforced with aluminum. The A series and E series have all aluminum designs, with the E series actually being controlled by a remote. If you've got the extra dough that's the one we recommend, but the M series is a good affordable option. The M series has a torsion spring in an aluminum casing with frictionless operation.
Roll-N-Lock tonneau covers are super easy to install, with a clamp-on design to the bed rails – no drilling required. Stainless steel clamps hold the cover in place. They give you the most space in the bed than any other retractable cover, more than folding ones, but less than rolling covers.
Roll-N-Lock covers their products with a 3-year warranty, should you have any rare quality issues. We've heard of issues with some folks receiving their products damaged from shipping, and that getting a hold of customer service is difficult. Otherwise, if you want an easy-to-use, retractable tonneau cover, this is one of the best tonneau covers you can get.
Best Hard Folding Tonneau Cover:
Tyger Auto Tri-Fold Tonneau Cover
Tyger Auto has quickly made a name for themselves in the Tonneau Cover market thanks to their quality manufacturing and great value folding tonneau covers. Specifically, the Tyger Auto T5 hard tonneau cover is setting the standard for durability and protection. It's a tri-fold tonneau cover, with a great balance of quality and affordability.
The Tyger Auto T5 tri-folding tonneau cover is made with very strong, powder coated aircraft grade aluminum alloy, coated by a tough and durable, waterproof vinyl material. While some folks don't like the tri-fold truck bed tonneau cover, it's really the way to ensure the most security to your truck bed. Good luck getting through this one!
The low profile design of these Tyger Auto hard folding tonneau covers actually lends itself to greater fuel efficiency, as air doesn't churn in the empty bed. Plus, it's super fast to install with no drilling required, using their clamping system.
It's a beautifully made product, from the textured hard cover, to the waterproof seal that's produced. They've also added a lifetime warranty to their tonneau covers for good measure. The Tiger T5 is the best hard folding tonneau cover you can get for so many reasons – and you don't need to break the bank.
Best Soft Tonneau Cover:
Gator Soft Tonneau Cover
If you don't necessarily need the protection of a hard tonneau cover, then perhaps just a soft cover will meet your needs. This Gator SR2 is going to be the best soft tonneau cover for you and your pickup truck.
The best things about a soft tonneau cover is how quick they are to use. Folding covers are heavy and can be annoying to fold back. Plus, when you do fold them back, you lose some of your truck bed. A soft tonneau like this Gator gives you 100% truck bed access so when you need the space, you've got it. The one complaint most folding tonneau covers get is the limiting access to your truck. That's not a problem with soft covers!
Where it falls short is the durability and protection. The best hard tonneau covers are typically made from aluminum, coated in vinyl providing the ultimate protection from theft. This soft tonneau cover is made of leather grain vinyl, providing a waterproof seal, but it would be easy to get into if someone wanted to steal what you've got in the back.
Gator covers are affordable, well made, and get tons of great reviews. Did we mention Gator protects their products with a lifetime warranty? You're sure to find one that fits your truck, and when you do, installation only takes 20 minutes. It's one of the best tonneau covers on the market, in the soft covers category.
Best Fiberglass Tonneau Cover
UnderCover Elite LX
If you don't like the look or security of the other hard folding tonneau covers on the list, or the operation of a folding or rolling cover, then this fiberglass cover by UnderCover might be the best option for you.
Not everyone likes the look of these fiberglass hard covers, but if it's the one you decide to go with, there's lots of options to color match it to your pickup truck, whatever the color. And, lots of sizes so regardless of your make and model you can find one that fits.
There's so many great features about this type of cover. Most notably, it produces a superior water tight seal to many of the other tonneau covers on the list. And, it's got a secure lock to keep everything inside locked up tight.
It's a strong and durable fiberglass, but it's not as strong as some of the aluminum covers on the list. While some of the aluminum models you can store 400+ lbs on top, you won't want to stand on this one, or haul anything on top of it. Under the lid is a built-in LED lighting system so you can see what you're reaching for. The magnetic light is removable and movable.
Getting in and out of the truck is super easy, unlock it, press the button and the hydraulic arms raise up the cover for you. While you have limited access to your truck bed for other uses while the cover is attached, it's designed in such a way that makes it easy to remove if you need full access.
Not everyone likes this type of fiberglass tonneau cover, but if it's what you're in the market for, it's one of the best tonneau covers you can get.
Why a Tonneau Cover or Truck Bed Cover instead of a Canopy?
There are very few accessories that can improve the functionality of your pickup truck as much as a tonneau cover. While Truck Caps (Also known as Truck Shells, Canopies) are useful, they have some drawbacks. They're big, heavy, difficult to remove and take up space if you're not using them. And, they're often much more expensive than a tonneau cover. In our opinion, it also completely ruins the aesthetic of your truck. For that reason, many people choose truck bed covers as a better alternative.
Tonneau covers by comparison, are extremely handy additions to pickup truck beds without those negatives. They're easy to open and close when you need protecting your cargo from the elements, easy to remove if necessary, and much more affordable. One other great benefit most people don't realize is improved fuel economy thanks to the reduced wind drag with a truck bed cover.
This is such a common debate that people have, since they each have their own set of pros and cons. Rather than get into it in more detail here, we wrote up an entire article covering this topic. You can check it out here.
Choosing a tonneau cover can be overwhelming because there are so many different types available. So, we've done the research for you and laid out our favorite models for you to choose from, in addition to a few things you should be looking for to choose the best tonneau covers for your truck.
Types of Tonneau Covers
Before we get into the specific models to review, it's important to understand the different types available. In these next few sections, we'll be taking a look at the different options available to pickup truck owners. We'll help you understand the differences between them, and then we'll help you find a model that fits your vehicle.
Generic vs. Model-Specific
There are two types of tonneau covers that you can buy: generic and model-specific.
Generic tonneau covers are made to universally fit any truck. As a result, they may include components that adjust to fit any pickup truck box regardless of the size or shape of it.
Model-specific tonneau covers are sold as kits, with several different versions, each designed to perfectly fit a specific year, make and model.
There are pros and cons to opting for either type. If you've opted for additional features on your truck such as the built-in tailgate inverter of the GMC 2500 or the raised ladder rack in the F250, you might want to consider one of the truck specific models we've outlined further below. But in general, most people are very happy with their generic model. And, since they're also more affordable since they are manufactured in higher quantities, that's usually what we suggest.
Hard Top Folding vs. Soft Top/Rolling vs. Single Piece Hard Top
We used to have these categories as separate, but almost every single hard top cover folds over on itself, while a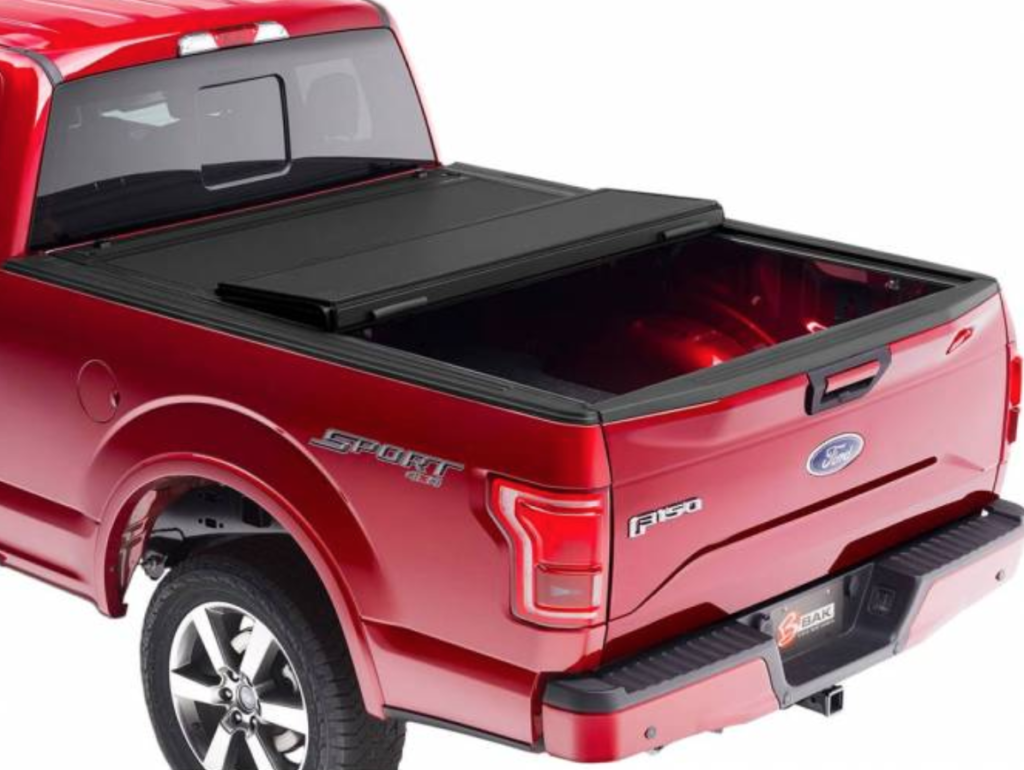 lmost every soft-top tonneau cover rolls up, so, we combined them. There are also the single piece hard top covers that are typically made from a single piece of fiberglass that's built to match your pickup truck. These are the least popular for a few reasons, so we don't often see them much. For convenience purposes, most people prefer retractable options.
Each of these types has their own set of pros and cons, but in general we prefer hard top covers. A Soft-top tonneau cover is generally cheaper and lighter, but we think the security and durability of a hard top overrules the price difference.
All it takes is someone with a sharp blade and the right motivation to easily find their way into your soft top tonneau cover to get at whatever you might have stored in there for the night: groceries, camping gear, or anything else potentially valuable. Get the retractable hard cover – it's worth it.
Truck Specific Tonneau Cover Reviews
Looking for something that's designed with your exact vehicle in mind? Truck-specific tonneau covers are specifically designed for one model of truck, so there is no adjustment or changes that need to be made in order to get a great fit. This makes them easy to install, and they often come with additional features that better suit the unique packages offered with your vehicle. If you're the type who would never own a base model truck, then these truck-specific reviews will help you find models for the most popular trucks on the market.
Tonneau Cover for a
Honda Ridgeline

Honda's unique unibody truck is lightweight and comfortable to drive, but it's unique box shape has made it difficult to find a decent retractable or soft-top toneau cover.
If you're looking for an affordable tonneau cover for a Honda Ridgeline, The Rugged Liner E3-HRL05 fits the box shape of the Ridgeline perfectly.
It's very similar to the tri-fold design, but uses only a single folding point. Although it's categorically a bifold cover, the level isn't in the center.
This allows you to lift a section of it up, throw in your groceries, then close it all with just a single hand. Currently, this is the best value we've seen on the market, and we highly recommend it for ridgeline owners.
Tonneau Cover
for a GMC Canyon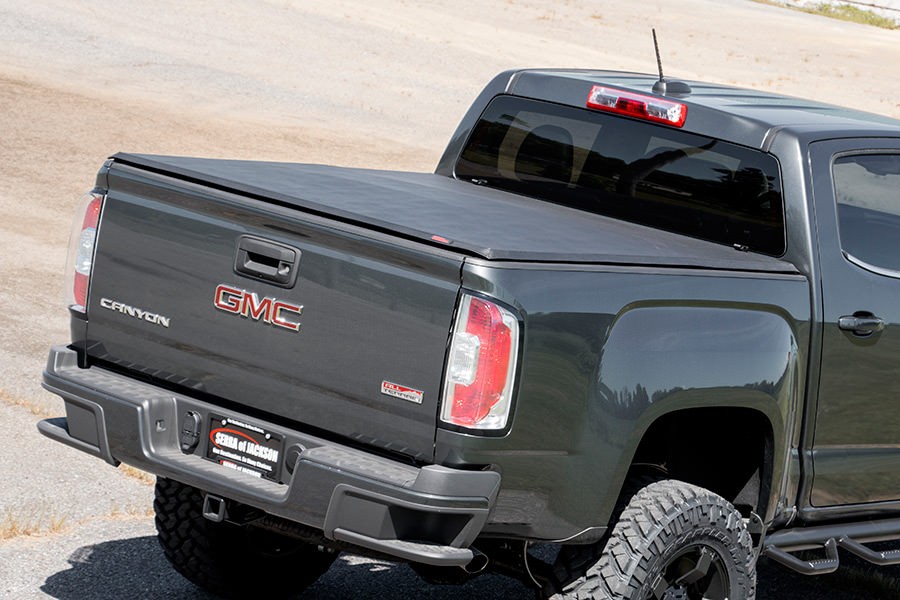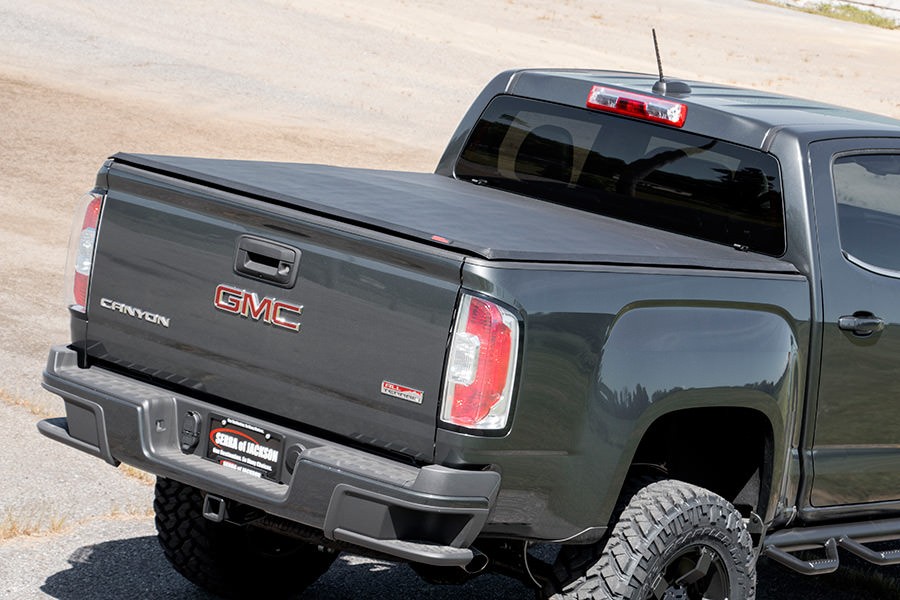 The Canyon is a powerful truck in a small body, making it difficult to custom fit toneau covers designed for larger vehicles. If you're a canyon owner, we'd suggest that you check out the TonnoMax Roll-Up Low Profile tonneau Cover. This design is unique to the light GMS trucks, and is specially engineered to fit its smaller profile. Buyers have found that it's much more lightweight, and doesn't bunch up in the middle like some of the smaller vinyl covers. With its roll up design, it's easy for you to open and close it. Plus, it's all metal locking mechanism means that it will snap into place for many years to come, without sustaining any damage.
There are lots of competing roll-up models on the market, but we've always found that the best ones have a few key features. First, they've got tie-down cords so that you can leave the cover partially open if you're carrying something that extends above the box of your truck. When you're using a compact truck like the GMC canyon, this is especially important.
Tonneau Cover
for an F150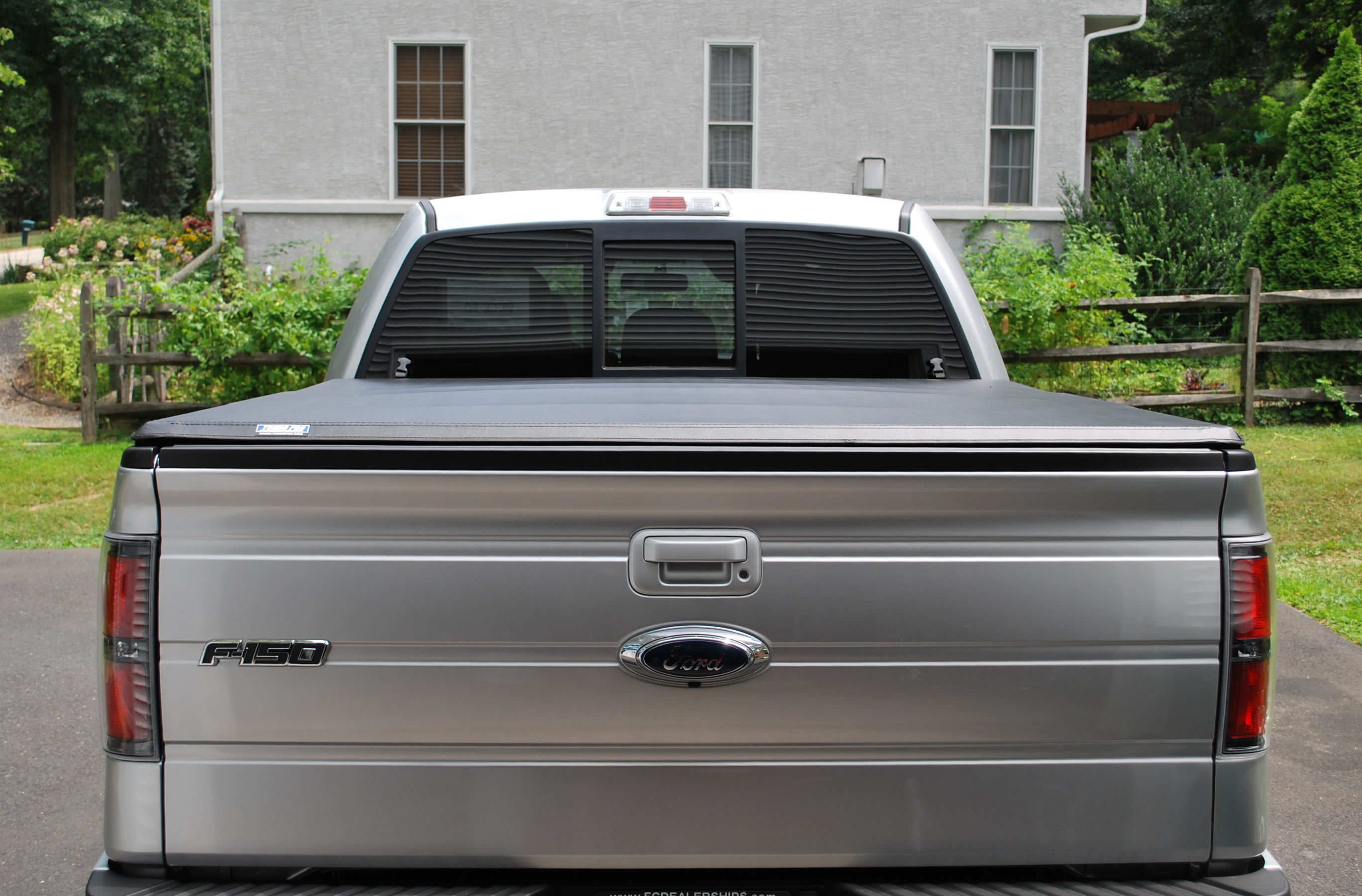 With the Ford F150 being one of the bestselling trucks in America, it's not surprising that there are more than a few options available to consumers. The F150 is one of the most customizable trucks on the market, with many of the factory options focused on the tailgate.
For this reason, it's important to find a tonneau cover that doesn't interfere with the usability of these features. Additionally, with the F-150s lightweight aluminum frame, a lightweight model is a good choice.
The Lock and Roll retractable tonneau cover is uniquely designed in the sense that there is a dedicated storage area below the top of the cover. All you have to do is release the stainless steel clamp, roll it up, and slide it into this storage compartment.
Beyond a small bar below your rear window, you'll never even notice that it's there! But when you need it, just pull one lever and it easily extends the entire length of your box.
There are two locking points at the back, so if you're using the tailtage ladder rack you can lock it in place while still leaving an opening for the rack. The ultra low profile and light weight ensure that you're not dipping into your comparatively small hauling capacity, allowing you to make the most of your truck. Overall, it's obvious why this is one of the most popular F-150 accessories.
How to Choose the Right Tonneau Cover
Selecting a tonneau cover can be a bit of a double-edged sword. One the one hand, you're about to pick up one of the most useful accessories for your truck that money can buy, but on the other hand there are a lot of options to choose from. Should you start browsing for something made for your specific truck, or should you browse by brand? Do you want something affordable, something easy to install, or something reliable? It's totally possible to find a product that checks all of these boxes, but there are always tradeoffs.
The answer to this question really depends on what kind of truck you have. Full size trucks generally have very few differences between them. Most of the major brands have a version that is designed to work with all major models. It's only the compact trucks, or ones that have a unique box design that need to look for models specific to their vehicle.
The next question you'll have to answer is what type to get. If you're worried about security and the look of your vehicle, a hardtop is the way to go. These are the most durable of any on the market, and can often be purchased with custom paint jobs that match the exact color scheme of your truck. Some people like to match, while others choose a new color that can bring your new truck to life.
If you're concerned about budget, a roll up cover is the way to go. They very affordable, and extremely versatile. You can roll it to the exact length you want, then tie it down. Even though you're saving boatloads of money, most covers are made with a high quality dual layer vinyl that can withstand many years of use without wearing out.
Your final option is hinged models. Generally, these are sold as tri-fold covers and feature two hinges, each placed a third of the way down the cover. But you can also get single fold covers which are easier to open, even when you're only using a single hand. These combine the benefits of a hard top with a soft top. They're durable, but easy to access. One key issue with them is weight. We usually recommend aluminum models since they are durable, but not too heavy. Steel is stronger, but you're going to have to put a lot of effort into lifting it. For that reason, aluminum is the way to go.
How to install a tonneau cover

A tonneau cover is easily one of the most visually striking and useful accessories you can get for your pickup truck. As with any external mod, installing a tonneau cover requires a bit of how-to knowledge. The installation process will also be different depending on the style and brand of tonneau cover you get, so keep this in mind.
Tonneau covers generally come with rails that are meant to be attached to truck beds. This improves security and helps with the installation process. So the first step is usually to install these rails. Rail installation is pretty straightforward, but if you use over-the-bed rail liners on your truck, it can be a bit trickier. You might have to puncture holes in the rail liners in order to properly install the tonneau cover rails.
Next you'll want to align the tonneau cover. It's important to get the alignment right because tonneau covers are designed for an exact fit, and if anything is out of place, it simply won't close properly. Once aligned, tighten all the mounting hardware until the rails are loosely held in place. You don't want to tighten everything right away, just in case something is misaligned. Check that everything is lined up properly, then proceed to fully tighten the mounting hardware.
Some tonneau covers include tailgate or cabside seals. These should be installed after the mounting hardware is tightened, but before you install the top of the tonneau cover. At each step, it's important to double check your alignment to avoid running into problems later down the line, which could require you to undo work you've already done.
Next you'll set the tonneau cover on top of the rails and make sure everything is in place. This is good time to make adjustments if need be. Once everything is installed, do a final check on the alignment. Sometimes misalignments can be easy to miss, so there's a few things you can look out for. You want your tonneau cover to be sitting nice and flush on the gasket, but you don't want to see excessive compression. If either is the case, try to realign the rails until the tonneau cover sits properly.
Some tonneau covers also come with drainage tubes, which are straightforward to install once the cover is set. Simply connect them to the cover and route them to the corners of the truck bed.
Keep in mind, there are many different styles of tonneau covers, and the installation process for each one will be slightly different. Tonneau covers will usually come with instructions, so it's always best to follow those for the best results. The most important part about installing a tonneau cover is having your alignment right. Most people have a hard time installing their covers simply because they're rushed, or they don't double check the alignment. As long as you take it slow and visualize the installation before securing anything too tightly, the installation process should go pretty smoothly. Here's a video of installation of a BAKFlip truck bed cover:
Want to Make Your Own DIY Tonneau Cover?
If you're feeling adventurous, crafty and thrifty, you may consider just making your own DIY Tonneau Cover. If this is something you may be interested in, check out this article where we cover exactly how to do it, step-by-step.
If you haven't found what you're looking for, drop us a line in the comments. We're excited to hear your feedback, and we'll be happy to respond to all inquiries directly.
Latest posts by Shed Head
(see all)