Updated: Feb 12th 2020:
Spring is just around the corner, meaning sunshine and flowers are on their way. But summer also brings tall grass and annoyingly persistent weeds. The perfect way to get rid of those weeds and keep your lawn neat and tidy, is by picking up the a battery powered weed eater.
Cordless weed eaters used to be out-shined by electric and gas models due to their reduced cost and increased performance. But times are changing, and battery powered models can now offer the same performance as their older fossil fueled neighbours without breaking the bank!
but with recent technology, their rechargeable batteries are more impressive than ever, . The batteries are small and lightweight, and take only a few hours to charge, saving you money on your electric bill. Owning a cordless weed trimmer gives you the convenience and mobility of a gas-powered trimmer, with the energy-saving, environmentally-friendly footprint of an electric model: the best of both worlds.
Finding The Best Battery Powered Weed Eater of 2020
Here's a quick summary of the weed eaters available. For more detailed info on each product, scroll down!
1. Best All-Around Battery Powered Weed Eater

Black & Decker LST136W Weed Eater
Specs:
9.75lbs, 13″ cutting width, one 0.065″ line Cordless String Trimmer

Battery:
40V, 2Ah (35-40 min run time)
Pros:
Lightweight, precision edging, adjustable
Cons:
Not the most powerful, single line
Recommendation:
It's not the most powerful model, but is definitely the best all-around balance of power and affordability. It's our readers top pick, but can leave you wanting a little more strength for thicker vegetation. Great for most households but, for bigger jobs, step up a notch and get the #2 Dewalt (below).
More on this model:
While we've covered several different models on this list, each with their own great features, we feel that these battery powered weed eaters provides the best all-around performance for your average household without breaking the bank. This Black & Decker 40V model checks all of our boxes without getting too fancy. It's lightweight, easy to maneuver, and does well with precision edging. While it may not be the most powerful weed eater on paper, it will hold up to most yardwork tasks as well as any other weed eaters you might find.
To start, the Black & Decker LST136W weighs about 8 pounds. It's not the lightest battery powered weed eater on the market, but it's still more agile and easy to maneuver than most other options in this price bracket. It has a great design, constructed of a combination of plastic and aluminum, and is well-balanced. The shaft length is adjustable, making it quite versatile for people of varying heights, perfect for families. The 13-inch trimming radius is a good middle-ground between speed and precision. It uses 0.065 cutting line which is commonly available at any hardware store.
This cordless weed eater uses only a single strand of trim line, which won't provide as good cutting capabilities as a thicker or dual-line model. As a result you may find yourself using a little more line than other models when shredding larger, thicker plants. Line is fed out of the head consistently using an automatic spooling system, negating the need to bump-feed line out when running low. Unlike other models, there is not a wheel mounted to the g
uard to aid in edging, however there is a small metal guide that will help you keep consistent, straight lines when cutting clean edges around flower beds and paths. This is a great trimmer edger combo.
The 40V battery provides a good mix of power, weight and efficiency. 40V provides more power than smaller 20V batteries, more than enough to tackle thicker weeds and plants, without having the extra bulk of a 60 or 80v battery powered weed eater. The PowerCommand dial allows you to conserve power by adjusting the operating speed from 6500 RPM, for lighter jobs and more efficiency, to 8500 RPM for thicker vegetation. It will last you around 30 minutes, depending on the use you put it through. You can always purchase a second battery to keep fully charged to switch out, and they can be fully recharged in about 60 minutes.
Although it's not as light as its cousin, the Black & Decker LST522, the adjustable size and medium weight of the Black & Decker LST136W weed eater makes it a great model for families, and a potential option for those with back or knee issues. It's not as powerful as the GreenWorks Pro 80V, but the 40V battery provides enough power to shred thicker plants and vegetation, while still providing acceptable use time. The metal trimmer edger guide will help you produce clean, sharp edges where necessary – and this isn't a feature that you'll find on just any weed eater. While the B&D LST136W may not dominate in any of the categories we've covered, it contains the best overall blend of the most critical features needed in a unit.
2. Best Battery Powered Weed Eater

Dewalt DCST990H1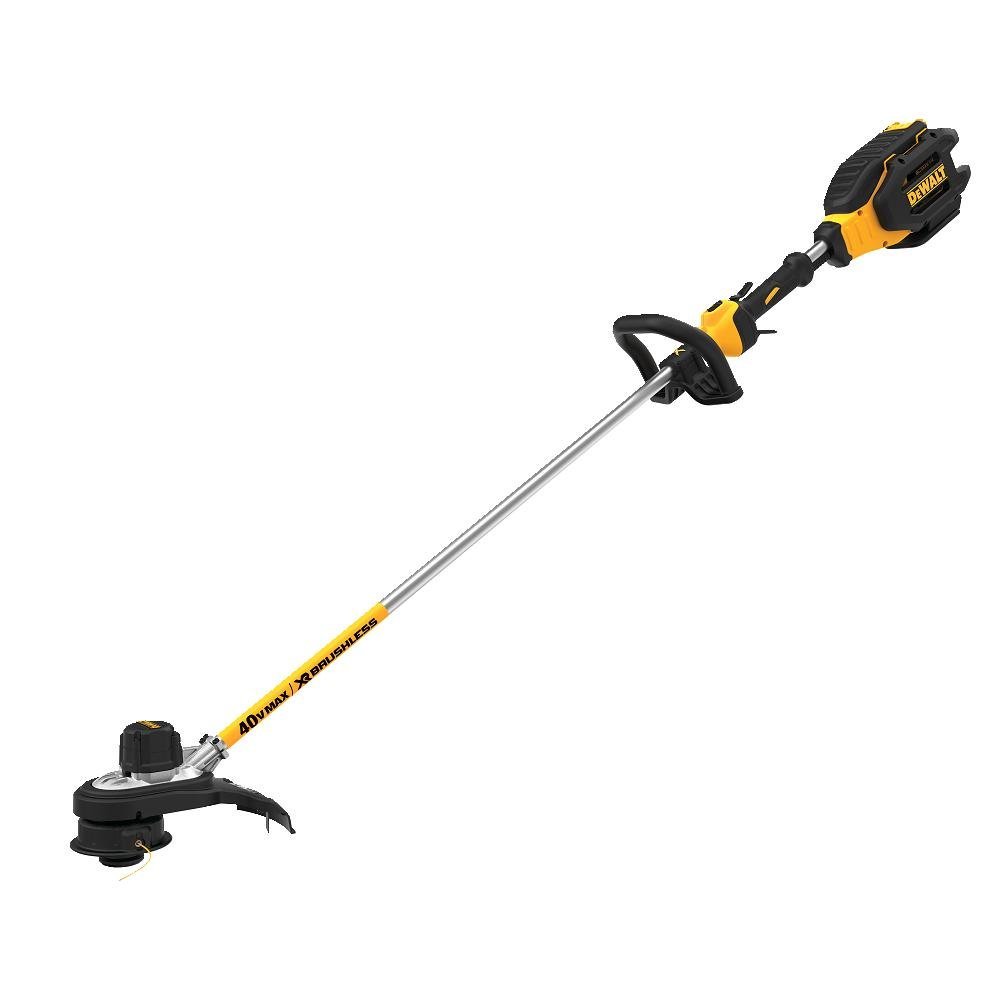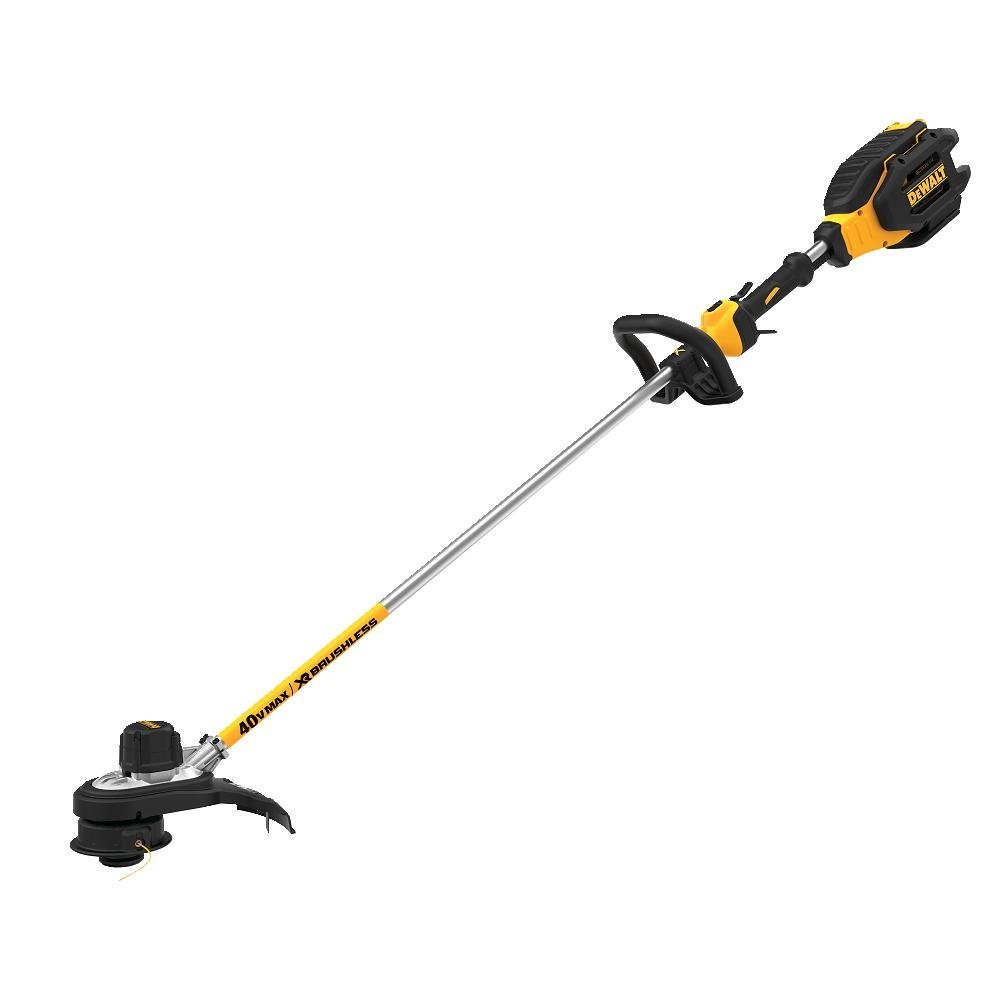 CHECK PRICE ONLINE
Specs:
12lbs, 15″ cutting width, .08″ dual line

Battery:
40V, 6Ah Lithium-Ion Battery (60-70 min run time)
Pros:
Powerful, great battery, heavy-duty, dual line
Cons:
Heavy
Recommendation:
If we're talking about performance exclusively, then would be one of our top rated weed eaters. However, not every household needs a weed eater this powerful. If you've got a large yard or have to do some serious cleanup, this is a great choice. But for small jobs a cheaper weed eater could work just as well.
More about the Dewalt
Depending on the size of your property, you (or your kids) could be spending hours taking care of your lawn. Many of the other cordless weed eaters models only last about 20-30 minutes of operation before needing to be recharged. Of course, these batteries are rechargeable, but often take about twice as long to charge. If you are going to spending more than 30 minutes outside trimming weeds, and don't want to stop mid-job and wait multiple hours before you can continue, you need a large, energy-efficient model like the Dewalt DCST990H1 40V 6.0Ah.
The 40V, 6.0Ah battery of this Dewalt weed eater is the longest lasting we've ever seen. The physics behind voltage, current and operating time is more complicated than we're going to get into here, so we'll cover just the basics. The unit, Ah, is defined as the current (amperes, A) that flows over time (hours, h) and is basically a measure of the capacity of a battery (remember, this is simplified). So in general, the larger the rating of Ah a cell possesses, the larger capacity to hold charge. However, amount of current that is used by a device will vary over time, depending on the job you are carrying out. The 6Ah in this trimmer is far beyond any of the other models available. It will provide operation of about one hour, and sometimes longer, depending on how heavy of a job you are taking on. There are also two speed options available, high and low, allowing you to choose the speed necessary for the job you need. Operating at a lower speed when you need less power will help conserve power on this surprisingly powerful weed eater.

The Dewalt DCST990H1 weed eater not only boasts impressive operating time, but is also a heavy-duty and durable machine. It weighs about 12 pounds, and is constructed of both metal and plastic components. The aluminum shaft provides strength and rigidity while keeping the weight low. The shaft is not adjustable, but the plastic handle is, allowing people of varying heights to adjust as needed to balance the weed eater for comfortable use. Line is released using a bump-feed mechanism, but unlike most bumpers, the line comes out quite easily. The head uses two lines of 0.08 trimming line, which shreds even thick weeds and plants in its large 15-inch cutting swath.
The Dewalt DCST990H1 is a great all-around weed eater. It is built with durability in mind, and the 40V battery produces enough juice for shredding tough, thick weeds. It may not be suitable for shorter or younger people, due to its non-adjustable shaft, but the handle can be adjusted to compromise. Its greatest feature is without a doubt its long-lasting 60Ah battery, capable of providing more than an hour of operation on a single charge. If you want a long-lasting battery, give the Dewalt DCST990H1 weed eater a look, our pick for the best cordless weed eater with the Most Powerful Battery

3. Most Powerful Weed Eater

GreenWorks Pro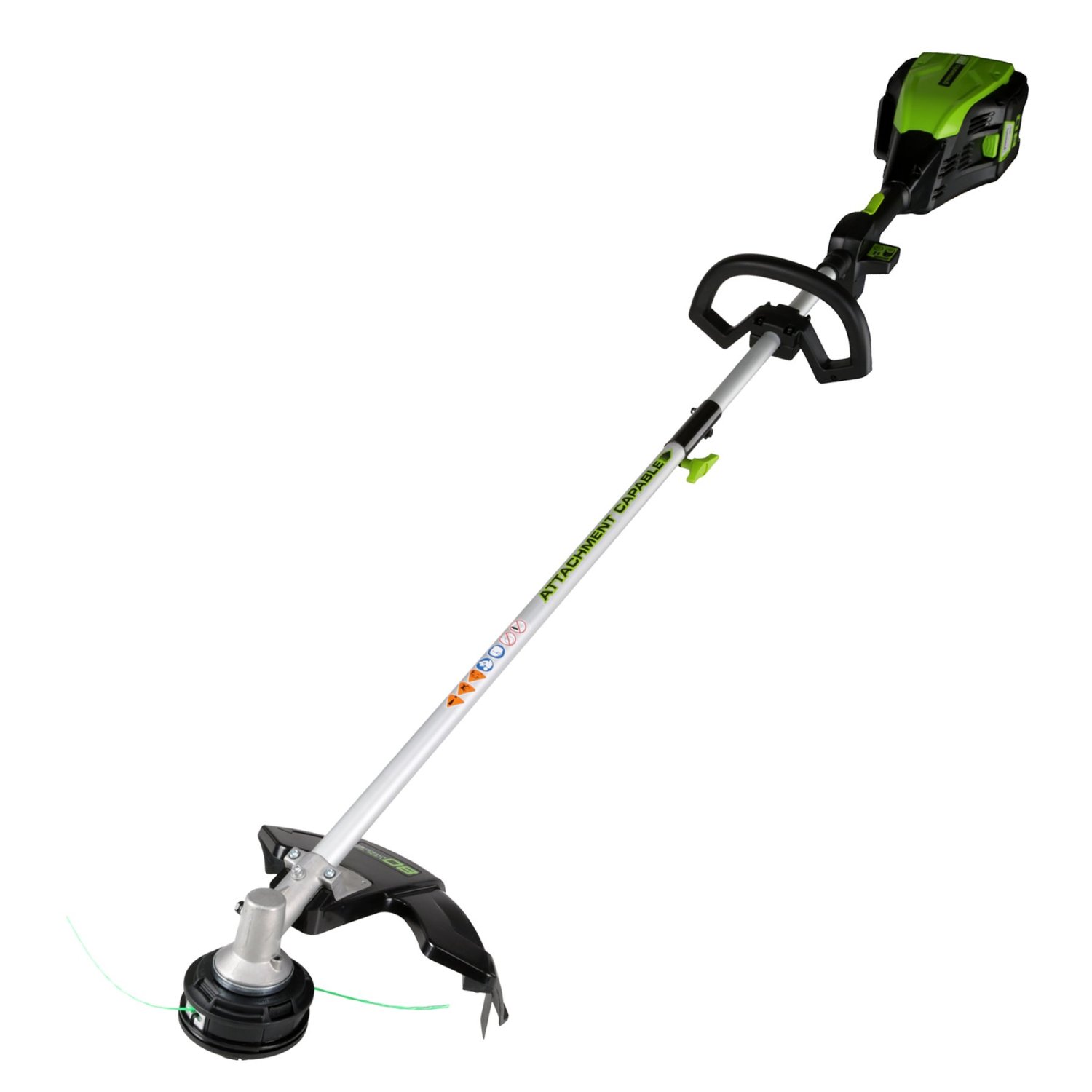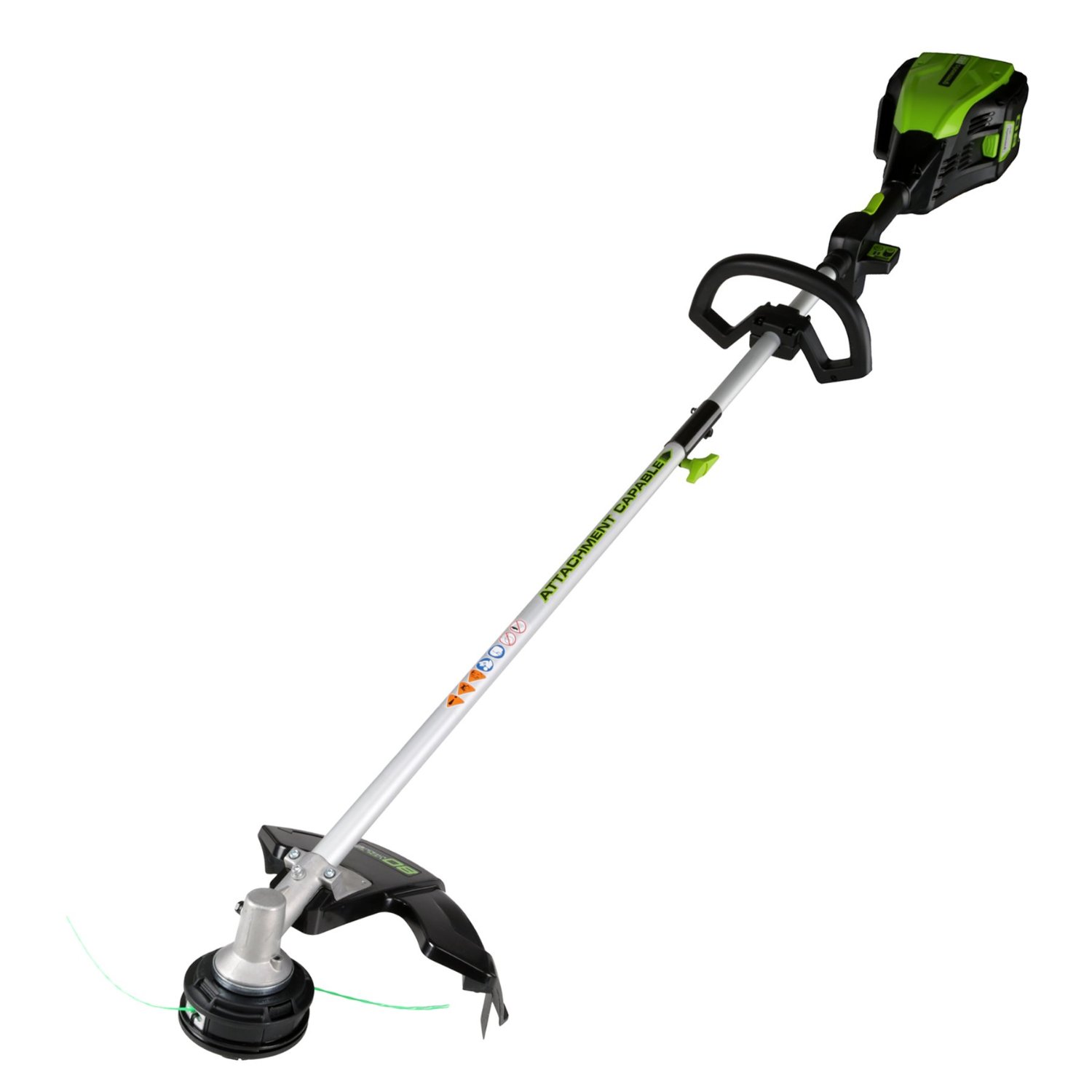 Specs:
18lbs, 16″ cutting width, 0.08″ dual line String Trimmer

Battery:
80V, 2Ah Lithium-Ion Battery (40-50 min run time)
Pros:
Very powerful, great battery, dual line
Cons:
Large, heavy
Recommendation:
Right behind the #2 Dewalt, Mean, Green Machine takes #3 only because not everyone can handle the size of it. Great battery power, superior power, this thing absolutely shreds weeds and shrubs, but you'll definitely get a workout in keeping it in line!
About the GreenWorks Pro
Many folks use their battery powered string trimmers and for light use in their backyards, for grass, edging and light weeds. For these uses, a 20V or 40V cell is more than enough power. For others people, however, these low voltages just don't provide the power necessary for the types of weeds and vegetation they are chewing up. If you are looking for the most powerful cordless weed eater to cut through big, thick weeds and plants with ease, then the GreenWorks Pro 80V 16" could potentially be the device for you.
We won't get too much into the physics behind batteries, voltage, current and other associated physics today. Instead, it's important to simply understand that in general, for cordless tools, the higher the voltage of a battery, the more RPMs the weed eater can achieve. The higher RPMs your weed wacker can produce, the more cutting power you get. The Greenworks Pro model is powered using an 80V battery, provid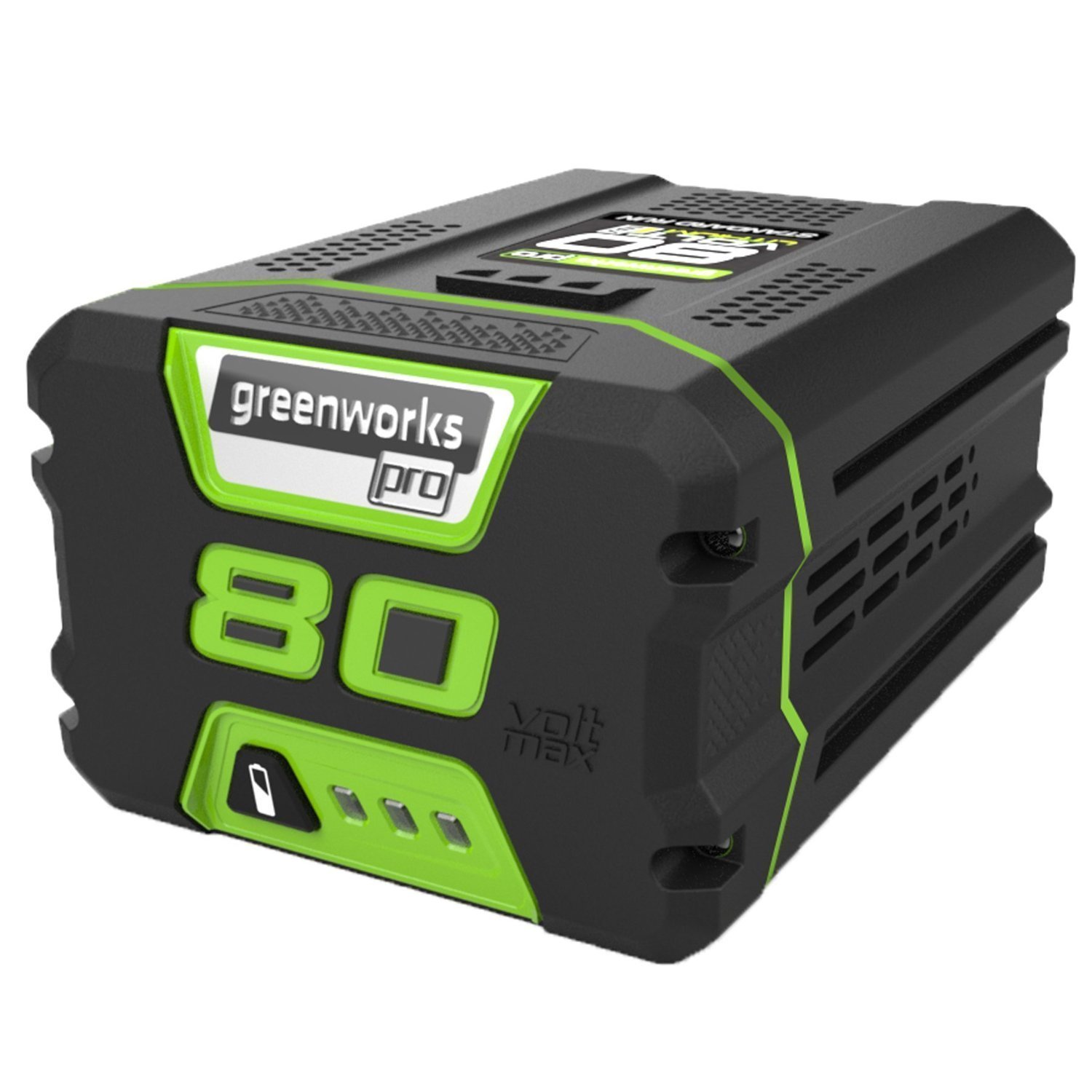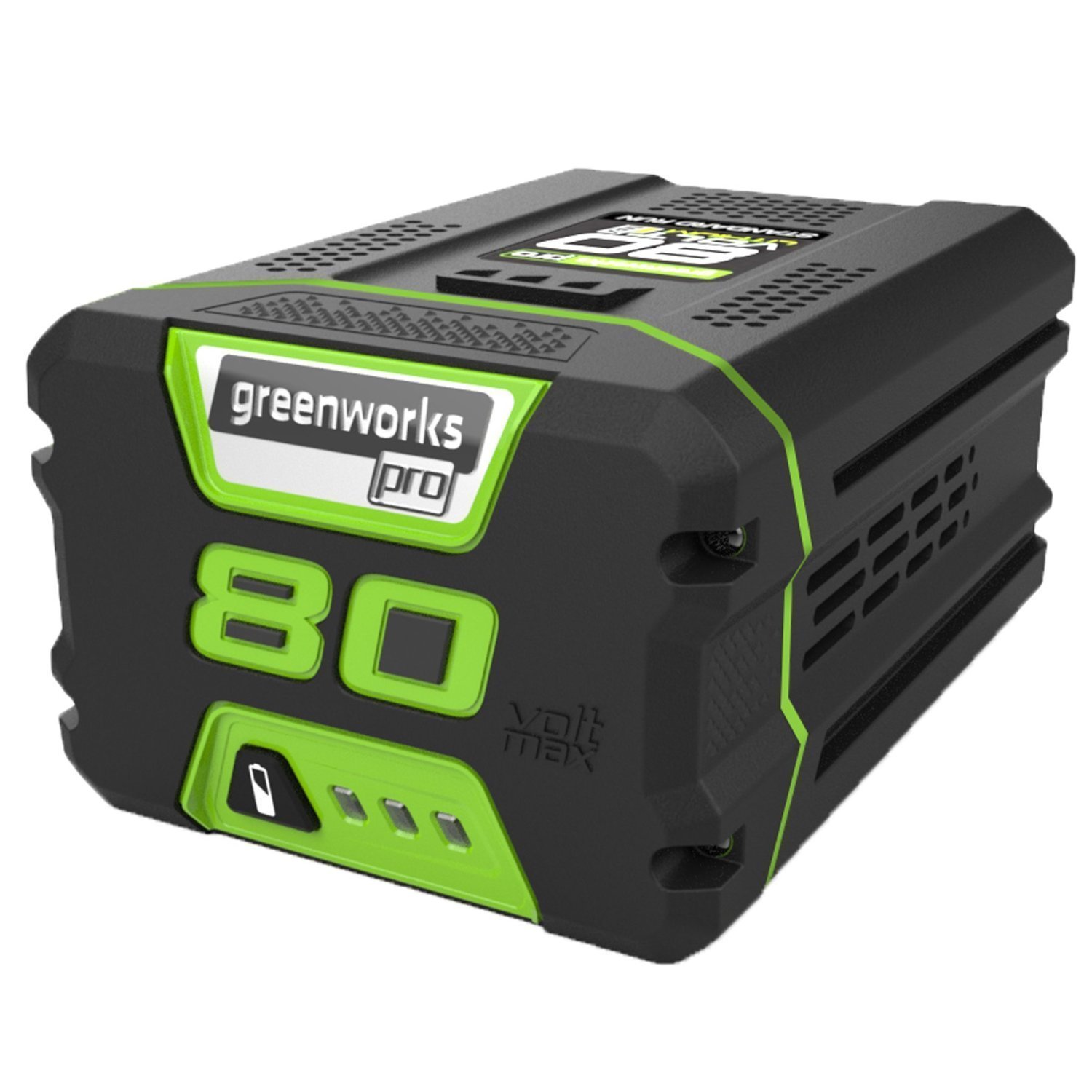 ing extremely rapid rotations of the cutting head, and producing the equivalent power to a 32cc gas engine.
There are some drawbacks to a higher voltage battery, mainly that it will be larger, and therefore heavier. Despite the aluminum shaft and plastic components where possible, these GreenWorks Pro 80V battery powered weed eaters weigh almost 18 pounds with the cell attached. This may not be the ideal weed eater for those who tire more quickly, but hopefully with such a high-powered unit, you can blast through your yard work with ease and in half the time as a less-powerful model, spending less time hauling it around.
The 80V battery doesn't just pack a huge punch, but it will also last you a long while as well. The 4Ah cell gives you almost 45 minutes of operation, enough for those bigger jobs. This isn't quite as long as DeWalts weed eater, but the tradeoff is you get more power. The batteries also charge extremely quickly, as fast as 30 minutes. The Greenworks Pro 80V weed whacker uses two threads of 0.08 inch line, which is thick enough to withstand thick, tough weeds and won't break down as easily as thinner line. Two lines of thread make sure you leave no plant standing, and the thicker line ensures that even when you're working near fences or concrete, your line won't shred as quickly. Be careful you don't damage anything important, though! Refilling line is extremely easy into the detachable head.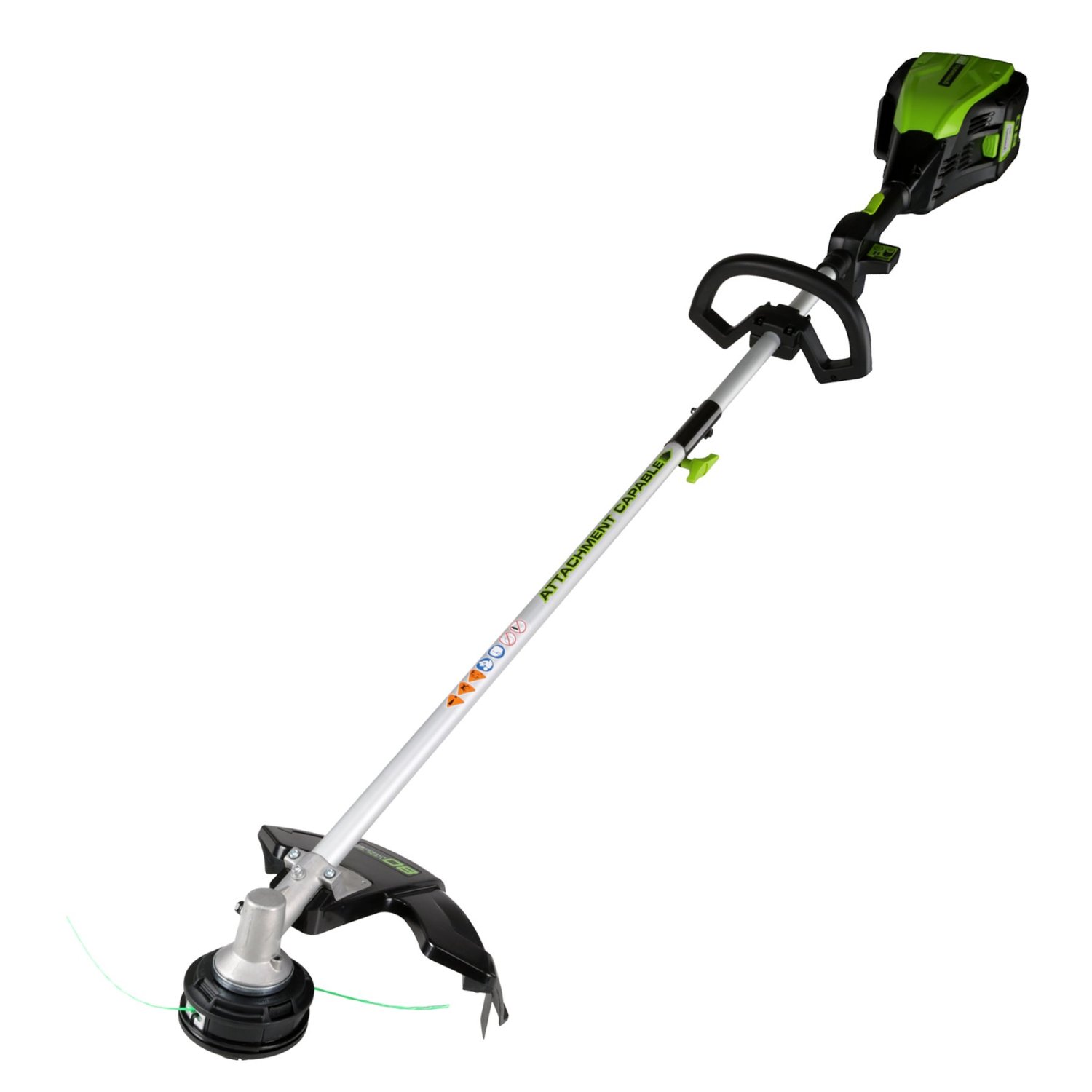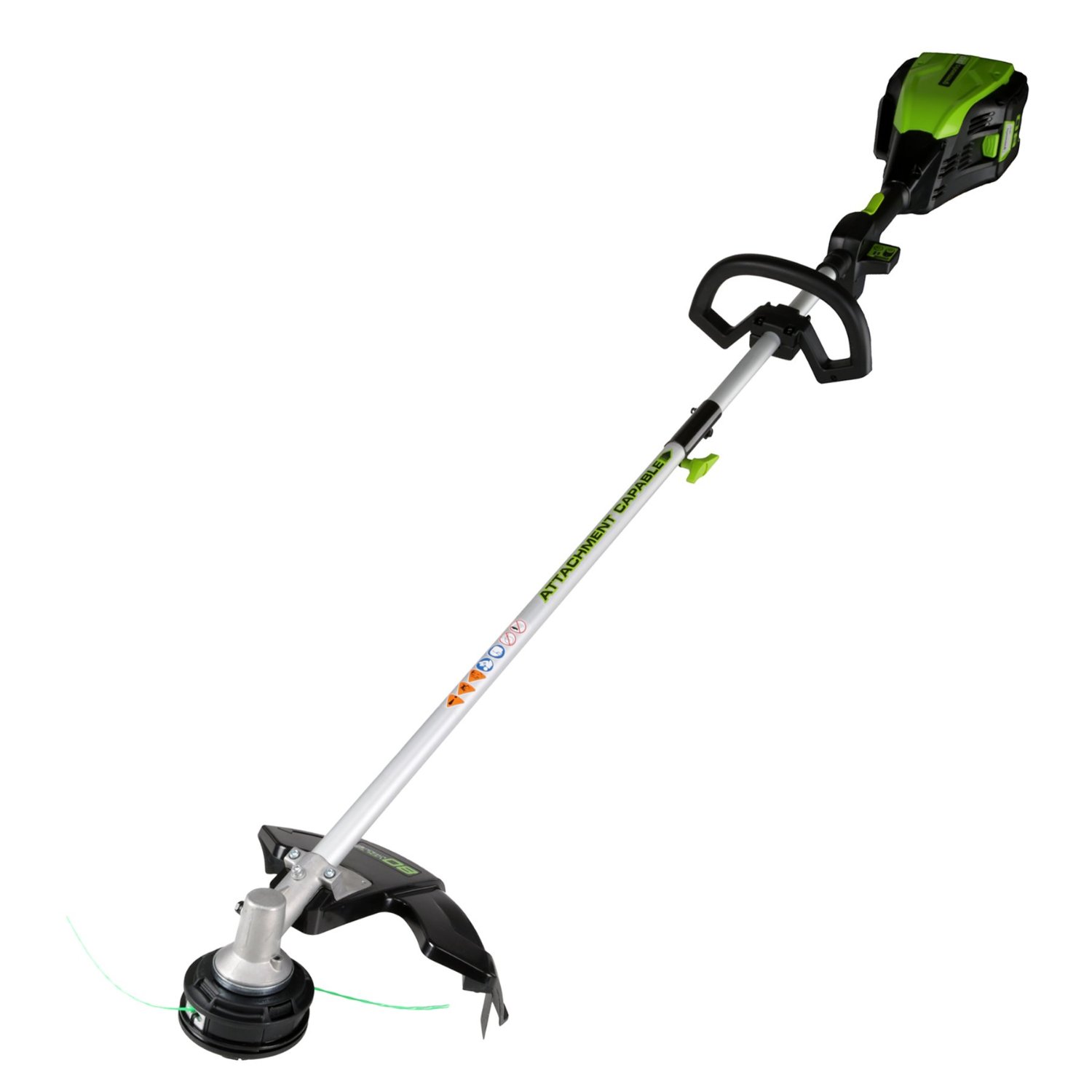 The Greenworks Pro 80V won't be for everyone. Although it is extremely heavy-duty, it is the heaviest trimmer on this list, so keep that in mind. And don't forget, you get a nice wide-range speed trigger to help you control all that speed. You don't have to be running full power all the time. But if you have thick, out of control weeds and vegetation, it will certainly do the job. The dual line rotating head shreds up even the thickest plants. The 80V battery powers the motor to the equivalent of a 32cc gas engine. The batteries are large, but charge very quickly, and the device requires very little maintenance. The GreenWorks Pro 80V truly is the most powerful, highest voltage best battery powered weed trimmer on the market.
4. Most Lightweight & Ergonomic Weed Eater

Black & Decker LST522 Cordless String Trimmer


Specs:
7.7lbs, 12″ radius, one 0.065″ line Weed Eater

Battery:
20V, 2.5Ah Lithium-Ion Battery (20-25 min run time)
Pros:
Lightweight, precision edging, adjustable
Cons:
Weaker motor, OK battery, one cutting line
Recommendation: The lightest cordless string edger you can get, this little fella is great for smaller yards and smaller operators alike. It's not going to shred up vegetation the way #1-3 will, but if you need a precise trimmer edger for your smaller landscaping jobs, this is a great choice.
More Details about the Black & Decker
Yard work and lawn care is a great physical activity. It's maybe not as arduous as other activities like running or sports, but is a great way to stay active. There is plenty of bending over, walking, lifting, and operating power tools. Yard work is a great way to stay active, but some people may have the misconception that activities like weed eating will be too difficult, too physically demanding for them. If you're looking to get your kids involved in the lawn care, many devices will be too large and heavy proving to be a safety concern. Many battery powered weed eaters like the GreenWorks Pro 80V weighs almost 20 pounds, which is much too heavy for some, especially younger teens or people with issues like back pain or knee problems. If those scenarios sound familiar, then perhaps you need to consider a lightweight cordless weed cutter such as the Black & Decker LST522.
The B&D LST522 20V Max is our top pick for a lightweight model weighing in at only 7.7 pounds. The LST522 is constructed of a perfect mix of plastics and aluminum to provide a lightweight but sturdy design. It is very ergonomic, with an adjustable handle with micro-texture soft grip technology to allow for comfortable operation. The pole length is also adjustable, so regardless of you or your family member's height, the LST522 can be operated comfortably. Plus, with limited power, you can just hold down the speed trigger and let it rip. There is no chance of it taking off on your unexpectedly.
The 20V lithium ion rechargeable battery isn't the most powerful, but in general, voltage is typically associated with weight. As the voltage increases, so does the weight, so by using a lower voltage, weight is kept minimal. For standard backyard use and lawn care, grass and weeds still don't stand a chance against the LST522. Another great feature of this lightweight cordless weed trimmer is the adjustable operating speeds. There are two speeds you can switch between, high and low. When you need a little extra juice, the higher speed cranks up the RPMs for thicker weeds and vegetation. For weaker plants like grass and other smaller jobs, the lower speed is more than enough and functions to preserve battery capacity, using only what is necessary.
This lightweight unit uses a single line of 0.065 inch trimming line. The spool automatically feeds line out as it gets used up. Other bump-dispenser models can be annoying and inefficient, forcing you to stop working to dispense line. With the auto-feed the line is kept at a constant length, providing a 12" cutting radius. The head of this model swivels, and has a wheel mounted trimmer edger on the top of the guard. This makes it a perfect tool for edging, providing clean, consistent cuts around areas you need a clean edge such as along the sidewalk or around your garden.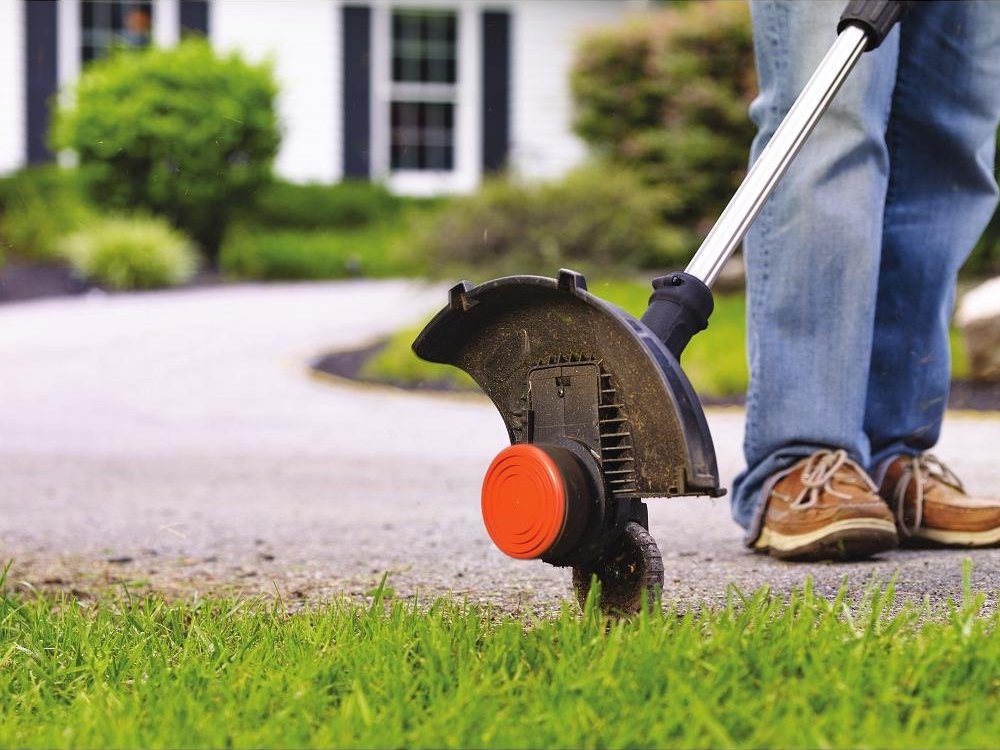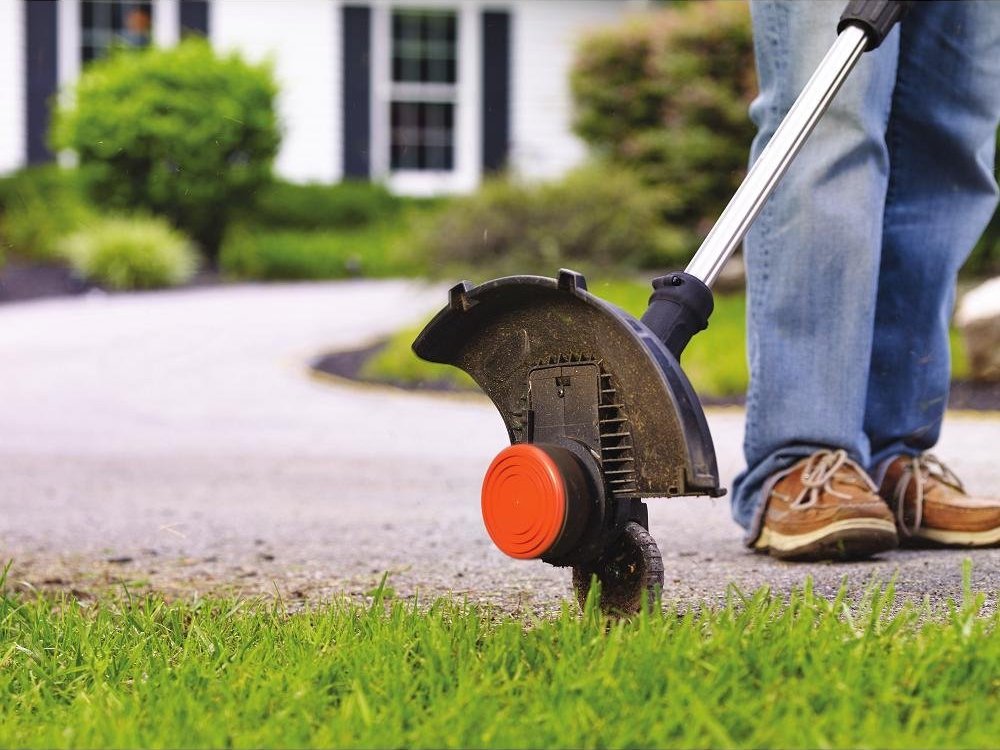 Although the Black & Decker LST522 isn't the most powerful string trimmer, it makes up for it in its lightweight design and great features. For general lawn care, the 20V battery is plenty powerful enough, and your lawn will be kept clean and trim. Because it weighs only 7.7 pounds, it is our pick for the best lightweight model. The light weight makes it an ideal machine for those who tire more easily, for teenagers, and for those with any back or knee problems.
5. The Most Affordable Weed Eater

GreenWorks 21342 G-24 Cordless String Trimmer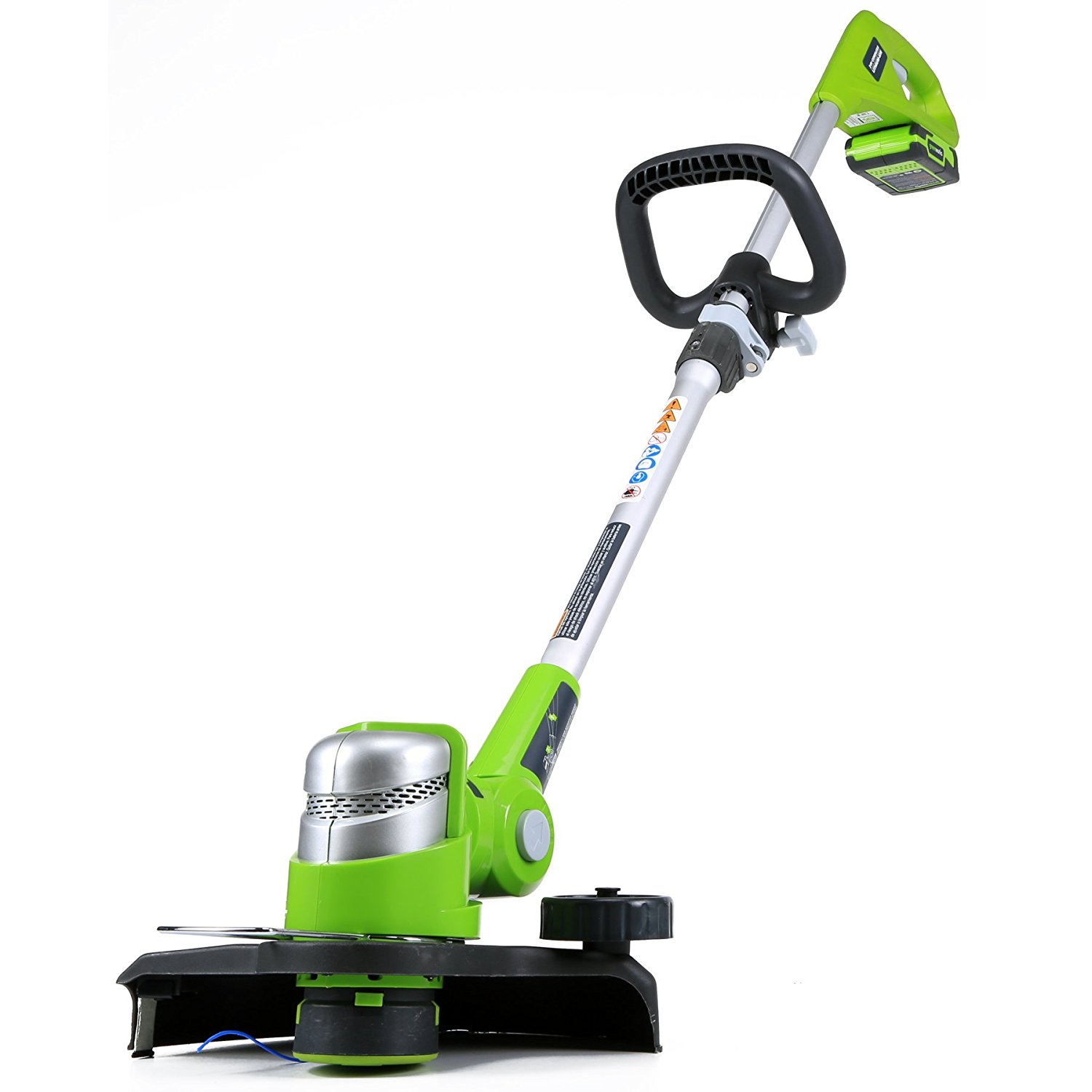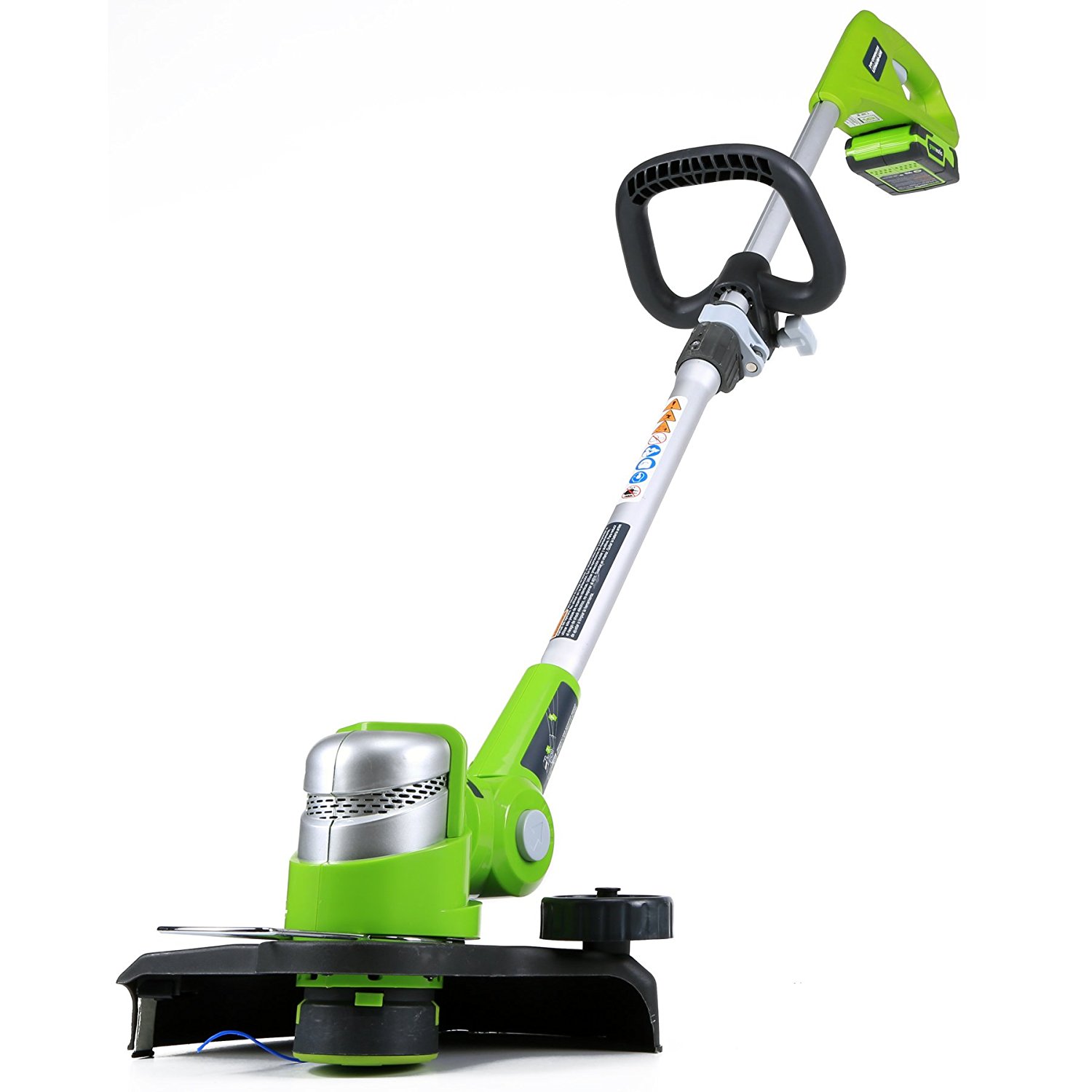 Specs:
8.2lbs, 12″ radius, one 0.065″ line

Battery:
24V, 2Ah Lithium-Ion Battery (20-25 min run time)
Pros:
Lightweight, adjustable, affordable
Cons:
OK battery, weaker motor, single line
Recommendation: Similar to the lightest above, this Greenworks doesn't have the same power or life as the others, but if you just need a quick n' dirty zip of your lawn edges, this is a cheap solution for smaller jobs. It's obviously not our top recommendation for a reason, but if you don't want to break the bank, this one works!
More Details on the GreenWorks
The GreenWorks 21342 G-24 is our pick for the for the best at the lowest price. The GreenWorks 21342 is lightweight and ergonomic, weighing only 8 pounds, including the weight of the battery when installed. The bright green and silver design looks great, and has a large, comfortable handle compatible for both left-handed and right-handed folks. The plastic does feel a little but thin, but it's still solid and doesn't bend or give. Dropping it from a large height may crack some of the components, however. The length of the plastic pole is adjustable, making it ideal for most folks, regardless of their height. And the speed trigger is responsive and easy to use.
This cordless trimmer has a 12" cutting radius, using one line of 0.065 inch trimming line. A 12" radius is a good length for most jobs, allowing you to cover a fairly large area while still producing enough torque on the strings to cut effectively. The trimmer features an auto-feed mechanism, which provides you with a constant feed of line while working. Trimming line will break down over time, most notably when working through heavier and thicker weeds. Sometimes when using the weed wacker in longer or thicker weeds, you may need to wait and spin the line out to let the auto feed catch up as you can burn through line in thicker areas. The trimmer head can also swivel to a vertical position, and has a wheel attached to the guard. These features combine to make the GreenWorks 21342 a perfect tool for edging areas of your grass where you need a sharper line, like along a flower bed or path.
The rechargeable 24V lithium ion battery provides more than enough juice for most backyard needs. It whips through grass, but you can feel it slowing down and working harder in thicker areas. It has only a 2Ah capacity though, which will last you over 20 minutes of operation before it needs to be recharged. The cell and recharger are included with the device. Recharging actually takes only about 45 minutes, and so if you need more than 20 minutes of operation at a time, we recommend buying a second battery so that you can charge one while you use the other. The batteries also include a 2-year warranty, should they stop providing the life that GreenWorks claims before that time. The batteries are also compatible with other GreenWorks G-24 devices such as their leaf blower and cordless drill.
Some light assembly will be required when you receive the weed wacker, but it's quite simple. Although the GreenWorks 21342 isn't the sturdiest, or most powerful string trimmer, but it does have some great features, and remember it's our pick for the cheapest cordless weed eater. The plastic design does make it lightweight relieving the load on your arms and back. The battery doesn't last the longest, but for many, 20 minutes is more than enough to get their yard work done. Plus, if you have a second one, you should be covered. The swiveling trimer edger allows you to cleanly trim up any edges. The GreenWorks 21342 weed eater is our top pick for the best pick for small budgets.
Why Go With A Cordless String Trimmer?
Weed Eaters are one of your best tools for keeping your lawn looking great. Older models are usually powered by gasoline, which some of you may still have one collecting dust in your garage. These string trimmers are overly noisy, bad for the environment, and are not economical, costing you extra dollars in gas money every time you want to use them. Electric weed eaters are a good alternative, as the energy cost is much lower to operate compared to the price of gas, and is a cleaner source of energy. But, you need to invest in long, expensive extension cords and deal with the inconvenience of hauling around an extension cord behind you, being careful not to accidentally strike the cord.
There is one glaring issue though, and that is the fact that there are so many to choose from. We've taken away that headache by compiling the best of the best in these reviews. Keep reading to make an informed decision on buying the best cordless weed trimmer.
Did this article help you choose the right tool for your needs? Did your model provide inconsistent results? Or have you found one with better features or prices? Let us know your thoughts or findings in the comments below and help us improve!
Latest posts by Shed Head
(see all)