Michelin Premier A/S Review
Michelin's Premier A/S tire is a passenger vehicle (cars/minivans) all-season model with some fantastic features. These tires have great traction and handling on wet and dry roads, and superior braking and stopping. The Premier A/S tires have actually replaced an older model, the Primacy MXV4, which were good tires. But, they've built on the success and improved on their performance, as well as issues with tire treadwear.
By far the greatest benefits of this tire are their amazing wet grip, as well as the low amount of sound produced. They aren't designed for use in snow and ice all the time, and their performance reflects that, since they are just an all-season (3-season) tire. But that being said, we found this tire produces a smooth, quiet, safe and comfortable ride that make a significant improvement to whatever tires you're currently running.
They're especially great for those who spend a lot of time on the road, due to their handling, smooth ride, low noise, and long lasting tread that almost improves performance as the tire wears. Let's have a closer look at these all-season tires.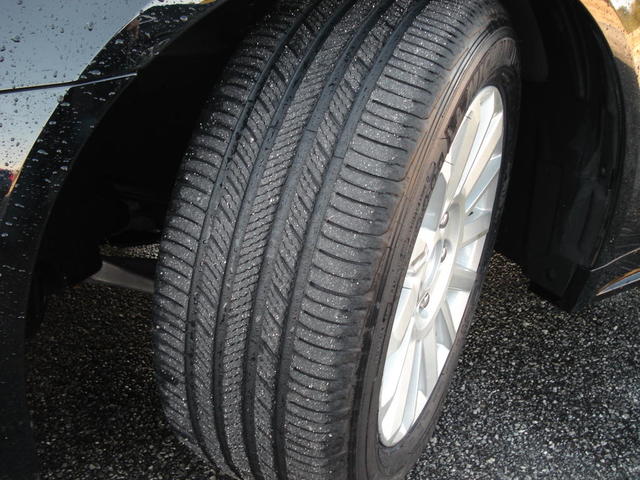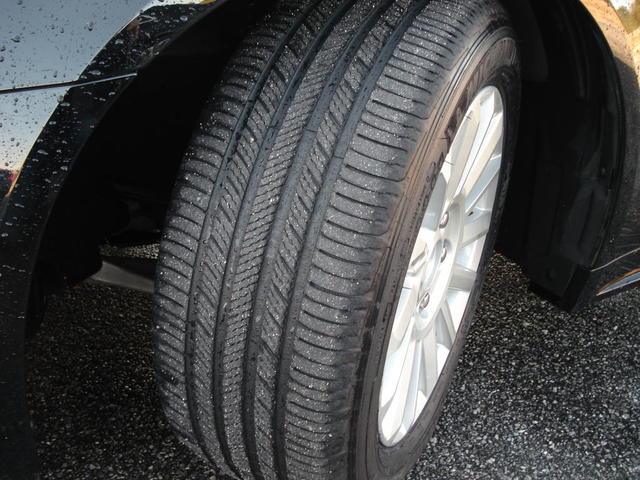 Dry Performance
Michelin has been an industry-leader in tire manufacturing for ages, and the Premier A/S tires reflects the quality that you would expect from them. The tires are manufactured with two steel belts, reinforced by a polyamide cord and a polyester casing. This provides superior structure to the tire, providing a smooth, uniform ride, excellent durability and superior dry traction.
One of the greatest features of the Premier A/S tire is how the performance of the tire doesn't change, even when worn. This is due to the EverGrip technology and design of the tire and tread, so even when you've driven on these tires for half their tread life, the wet traction is just as good as it is as when they were new.
Cornering is tight and handling is great, despite being a slightly softer tire. You get great feedback from the vehicle allowing you to drive confidently. This is an awesome tire to drive on dry roads to the point that you may take the long way home.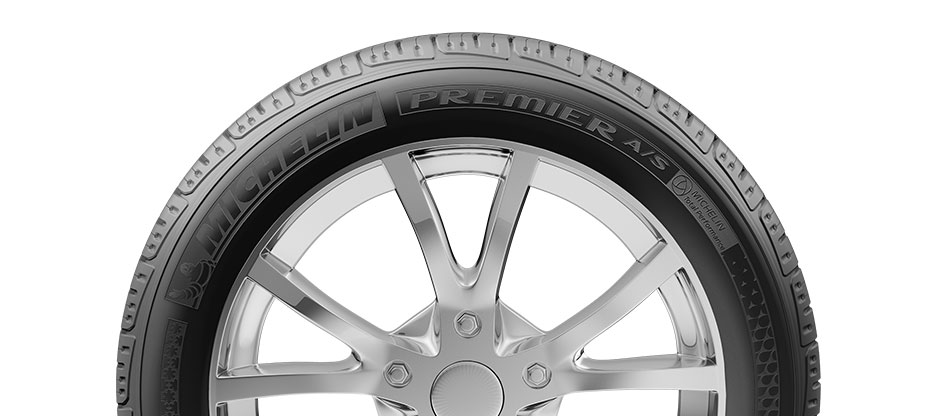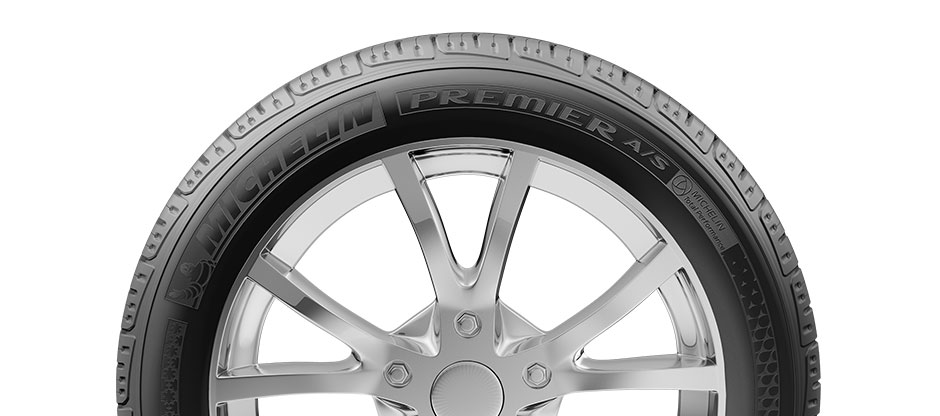 Wet Performance
Where the Michelin Premier A/S tire really shines is on wet, slick surfaces. This is due to the actual physical components of the tire, and the included rain grooves, made to grip and provide excellent wet traction, keeping you safe.
This new EverGrip technology provides excellent wet grip. The tires have rain grooves that essentially expand when in contact with water. In addition, since treadwear is inevitable with new tires, Premier A/S's have been designed so that other grooves in the tread actually widen when worn, providing equal traction like new, even after they've been on your vehicle for some time and the tire wears down.
So, the tires have some grooves that expand when worn, and then there are also some hidden grooves that are uncovered during treadwear, which work to provide greater traction especially in when raining. These additional grooves help to prevent slipping, hydroplaning and rolls.
The larger amounts of silica in the rubber of the tire also functions to increase the wet traction. Higher amounts of silica in tires increase the flexibility of the rubber, providing better grip in those rainy or colder situations. These are well-designed, well-thought out tires that have you covered in bad weather.
Snow & Ice Performance
Because they are all-season tires, the Michelin Premier A/S tires aren't designed for use in heavy winters. But, you can likely get away with these tires on your car or minivan in light winter conditions, but to be safe, you're always better off with winter tires in winter.
Although the tread performs optimally on wet roads, it doesn't quite transfer over to performance on icy roads. However, due to the large amount of sunflower oil used in the tire's rubber, it keeps the rubber compound flexible and softer than usual at lower temperatures which help grip in cold conditions.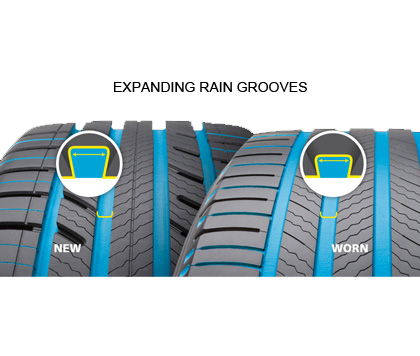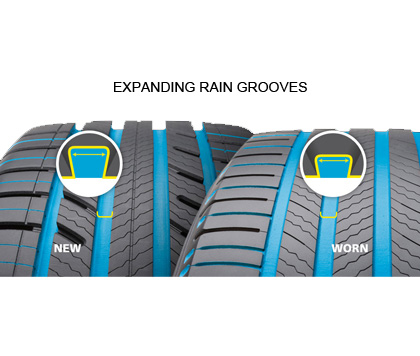 The sipes and tread blocks provide decent traction in slush and light snow, and you can probably drive confidently in late fall and early spring days if you're caught in some weather. The sipes act as biting edges that cut through the snow to provide good traction. If you live somewhere with big snowfalls, you'll probably want to invest in a designated winter tire that performs better than the Michelin Premier A/S in these conditions. But, in most light winter conditions you can get by pretty well with these. Just don't take a mountain pass with them or anything – they don't have a snowflake symbol by any means.
Noise & Comfort
Due to the design of the tire and the rubber compound of the tread, the Michelin Premier A/S tire provides a very comfortable ride and smooth handling. The larger amounts of both silica and sunflower oil incorporated in the rubber contribute to an impact absorbing tread. Many minor bumps and vibrations are negated by the tire giving you a very smooth ride. Michelin calls this their new Comfort Control Technology, and to be honest, it's pretty impressive.
So long as you keep the tires properly balanced, and the correct tire pressure, the Premier A/S tire is also very quiet and dampens out road noise. We find you get very little sound from the road which is a huge luxury for a tire that also boasts such impressive performance on wet and dry surfaces.
Tread Life & Warranty
How does the Premier A/S tire stack up as far as the lifespan of it's tread? It's not the most long-lasting tire we've ever seen, and it sits on the better half of average as far as treadwear goes. It's much better than its cousin the Michelin Defender, though. The tire is supported by a limited 6 year/60,000 mile warranty by Michelin, so you'll want to check out those details in case you have any issues with their treadwear.
The most important thing to increase the lifespan for your tires is to have them balanced properly, and frequently, ideally every oil change. You should expect around 40,000-80,000 miles from these tires, all depending on what kind of driver you are, where you're doing it and keeping them rotated. All in all, you should be confident you'll get way past the 60,000 mile mark that they guarantee.
Compatibility
The Premier A/S is a tire designed for cars and minivans. Being such a popular tire, it is available in numerous different sizes for various vehicles. If you know the exact dimensions of tire size you need for your vehicle, then just head over to a site like TireBuyer, Amazon or a local service provider to buy them, and have them shipped straight to an installer or right to your door.
If not, you can use this tool to input your vehicle's make, model, year and trim and be automatically set up with the proper tire size. It's important to do so or know the exact specifications. There's more to buying a tire than just the size of the rim, and even a vehicle's trim can change the requirements for the tire you need. In any case, we're confident you'll be able to find a tire size that fits since Michelin makes the Premier A/S in so many sizes.
Not much to complain about, right? It's a good brand that's created a reliable product that performs. Sure, you'll pay a bit more for the privelage. But that's the responsible thing to do, right?
Not always! Why not read more tire reviews to see how these high end tires stack up against economy models.
We've spent multiple years testing different tires on different cars in different conditions, and we still get caught off guard. That's why we put togher a big tire review roundup that puts all of these models head to head to help you decide which model best suits your needs. So if you want to compare before you buy, check it out now.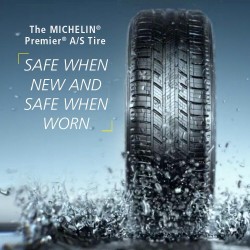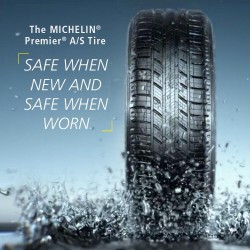 Summary
Overall, the Premier A/S is a very good option for an all-season touring tire for cars and minivans. The tire provides good feedback to the road, and corner and handle effectively. You will be cornering and stopping confidently with these tires underneath you. The Premier A/S is an all-season tire, so their performance in snow and ice leaves some to be desired. In light snow and slush, the tire remains soft and grips effectively, and can get you through until you can get your winter tires changed over. Where this tire truly excels is in the rain.
The design of the tire and its EverGrip technology tread provides superior traction on wet roads, gripping tightly and stopping much more quickly than the large majority of competitors. In addition, the tire provides the same great traction even when worn. The tires feel like a luxury tire due to the reduction of noise and vibrations, and give you a smooth ride. With so many sizes available, we're sure you'll be able to find a set that fits your car or van. Plus, it's got that 60,000 miles warranty. These are great tires and you won't be unsatisfied.
Are the Michelin Premier A/S Right For You?
By now you should have a good idea of what to expect from these tires, but you may still be unsure. Let's figure out if these are the right choice for you and your vehicle.
Do You Need All Seasons or Winter Tires?
The Michelin Premier A/S are not winter tires. That is, they don't have a snowflake symbol and are not recommended for heavy winter conditions. Yes, they'll likely get you home safely in an unexpected light snowfall, but anything heavy and you might be slipping and sliding.
While they don't perform the best on ice and snow, they excel in wet conditions, due to their unique tread design. The hidden grooves and higher silica and sunflower oil concentration help to grip in all conditions.
If it snows even moderately where you live, you'll want to get a second set of winter tires to complement these. If you deal with rainy, wetter winters (lucky you), then these are the tires for you.
Do you Value a Smooth and Quiet Ride?
These tires were basically designed for two things: comfort and rainy conditions. The Comfort Control technology of the tire functions to decrease sound and vibrations to give you a silky smooth drive.
As far as loudness goes – they're very quiet. While sound level is a tough thing to measure since it's partially subjective, and varies based on the roads and vehicle you are using, these rank consistently very well. They're probably not the quietest tire you can get, but they'll certainly be an upgrade to whatever tires you're driving now.
Michelin Defender vs Michelin Premier
Another Michelin tire you may want to consider is the Michelin Defender. Note that the comparable Defender model to the Premier A/S is the Defender T & H – not the LTX. In general, we recommend the Premiers, but some folks may still opt for the opposite, and here's why.
There's a couple reasons why you'd possibly want to to consider the Defender. First, is price. The Defender's are often sold for a slightly lower price than the A/S, so if you're shopping on a budget, it's probably worth looking at the Defender.
The second reason to consider is the tread life. While the Premiers A/S have a warranty covering you for 60,000 miles, the Defender have a 80,000 miles warranty, as these tires were designed to last longer than their counterparts. You should expect the Premiers to last you around 80,000 miles, while the Defenders should give you past 100,000 miles, though this is largely dependent on how, how much, and where you drive.
However, despite the slightly more durable tread, the Defenders just don't quite have the same performance and handling as the Premiers. The Defenders don't provide the same grip in wetter situations as the Premiers do. They have a slight edge in snow, but you're not buying these tires for snow – or you shouldn't be. They're a little bit of a lighter tire so they don't handle or corner as well, and they're a little more noisy (due to the more durable tread). In our opinion, between the two, you'd probably regret going Defender.
How Much Driving Do You Do?
This question brings to light two important features of the tire – first, the noise and comfort which we addressed above, and the durability of the tires.
If you drive a lot, you want to be comfortable, not bouncing around from every dip in the road, and you want to be able to listen to stereo or your passengers, not the sound of the road. These are awesome tires for people who have long commutes as a result.
As far as durability goes, these tires rank exceptionally high, with a 60,000 mile warranty, and an expected tire life of up to 85,000 miles. Of course, your tires lasting that many miles is one thing, but maintaining the same performance with that many miles is another. But, with Michelin's EverGrip technology, the tires maintain their industry-leading performance regardless of their age and how worn the treads are. Remember, these tires were built to be durable with steel belts and higher levels of silica and sunflower oil.
You might see some people report much lower tread life online, but remember, the key to maintaining your tires is keeping them properly balanced. Plus, one can only imagine what other people are doing with their tires and how/where they are driving.
Overall, Premier A/S is an ecxellent tire especially for those who do a lot of driving, in rainy areas and on wet roads. They're also perfect for those that simply want the confidence that comes with the improved traction in these situations.
Did this review help you choose a set of Michelin tires for your vehicle? Do you own these tires already? Let us know your questions or comments below, we love hearing from our readers!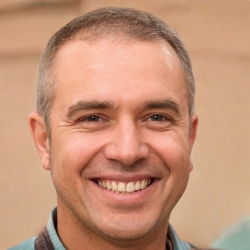 Latest posts by James Kennedy
(see all)