Pelican is a company best known for their high-end cases and hardware. If you've spent any time in the industrial world, you'll know first-hand how popular their products are. And, their coolers hold the same reputation.
Our Pelican Cooler Review – Every Model (2020)
They manufacture their cases using a process called "rotomolding." This process starts with a number of polymer beads. They are melted, placed into a centrifuge along with a cast, and hardened while being rotated at high speeds. This makes a material that is technically plastic, but significantly stronger than any plastic material you're used to using. Rotomolding has become one of the main identifiers of a high end ice chest, and Pelican is a rotomolding veteran. This thick insulation and design allows for superior ice retention – up to ten days. All that being said, Pelican Elite coolers are some of the best you can get, and they're not even the most expensive coolers either, that title belongs to YETI coolers.
There are a few features that all of Pelican coolers share: They boast an impressive 10 days of ice retention from their 2″ thick insulation and rotomolded design. In addition, the press & pull latches are unique to Pelican coolers, as they've avoided using the rubber T-latches like many other cooler manufacturers. The coolers have grippy, non-marking rubber feet that elevate the cooler to keep it cool, but also keep it from sliding around in the boat or truck. But, not all of their coolers are alike, as some have some unique features, and not all of them are best suited for certain uses. Oh – and did we mention the lifetime warranty that comes with every Pelican Elite Cooler? Let's dive into each Pelican Cooler Review to find you the right one.
Pelican Elite 20 qt Cooler

Weight: 12.5 lbs
Size: 19″ x 13″ x 18″
Capacity: 15 cans, 19lbs ice
Colors: White, grey, red, tan, green, blue, seafoam (pictured)
Pelican Elite 20 QT Review
The Pelican Elite 20qt cooler is the perfect cooler for people that want the build quality ice life of a Pelican, with portability and in a size suitable for day trips. It's perfect for a day on the boat or in the kayak, or even just relaxing at the beach. It's got molded in tie downs to secure to the kayak, and 4 cup holders molded into the lid. If you don't need more space than 15 cans (with ice) then this is the one for you.
Pelican Elite 30 qt Cooler
Weight: 22 lbs
Size: 25″ x 19″ x 19″
Capacity: 23 cans, 28lbs ice
Colors: White, grey, tan, green, red (pictured)
Pelican Elite 30 QT Review
The Pelican 30qt cooler is the next size up from their smallest 20qt. It adds 8 cans of capacity, but also 7lbs of weight. For us, it's not the most versatile size, but a lot of people opt for this Pelican cooler for kayaking and small fishing trips since it's got the same impressive ice performance in a compact size. It's also got a drain plug that's also tether for easy draining. After this it bumps up to 45qt with wheels, and 50qt without so that's why you'd opt for this one. We love the different colors available including the flashy red, though the best ice retention will come from a white cooler.
Pelican Elite 45 qt Cooler

Weight: 37 lbs
Size: 30″ x 20″ x 20″
Capacity: 34 cans, 42lbs ice
Colors: White, grey, tan
Pelican Elite 45 QT Review
This is in our opinion, the best cooler you can get the Pelican makes. 45qt is a size that is not too small, not too large, making it suitable for all occasions. They do make a 45qt without wheels, but we don't see the point. The extendable handle, never-flat wheels make it easy to get around, since these 2″ insulation rotomolded coolers get heavy, especially once they're filled with ice, drinks, food or fish. This Pelican cooler will hold ice for over a week, giving you amazing ice retention with portability and convenience.
Pelican Elite 50 qt Cooler
Weight: 26 lbs
Size: 30″ x 20″ x 20″
Capacity: 38 cans, 47lbs ice
Colors: White, grey, tan, light green, dark green, blue, red, real tree (pictured above)
Pelican Elite 50 QT Review
The Pelican Elite 50qt is actually the same size as the wheeled 45 quart, but they've saved on the space and weight the wheels take up – adding the 5 quarts of interior storage, and shedding a whopping 11 pounds. It's also a bit cheaper, so if you want this 45-50 size range and don't need the wheels, you can save with this cooler, both in money and weight. Expect the same kind of ice retention, as this Pelican cooler can keep ice more than a week! The sloped drain plug, that's tethered to the cooler, is one of those little design details you'll be praising.
Pelican Elite 70 qt Cooler
Weight: 33 lbs
Size: 36″ x 20″ x 21″
Capacity: 53 cans, 65lbs ice
Colors: White, grey, light green, forest green, red, tan
Pelican Elite 70 QT Review
It would be a toss up between the Pelican 70 and 50 as to which is their best seller. Many folks end up opting for the 70qt simply because the larger size is more versatile – it's always better to have extra space than not enough. This impressive cooler gives you 10 days of life, Pelican's durable build quality, but also a few other features like a a molded in bottle opener, a fish ruler on the lid, and a handy sloped drain plug, that has a tether. This is an awesome cooler for some many uses: fishing, hunting, camping, family events and even as a back-up fridge for short term outages. This is the ultimate versatile cooler.
Pelican Elite 80 qt Cooler
Weight: 50 lbs
Size: 43″ x 21″ x 20″
Capacity: 60 cans, 75lbs ice
Colors: White, tan, gray (pictured)
Pelican Elite 80 QT Review
This 80 qt cooler is Pelican's second largest cooler (the 150qt, not on the list is the only one bigger) but the biggest on the list, and the heaviest at a whopping 50lbs. The extra weight comes primarily from the never-flat wheels and extendable tow handle. We love this cooler since it's the biggest wheeled cooler on the market. It's got enough room for pretty much anything, but you don't need to lug it around in your arms, just tow it along. It's perfect for hunting and fishing, but you can also use it for anything else. Think of this like the 70qt cooler but with wheels, and an extra 10 quarts of internal capacity. You can't go wrong if you need this much storage.
Pelican Dayventure Backpack Cooler
Weight: 9 lbs
Size: 12″ x 7″ x 21″
Capacity: 6 cans in lower compartment, dry storage up top
Features: padded shoulder straps, wide roll top, double-coated durable 840D TPU exterior
Pelican Backpack Cooler Review
Next up: arguably the best backpack cooler you can buy in 2020. While there are a few other attempts at these by other brands, they just don't compare. This is actually just a super water-resistant and durable backpack, with a 6-can capacity cooler compartment at the bottom. It's so great for hikes, fishing, the beach and more. Leak-resistant zipper, ultra durable exterior, and comfy shoulders traps, what more can you ask for?
Pelican Dayventure Sling Cooler
Weight: 8 lbs
Size: 18″ x 5.7″ x 7.5″
Capacity: 12 cans + ice, or 4 wine bottles
Features: padded shoulder strap, wide opening, double-coated durable 840D TPU exterior, side pocket
Pelican Sling Cooler Review
The Dayventure Sling Cooler is Pelican's ultra portable soft-sided cooler. Some other brands have tried to make this sling-style cooler, and failed. This thing is tough, durable, portable and comfortable. It's got a good amount of storage without sacrificing size and weight. It's awesome for so many uses: the beach, surfing, scuba, hikes, fishing or even just groceries. We love this thing, and it's at a great low price too.
Pelican Coolers vs Yeti Coolers
This is a common debate many of our readers face: Pelican vs YETI. Here's how to decide. Any YETI cooler is a great cooler, don't get us wrong, but vs Pelican? They don't quite compare.
Pelican coolers vs YETI coolers actually hold ice up to 10 days, and in head to head tests, Pelican coolers always out perform vs YETI coolers. The YETI Tundra, the rotomolded cooler they manufacture does have some nice features – like rope handles vs Pelican plastic handles – but they're heavier and don't hold ice as long. You know those rubber latches that a YETI Tundra has? The YETI latches wear out over time vs Pelican coolers latches, which are durable and easier to use.
YETI coolers also don't come with a great warranty, vs Pelican, which come with a life long warranty. Price-wise, Pelican also wins as being a more affordable option. In most cases of Pelican vs YETI coolers, we opt for Pelican coolers.
Other Cooler Reviews
Pelican came up as one of our top models in our cooler reviews roundup, where we compared different cooler reviews to see which one was best for each purpose. Check it out if you want to see more alternatives to this brand.
Options & Sizing
Pelican has several coolers available that range in size from 20 quarts all the way up to 150 quarts. Pelican calls these the Elite series. Although there are some differences between them, many of these coolers have features that are identical between them. We'll go in-depth and explore the main selling points of these coolers, but first we'll take a look and see what options are available.
Looking at the above list, it's clear that Pelican favors the larger coolers. While the 20 quart model is great or carting your beer on the next fishing trip, the majority of the models are on the larger size. Considering their intended purpose, this makes sense. Since they are good for upwards of 7 days, it would make sense that they can hold quite a lot of food.
Insulation & Ice Retention
If you're considering a roto molded cooler, it's obvious that you're looking to keep your food for quite a long time. The main advantage of this standard is that manufacturers can mold the plastic around the insulation. All of these coolers use high density foam that is 2" thick. This has the highest R value of any insulation available, so these 2" really go pretty far. Due to the way the coolers are sealed, the R-value (a measure of how well insulated it is) goes beyond most homes.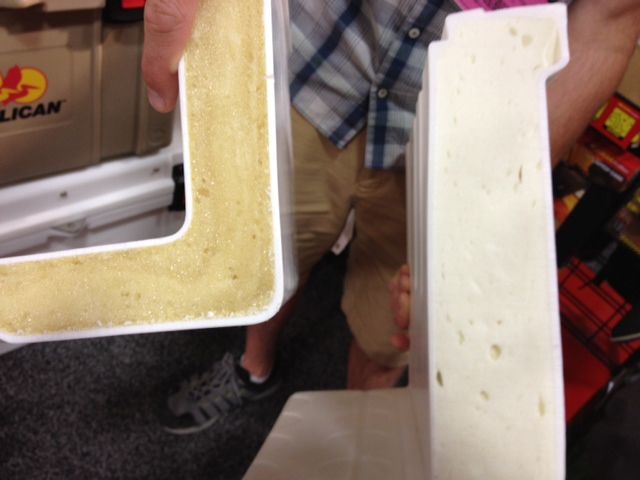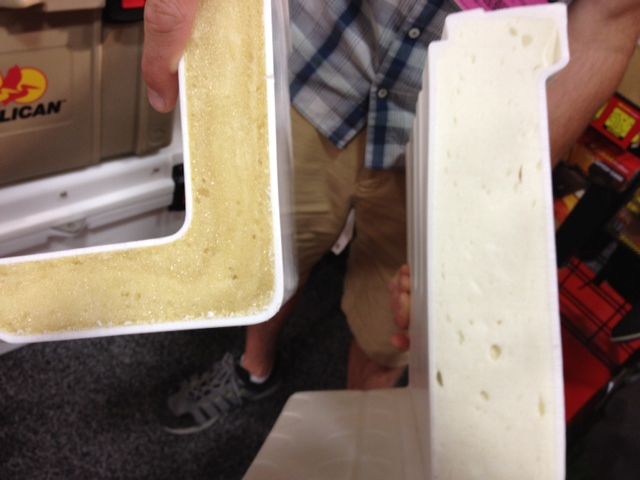 When you look at the 10-day ice retention rating, you might not be immediately impressed. A lot of vendors throw this number around. But as you've probably learned, not many coolers can live up to this rating. In our tests, our food lasted 9 days, even with us going in and out of the ice box occasionally. The high end insulation definitely plays a role in this, but Pelican isn't the only manufacturer to use this type. What makes this cooler exceed the performance of many others comes from a few additional features that are often overlooked.
The drain is a major part of this. When you have ice sitting in a bath of water, it m
elts much more quickly. In order to make your ice last a long time, it's essential that the melted water is removed as quickly as possible. Every cooler has a drain built in, but Pelican is one of the few to include a sloped drain. This means that it's recessed into the bottom of the cooler. You're not going to have a puddle of standing water at the bottom. Every drop is pulled away from your cooler, and out through the spigot.
Another feature that Pelican has is a large rubber o-ring that runs around the top of the cooler. When closed, the O-ring is heavily compressed into the sealing ridge, making it completely water tight. If it fell overboard, it would float. This is the same technology used in their waterproof cases, and really improves the ice retention by a few days.
Handles
These aren't the lightest on the market, but that's not such a big deal. With a fully loaded cooler, the actual weight comes from the contents, not the construction. That being said, if you've ever been responsible for lugging 5 days of food into your camp side, you know just how important it is to have a solid set of handles that are not only high quality, but easy to carry.
Pelican gives you three options. Their smallest cooler, the 20 quart model, has just a single overhead handle. This is nothing special, but for the size it's totally adequate.
As you move up in size things start to get a little fancier. The lower-mid range models have a single bar handle. These handles are very thick and easy to grip, and stick out a bit from the walls of the cooler. This makes it easy to get your entire hands in there, and carry it comfortably in front of you.
Our personal favorite is the dual handle system. These are found in most of the larger
coolers. You still get the single solid handle, but there is a molded swinging handle attached to it. These handles flip up to sit well above the lid, which is great to have if you're sharing the weight with somebody. They don't flop around on the solid handle, making it quite a bit more comfortable to carry, even on your own.
Durability
This is one of the areas that the Pelican stands out the most. The coolers are incredibly durable, much more so than most coolers we've tested. The first thing you'll notice is the latches. These latches are nearly identical to the ones used on their military grade cases. What you get is a large black lever with a small red insert. At first, you might thing that the red part is simply a button to open the latches. In fact, this is the latch itself. The black part is just a lever that helps you actuate them. Most other cooler brands have rubber latches, but we prefer these as they're much more easy to use.
These latches close VERY tightly. You wouldn't be able to close them on your own. Instead, you move the large black part. When pushing down, it acts as a lever to force the tight latch closed. When you're using this lever, you're actually quadrupling the force that's being applied. The end result is that the construction is rock solid, but still not very hard to open. These latches are sold as being bear proof, but we don't suspect that this would be an issue. Due to the larger rubber gasket, no air can escape. So wildlife shouldn't attracted to the cooler in the first place. The coolers become bear proof only once they are locked with a padlock in the corner of the lid. But, the thick walls, and freezer gasket that produces an airtight seal does contribute to the bear proof qualities as well.
Although most of the cooler is made from the same durable rotomolded plastic as the rest, there are a few components such as the internal parts of the latch and screws that cannot be made from this. The Elite line uses only stainless steel, so you don't have to worry about it rusting out.
For added assurance, the company gives you a lifetime guarantee. If you bring them a broken unit, they'll replace it free of charge. This is anything but a disposable product. Once you've bought it, it will last you a lifetime.
Features
There are a few key features that separate the Pelican from other coolers on the market. We mentioned that the drain is incredibly effective at pulling water from the bottom of the case. The thing is, you might not want this water to just pool up wherever you put it down. The spigot on the outside of the unit is fitted with the same connection as your typical garden hose uses. This allows you to screw a hose onto the end, and drain the water wherever you see fit.
You're also given a number of different color of ice chest to choose from. Most of them are somewhat muted, and almost military in appearance. This is most obvious with the tan, green, and brown colors, all of which would fit right at home in a camo-themed camp. But there are a few vibrant colors, such as seafoam and red available.
The last notable feature on this model is the pad lock section. You can install a lock on the front of the cooler. This is great if you're trying to protect your beer at a music festival, or just prevent hungry campers from dipping into your supply.
Lifetime Warranty
Pelican Elite coolers all come backed by a lifetime warranty. There's a small amount of fine print – basically, if you've used or abused your Pelican Cooler out of the norm and the defect or damage isn't due to the manufacturing. But regardless, a lifetime warranty isn't something you see with all cooler brands these days. Another reason Pelican coolers are such a great choice.
Final Verdict
There is no doubt in our mind that the Pelican coolers are some of the most durable ones on the market. While rotomolded coolers are fairly new, this company has been using this manufacturing technique since the 70s. Their experience has taught them what works and what doesn't, and this is obvious in the design of the cooler. It feels well thought out, and works much better than you'd expect.
These are not the cheapest coolers on the market, nor are they the most popular. But we consider these coolers to be a bit of a hidden gem. If you're looking for the best, then this is the way to go.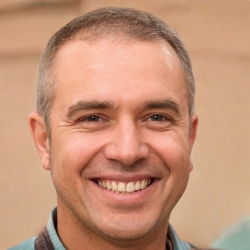 Latest posts by James Kennedy
(see all)