Pelican Coolers
Pelican is a company best known for their high-end cases and hardware. If you've spent any time in the industrial world, you'll know firsthand how popular their products are. Part of this has to do with their sales pitch. In their promotional video, they take a stock Pelican case and load it with a delicate vase. What happens next? See for yourself.
Sure, the video is a little dated. But not much has changed. This technology, at the time, was revolutionary. They manufacture their cases using a process called "rotomolding." This process starts with a number of polymer beads. They are melted, placed into a centrifuge along with a cast, and hardened while being rotated at high speeds. This makes a material that is technically plastic, but significantly stronger than any plastic material you're used to using. Rotomolding has become one of the main identifiers of a high end ice box, and Pelican is a rotomolding veteran. That being said, Pelican coolers sell for a premium. And they are certainly not the only company making them.
So, how do they perform in the real world? Are these premium units worth the money? Let's find out.
Options & Sizing

Pelican has several coolers available that range in size from 20 quarts all the way up to 250 quarts. Pelican calls these the Elite series. Although there are some differences between them, many of these coolers have features that are identical between them. We'll go in-depth and explore the main selling points of these coolers, but first we'll take a look and see what options are available.
Looking at the above list, it's clear that Pelican favors the larger coolers. While the 20 quart model is great or carting your beer on the next fishing trip, the majority of the models are on the larger size. Considering their intended purpose, this makes sense. Since they are good for upwards of 7 days, it would make sense that they can hold quite a lot of food.
Insulation & Ice Retention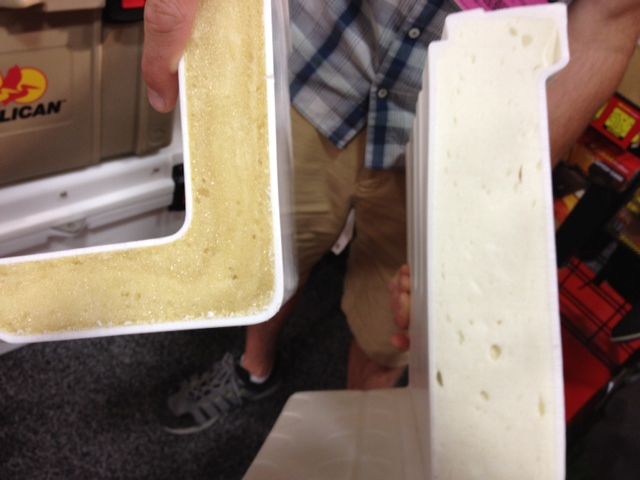 If you're considering a roto molded cooler, it's obvious that you're looking to keep your food for quite a long time. The main advantage of this standard is that manufacturers can mold the plastic around the insulation. All of these coolers use high density foam that is 2" thick. This has the highest R value of any insulation available, so these 2" really go pretty far. Due to the way the coolers are sealed, the R-value (a measure of how well insulated it is) goes beyond most homes.
When you look at the 10-day ice retention rating, you might not be immediately impressed. A lot of vendors throw this number around. But as you've probably learned, not many coolers can live up to this rating. In our tests, our food lasted 9 days, even with us going in and out of the ice box occasionally. The high end insulation definitely plays a role in this, but Pelican isn't the only manufacturer to use this type. What makes this cooler exceed the performance of many others comes from a few additional features that are often overlooked.
The drain is a major part of this. When you have ice sitting in a bath of water, it m
elts much more quickly. In order to make your ice last a long time, it's essential that the melted water is removed as quickly as possible. Every cooler has a drain built in, but Pelican is one of the few to include a sloped drain. This means that it's recessed into the bottom of the cooler. You're not going to have a puddle of standing water at the bottom. Every drop is pulled away from your cooler, and out through the spigot.
Another feature that Pelican has is a large rubber o-ring that runs around the top of the cooler. When closed, the O-ring is heavily compressed into the sealing ridge, making it completely water tight. If it fell overboard, it would float. This is the same technology used in their waterproof cases, and really improves the ice retention by a few days.
Handles
These aren't the lightest on the market, but that's not such a big deal. With a fully loaded cooler, the actual weight comes from the contents, not the construction. That being said, if you've ever been responsible for lugging 5 days of food into your camp side, you know just how important it is to have a solid set of handles that are not only high quality, but easy to carry.
Pelican gives you three options. Their smallest cooler, the 20 quart model, has just a single overhead handle. This is nothing special, but for the size it's totally adequate.
As you move up in size things start to get a little fancier. The lower-mid range models have a single bar handle. These handles are very thick and easy to grip, and stick out a bit from the walls of the cooler. This makes it easy to get your entire hands in there, and carry it comfortably in front of you.
Our personal favorite is the dual handle system. These are found in most of the larger
coolers. You still get the single solid handle, but there is a molded swinging handle attached to it. These handles flip up to sit well above the lid, which is great to have if you're sharing the weight with somebody. They don't flop around on the solid handle, making it quite a bit more comfortable to carry, even on your own.
Durability
This is one of the areas that the Pelican stands out the most. The coolers are incredibly durable, much more so than most coolers we've tested. The first thing you'll notice is the latches. These latches are nearly identical to the ones used on their military grade cases. What you get is a large black lever with a small red insert. At first, you might thing that the red part is simply a button to open the latches. In fact, this is the latch itself. The black part is just a lever that helps you actuate them.
These latches close VERY tightly. You wouldn't be able to close them on your own. Instead, you move the large black part. When pushing down, it acts as a lever to force the tight latch closed. When you're using this lever, you're actually quadrupling the force that's being applied. The end result is that the construction is rock solid, but still not very hard to open. These latches are sold as being bear proof, but we don't suspect that this would be an issue. Due to the larger rubber gasket, no air can escape. So wildlife shouldn't attracted to the cooler in the first place.
Although most of the cooler is made from the same durable rotomolded plastic as the rest, there are a few components such as the internal parts of the latch and screws that cannot be made from this. The Elite line uses only stainless steel, so you don't have to worry about it rusting out.
For added assurance, the company gives you a lifetime guarantee. If you bring them a broken unit, they'll replace it free of charge. This is anything but a disposable product. Once you've bought it, it will last you a lifetime.
Features
There are a few key features that separate the Pelican from other coolers on the market. We mentioned that the drain is incredibly effective at pulling water from the bottom of the case. The thing is, you might not want this water to just pool up wherever you put it down. The spigot on the outside of the unit is fitted with the same connection as your typical garden hose uses. This allows you to screw a hose onto the end, and drain the water wherever you see fit.
You're also given a number of different colors to choose from. Most of them are somewhat muted, and almost military in appearance. This is most obvious with the tan, green, and brown colors, all of which would fit right at home in a camo-themed camp. But there are a few vibrant colors, such as teal and red available.
The last notable feature on this model is the pad lock section. You can install a lock on the front of the cooler. This is great if you're trying to protect your beer at a music festival, or just prevent hungry campers from dipping into your supply.
How it Compares to The Best Coolers
While pelican has a lot going for it, it's certainly not the only option on the market. Check out our guide to the Best Coolers 2018 to see how pelican stacks up against the competition.
Final Verdict
There is no doubt in our mind that the Pelican coolers are some of the most durable ones on the market. While rotomolded coolers are fairly new, this company has been using this manufacturing technique since the 70s. Their experience has taught them what works and what doesn't, and this is obvious in the design of the cooler. It feels well thought out, and works much better than you'd expect.
These are not the cheapest coolers on the market, nor are they the most popular. But we consider these coolers to be a bit of a hidden gem. If you're looking for the best, then this is the way to go.