RTIC Coolers: A Viable Alternative to Expensive YETIs?

With summer right around the corner, you are going to need a cooler that actually works. If you're anything like us, you've been using the same, old icebox for years. Maybe it was even your parents and now you're using it – who knows. Point is, while the technology in coolers is fairly basic, it's also been improved on dramatically over the years. Chances are, you don't know what you're missing out on. One of the latest brands you'll be seeing around the parks and beaches is RTIC. Reviews in online forums and on Amazon are very positive, but how do these coolers really perform? We did the research for you, so read on to find out if you need to stock your garage with one this summer.
This article ranks the best RTIC coolers you can buy – if you want to see how RTIC and YETI compare, check out this article.
Quick Summary: RTIC Coolers
We wanted to start this article with a quick rundown of the four different models of RTIC coolers you can buy to help visualize what we are actually talking about as we dissect the materials, features, performance and pricing further down in this article.
Quick Look: RTIC 20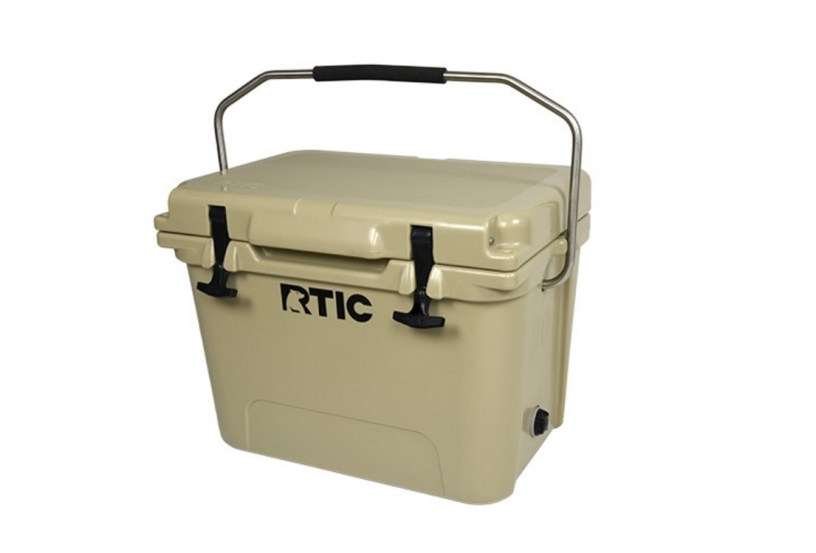 The 20 quart size is great for small day trips, enough to pack in lunch and snacks for the family, although to also fit all your drinks in there may be a bit of a struggle. There is a small stainless steel handle with a rubber hand hold to make carrying the container much easier. It weighs 17.5 lbs when empty. Due to the size of the other coolers they do not have a similar handle, only the handles on the side.
Quick Look: RTIC 45
The 45 quart model is by far the most popular, since it is the most versatile. It's large enough for most uses: lunch and drinks, Thanksgiving leftovers, drink bin at a party or tailgating etc. But, it's still a manageable size to tote around to the beach, park or camping. Unfortunately, neither the 45 nor the 65 have wheels, so you either have to carry or (hopefully not) drag the cooler around. Keep that in mind!
Quick Look: RTIC 65
Not everyone will opt for the 65 quart size, simply because it's much larger than most folks will have need for. That being said, if you've got the need for lots of storage it's a great ice chest. Just keep in mind you have to carry it around and fit it in your vehicle! Typically this size is purchased by hunters, fishers and other such folks who really need all the space.
Quick Look: RTIC SoftPak
RTIC coolers also recently moved away from strictly roto-molded versions into a smaller "soft" model. It doesn't have quite the same performance as its roto-molded cousin, but the 2″ foam insulation does an impressive job of keeping out heat, and keeping in the cold. The no-leak zipper is a great feature and combined with the durable nylon exterior will make sure it lasts you a long time. There are three sizes available, the SoftPak 20, 30 (pictured) and 40. When you take into account the foam on the inside you see they're a little on the smaller side but we still definitely recommend it for drinks, day trips, lunches, or even as a carry-on!
Quality of Manufacturing & Materials
These ice chests are manufactured using a process called rotational molding by which a hot, hollow mold is filled with molten plastic, while simultaneously rotating the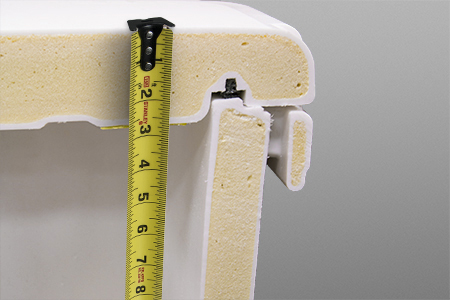 mold. The plastic cools while rotating, and as you add more molten plastic, you can produce thick, uniform walls with no seals. In the case of this type of icebox, the melted plastic is poured over thick foam insulation, encompassing the foam without any seals.
The resulting "roto-molded cooler" has no seals by which heat can seep into, or that wear and tear can expose the insulation. For boats and other marine environments, the seals can be damaged more easily as water can seep into the seals, ruining the insulation and damaging the cooler, making these coolers ideal for boating and other marine our outdoor environments. The thick (up to 3″ thick), sealed walls make the coolers virtually indestructible. Roto-molding is a more expensive process, making RTIC coolers a little more expensive than cheaper brands like Coleman. That being said, you'll save money on ice, the cooler will last you ages, and you're paying for something that actually works.
Pro Tip: Pre-Cooling
The insulation in these containers is extremely thick, and traps heat/cold very effectively. However, that can work against you. If your cooler is left in a warm space while not using it, it will absorb that warm ambient heat. Then, when you put your ice in, it will melt faster than usual because of the higher heat of the insulation. Try and store your cooler in a cool space (in a perfect world, a chest freezer), or if that's not possible, try this tip: By putting ice into the cooler a few hours before you are using it, you can cool down the insulation of the cooler, allowing your goods to stay cooler longer. Drain out any water that was produced from this ice and you're good to go!
Design Features

Not only are RTIC coolers built like tanks, but they have some nifty features included that make them perfect companions for whatever activity you're getting out and doing. Here is a quick short list of a few of our favorite features.
The lid and body are molded so that the two front corners have a small hole which can be secured with a padlock, keeping your goods safe and secure from other people, or animals. They can also be used as tie-downs.
The heavy duty rubber gasket mounted inside the lid produces a tight seal, keeping in the cold more effectively than other, cheaper coolers. It also acts to prevent food odors while camping resisting attracting any wildlife.
The latching system is composed of two, T-shaped rubber latches that snap in tightly, making it easy to open and close, while still producing a firm marriage.
The non-slip feet help secure the cooler to whatever surface it is on, and the slight lift prevents ambient heat from the ground or floor from heating up the insulation.
A drain spout is mounted to the side, allowing easy draining of excess water that is produced. The spout is threaded and screws in and out if you ever want to completely remove it.
Some of these features are also found in Yeti coolers, RTICs main competitor. We compared the two in this comparison.

Did You Know?
The water that is produced from melting ice actually helps keep your contents colder? The water fills the spaces between the ice that air was previously occupying. This cold water is a better insulator than air, which helps keep the inside of the cooler cold, and your ice lasting longer. Too much water will cause your ice to melt faster though, so make sure you drain the excess!
Performance
How do these RTIC coolers really perform? The company claims that you can keep ice frozen up to 10 days.. Which seems ridiculous. However, with perfect conditions, we could see you getting that long. By perfect conditions, we mean the cooler has been perfectly pre-cooled, the ice is filled with ice and a bit of water, and you don't open the cooler for the entire 10 days. Then, sure we could see 10 days.

Although "real" day-to-day use of these iceboxes may not get you more than a week of frozen ice, the performance is still very impressive. Every person's results will differ slightly, since how long your ice will last is dependent on various factors such as:
– Did you use a "sacrificial bag of ice" to pre-cool the insulation?
– How much ice did you start with
– What type of ice are you using (small cubes or large blocks)
– What temperature it is where you use the cooler
– How often you are opening and closing the lid
Despite all the varying factors, we would expect you to get at minimum 3 days of solid use with ice still left over. That estimate is based on you going in and out of the cooler a few times a day, and having it being in a fairly warm environment. Any of the sizes will definitely have you covered for a weekend camping trip.
This consumer test showed that you can get 5 full days of use and still have ice leftover, if you just throw the ice in and leave it. He only opened the lid once a day, but he did not use a sacrificial bag of ice, so that would also extend the performance of the coolers.Overall, they hold ice extremely effectively.

Options Available
RTICs are easily recognizable by their distinct light brown colour, although they are also available in white. Functionally, there is no difference between the colours, although it will be easier to keep the brown chests clean and not notice scuffs as easily.
There are three sizes of these ice chest available, in 20, 45 and 60 quart capacity models.

Negatives
Despite the impressive performance of these RTIC coolers, there are a few drawbacks. The biggest pitfall being that the coolers lack wheels. The RTIC 45 and 60 are big, honking containers, and when filled with ice, sodas, beers, fish or
whatever else you're packing, they can be a pain to haul around. The 20-quart model is great because it has the top handle, and it's easy to tote around. But the other two are too big and heavy for that. For many folks, carrying around the cooler shouldn't be an issue, but keep in mind you are going to have to carry the weight – or drag it if you can't lift it.
For some, the fact that the lids don't stay propped open when you flip the lid open, could be a negative. In our eyes though, it's good thing since you can't accidentally leave the cooler open, allowing your ice to melt and goods tow arm up.
The only other negative that we can find, is the RTIC warranty policy. They have a 30-day no questions asked return policy, which is honestly pretty good. But after 30 days, their policy is a little bit confusing. After 30 days, non-warranty returns must be un-used and in new condition. However, they don't include details on their website about what actually constitutes a warranty return and how to tell if you are eligible for it. Plus you need to pay the shipping.

That being said, you should be able to till within the first couple weeks if something is wrong with the cooler for whatever reason (shipping, manufacturing error etc.), and get the issue sorted out under the 30-day warranty.
Some folks have had issues with
receiving their RTIC coolers with scratches, dings or dirtiness. Almost every case we've seen the issues are purely cosmetic and don't affect the actual functioning of the cooler, but you should inspect the cooler to make sure it's good to go, and see if you need to get the cooler replaced with the warranty.
Besides these minor issues, these things are rock solid and we don't foresee you having any issues.
Well, Is This the Best Cooler for You?
At the end of the day, RTIC coolers are great a buy. The roto-molded design is heavy-duty and will resist drops, cracks and breaks. The thick insulated walls are extremely effective at keeping ice cold solid, and whatever else you are storing in there as well. There are also some awesome features like the rubber lid gasket, the lockable corners and the non-stick feet that make it a great companion for camping, fishing or hunting trips. The warranty isn't great, and you will want to make sure you inspect it for any damage before the 30-day return window is done. Overall, you should be very happy with your new cooler. To see some more great options, check out this article!