Due to the rising popularity of rotomolding – a manufacturing technology that processses incredibly efficient coolers, the marketplace has a number of new kids on the block. For consumers, this means that finding one that is both affordable and efficient can be quite a challenge. We've been testing all of the most popular models on the market, helping you to decide which one is right for you.
Our K2 Cooler Review (2020 Update)
Today, we'll be taking a look at K2 coolers. This company was founded in 2011, and produces American made hardware that goes above and beyond competing products. Let's go hands-on in this K2 cooler review and see how their models stack up against the competition.
Available Size & Color Options
While all of the Summit series coolers feature the same high-grade construction, the main difference between models is the internal dimensions. The coolers are sized in quarts, but it's important to note that these measurements are for the external dimensions. This is in line with vendors like K2 coolers, but there are a few brands (such as pelican) that size their coolers based on the actual internal dimensions.
Recently, the company has adjusted their offerings, so often it's hard to find certain sizes. Here's a quick look at the models of K2 coolers you can buy today. We'll get in depth on every detail of these coolers further down.
K2 Summit 20qt Cooler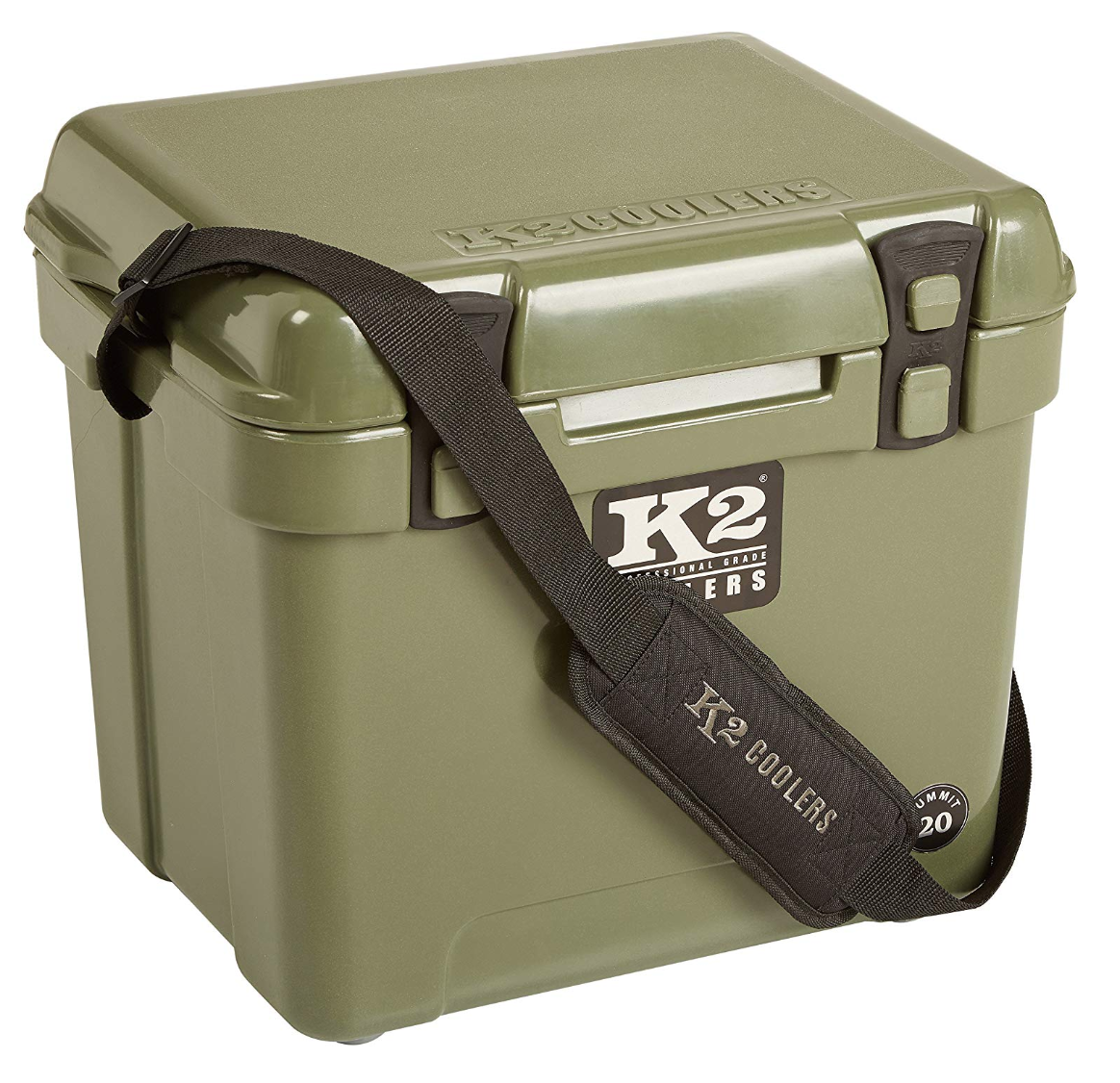 Available in grey, white, green (pictured)

Sometimes can find sandstone and limited purple/yellow

The Summit 20 is K2's smallest cooler, most portable option
Comfortable padded shoulder strap other brands' 20qt coolers don't have
Durable, well made rotomolded construction
3-5 days of ice retention
The K2 Summit 20 cooler is K2's smallest that they make. It's great for day trips, fly fishing, going to the beach or park, or holding lunch or drinks for one or two. Because of the small size, you can't fit as much ice, and therefore the ice doesn't last as long. But, it's too small to fit enough for more than a day or two anyways. It doesn't have the same stainless steel or aluminum handle you see in other brands' 20qt coolers, but instead has the padded shoulders strap. It's really personal preference to which you prefer. Otherwise, the Summit 20 is a great affordable rotomolded cooler in the 20qt category.
K2 Summit 30 Wheeled Cooler
K2's wheeled cooler (wheels on corners in back of cooler)
Available in green, white, gray (pictured)
Extendable handle for towing
Quality manufacturing, materials
5-7 days of ice retention
The K2 Summit 30 wheeled cooler is K2's entrance into the wheeled cooler market. Because these rotomolded coolers get heavy once they're filled up with ice, food and drinks, having wheels makes it easy to get around. 30qt isn't the biggest cooler you can get, so although the thick insulation gives you great ice life, you may not need it. You can expect 5+ days of ice, but because it's only 30qt you'd have to pack pretty light to last you that long. It's an awesome cooler for groceries, the beach and the park, since the wheels will rip through grass and sand and you still have a hand free while one tows the cooler with the extendable handle. This is an awesome wheeled cooler at an awesome price.
K2 Summit Cooler:
30qt, 50qt, 60qt, 70qt, 90qt,
Several sizes of Summit coolers available (30qt, 50qt 60qt and 70qt pictured above)
Several colors available
Durable, rugged design
Quality rubber components, rope handles
3″ thick insulation
All the features you expect from a rotomolded cooler
7-10 days of ice retention
7 Year warranty
Affordable rotomolded coolers
We've lumped all of the Summit Coolers together – aside from the 20qt with its unique shoulder strap – for you to review. As the coolers get larger, they get heavier, but otherwise, the coolers are all identical. They've got the same durable and rugged rotomolded design, with 2″ thick insulation you expect from a premium cooler today. You can expect great ice retention, though maybe not excellent. We find most other brands typically slightly outperform, but you'll still get ice for 5-10 days. We've given such a wide range because that's really what you get, it just depends so much on the various factors at play. Size-wise, there's a few options. The 60 or 70qt are the most versatile size, as often with a 30qt or 50qt you will find yourself wishing you had more space for more than a day trip. Just keep in mind the 70qt is pretty heavy. The 90qt is a great consideration for people using it for fishing or hunting. The big draw to K2 coolers is the 7 year warranty, one of the longer ones you can get, as well as the more affordable price range. You also get to support a smaller made in USA company.
About the Company
K2 was founded in Louisiana in 2011. With the founders being based in an outdoors metropolis, it's easy to identify with them. Their business process is simple. Their products were designed by the very people that use them. While they are one of many companies using the same styles of insulation and manufacturing, the knowledge of the founders can be found through the unique design of the cooler. Simple things like the way they are carried, or how the latches work highlight the company's knowledge and experience in this industry.
Although their Summit Series coolers were designed in the USA and use a manufacturing process nearly identical to K2, they are manufactured in Thailand. This allows them to be sold at a much lower price than the top tier brands. But how do they perform? Let's go hands-on to find out.
Durability & Construction

The Summit series coolers are incredibly well made. They feel solid in the hand, and it's clearly evident that they can withstand a lot of use and abuse. At the core of the coolers is 3 inches of insulation, which goes all the way around your food. This insulation is protected with a layer of extremely durable plastic through a process called Rotomolding.
If you've done any research into high end coolers, you've surely heard of rotomolding before. Every high-end manufacturer uses it – and for good reason. This process starts with polymer beads. Instead of melting them and injecting the plastic to form, it's melted at a low temperature. It doesn't become completely liquid, but still malleable. The plastic is then rotated at high speed around the insulation, forcing it to conform to the shape.
The purpose? Strength. When plastic is melted at high temperature, it loses all of its tensile strength. But at low temperature, it is maintained. The end result is something significantly more durable than you'll find in your everyday, run-of-the-mill cooler. Thanks to this high-end process, K2 coolers are in a class of their own.
One thing you'll notice is that K2 has a ton of trademarked technologies – basically every component, from the lid gasket to drain plug has a trademarked name associated with it. We're not really sure if it's necessary, but I guess it's nice to know that the company has put the effort into protecting their intellectual property.
Insulation
With 3 inches of insulation on all sides except the bottom (which is 2 inches,) your ice will last much longer than your typical model. It's rated at 10-day ice retention, which is common among manufacturers. That being said, this rating is a bit of an extreme example. If you take a block of ice (most people use cubes) and leave it inside without opening the lid, then yes, it may last 10 days. But for most users, you'll be using cubed ice and opening the cooler from time to time.
We attempted to replicate this in our tests. We stored several bags of ice, along with a number of common food products. We opened the cooler several times per day to pull things out and put them back in. The end result? Our ice lasted 7 days. This is right in line with ice tests of other high end models, demonstrating that K2 is competitive.
All the Features of K2 Coolers
Although K2 coolers are some of the most affordable coolers you can get, they're packed with feature, giving you real value, not just real savings. They pass the ice tests, now let's see how their features stack up.
"EASYHaul" Handles
You can have the greatest cooler in the world, but if you struggle to haul it to your campsite, then you'll likely be disappointed. With so much focus on how long the coolers keep your food cold, it's easy for budget minded vendors to skimp on these components. We were happy to learn that the handles meet, and in some cases, exceed the standard set by the top brands.
There are two different styles available. The EASYhaul handles are your standard side-mounted rope handles. We much prefer this style over the hard-plastic type. Rope handles are flexible, and adapt to your carrying style. But K2 included some molded grips that fit the shape of your hand, making them easy to carry around.
If you purchased a smaller cooler, the Summit 20 or you're looking to carry the empty one back from your trip, you'll want to take advantage of the shoulder strap. As long as your food is light enough, this is by far the easiest way to carry it. Just sling it over your shoulder like the backpack you left at home, and enjoy the fact that your hands are free for other things.
While the latches play an obvious role in the functionality of the ice box, the seal is often overlooked. Having an air tight seal means that your food is essentially bear proofed, as wildlife won't be able to pick up the scent of any food stored inside. An air tight seal also plays a major role in maintaining the longevity of your food inside, so it's essential.
Latches & Seal
The manufacturer uses a large flexible rubber gasket that mates with an equally sized groove in the cooler. It is slightly compressed, which is what causes it to be air tight. This also means that the cooler will float if it is accidentally tossed in the water – something you'll be happy for on your next fishing trip.
The biggest issue we've found with affordable coolers is that the rubber latches don't clamp down tight enough to seal the gasket. Fortunately, K2 uses their Positrac latches that clamp down hard on the gasket. These Positrac latches are another one of those trademarked features we mentioned earlier. In our honest opinion, they're really not that unique, but at least in both of these areas, we have no complaints regarding K2s durability.
The lid is attached to the cooler with the ENDURA integrated hinge. It's pretty standard among rotomolded coolers to have a hinge like this, with a stainless steel road that runs full length, giving you stability and durability. K2 coolers don't skimp in this regard, and the lid closes firmly and snugly keeping everything real cold and giving you maximum ice retention.
Rubber Feet
Yet another trademarked feature, their SUREgrip rubber feet. These have two functions. First, they are great at providing non-slip contact with surfaces. So, if your K2 coolers are in the truck or boat, they won't be sliding around. This can also be kind of annoying they grip so well though! The second function the rubber feet perform is to lift the cooler off the ground, so the heat from the ground or surface doesn't heat the body of the cooler up, giving you better ice retention. These are made from a much more solid material than the gasket and the latches. This alone really speaks to the care that these units were crafted with. It's easy for manufacturers to whip out some simple components like these using material they already have on hand, but this new material is much better. It's incredibly solid, and prevents the cooler from sliding around on a hard or slick surface.
"Torrent" Drain Plug
Another important addition is the drain. Ice that is sitting in standing water melts much faster than ice that is dry. The drain plug is very large, and is fed by several channels embedded into the base of the cooler. This allows the water to drain out very effectively, which is one of the stand out features when compared with cheaper options. The best part is that you can start draining with just a partial turn of the spout, so you don't have to remove it completely. A partial turn is all you need.
Anchor Points
Finally, we noticed that some anchor points are included. These allow you to strap it to the box of your truck (or even the roof of your car) using standard tie downs. This prevents it from flying off during travel, which is an essential feature. Sure, it's not required to have these – you can still strap it down directly. But you wouldn't believe how much easier this makes securing it.
The Best Cooler Reviews
Although this is one of our top choices, there are plenty more options out there. Check out our guide to selecting the best cooler if you want to learn more about your other options.
K2 Coolers vs YETI
YETI coolers are often used as the standard by which all other rotomolded coolers are compared. And, for good reason. They're one of the best coolers you can get, though they are the most expensive. If you're considering YETI vs K2, you should know that in general we typically recommend YETI, (or RTIC, ORCA or Pelican) unless you're on a tight budget. YETI coolers (and those other brands) just have better quality components, better ice retention, and better warranties. But, K2 coolers have the upper hand in price in most situations.
Where Can you Buy K2 Coolers?
K2 coolers are available directly from their website, but we often steer people towards Amazon, since you can get free shipping with an Amazon Prime free trial.
Final Verdict of our K2 Cooler Review
The K2 Cooler is an affordably priced option with many of the same great features of higher end models. Despite the lower price, they still have many other features that we look for in a high end cooler, giving you real performance and real value.
The build quality of K2 coolers is great, and the well made drain and other components allows your ice to stay frozen for up to a week. If you're on the hunt for an affordable alternative to pricier brands, a K2 Cooler is a great option. You can also check out more customer reviews if you'd like to see what other folks are saying.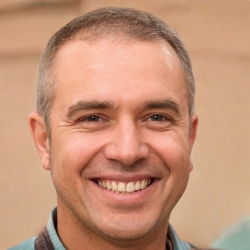 Latest posts by James Kennedy
(see all)