Igloo coolers have been around for ages. You may even have one in your garage that you use often. But with all the progress that has been made with cooler technology these days, you may not realize what you're missing. Roto-molded coolers like YETI and Pelican are starting to take over because they can offer such impressive ice life – up to 7 days. The older Igloo coolers might not compete, but Igloo hasn't just been sleeping. Igloo coolers have stepped up their game and now offer roto-molded models of their own. Here's how to find the best igloo cooler for your needs.
Choosing The Best Igloo Cooler of 2020
So, are there Igloo coolers that can hold their own in the roto-molded movement? We took a shortlist of Igloo coolers best sellers, both classic styles and their newer roto-molded chests, and rigorously reviewed them to see which Igloo coolers are actually worth your money.
1. Igloo Trailmate Journey:
All-Around Best Igloo Cooler
The Igloo Trailmate Journey is our top pick for the best igloo cooler. The amount of features it has is almost limitless, none more useful than the never-flay wheels. You can't go wrong with this cooler.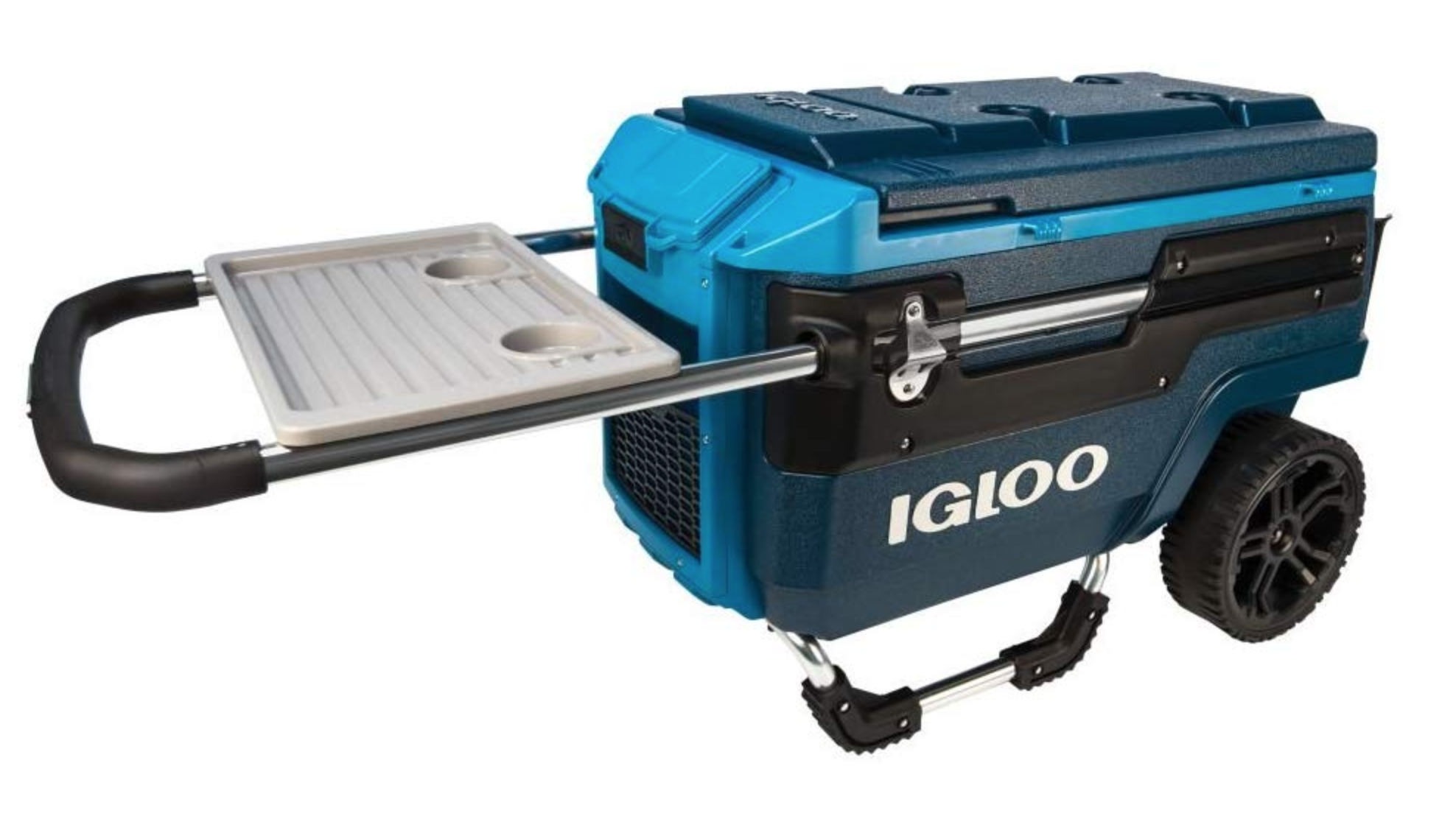 Size: 70qt

Weight: 34.7 lbs
Ice Life: Great. This fantastic wheeled cooler will hold ice for up to 4-5 days, so it's perfect for day trips, weekend getaways, and everything in between.
Key Features: Never-flat wheels and stainless steel tow handle for easy towing, don't have to carry it. 6 cup holders, many accessory holders and dry storage compartments, dry food basket inside and bottle openers.
Good For: beach, camping, surfing, park, weekend getaways and more.
Negatives: Drain spout is a little high up, so you need to tilt the cooler to empty.
Recommendation: This ultra portable Igloo cooler is our favorite product they make. It's got nearly comparable ice retention to the big premium coolers of today, with 4-5 days of ice. Where this cooler really shines is the wheels. They are oversized to tackle any terrain – sand, grass or gravel – and won't ever get flat. 6 cup holders, a dry food basket and accessory holders makes this the perfect companion for families, trips to the beach and more, since it's easy to move around and keeps one hand free. The video below gives a perfect example of why this is the best igloo cooler you can get your hands on.
2. Igloo Sportsman 20:
Best Igloo Cooler for the Beach
The Igloo Sportsman 20qt cooler is a perfect companion for day trips. Whether you're fishing, kayaking, or just heading to the beach, the rotomolded design ensures you've got ice for the whole day, and honestly, the whole weekend. The size may limit you, but if you only need a 20qt cooler, this is a great choice.
Size: 20 quarts

Weight: 16 lbs
Ice Life: Great. The thick insulation and roto-molded design of the Sportsman 20 provides great ice life, and you can expect around 3-4 days of ice – depending on how often you open the lid, how much ice you put in, and if you pre-cool it.
Key Features: This little guy is almost identical to the YETI Roadie 20. It's got the same ice chest design, but thicker rubber latches, a massive 2″ wide drainhole, non-slip rubber feet. It's also got 2 cupholders molded into the lid. It has a rubber gasket on the lid which helps seal the cooler when closed and is bearproof, with a hole on the lid and tub that can be used to lock it up. It also comes in tan which may be easier to keep clean. The stainless steel handle is unique compared to the other Igloo coolers, and makes it super easy to carry.
Good For: Fishing, kayaking, day-trips, beach days, etc.
Negatives: The stainless steel/rubber handle pictured is often not what it sent to consumers. Instead, Igloo coolers sends these out with a plastic handle which is much less durable (and not what is advertised). Not the biggest issue, but still.
Recommendation: While the Sportsman 20 has impressive ice life, its small size may limit its usefulness. It's great for day trips to the beach or park, or for day trips fishing and kayaking – but only if you're catching small fish! Although ice may last more than a weekend, it's possible it may be a bit small to count on it that long, unless you can manage to pack light, if it's just you or one other person. Despite some minor quality issues with these Igloo coolers like the plastic handle, it's basically a cheaper YETI with slightly less quality materials and manufacturing. Either you pay for the quality and brand name, or you save and maybe don't get quite the same quality – it's up to you.
3. Igloo 55 Quart Sportsman Cooler:
Best Igloo Cooler for Ice Life
If you are put off by the size of the Sportsman 20qt, then the 55qt is going to be your best friend. These impressive Igloo coolers competes with the big premium brands like YETI, giving you around 5 days of ice, in a useful and versatile size. Check it out.
Size: 55 quarts, 18 x 17 x 31 inches

Weight: 26.8 lbs
Ice Life: Great. Compared to its younger brother, the Super Tough (below) which can give you about 2-3 days of ice, the Igloo Sportsman has improved on that time. You can expect to get around 5-6 days of ice (potentially 7) with the Sportsman. Ice retention depends on several factors, but you can expect this icebox to hold its own against a similarly sized YETI or other roto-molded model. This is one of the most impressive Igloo coolers you can get.
Key Features: Huge 2″ drain hole drains very fast, rubber lid gasket, thick rubber latches, larger than YETI, latch hook for tiedowns, has a hole that connects lid and tub for bear-proof locking, thick insulation, virtually indestructible roto-molded design, also available in tan.
Good For: Week-long trips, fishing, hunting, camping, day trips, entertaining etc. very versatile.
Negatives: Plastic handles aren't as durable as rope like other cooler brands use
Recommendation: Igloo has really stepped up their game with their Sportsman cooler. It's got extremely similar features and performance to a YETI, at a much cheaper price. There are a few differences in quality, such as the plastic handles which could degrade more quickly than rope. And you may get ~1 day less ice than you would with a YETI. That being said, you can expect at least 5 days of ice life and a lot of other great features. Though the cooler may be of slightly lower quality, you're saving some big bucks – so it just depends if you prefer paying for quality or saving some money. This is the best Igloo cooler you can get if you're looking for long ice life.
4. Igloo Super Tough STX Cooler:
Best Igloo Cooler for the Money
The Super Tough STX is a sort of hybrid, splitting the difference between the Sportsman roto-molded, and a traditional Igloo. You can expect 3-4 days of ice, in a versatile size. But, you won't get the same kind of build quality with the STX as you do with the Sportsman.
Size: 54 quarts, 22 x 12 x 12 inches, fits several lunches, large water bottles, and ice packs.

Weight: 10 lbs
Ice Life: Good. The Super Tough isn't a YETI-class cooler in that you can get ice for 5-6 days, but it will definitely keep ice for 2-3 days, and maybe 4 under optimal conditions. Good, not great.
Key Features: Stainless steel hinges, available in a brown colour which will be easier to keep clean, has well attached and sturdy handles, good ice life, metal cables to hold lid open, durable manufacturing, affordable.
Good For: Camping trips, weekend use, fishing, entertaining, catering.
Negatives: Ice retention is good, but not amazing. Expect 2-3 days of ice, depending on the conditions. When it's full, it can be a bit heavy. There is no rubber lid gasket, so it's not as sealed and insulated as it could be.
Recommendation: The Super Tough Igloo cooler is a surprisingly good cooler for the price. It's not a YETI by any means, but it really is built tough, and with some great features and at a fraction of the cost. It's durable, and keeps ice for at least 2.5 days, so it's great for weekend trips. You will have some melting along the way though, so make sure you drain it and top up if necessary. Thanks to the price, it's the best Igloo cooler for the money, but if you need something that keeps for 4+ days, it may not be for you.
5. Igloo Marine Cooler:
Best Igloo Cooler for Fishing
If you're in the market for a marine cooler, look no further. This has been Igloo's bread and butter for years, and have adopted a bit of a "ain't broke, don't fix it" mindset with all of their marine coolers. This is the perfect Igloo marine cooler – no frills, great ice life, and at a great price.

Size: 72 quarts (The size we reviewed, more are available).

Weight: 11 lbs
Ice Life: Good. Unfortunately this Igloo marine cooler isn't designed for long-term (5-6 days) ice storage. You can certainly count on it to hold ice for 2-3 (maybe 4) days, depending on how much ice you put in and how often you open it, but it's not going to hold ice like the Sportsman would.
Key Features: Ruler on lid for fishing, several sizes available, up to 162 quarts and as small as 25 quarts, stain and odor resistant interior (will likely still need to be washed with bleach once in a while).
Good For: Fishing, camping, day trips, BBQs, parties, etc.
Negatives: Because this Igloo marine cooler is more traditional, and not a roto-molded design, you do lose some durability since the walls are thinner and there are seals which moisture could seep into. The lid is also not insulated, rather it is just filled with air, which doesn't insulate the cooler as well as it could. It also doesn't provide a sturdy seat if you're going to be using it on the boat. If you find you have an issue with this you can always buy a can of spray-on foam insulation and take matters into your own hands. The lid hinges aren't as sturdy as they could be either.
Recommendation: We were disappointed at a few features that are missing in this Igloo marine cooler. The lid not being insulated is the most major, since it won't hold a lot of weight, and it loses some ice life as a result. That being said, this Igloo marine cooler is available in sizes up to 162 quarts, and is lightweight, making it a perfect companion for a boat and for filling it with freshly caught fish. Of course, an Igloo marine cooler is also great for other scenarios like camping and entertaining. It's not the best quality materials, but it's a very affordable option, and the best Igloo Marine cooler for the boat and for fishing.
6. Igloo Maxcold 52 qt:
Second Best Wheeled Cooler
This Igloo Maxcold cooler is an awesome wheeled cooler to consider if the Trailmate Journey is out of your price range, but you still want the portability of a wheeled cooler. The cup holders on the lid, the wheels and extendable handle make it great for all occasions, and with up to 3 days of ice.
Size: 52 quarts

Weight: 11 lbs
Ice Life: Good. This is a great cooler for several reasons, and while the ice life isn't amazing, it's surprising, especially considering the price point. Expect your ice to last 3-4 days in this Igloo Maxcold.
Key Features: The big selling point behind the Igloo Maxcold is the wheeled suitcase style design. The extendable handle pulls up, tilts the ice chest up, and then you can tow it around with ease. Of course, you can always just carry it normally.
Good For: Camping, picnics, BBQs, parties, and more.
Negatives: The wheels of the Igloo Maxcold are completely plastic, unlike the rubber treaded tires of the Trailmate. So, they're a little noisy on hard ground, and a little hard to pull in grass or sand. Still, it's nice to be able to tow it around when it's full with ice, drinks and food.
Recommendation: Overall, the Igloo Maxcold is a pretty dang good cooler, especially for those shopping on a budget. It's not going to give you the same ease of use, ice life or space as the Trailmate Journey, but it's somewhere around half the price as well. The wheels and extendable handle makes it easy to get around, though it could be better. It's a very useful cooler, in a versatile size, and while we still recommend the Trailmate, this is a good second choice for a wheeled cooler.
7. Igloo Playmate Pal 7 Quart Personal Sized Cooler:
Best Igloo Cooler for Lunches
What year is it? This classic cooler is the perfect personal cooler for your lunch or a road trip.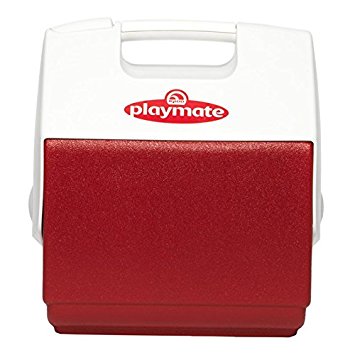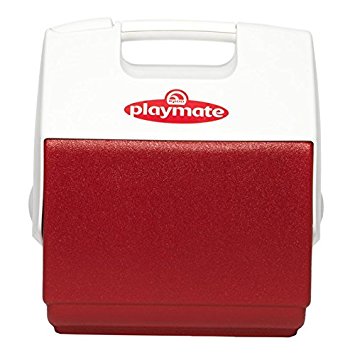 Size: 7 quarts, fits 12 cans

Weight: 2.2 lbs
Ice Life: Poor. This little pal isn't intended for long term ice storage. If you pack up your lunch, snacks and beverages with a few ice packs, they should stay cool all day, but ice will melt in a few hours.
Key Features: Unique tent-top design, easy to carry, buttons on side of cooler are easy to press and open even with one hand, affordable.
Good For: lunch for one, maybe two, beach days, sports games, work lunch etc.
Negatives: Fairly small, poor ice retention, buttons are so easy to open something bumping against it can open it, like when transporting with other boxes.
Recommendation: This little portable Igloo cooler is best suited for lunches or beverages for day outings. Don't expect it to hold ice for more than a few hours. That said, for such an affordable cooler, it will keep your lunch at a cool temperature, keep your beers cold for the game, or your snacks cool at the beach.
8. Igloo 15.8 Quart Playmate Cooler:
Best Igloo Cooler for Lunch & Drinks
If the Playmate cooler above is too small for you and you want a little more size and versatility, then consider The Boss. This one gives you space for your lunch AND your drinks, plus ice. So you can keep your food and drinks ice cold all day.

Size: 14.8 quarts, 14 x 13 x 14 inches, fits several lunches, large water bottles, and ice packs.

Weight: 3.7 lbs
Ice Life: Poor. The "Playmate Boss" is a substantial step up from the previous Playmate cooler in a lot of ways, but this just isn't a cooler designed for long-term ice storage. It will definitely keep your lunch and beverages cold with ice packs, but ice won't last you more than a day.
Key Features: Tent-top lid design provides extra storage and makes it easy to carry, easy-open buttons, very large.
Good For: fits lunch for two-three people, good for the beach, sports games, etc.
Negatives: Not intended for long-term ice life, but with ice packs it works great and keeping your things cool, but not ice-cold. Filling it with ice could cause leaks out of the lid once the ice melts.
Recommendation: This is a great portable lunch-box style igloo cooler that has enough size to fit lunch for multiple people, plus snacks and beverages. It has a plenty of space, but it's not great for ice life. We recommend using a couple ice packs rather than straight ice since it can melt and leak. For the price, it's a great daily use cooler.
Cooler Reviews for Other Models
If you want to see how igloo compares to other models, check out our cooler reviews. You can see the full guide here for more info.
What to Look For in an Igloo Cooler:
We've evaluated these Igloo coolers in the following categories, so keep these things in of what to look for in mind while you check out each cooler on the list.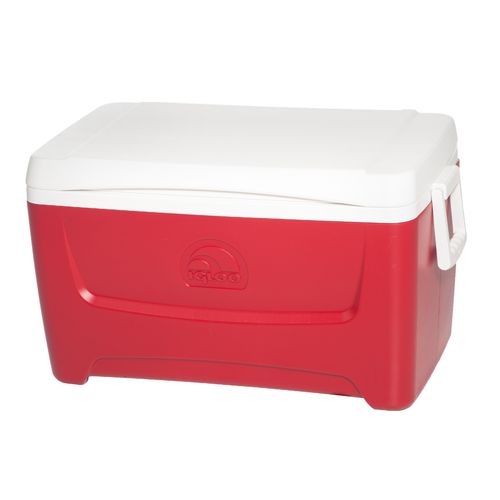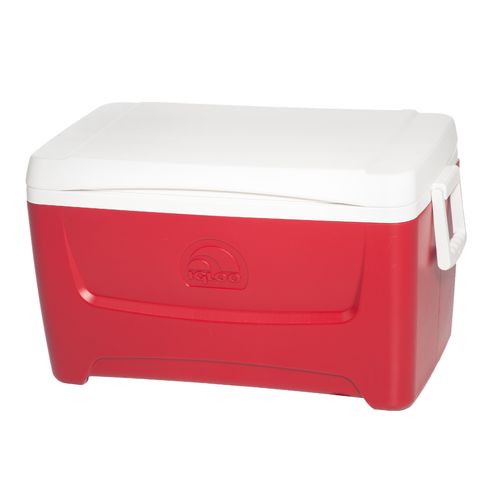 What will you use it for?

What do you need the cooler for? Beach days? Weekend or week-long camping trips? A fishing boat? You may not need a large, 5-day cooler if you just need it for a beach day. Similarly, you won't be able to keep your fish cold with a $20 day-use cooler.
What size do you need?

Once you know what you'll be using your cooler for most, keep in mind the size you want. Larger coolers are more versatile, sure, but they can be a pain to store and transport. The larger the cooler, the more you can fit in it and the heavier it gets.
Ice Retention
Similar to to usage – you may not need a more expensive 7-day ice retaining model if you will never use it more than overnight. It's always better to have peace of mind knowing your igloo cooler will last a weekend, but some folks will never need more than a day's worth of performance. If you don't need more than 2-3 days, a cheaper option is great. If you want the 6+ days of ice life, check out a more expensive rotomolded model.
Key Features
The quality of materials and features transform a good product to a great one. For example, two features we like to see in a great cooler are: solid hinges and latches (preferably metal or thick plastic, and well-attached) and a rubber lid gasket to seal in cold air. Another feature many people like to have is wheels, since it makes transporting the cooler much easier.
Quality & Price

The great debate: how much do you spend? Sometimes it's not necessary to spend $300+ like many do on a YETI, but often better performing products are more expensive. We'll do our best to determine whether or not what you'll be paying is fair or inflated.
Did this review article help you choose your own Igloo cooler? Let us know your questions or comments below! We love hearing from our readers.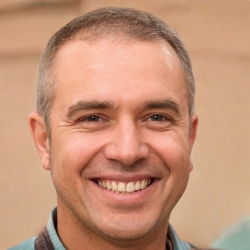 Latest posts by James Kennedy
(see all)