All-In-One Washer & Dryer Reviews for 2018
For many of us, space in our home is at a premium. When you're looking to load up with all of the finest appliances, it can often be a struggle to find something that will fit into whatever space you have available. The best washer dryer combo saves you a ton of space, and can make laundry day easier, as you won't have to flip from one machine to another. In our all in one washer dryer reviews, we'll help you understand the differences between high end models and affordable options, so you can select the one that best suits your needs.
Kenmore Elite 4.5 Cu. Ft. Washer / Dryer Combo
Pros
Has a quick water heater so you can connect directly to cold water
4.5 cu. ft. capacity can handle your laundry needs
Self-clean setting, 14 wash cycles, 5 spin speeds, 3 wash/rinse temperatures and 3 soil level settings
Can was a load in as little as 29 minutes
FastDry Drying Technology reduces drying time
Adjustable spin time
400 RPM to 1200 RPM spin speed range can handle delicate and large items
Cons
Some customers said that it takes a long time to dry.
Final Verdict: The Best Washer Dryer Combo
The EdgeStar Ventless Combo Washer/Dryer helps you clean and dry delicate and bulky clothes. You can choose from different wash cycles, so you are assured that your clothes will be handled properly.  The machine also works quietly.
Haier Compact Laundry Combo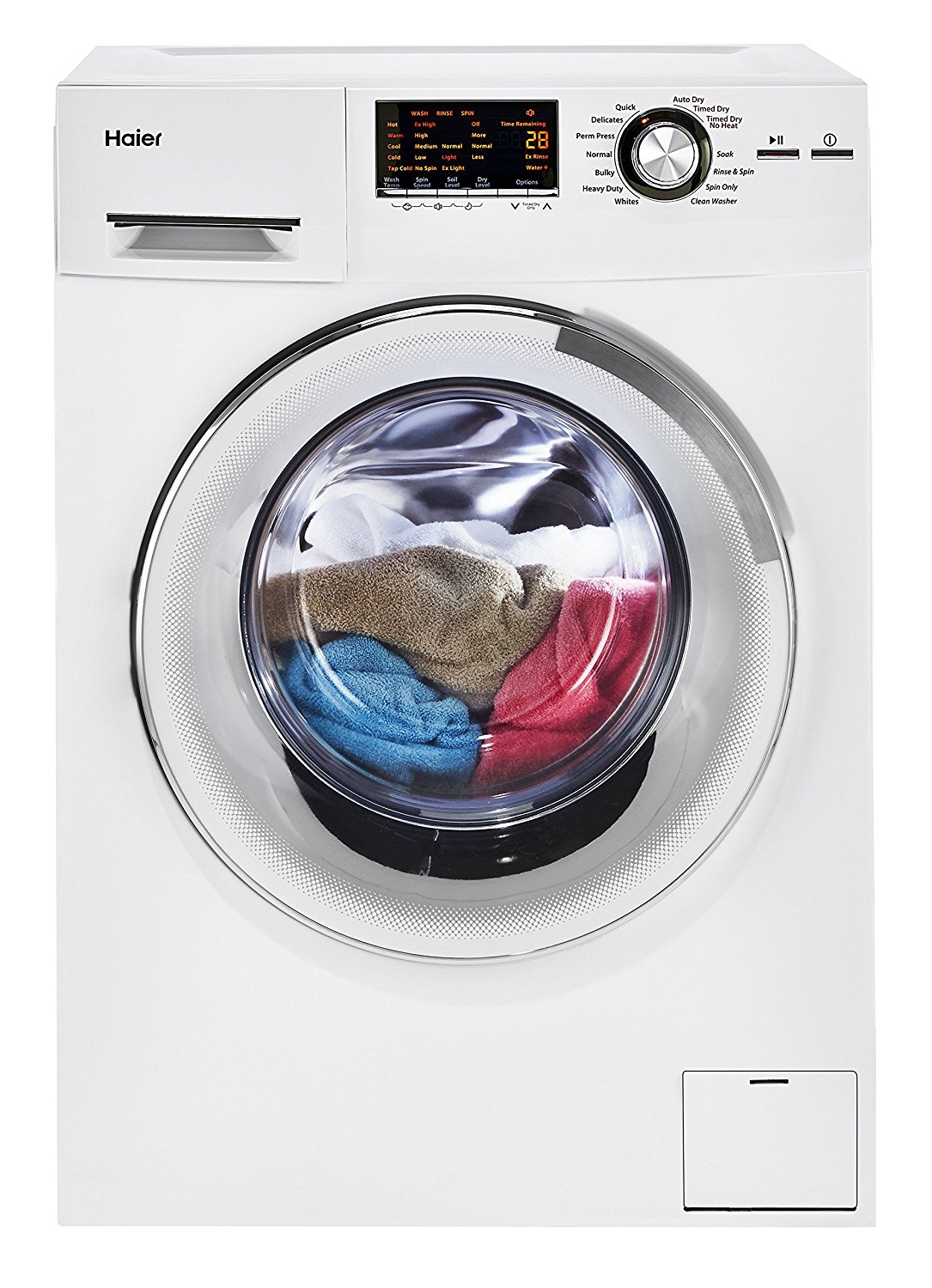 Pros
1200 RPM spin speed
Auto wrinkle guard
Easy to install
Features an electronic control panel, angled 45⁰ door handle, child locks, delay start and self-clean option
Cons
Capacity may not be enough for those with large loads
Final Verdict: The Best Washer Dryer of 2018
The All in one Front Load New Compact Combo Washer Dryer is convenient for those with limited space at home. It has a weight sensor which determines the right amount of water to fill the washer with. The sensor dry stops the washer automatically once the load reaches your desired dryness level. The wrinkle guard feature prevents wrinkles from setting in.
Dometic WDCVLW2 Washer Dryer Combo (Ventless)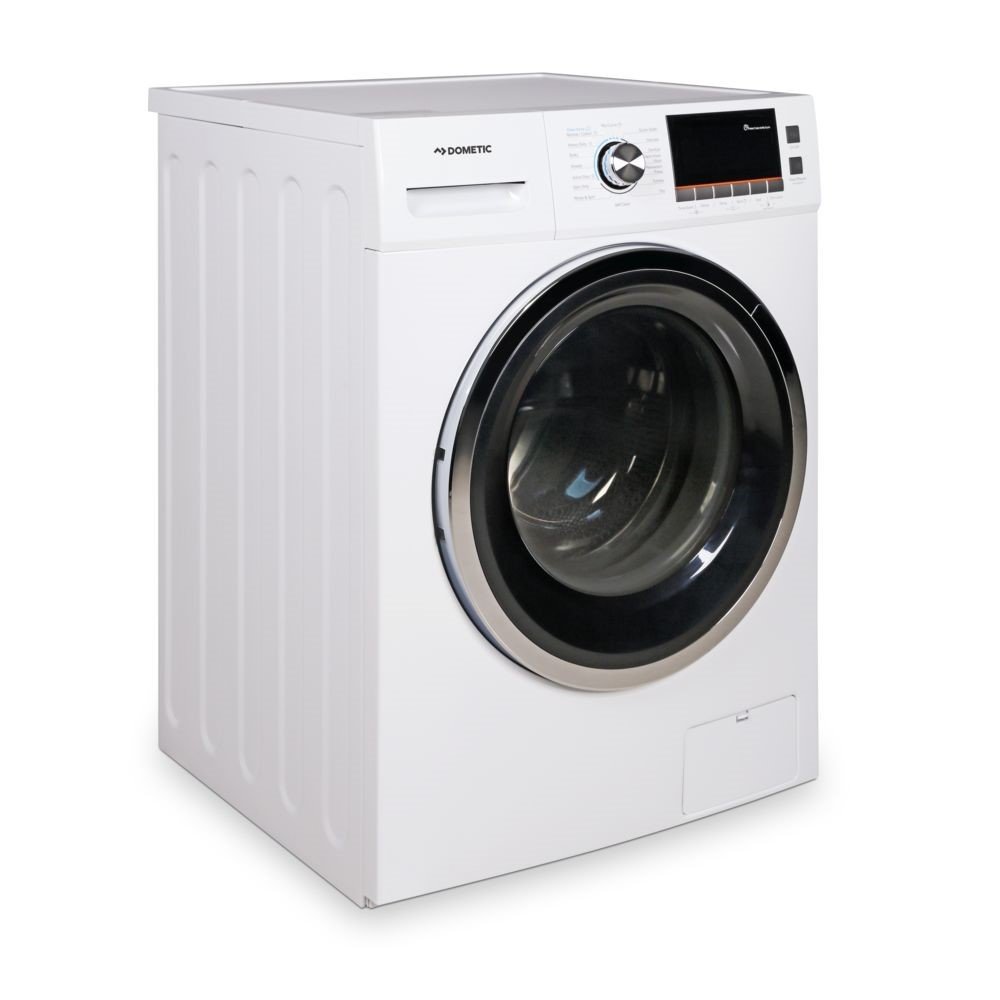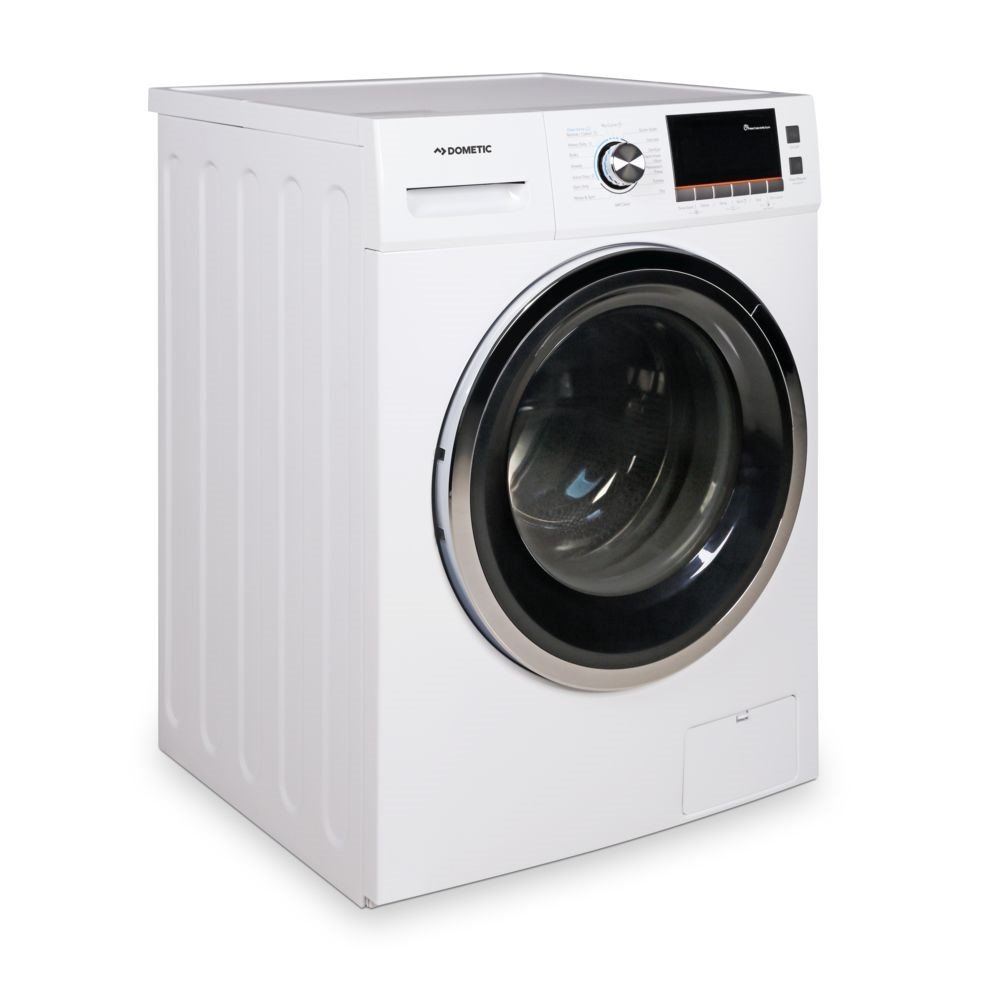 Pros
15-pound of wash capacity
Continuous wash and dry cycle
10 wash cycles with extra rinse and spin cycles
Drying level can be adjusted
Features a time saver mode
Water drains to shower, gray water tank or sink
Uses 20 percent less water than other machines
Cons
It can't accommodate more than 6.8 kg of clothes.
Final Verdict: An affordable All in One Washer Dryer
The Dometic WDCVLW2 Washer Dryer Combo allows you to wash up to 15 pounds load of laundry. With its continuous cycle wash and dry, you don't need to transfer clothes. Water drains to gray water tank, shower or sink. It's also easy to use. The machine's LED display has a cycle status indicator. It also uses 20 percent less water than other washers, so you can save water.
LG WM3997HWA 4.3 Cu Ft. Capacity Combination Washer And Dryer
Pros
Lid Lock keeps children safe and prevents leaks
Stainless steel drum will never rust or wear
Combination unit saves a ton of space
TurboWash will have your clothes ready in a jiffy
Cons
Final Verdict
The LG WM3997HWA combination unit has a modern white color that easily complements any decor style. Its 4.3 cu. ft. capacity can accommodate large loads. The unit is equipped with an electric control panel with LED display, so you know what's going on. It has a child lock as well.
Compact Combo Washer and Electric Dryer
Pros
Compact
Can accommodate 13 pounds of laundry
Sensor dry and condensing/venting programs
Built-in diagnostics and water saving option
User-friendly coin trap
4 flexible leveling legs
Start/Pause function
Electronic control panel has LED lights
1200 RPM spin speed
Energy Saving functions shuts display off after 5 minutes of inactivity
Cons
Those with larger loads may look for another option.
Final Verdict
The Compact Combo Washer and Electric Dryer can help you save space. It is compact and features a 1200RPM motor, Sensor Dry and Auto Water Level. The machine can dry clothes fast. It's ideal for families who live in condos, apartments or small spaces. The machine has 14 wash/dry functions to protect your clothes. You can also use the vent bucket for indoor dryer venting if you can't do outside venting.
Alternatives
Finding the products on this list to be a little costly? Would you prefer to sacrifice space in favor of functionality? We've got a few additional options you can choose from.
Stand-Alone Machines
These are the most common choices available, and you can often find a pretty good bargain! Check out our review of the Best Washers for 2018, as well as our roundup of the Best Dryers. You don't necessarily have to get a matched pair, so you can select the options that best suit your individual needs.
Stackable Models
Don't have the space to go horizontally? Go vertical instead! Stackable machines are a popular option for apartments, letting you run two loads through at once!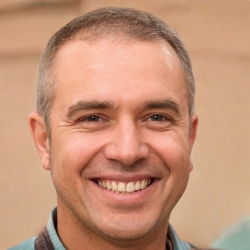 Latest posts by James Kennedy
(see all)