Serious power needs require a serious power source, and the Predator 8750 generator is Harbor Freight Tools' answer to those needs. Boasting a running output of 7000 watts, a 6.6 gallon fuel tank, and a multitude of AC outlet choices the 8750 aims to be a top-of-the-line generator solution at a fraction of its competetor's price points. But with that discounted cost comes a few missing bells and whistles, and these little details might be enough to make you consider looking into alternatives. We'll go over the specifics in our review below.
Predator 8750 Generator Review
The Predator 8750 is a large-size generator designed for high power needs such as job sites, home repair/emergencies, food trucks/pop-ups and more – Anywhere you would need a direct line to the grid the Predator 8750 is there to keep you covered.
Size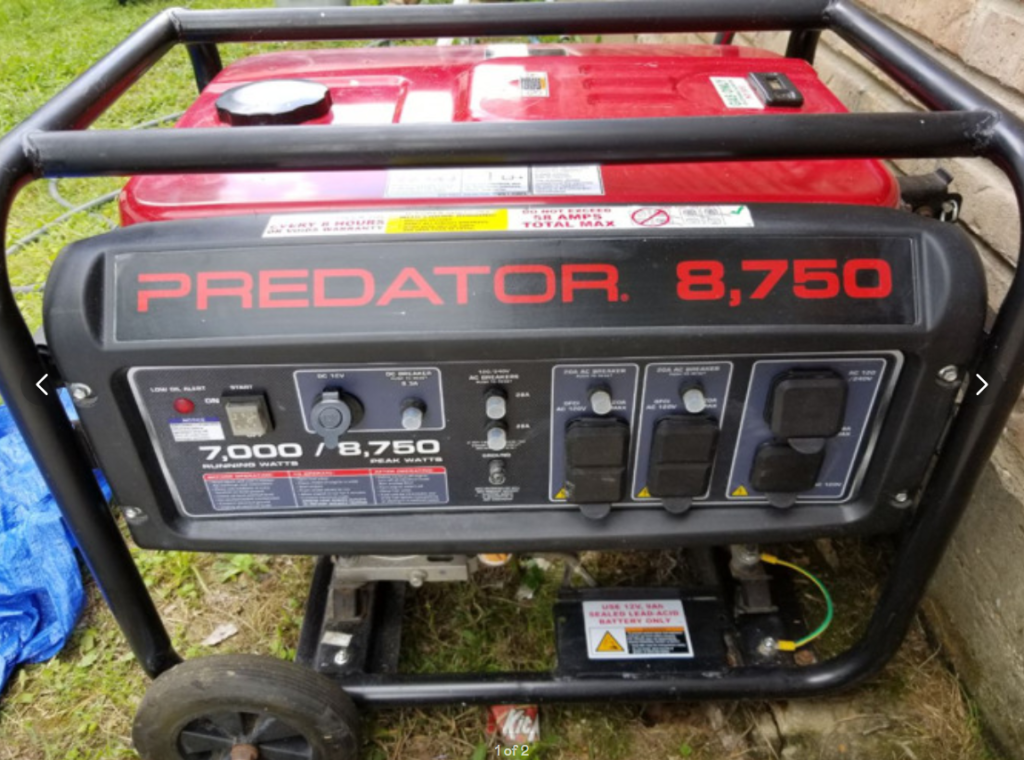 Sized at 26.9 x 22 x 22.8 inches and weighing a surprisingly light 183 lbs while empty this is a big, beefy generator ready to handle your job site's power needs. Though this can be a larger-sized unit the weight is notably light, handily beating out similar generators in its class, and has an optional wheel kit for purchase which can increase the generator's portability even further.
Capacity
| | |
| --- | --- |
| Specifications | Features |
| Conventional portable generator | Electric start, pull start/ recoilback up |
| 8750 Maximum Watts | 6 gallon gas tank |
| 7000 Running Watts | 76 dB noise level |
| 420cc / 13HP OHV air- cooled engine | 12hr runtime @ 50% draw |
| 4x 120V 20A outlets (3-prong) | Low oil indicator & Low oil shutdown |
| 1x 120V 20A twist-lock outlet (3-prong) | UL Listed circuit breakers |
| 1x 240V 30A twist-lock outlet (4-prong) | 183lbs |
| 1x 12V DC GFCI outlet | |
.
At a running wattage of 7000 standard/8750 peak this is a generator designed for heavy duty work, and this is where it truly shines – Offering a nice sized fuel tank capable of holding 6.6 gallons of gas the Predator can run for about 12 hours at 50% load, giving it an average fuel consumption of about 0.55 GPH and making this an ideal generator for long-term use. It's worth noting that the generator does not come RV ready and will require a conversion kit – Easily purchasable, but considering this is included as standard with some other models of Predator generators we find ourselves questioning its lack of inclusion here.
Durability and Noise
There's only so much you can do to keep the noise down on a giant gas-guzzling 4-stroke engine but Harbor Freight somehow manages, with a decently quiet noise rating of 76 decibels, not much louder than your average dishwasher – Certainly not in the harmful range and easy enough to ignore on an already-noisy job site but if in use overnight at a home site it may not make for the most pleasant of sleeping conditions.
Even with their affordability the Predator line has always been known for solid construction, and the 8750 model no different from its cousins – Stout injection-molded plastics and a very sturdy body are all surrounded by a steel roll cage designed to help keep accidents at bay. And while the roll cage and surprisingly light weight make this generator easy enough to lug around the Predator 8750 is, as mentioned above, a "wheels sold separately" affair, decreasing its out-of-the-box portability.
Interface & Connectivity
Predator generators are known for their easy-to-understand instructions and instrument panels, and the 8750 is no different from others in the brand. Everything is clearly and cleanly labeled, with general operating instructions & procedures conveniently printed just beneath the start button.
Speaking of the start button: In what is a step up from the smaller Predator 4000 model the 8750 thankfully includes options for both pull start and an electronic push start. What it doesn't come with is an actual battery for said electronic push start, making it yet another addon to purchase – An admittedly cheap addon, but still just one more thing to have to remember when at the checkout counter.
Another odd omission is the lack of a data center or much information at all – The console panel thankfully comes with a low oil light and a fuel gauge is present but more information about the generator, such as power output or voltage statistics (such as featured on the Predator 3500's LCD screen) would have been appreciated.
For power outlets the Predator 8750 has you covered, with a multitude of plugs covering a wide spectrum: Four three-prong 120v duplex outlets, one three-prong 120v twist lock outlet, one four-prong 120v/240v twist lock outlet and even a cigarette-lighter style 12v DC outlet for batteries and the like. Thanks to the four-prong L14-30R outlet this means the generator can be hooked up to a home breaker box in case of emergencies, but as mentioned above if you want to use the three-prong 120v outlet for your RV you'll need to buy an adaptor.
More Predator Generator Reviews
While this is the largest model of the bunch, if you want to see how it stacks up check out our predator generator reviews to see the other models in the list.
Price and Comparison to Other Large Generators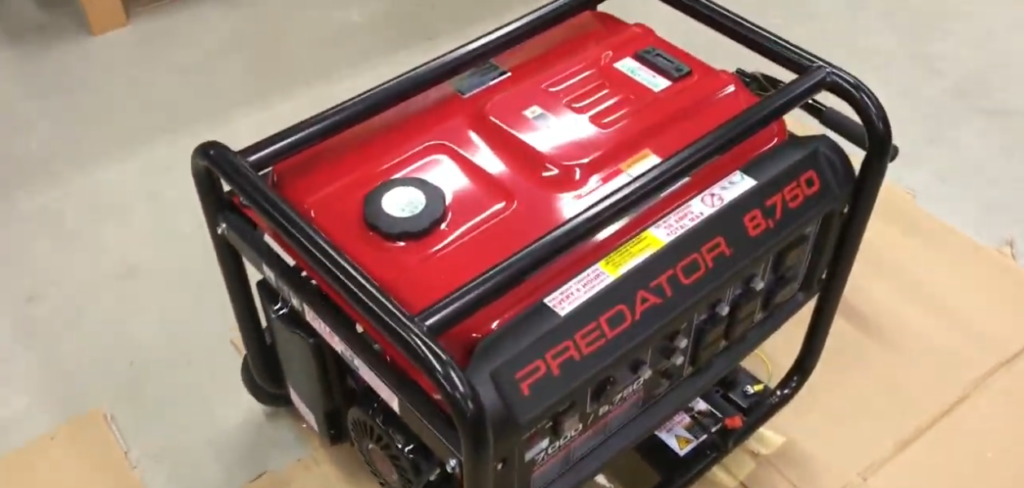 For other generators in the Predator line there are usually some fairly large variances between the Predator brand and other competing manufacturers that can be explained away by being part of a "bargain" offering (see our notes about the Predator 4000's disappointing fuel efficiency or the 3500 model's terrible wheels). That's why we are pleased to say that in almost all categories? The Predator 8750 is a pure winner.
The dry weight of 183 lbs is surprising in its category, with very few generators in that power range matching or beating its weight for it's size. We were also impressed by the generator's average run time, with about 12 hours of power at 50% load capacity – The only real competitor we found in this matchup is the Generac XC6500, which can add another two hours of life time in for a total of 14h.
Interestingly noise levels is the one place the 8750 takes a hit, coming in at a few decibels higher than a lot of its competition. Though the rated 76 dBA is well within the range of human tolerance, even for long term exposure, this generator can be a bit on the loud side. Still, it's a bit hard to hold this against it there really is only so much you can do when it comes to running a portable engine.
One of the places we're happy to see the 8750 shine is in its fuel efficiency – We had concerns about the Predator 4000 model's gas guzzling nature and thankfully that isn't anywhere near as much of an issue for the 8750. With an average estimate of 0.55 gallons per hour of fuel consumption (at 50% load) the 8750 is right about average with other generators in its size/output range. The Lifan ESI 7000iER-EFI model generator offers the same output capacity with a much reduced fuel consumption of around 0.38 GPH but whether or not that's worth the difference of around a grand is up to you.
Right, about that whole 'price' thing. The reason most people seriously consider the Predator brand of generators is their ridiculously cost-effective price point, and the 8750 is no disappointment on that front. With a shockingly low retail price the Predator handily crushes all other competition on cost effectiveness, often literally less than one third the price of other generators in its range. Even with some of the oddly-missing addons factored in the Predator is almost impossible to beat in terms of value.
Final Verdict
Is the Predator 8750 the most robust, well-featured, cutting-edge technology generator on the market? No. But if you're reading this review odds are you're not looking for that – You're looking for something that can Get The Job Done, and for that I feel we can recommend the 8750 with few hesitations. Is it mildly annoying that there are so many missing or omitted features, such as wheels and an RV adaptor? Yeah, ok, sure. But it's hard to stay too grumpy given the overall solid construction and incredibly generous price point, particularly considering the excellent fuel consumption this model has to offer. For heavy loads and serious emergencies we definitely recommend considering the Predator 8750 for your needs – Your wallet will probably thank us.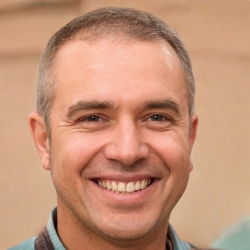 Latest posts by James Kennedy
(see all)