The Predator 4000 generator is Harbor Freight Tool's entry-level job site generator – A nice-sized hoss of a machine perfect for both work and recreation. Durable and sturdy this generator is as reasonably priced as others in the Predator lineup, but at a similar weight to the 3500 model we wanted to make sure it's features were good enough to warrant looking into this version as a potential upgrade. Read our thoughts on how the Predator 4000 stacks up below.
Predator 4000 Generator Review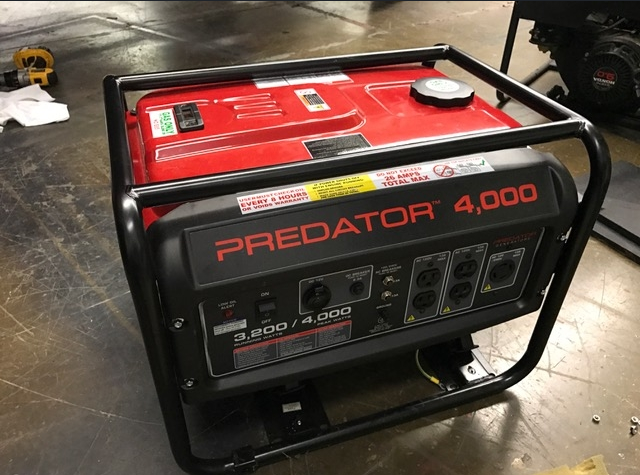 As Harbor Freight's mid-range model of generator the Predator 4000 is designed for light work around the job site, powering lights or tools as the day requires. The 4000 can also be used as an emergency power source for rough weather or home repair work, and is suitable for any job that requires more wattage than a small box generator but not quite so much as, say, the larger Predator 8750.
Size & Weight
At a dry weight of 99 lbs and measuring 23.3 x 18.7 x 19.3 inches the 4000 is a large-size model, moving away from the portability of lower-spec versions such as the Predator 2000 – This certainly isn't too large to move around, but it doesn't quite have the same ease of movement as it's smaller brothers in the Predator line (this is also an excellent place to mention that the Predator 4000 does not come with any sort of wheels; a wheel kit may be purchased separately).
Capacity
| | |
| --- | --- |
| Specifications | Features |
| Conventional portable generator | Pull-start only |
| 4000 Maximum Watts | 4 gallon gas tank |
| 3200 Running Watts | 72 dB noise level |
| 212cc / 6.5HP OHV air- cooled engine | 10hr runtime @ 50% draw |
| 4x 120V 20A outlets (3-prong) | Low oil indicator & Low oil shutdown |
| 1x 240V 30A twist-lock outlet (4-prong) | UL Listed circuit breakers |
| 1x 12V DC GFCI outlet | 99lbs |
.
With a running wattage of 3200 (4000 peak) the Predator 4000 is the first in its line that is can be used for working conditions, its output fully able to support tools such as bench saws and heavy duty drills. The 4 gallon fuel tank means plenty of energy to keep your generator going, and on a full tank the generator can operate for roughly 10 hours at 50% load – Very suitable for both a day's work or a comfortable night's rest in your camper.
It's worth noting that while the Predator 4000 can output quite a bit of energy it is limited – Though generators of this size are handy for emergencies such as dire weather there is a limit to how much they can handle. Any generator of this size would be good for, say, keeping your freezer running in a blackout, but don't expect the Predator 4000 to power your entire house.
Durability & Noise
With an overall noise rating of 72 decibels the Predator 4000 is somewhere around a garbage disposal or a vacuum cleaner for comparison – Predator generators are typically known for their relative silence while running and the 4000 model fits that mold perfectly. While it may not be ideal for continual use in areas where there are, say, picky neighbors the Predator 4000 won't be bursting any eardrums from it's exhaust.
Construction-wise the Predator 4000 is as durable and rugged as others in its brand, with hard injection-molded plastics helping to both protect the engine and keep down weight. This is the first of the Predator models that includes a steel roll cage around its exterior, helping to protect against damage and giving easy handholds for carrying; again there is a separate wheel kit available that can extend the generator's portability, and it's an addon we would highly recommend considering.
Interface and Outlets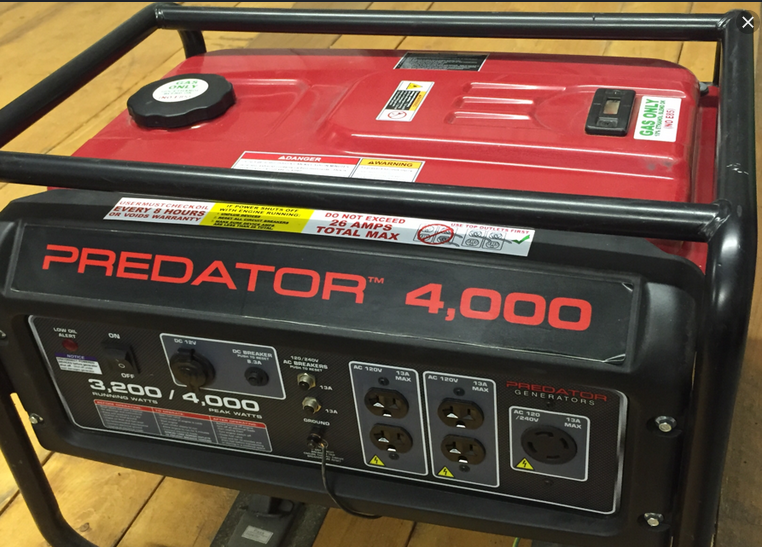 Not unlike other Predator brand generators the 4000 model has a well-labeled and easy-to-understand interface panel, though the lack of a dedicated data center (such as the LCD screen available in the Predator 3500) is a confusing and glaring omission. Thankfully this version does have a built-in fuel gauge, letting you keep track of the remaining gas at a quick glance, and includes features found on other models such as automatic shut-offs for low oil and overloads, adding to the generator's safety.
Outlet wise the Predator 4000 has four 120v three-prong outlets, one 240v twist lock four-prong outlet, and one 12v DC outlet, ensuring plenty of places to plug in whatever you might need to have powered. One incredibly confusing removal is that of an electric or push start – The Predator 4000 relies on the good old-fashioned pull cord to crank up, making that a potential deal breaker for those with disabilities.
More Predator Generator Reviews
This mid-sized model is one of the more popular options, but you can check out our reviews of the Predator Generator to see how it stacks up against the competition.
Price and Comparison to Other Mid-Size Generators
Predator knows its competition, and most generators in the Predator line are about on par with similar models for size and weight – Though there are smaller/lighter models on the market, such as the WEN GN400i, the Predator 4000 matches most in its dimensions. Noise is also fairly standard compared to other similar generators; some offerings in the same range from Honda manage to beat out the Predator's expected decibel rating but otherwise the Predator is a bit quieter than other competitors.
On the downside the Predator 4000 takes a solid hit on fuel consumption – Predator generators unfortunately have issues with efficiency and the 4000 is no exception. Rated at 0.4 gallons per hour of gas this generator nearly doubles most of its direct competition, and this is definitely an area where smaller numbers are much better. Compare to the Westinghouse iGen4200, with its fuel consumption of 0.17 GPH, and you can see how efficiency can make a big difference.
… but then there's that great equalizer: Price. Let's not even try to beat around the bush here – The Predator 4000 is hands down the cheapest brand-name option you will find in its output range. With a shockingly low retail price this is one of the cheapest generators you can find period – It's closest competition from WEN and Westinghouse are both over several hundred dollars more, and a competing model from honda can reach into the thousands – that's 4x the price! If there's one thing Predator does consistently well it's the price point, and with that much savings over its competitors it's easy to see why the Predator brand has a dedicated following of fans.
The Final Verdict
Is the Predator 4000 the "best" mid-range job-site/emergency generator you can find? No, probably not. Is it an excellent option if you don't have two grand to blow on a generator? Darn skippy it is. The issues with fuel efficiency and some questionable design choices (no electric start? really?) may diminish this generator's appeal a bit but again, for that price tag the Predator is very hard to beat. Just don't forget to pick up the optional wheel kit while you're at it – You'll thank us later.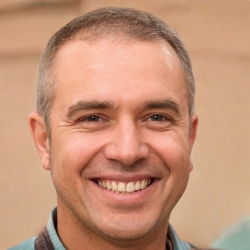 Latest posts by James Kennedy
(see all)