Predator 2000 Watt Inverter Generator Review
Predator generators are typically known for their low prices and comparability to similar portable generators from Honda. The smallest offering from Harbor Freight Tools, the Predator 2000 inverter generator, offers both a light weight and a light price tag, but with only a 6.5 hour run time you may want to consider something a bit bigger for anything other than overnight camping trips. Read on for our detailed review.
Size, Capacity and Wattage
| | |
| --- | --- |
| Specifications | Features |
| Portable inverter generator | Pull start |
| 2000 Maximum Watts | 1 gallon gas tank |
| 1600 Running Watts | 65 dB noise level |
| 79.7cc / 2.8HP OHV air- cooled engine | 12hr runtime @ 25% draw, 6.5hr @ 50% |
| 2x 120VAC outlets (3-prong) | Low oil indicator |
| 1x 12V DC GFCI outlet (2-prong) | UL Listed circuit breakers |
| Only 47lbs | Electronic overload protection |
| | Fully enclosed, high impact housing |
| | |
With a carrying weight of only 54 lbs and compact dimensions (22 x 12.6 x 18 inches) the Predator 2000 inverter generator is a light, portable solution for quick trips and light use, keeping small electronics running or at peak charge. Overall fuel efficiency is high compared to other models in its class (with the special "Eco Mode" helping to both extend running time and reduce noise) but the fuel tank size is notably small, making this generator less friendly for long periods of use.
Implied by the "2000" in the name this generator runs at 1600 watts with a 2000-watt surge load. This is enough for charging things such as cell phones or running small appliances such as electric kettles – If you're looking to run larger appliances such as an air conditioner or a refrigeration unit you'll definitely want to look into a beefier model of Predator. Alternatively the Predator 2000 does have an interesting optional feature in it's "Parallel Kit", allowing one to join two Predator 2000 generators side-by-side to double their output. Whether or not this is the most practical way of increasing your wattage is debatable but we feel it's a nice option to have none-the-less.
As noted above this is an inverter generator, meaning it's output is considered "clean" and stable. This makes it usable for modern & sensitive devices such as cell phones and rechargeable batteries where other generators may not. With the recommended 50% capacity in its one gallon gas tank you can expect roughly 6.5h worth of power; again, not idea for extended run times but ideal for quick trips and overnight camping.
Durability and Noise
Mentioned above the generator comes with an "eco mode" that can be toggled by the user to reduce both gas consumption and noise, but even outside of this mode the generator runs fairly quiet, rated at a general level of 61 decibels – The engine's noise-reducing muffler helps keep the typical loud rattling and puffing of a generator engine at bay, making it suited for environments where keeping the volume down would be appreciated (say, the backyard).
In durability the main body has a rugged exterior and comes with protective covering for the side-mounted controls but lacks any sort of roll cage like it's larger brethren. Also worth noting is that with its weight distribution the unit can be somewhat easy to tip over; though it is made of very durable plastic we don't recommend sitting this on anything but the flattest of surfaces. Likewise the lack of wheels might be a detriment to some – 54 lbs is light for a generator but still not exactly easy to lug around, making the "portable" generator perhaps not quite so portable for the elderly or those with disabilities.
Interface and Outlets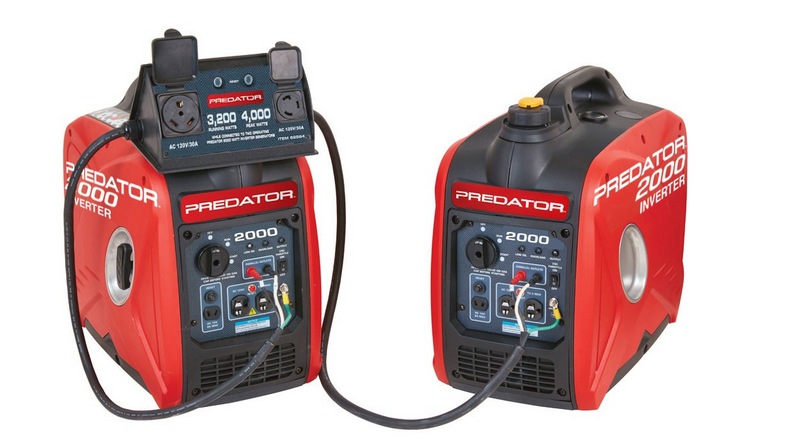 The instrument panel is well-labeled and easy to understand, as is the process for filling the tank with gasoline. One detriment is it's oil reserve – To change the oil the body of the generator must be disassembled, which may be more than a home consumer wants to take on themselves. If this seems daunting taking the generator to a professional repair service is an excellent option.
There are two standard AC 120v outlets on the front and one 12v DC outlet as well, giving just enough options to make the generator feel useful without going overboard. The starter is the traditional pull cord – We wouldn't have minded seeing an electronic or push start here, and this is another area where those with physical disabilities or limitations might find themselves considering another brand.
Price and Comparison to Other Hand Portable Inverter Generators
Up against other models on the market, such as the Honda eu20000iT1A1, the Predator has some benefits (slightly larger fuel tank) and some detriments (mildly less stable power generation) but the two otherwise match fairly well across the board on topics such as gas usage, noise levels, and convenience features such as numbers of outlets and auto-shutoff measures. Where the Predator resoundly wins, though, is on price.
While other brands of small-profile inverter generators typically retail in the four figure range the Predator normally sells for half that. This alone is enough to make most people divert their eyes toward the cheaper option but do beware – While brands such as Honda typically offer up to three year warranties the Predator is only backed by Harbor Freight Tools for ninety days. And though the Predator brand is made of hearty stuff if you expect your generator to go through rough and heavy use? The extended warranty might just be worth the extra price for another brand.
Larger Predator Generator Reviews
Looking to see how this stacks up against another model? Need a little more power? You can read the reviews of all the larger predator generators here.
The Final Verdict
Our takeaway is that the Predator 2000 is perfect for the camper who just wants to make sure their cell phone stays charged, with a price point that makes it a lot easier to overlook any minor flaws (lack of wheels/roll cage, finicky oil changes) the generator may have. While it's hard to discount the three-year warranty available on the comparable Honda model a half-off price tag and almost identical features/quality gives the Predator brand a strong argument in their favor. This certainly won't be the solution you need for powering your house/RV but for a night or two out under the stars you could definitely find a worse pick than the Predator.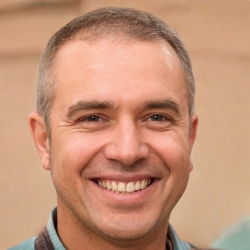 Latest posts by James Kennedy
(see all)