Lodge Sportsman Grill Review
We recently had the opportunity to head out for our own camping trip (finally) and brought along our new Lodge Sportsman Grill. This is a pre-seasoned portable charcoal grill (hibachi-style) that is marketed as perfect for camping, fishing or backyard use. Read on to discover how we found grilling with it!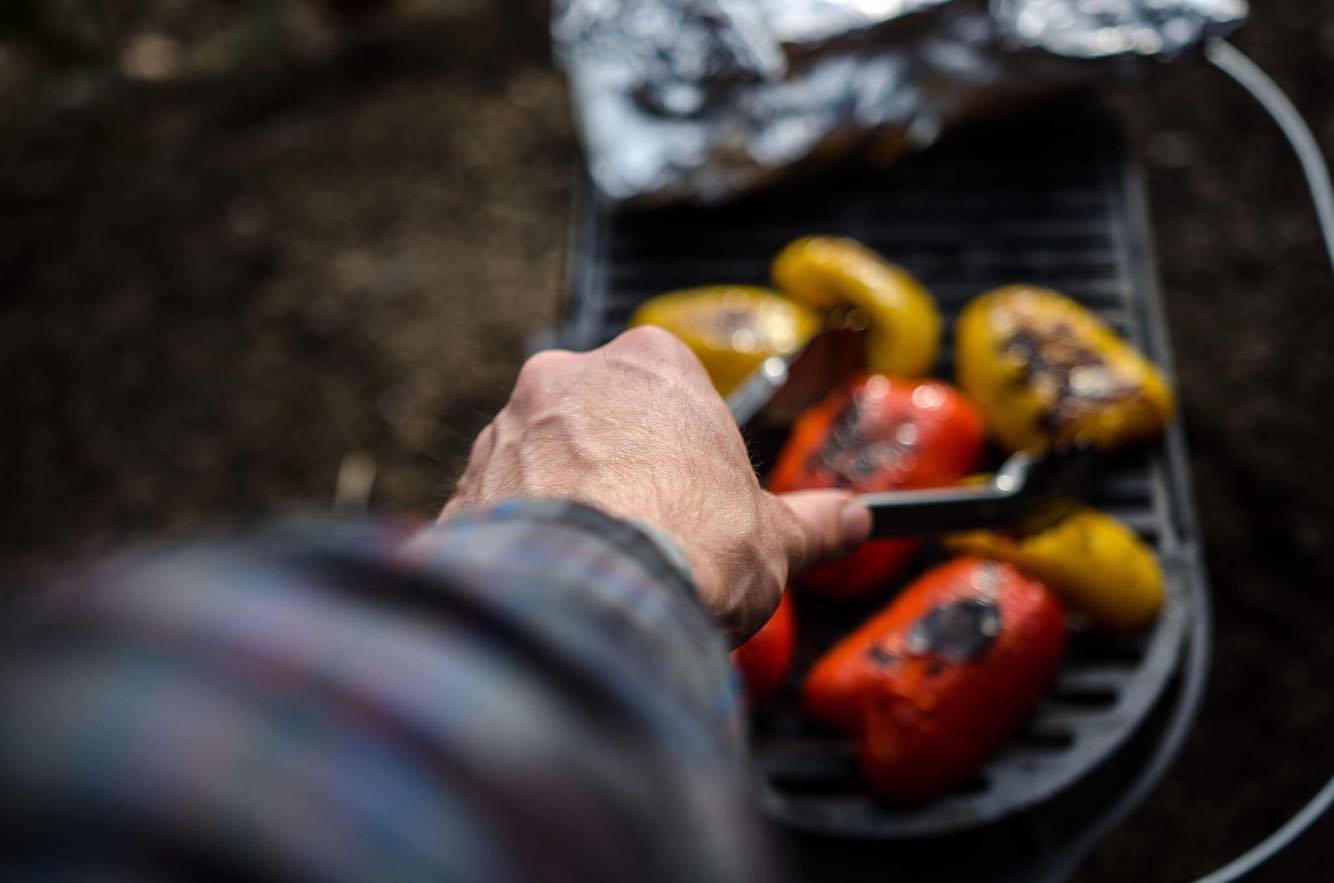 Lodge Sportsman Hibachi Grill:
Quick Overview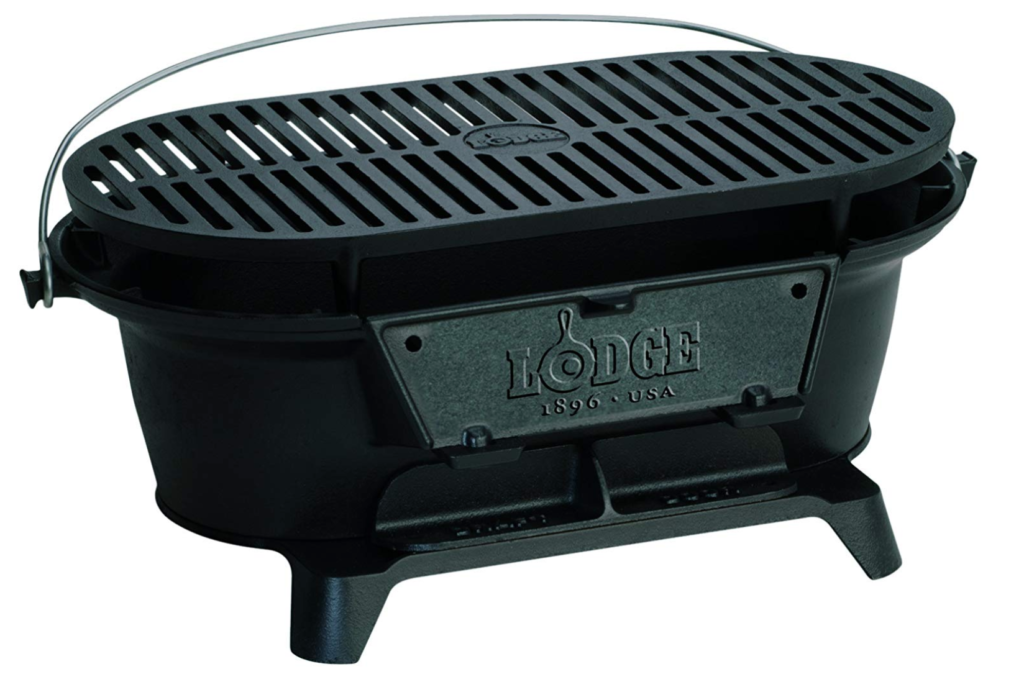 This pre-seasoned charcoal hibachi-style grill is a perfect companion for tailgating, camping or just backyard grilling. It's heavy-duty, built to last and easy to use. We love ours!
Components & Assembly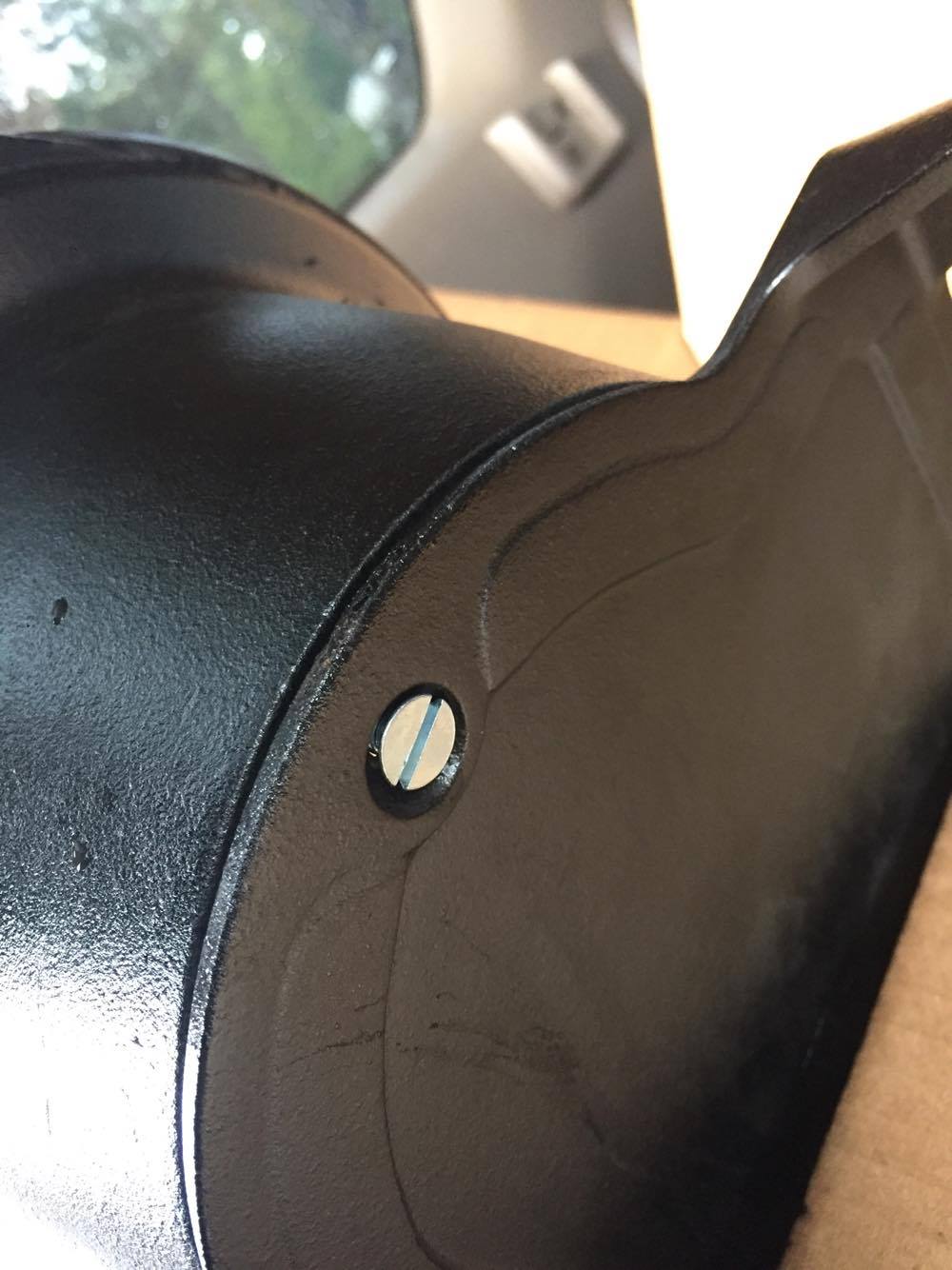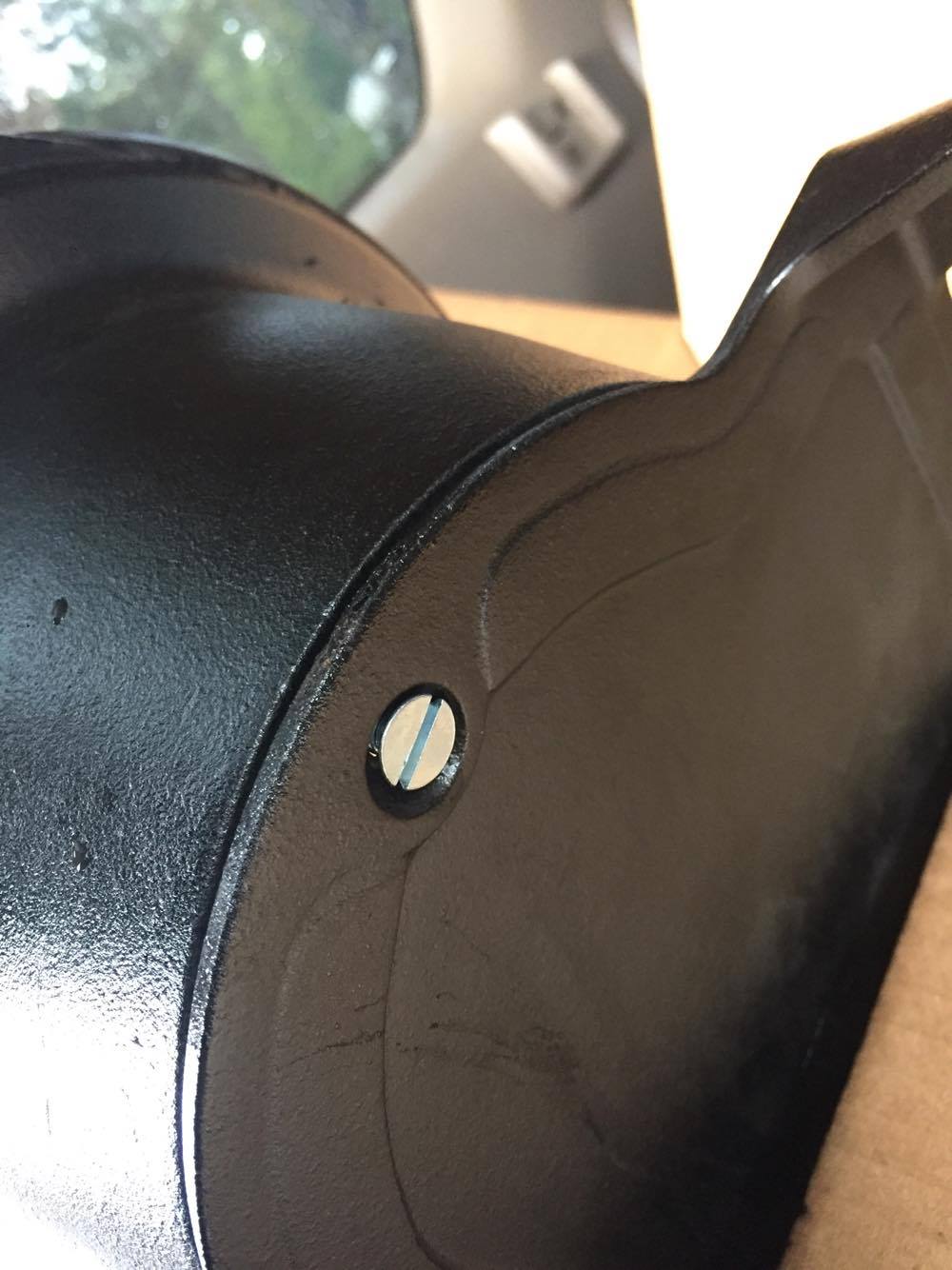 When you open up the box, you will notice that before you can get to grilling there is some very light assembly required. Lodge also supplies you with the hardware required to assemble the Sportsman – two flat-head screws, two washers and two nuts. These are
used to fasten the footed base to the fire bowl. After that, every other piece simply slides or sits on one another, making it very easy to disassemble and transport. You don't even need a screwdriver because you want to keep the screws a little loose to account for the temperature changes. You can use a key or a coin and squeeze the nut with your finger to get it tight enough.
Once the footed base and fire bowl are connected, you're almost ready to go. You next slide the aluminum handle through the firebowl, add the fire door and the sliding draft door to the firebowl. Then you place the smaller inner grill inside the bowl, which is where the coals will sit. You want to have the coals on top of the grill like that so the draft door can let air in and underneath so the coals can breathe and get nice and hot. Then you simply place the grill on top and you're ready to go. Well, almost…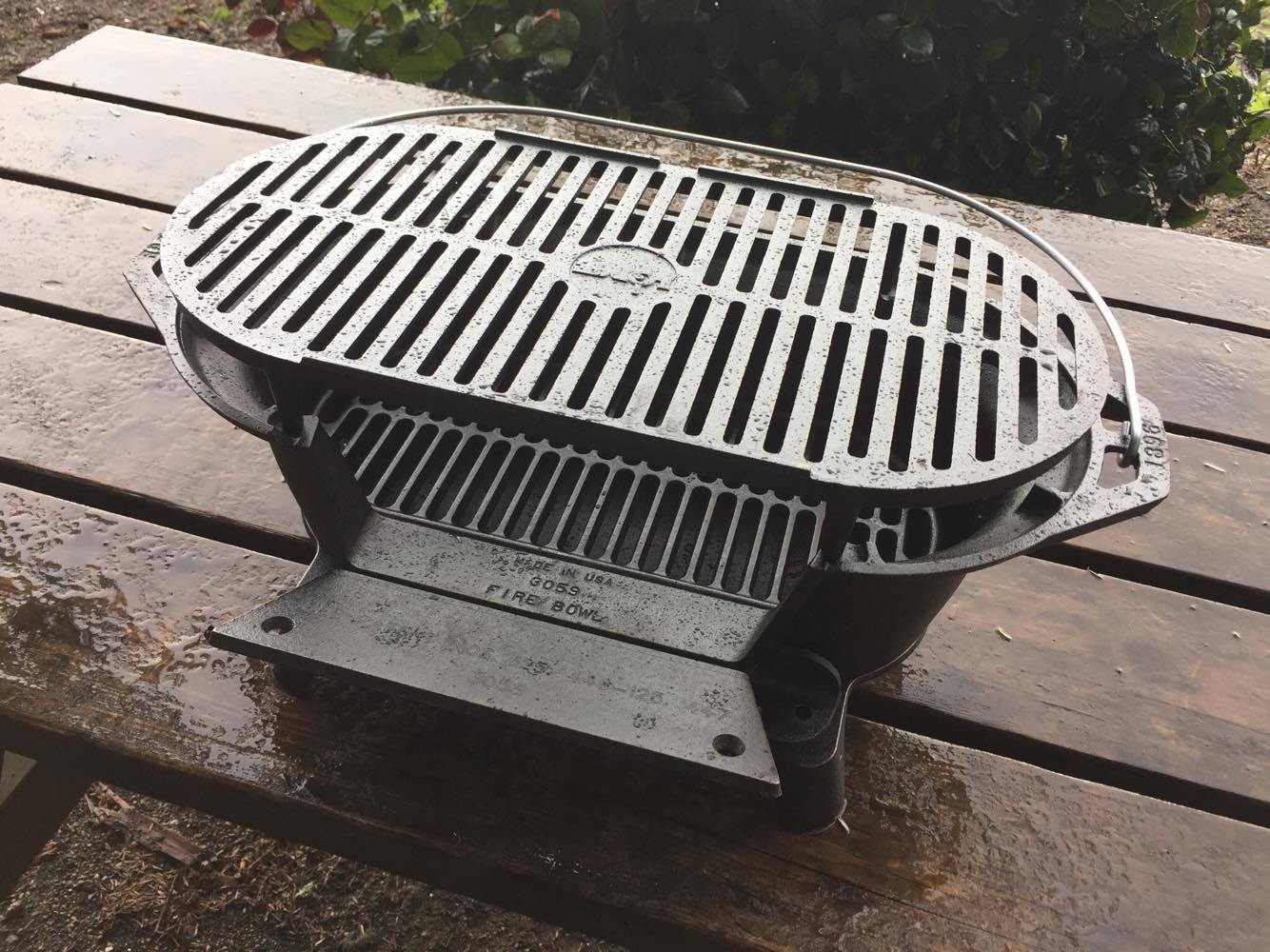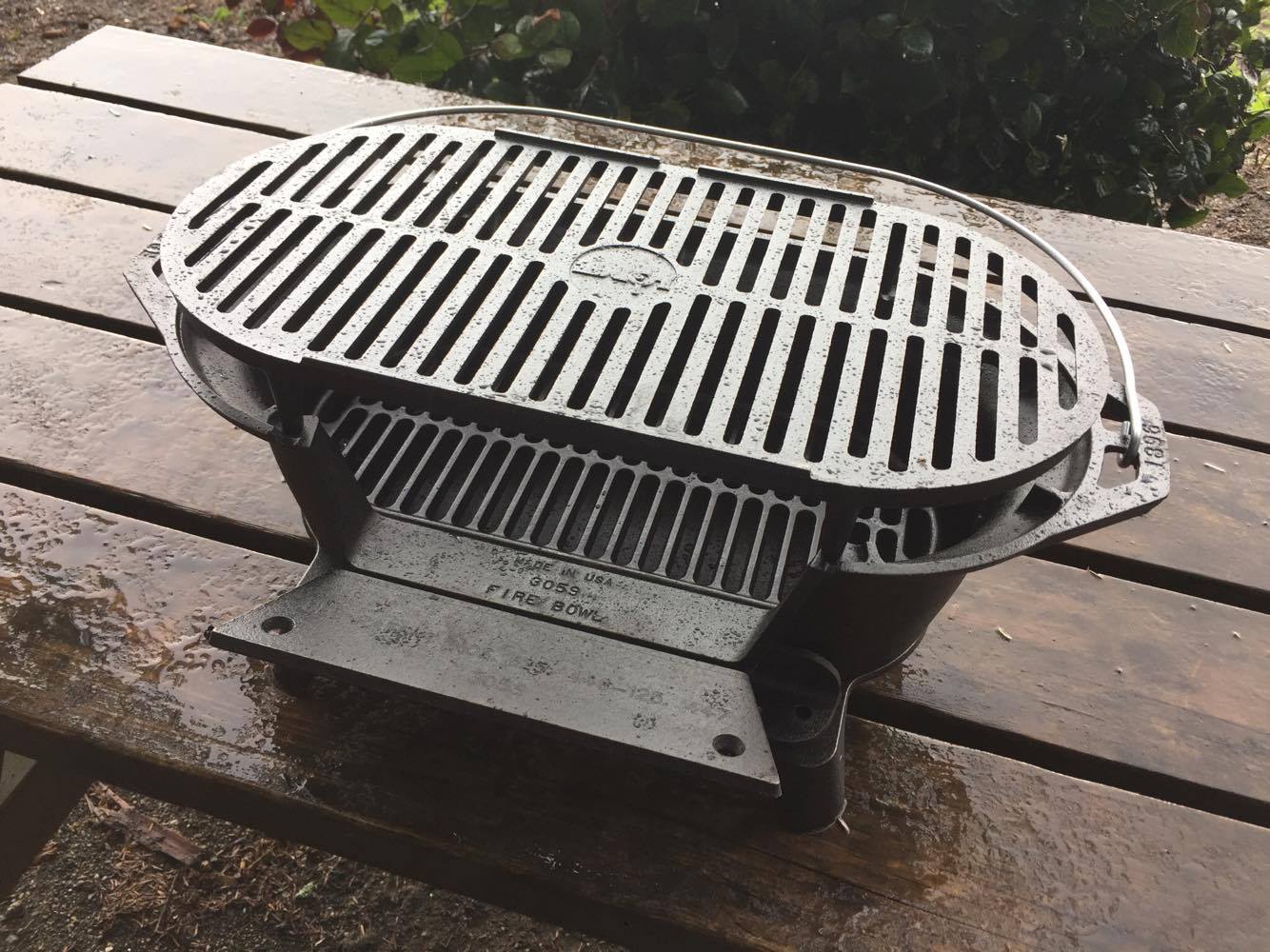 Charcoal
Of course, you can't expect to get to grilling without your charcoal. You're going to want to get some lump charcoal or briquettes for using the Sportsman. We personally like using Royal Oak Lump Charcoal, for a few reasons. It is 100% hard wo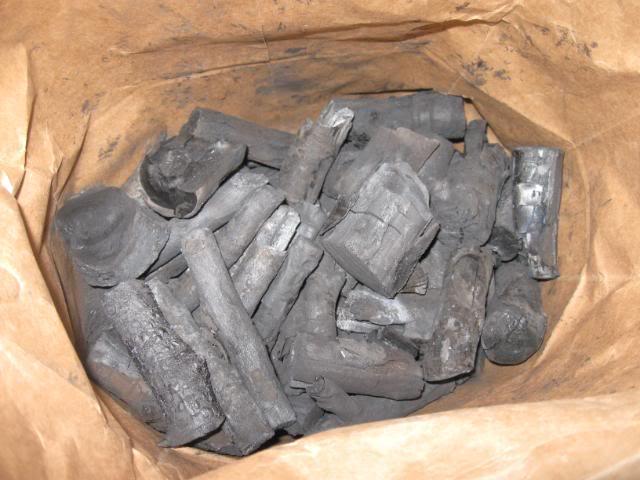 od so you know it's burning clean and it gives a great smoky flavour. It also lights quickly, stays hot and doesn't produce much ash, so your food stays ash-free and you can get a great sear. Some of the pieces in it may be a bit large, or you get a piece that was clearly a branch before, and so because of the Sportsman's smaller size you may want to remove those pieces or try and keep them at the bottom. You can certainly go for a more uniform briquette like Kingsford, but we prefer the natural smoky flavour and don't love all the other stuff that goes into them. It's really just a personal preference.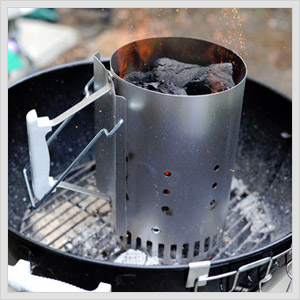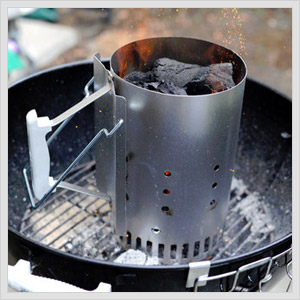 To light the charcoals, we use a classic chimney starter like this one – again, we personally don't like the idea of putting charcoal lighter into what we're going to be cooking on – but it's a personal preference. It's super easy to use, just a few crumpled newspapers on the bottom and your coals light up within 5-10 minutes. Keep in mind the first few minutes will be very smoky so move it away from anything you don't want to get smoky while lighting.
Grilling
So, how does this thing actually perform? We were actually pleasantly surprised with how well it worked. The sliding draft door on the bottom is great for adjusting the temperature. The farther open it is, the more air you let in and the hotter it gets. If it gets too hot, then just slide it closed. If you need to adjust the coals, you can just flip down the fire door and use your tongs to shuffle them around. The grill is pre-seasoned, meaning it's been heat treated with some oil to prevent rusting.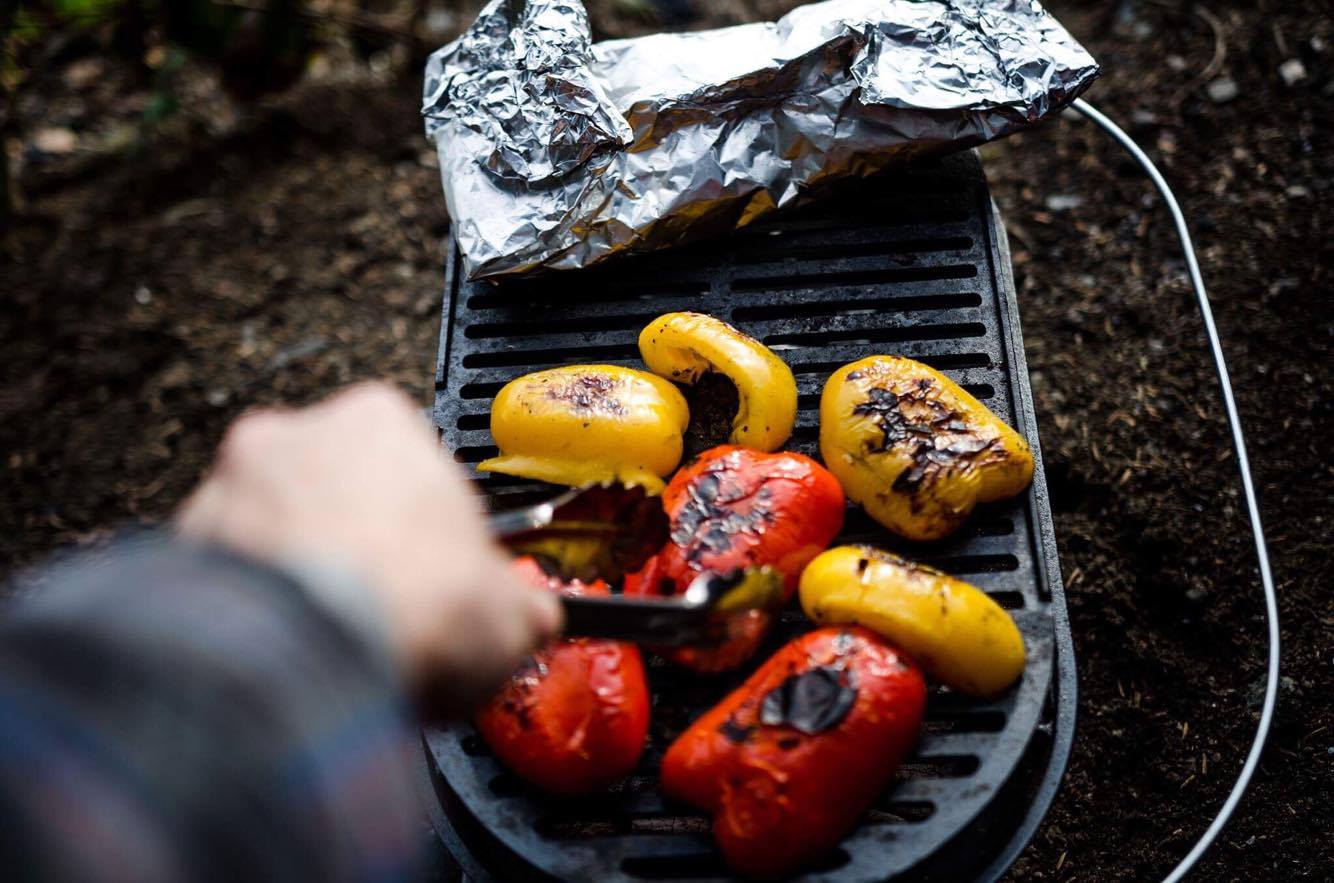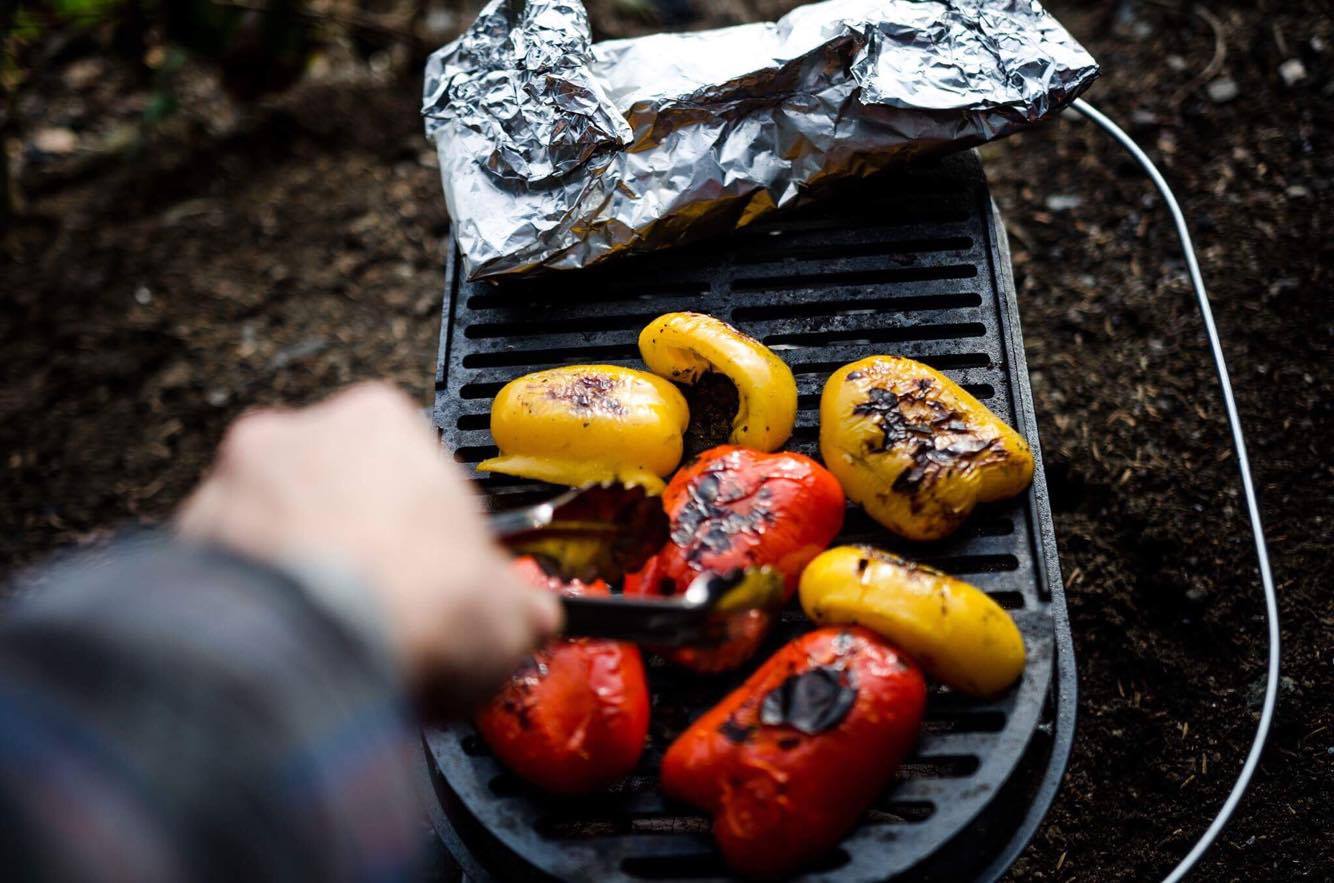 We cubed up potatoes and wrapped them up in tin foil and set them right on the grill, and they were ready within about 30 minutes. Grilled veggies were great, especially bell peppers and zucchinis, and the grill was hot enough to give a nice char. The grill is perfect for meat and fish, since it gets very hot producing that awesome sear and gives a great smoky flavour. You need to be careful with hot dogs, since they can roll off the edge if you're not careful and if it's not perfectly flat! Overall, we ate like royalty and didn't have to struggle with the uneven heat of a campfire. Make sure you let the grill preheat so you can get a nice sear!
Another Quick Note: Because cast-iron retains heat so well, the whole thing gets extremely hot, and stays hot for a long time. If you're planning on using it and then packing it up immediately afterwards, you'll need to carefully empty out the coals as soon as possible so the iron can begin to cool.
Negatives
As much as we loved it, there were a few things that could be better:
For one, it is on the small side, so if you're cooking multiple components or for more than two people (different veggies and meats for example) you may find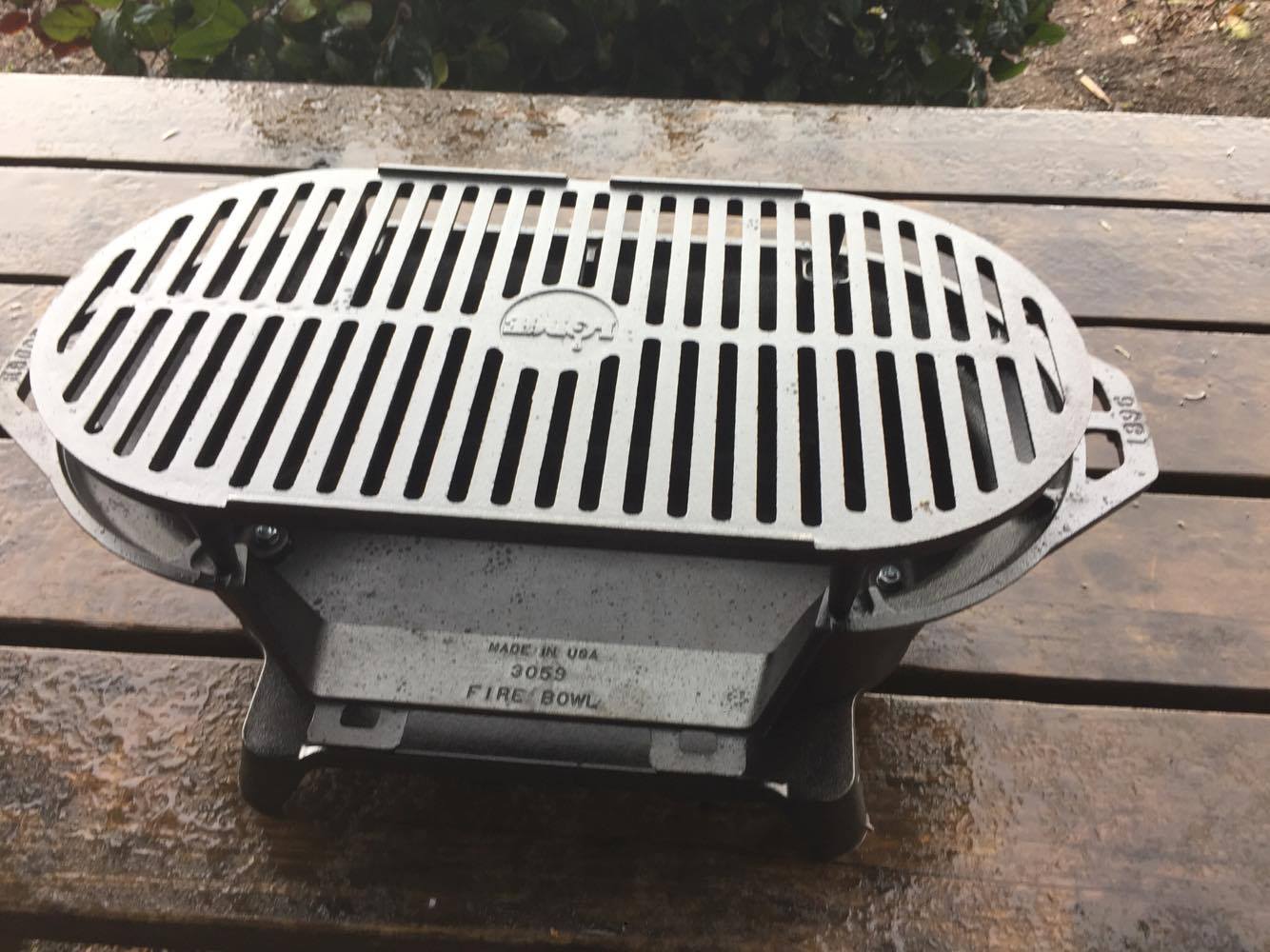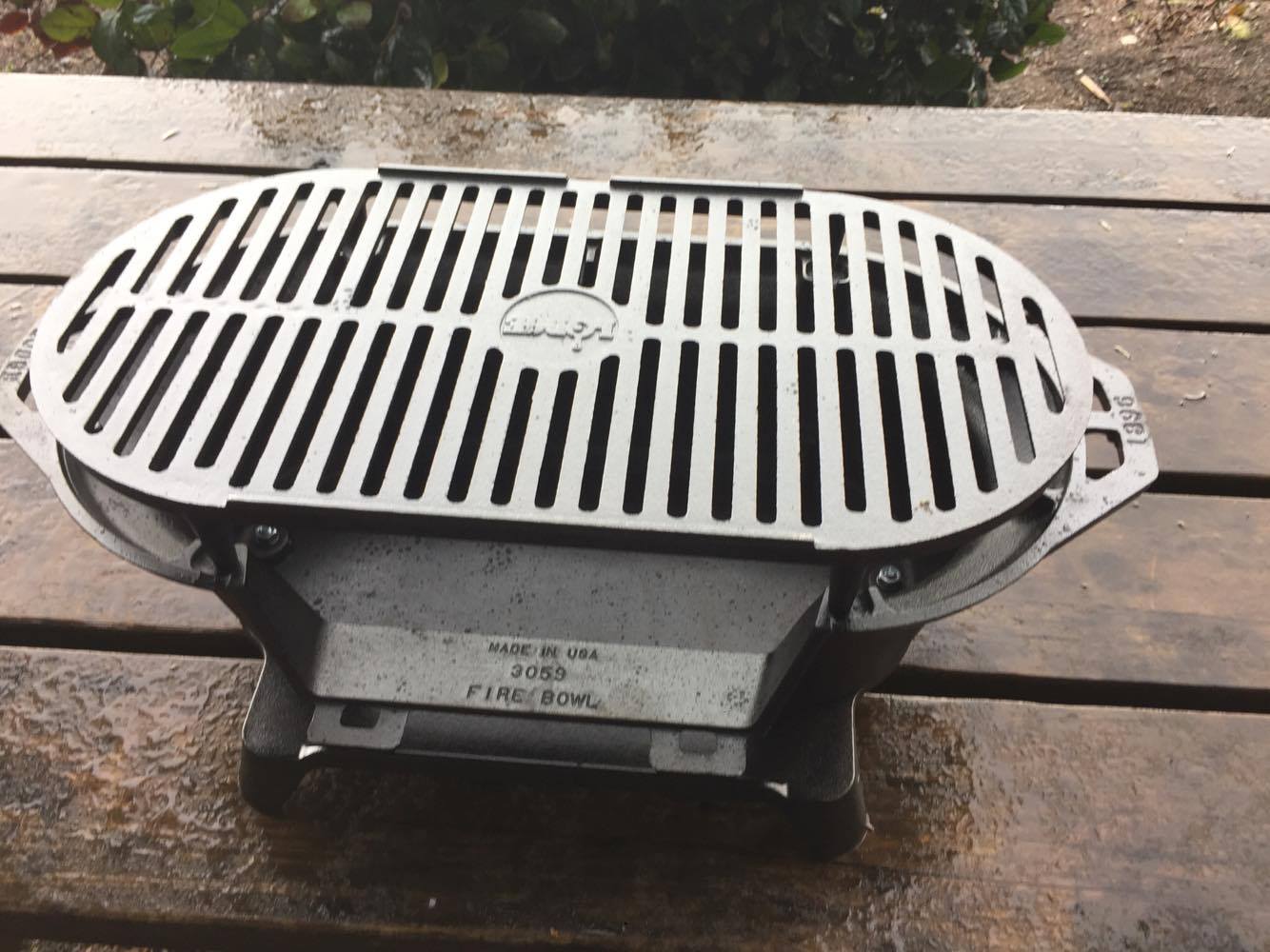 yourself having a multiple course dinner, as each component finishes cooking. However, if it was any bigger, it wouldn't be such a handy portable grill for camping/fishing/patios, so it's a trade-off.
Depending on the type of griller you are, there is no lid to trap some of the smoke and/or heat, so you're open grilling at all times. You can make a tent out of tinfoil as a sort of makeshift lid, though. This is an affordable and portable grill though so for what it's intended for, it's not a big deal.
Lastly, there is a common misconception that cast iron heats evenly. Unfortunately, that's not the case, however cast iron does retain heat extremely well. What does that mean for you? Well, if your coals aren't evenly lit and spread out, one side or spot of your grill can be much cooler than the rest. This isn't really a negative for the Sportsman, just cast iron in general. As long as you make sure your coals are evenly spread, you shouldn't have an issue, plus sometimes it's nice to have a spot that's cooler where you can put food that's finished, but you're not ready to eat yet .
Other things you may need:
Besides a chimney starter or charcoal, here are a few other things you may want in order to make your life much easier.
A piece of wood to set it on, keeping the surface you put it on safe from the high heat. If you put it on the ground, you won't need it.
Leather grilling gloves or oven mitts to move the draft door or the entire stove
Tongs and a wire brush to cook with and to clean afterwards
Tinfoil is always handy to have!
Whatever food you're going to cook up!
Cast-iron skillet or melting pot for eggs, veggies sauces, etc.
So, should you get the Lodge Sportsman Grill?
Overall, we love our Lodge Sportsman Grill and we definitely recommend it. Sure, it's a little small and lacks a lid, but it's not a full on premium smoker/grill. For it's intended uses? It's awesome. It's ultra portable, and great for camping or fishing trips or even just in the backyard. If you're cooking for more than two, it may take a little longer, but you can still fit quite a bit on it. It's heavy duty, retains heat well and gets nice and hot, and adds an amazing flavour to the food. It's definitely going with us on every future trip.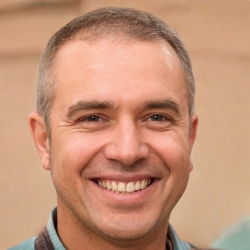 Latest posts by James Kennedy
(see all)