Garmin Striker 7SV Review


Screen: 7″ (800×480)
Sonar: 50/77/200kHz
CHIRP: Mid/High
ClearVü: 260/455/800kHz
SideVü: 260/455/800kHz
Power: 500W RMS
Max Depth: 2,300ft (Fresh)
GPS: YES
MicroSD: NO
Quick Summary:
The Garmin Striker 7SV is Garmin's top model of powerful and affordable fish finders. The 7″ is a luxury you never knew you needed. The three frequencies provide beautifully clear images, for both ClearVu (below you) and SideVu. It's got a max depth of 2300ft in freshwater, and 1100 in salt water, which is plenty deep for most folks. It's well built, rated highly for waterproofing, and with the built-in GPS, it's the perfect companion for anyone serious about catching fish .
Design & Durability
When you first lay eyes on the Striker 7sv, your eyes are drawn towards the large, full-colour display. The display is house within Garmin's most rugged housing yet, about 9 x 5 x 2 inches and weighing 24 ounces. This thing is solid, and you don't have to worry about causing too much damage from a rogue fishing rod bumping the screen or the body. The Striker 7sv is extremely waterproof for an electronic device, holding an IPX7 rating. The rating allows the fish finder to be protected from full immersion in water (link to waterproofing blog post) up to 30 minutes at a depth of 1 meter. Hopefully you will have the finder mounted somewhere on your boat and it will never be submerged, but you can rest easy knowing that no sort of splash or rain is going to damage the finder. If you are going to be moving it around, there is a portable kit you can get for it to keep it safe while carrying it around, say if you want to use it in a cane, kayak or while ice-fishing. The sealed, rechargeable battery will make sure you have lots of power even if it's not connected to your boat's battery.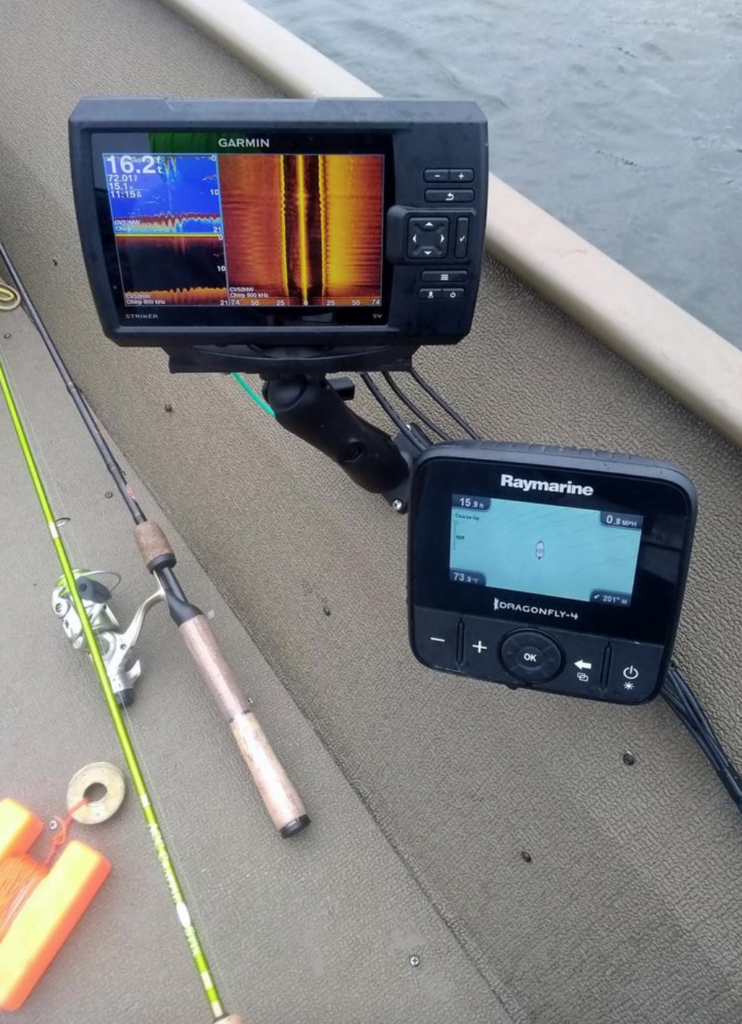 Display & Usability
The full-colour, WVGA display of the Striker 7sv is quite large, with 3.5 x 6 inches' dimensions (7 inches measured corner to corner). The monitor displays for you a number of important factors while you're on the boat. Your current speed and heading displayed in the top corners of the display, both determined using the built-in GPS. Knowing your speed is crucial in order to maintain an appropriate and consistent speed when trolling, and to adhere any speed restrictions of course! Current depth is displayed in the bottom left corner, with the time of day opposite it.
It's extremely easy to navigate using the waypoint map. You can easily and quickly mark multiple waypoints to make note of wherever you got some bites or saw fish, so you can circle back and make another pass over that area. You can also use the waypoints to mark obstacles like kelp piles, driftwood and buoys in order to avoid collisions. Of course, especially when you're deep sea fishing or in an area you're not super familiar with, it's always good to have the ability to find your way back to your dock!
Built-in Flasher
Another great feature of the Garmin Striker 7sv is the built-in flasher. Flashers are used during stationary fishing, like when you are ice-fishing or jigging for bottom-dwelling fish such as halibut. The flasher displays the bottom of the body of water and tells you if the bottom is rocky or muddy. It also shows your jig/weighted bait, and the depth of any fish present – if they move past the sonar. The flasher provides real-time updates, so you can watch the height of your jig while you're lifting the rod up an down, and watch if any fish are moving towards or away. All you have to do is wait for them to bite!
CHIRP Sonar
Garmin claims that CHIRP is currently the most sophisticated sonar tech available to the public. CHIRP sonar differs from standard sonar in one basic way. Standard sonar which sends a single frequency sound wave out at one time (link to blog post). CHIRP differs from standard sonar by emitting a continuous range of low, medium and high frequencies. The fish finder then individually interprets each returning frequency giving a wider range of information and a superior high-res image that is incredibly clear. Using CHIRP, the Garmin 7sv produces fish arches are clear and crisp, and with excellent target separation, allowing you to better distinguish what's down there.
Garmin ClearVü
Another built-in sonar feature of the Garmin 7sv is its ClearVü scanning sonar technology. The ClearVü sonar provides an image that is almost a perfect photographic of what is below your boat. The ClearVü provides a wide, clear view of what passes below and on either side of your boat. Structures of any objects in the water, and fish are easily distinguishable. The ClearVü sonar uses the same transducer as the CHIRP sonar so it doesn't add any extra costs or equipment. The two sonars combine to provide an accurate representation of any fish or submerged objects near your vessel.
In The Box:
When you get your new Garmin Striker 7sv, unit itself you get a number of other goodies along with the box. A Garmin CHIRP transducer is included, capable of hitting 260/455/800 kHz frequencies, as well as the 12-pin transducer to 4-pin sounder adapter cable and a power cable. Transom and trolling motor mounts are also included giving this unit great versatility, as well as a tilt-mount so whatever awkward position you find yourself in while trying to drive the boat and fish simultaneously, you can see the display. There are also a multitude of accessories available such as alternative transducers, adapters, cases mounts and cables, all ensure whatever your fishing setup you can use this finder with confidence.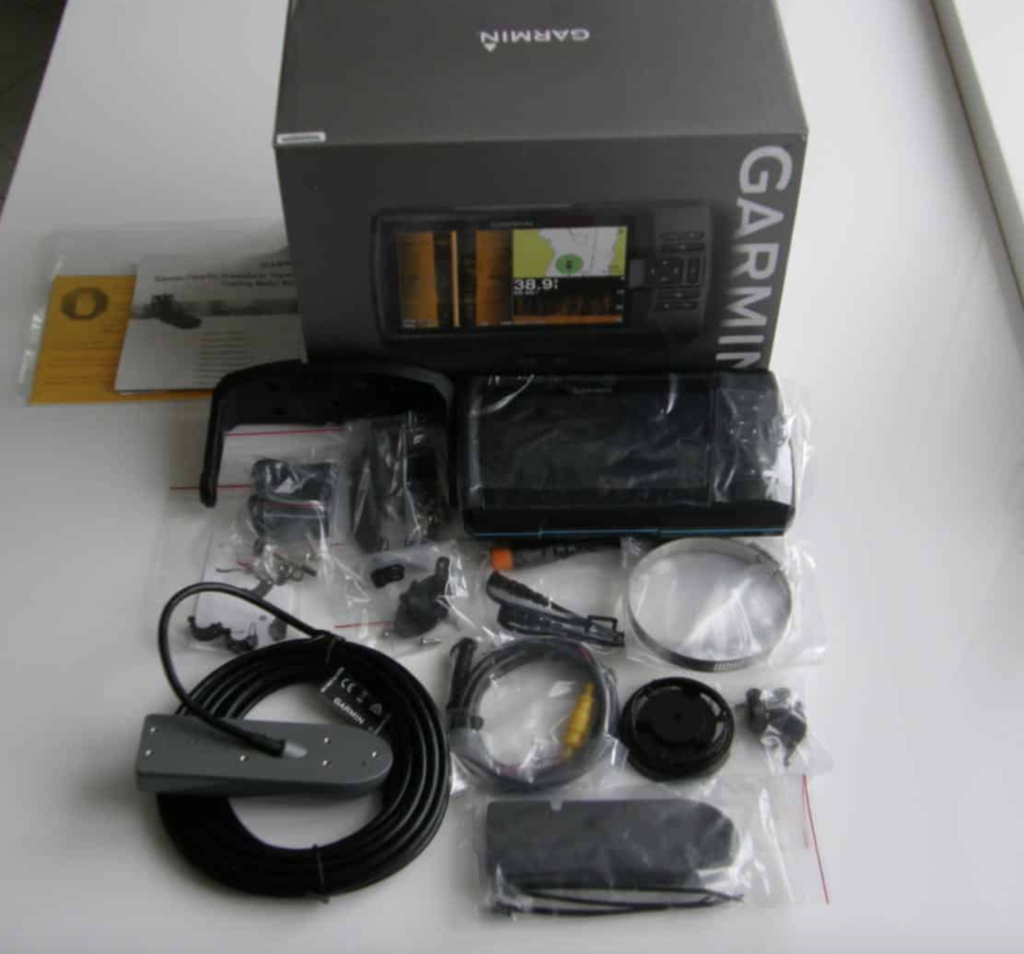 Final Verdict: Is the Garmin Striker 7sv Worth Buying?
The Garmin Striker 7sv is a powerful device. Not only are you backed by a world-renowned and respected company in Garmin, the device itself is built to last. It has a superb waterproof rating, and a beautifully clear and large colourful display. It's a great navigation companion, constantly displaying speed, depth, heading and time, and it is simple to set multiple waypoints. Having the ability to set multiple waypoints marks hotspots, obstacles and of course, your way home! Garmin's CHIRP sonar is industry leading, and paired with their ClearVü tech, you get a great view of the waters below. CHIRP provides with greater accuracy the depth of water, clear fish arches, and easily seen baitfish schools. ClearVü gives a photograph-like view of the water below and on either side of your boat with real time updates. If you are serious about catching fish, then the Garmin 7sv will certainly help you do that.
Latest posts by Fish Head
(see all)