The 5 Best Water Filter Pitchers
Not everyone's tap water tastes like it pours directly from a beautiful mountain stream.. actually, almost nobody's does. There are a variety of different things in your tap water that cause can causes bad tastes and even health problems, so using a filtration system is a great idea for most folks. Whole home systems exist, as do on-tap systems, but they have their own set of drawbacks, like how they don't fit on every sink. Using a pitcher filter is awesome since you can bring it to the table, keep it perfectly cold by storing it in the fridge. It's also a great way to get away from buying bottled water, saving money and keeping plastic out of the landfills. In this article, we've reviewed the pitchers that do the best job of filtering your water so you can drink clean, healthy and tasty water.
Most Aesthetic: SOMA Sustainable Pitcher (10 Cup)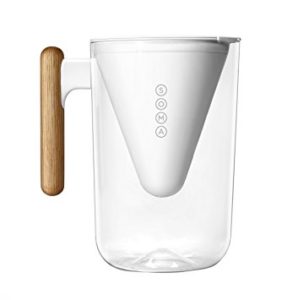 SOMA. Our top pick is the SOMA 10-cup pitcher, and it's not hard to see why when you look at it. While Brita has mostly dominated the water filter market for years, their utilitarian design leaves something to be desired. SOMA pairs impressive filtration capabilities with beautifully sleek design. This startup has created a lot of buzz in the industry, including appearances on Ellen and Oprah. The housing is manufactured from recycled and repurposed materials, reducing the carbon footprint of their manufacturing process. The BPA-free plastics are shatter-proof so even if it gets dropped (as we're sure it will at some point) you don't have to worry about its fragility. The filters are fairly affordable, and should go for about 40 gallons, or around 2 months of use for most folks and one is included with the vessel. The resulting water is clean and tasty, free of sediments like copper, mercury and zinc, as well as chlorine and that nasty chlorine taste. The handle is made from sustainable white oak and is comfortable to hold. You won't be embarrassed to bring this right out to the table at your next dinner party.
Dimensions: 12″ x 6″ x 9.2″
Pros: Beautiful design, wood handle, sturdy construction, very effective at removing any chlorine taste, 40-gallon filters
Cons: May be too tall for some fridges at 12″ (just measure and make sure, or check out the 6-cup model), filters are more expensive than others on this list

Most Effective: AquaGear Water Filter Pitcher (8 Cup)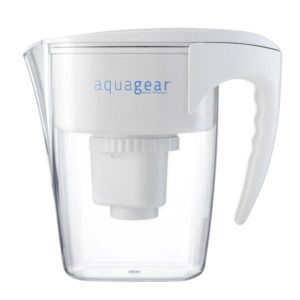 AquaGear. While the activated carbon filters of the previous models do a great job of removing chlorine and sediments, they don't take out everything in the water. AquaGear filters are arguably the best filtration system available today, and do what these other systems just can't. Not only does it remove chlorine, lead, mercury and other sediments like most others, it also takes out some more difficult to remove contaminants such as trihalomethanes, DDT, and flouride. Flouride is not used by most municipalities in water treatment these days, but some still do, and it is present in natural trace amounts. Not only are their filters impressive at removing these contaminants, but they last a long time too – 150 gallons, or up to 8 months. One downside is that there is no indicator sticker or LED to let you know when it's time to change the filter. AguaGear also provide sa lifetime warranty so should the pitcher break you can get it quickly replaced. It is a little smaller than the others on our list, holding on 8 standard cups of water, but that shouldn't be a deal breaker. The system itself and the filters are more expensive than most others due to their better performance, but the filters do last a long time saving you some money. One other drawback is that the filtration can be a little slow. But, it's well worth the wait as you get some amazing tasting water. If you're worried about higher flouride levels in your water then this is a great investment for your home, but otherwise you can stick to a more affordable filter like any of the ones above.
Dimensions: 11″ x 5.5″ x 10.8″
Pros: Removes chlorine, lead, mercury and sediments, only one on list that removes flouride, lifetime warranty, 150 gallon filters, convenient size 
Cons: Expensive, filtration is a little slow, no filter replacement reminder system, smaller than all the others on this list
Best Sized: CamelBak Relay Pitcher (10 Cup)
CamelBak. Although CamelBak is more known for their portable hydration packs and water bottles, they've recently stepped into the filtration game. This 10-cup pitcher has some great features that make it great for many households. The sizing is awesome, being slim enough to fit in most fridge doors, making it more versatile than some of the others on our list. The trapdoor in the locking lid makes it easier to fill, and the BPA-free plastic is thick, durable and dishwasher safe. The lid locks to the container and making it spill-proof which is awesome, since spilling any of these other pitchers can cause a huge mess. It produces great tasting water, although some folks find that the filters do leave a bit of carbon taste in the water during the first run through. After that, any chlorine taste is effectively removed. CamelBak doesn't include any information about the effectiveness of sediments and metal removal, although the activated carbon filter is surely similar to the others on our list. For removing the odor and taste of chlorine, this is one of the best. Where the CamelBak stands out from its competitors though is how long their filters last. While most others last around 2 months, you can get a full 4 months of effective filtration from a similarly priced filter. This is a well-made, sturdy product that will also save you money on filters as you use it.
Dimensions: 9.8″ x 5.8″ x 9.5″
Pros: Filters chlorine very effectively, locking spill-proof lid, space-saving shape and size, 80 gallon filters, very fast double filtration
Cons: Might not be as effective at removing sediments or lead as others
Most Affordable: PUR Water Filtration System (11 Cup)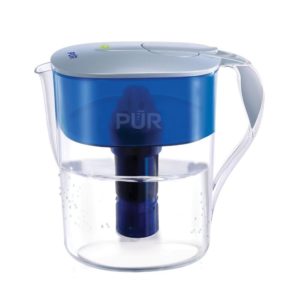 PUR. PUR is another brand that's been around for ages, and it's no surprise. They produce quality and reliable filtration systems at an affordable price point. This 11-cup uses activated carbon filters to pull out contaminants including mercury, zinc and lead. The water tastes great, fresh and crisp. The filters are affordable, and provide up to 40 gallons (2 months) although you can often get a little more out of them. One is included with it, though we recommend grabbing a few extras so you always have a replacement ready. An LED light mounted to the lid changes from green to yellow to red when it's almost time and then officially time to swap out filters. One often overlooked feature we love in the PUR is that there is a small trapdoor on the lid that can be used to fill through, rather than removing the whole lid. One major downfall is that because it can be quite heavy when compeltely full, carrying around the pitcher by the handle without supporting the bottom can cause a lot of stress on the fairly thin plastic. This can produce some hairline cracks around where the handle is attached, eventually leading to full breakage. Being careful to hold it with two hands, one on the base and one on the handle will negate this issue, though. Besides this issue, the filtration is great and it is a great affordable option for most households.
Dimensions: 11.25″ x 6.75″ x 10.63″
Pros: LED indicator light, don't need to remove the entire lid to fill, affordable, cheap 40-gallon filters, comfort grip handle
Cons: Plastic is somewhat thin and carrying by handle only when full can cause cracks, is wider/larger than others.
Most Reliable: Brita Everyday Water Pitcher (10 Cup)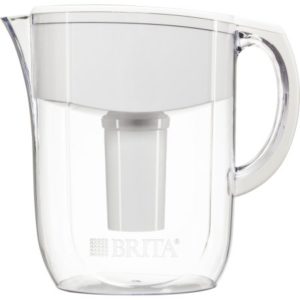 Brita. Brita is a name almost synonymous with household filtration systems. As a result, it's often the first choice that many folks go with. Their filters are among the best, doing a great job of removing any chlorine taste and odor. They also effectively reduce the amount of copper, mercury and even cadmium. But, even Britas have drawbacks, although mostly to do with the design. For starters, the weight distribution of this 10-cup model is a little odd. The placement of the handle makes it so that it is very front-heavy, and can be uncomfortable on the wrist to carry with one hand. The lid is also very difficult to remove, since the indents are fairly shallow and it fits in snug. Plus, you need to fully remove the lid to fill it up. That being said, their filters are great (40-gallon lifespans) and affordable, and one thing they did get right is the sizing. The size, and square-ish shape allow it to fit in most fridges conveniently. This is another great-tasting, healthy and affordable option.
Dimensions: 16.75″ x 7.38″ x 11.94″
Pros: Great tasting filtration, convenient size, affordable, 40-gallon filters
Cons: Uncomfortable and awkward to hold by the handle, must remove entire lid, lid is difficult to remove.
Hopefully this list helps you choose a water filter pitcher for your home. Comment below if you have any additional questions for us!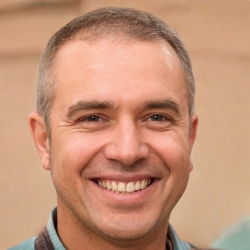 Latest posts by James Kennedy
(see all)