Our Manna Water Bottle Review
A great water bottle is arguably one of the best purchases you can make these days. Staying properly hydrated is crucial to staying fit and healthy, and keeping your brain working at full capacity. While you could just buy a cheap-o plastic water bottle, it's not great for the environment and they don't really work that well either. Lately a bunch of brands have come onto the scene making some pretty wicked water bottles that help keep your drinks cold (or hot) and also look cool, which is arguably the best way to get someone to change a habit (think Tesla and electric vehicles). Manna Hydration is one of these companies, and they've got a wide inventory of great water bottles that should really get you excited. Let's dive into our in-depth review of Manna Water bottles and see if they're worth your money.
Manna Bottles
Manna makes a huge variety of types of water bottles. From the Titan line to the Moonshine collection to Convoy and and Rezi, there are a lot of options to choose from. There are a lot of features that all Manna water bottles share, though.
Every Manna water bottle is made with 18/8 kitchen grade stainless steel that won't stain or transfer any flavours
Every bottle is made with a double walled vacuum sealed design
The stainless steel is lead free, and no plastic components have any BPA
All the bottles are sweat-proof, meaning that you won't get condensation around the outside of the bottle, due to the double-wall vacuum design.
The bottles are leak-proof as well,
Replacement lids are easily available
Vacuum Insulated Makes a Difference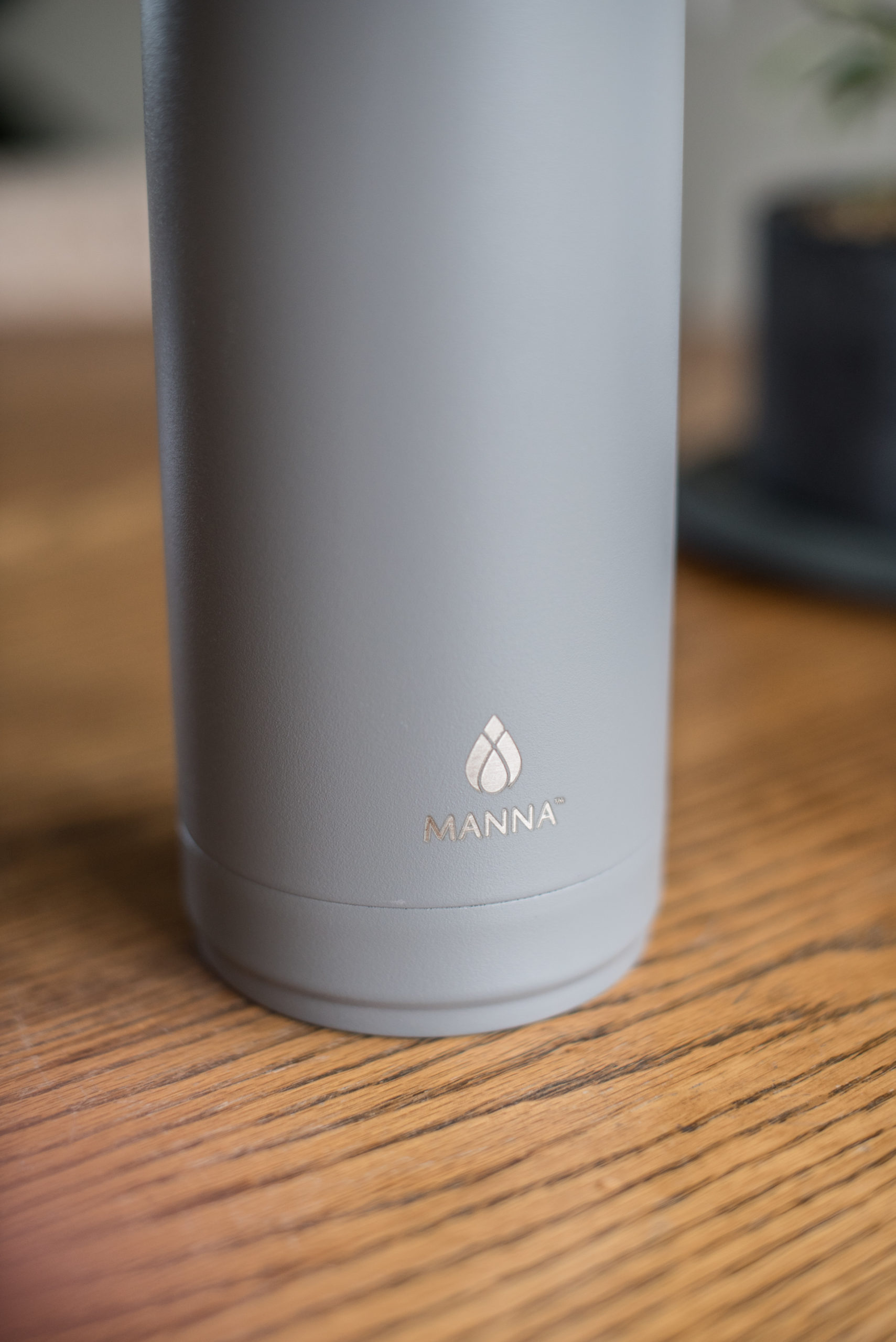 Vacuum sealed water bottles aren't a new thing, and if anything they're now a standard among water bottle companies. These aren't just regular bottles of water, but typically vacuum insulated stainless steel vessels that can keep your drinks cold for more than 12 hours. How exactly does it work? Well, Manna water bottles aren't just a single layer, but actually have a double wall design, separated by a small gap of air. However, it's not actually air, since they suck all (or most of) the air out of that gap to create a vacuum. Because of the way heat is transferred, without any air molecules to transfer the heat, it can't go anywhere and heat up your drink? Of course, vacuum insulated stainless steel like this isn't a perfect process, but the double wall design does keep things cold for much longer than a traditional design. Is this a little too much for a water bottle? Ask yourself that next time you're at the beach and take a swig of your *now* hot water while someone else is still drinking ice water!
Other Customer Reviews
We always do a quick review of what the online community is saying about a product before we review it ourselves. Here's what the community had to say:
People love the variety of Manna bottles available, from everyday sizes with retro and tropical prints, to large and heavy duty models like the Titan line
Customers are often impressed by the effectiveness of the bottles at keeping water cold or hot drinks steaming hot!
The durability of the bottles is another point that many positive reviewers touch on, you can rest easy knowing if you accidentally drop the bottle you're not going to need to replace it. You might get a ding or dent in some of the smaller and thinner models but thicker models like the Convoy can take a beating!
Some users report Manna bottles have issues fitting certain sizes of ice cubes into the mouth of the bottle, so that's something to keep in mind.
Many people report that they've had ice last for several days!
Most folks also speak to the price point of Manna water bottles, noting they get the same performance with similar quality at a much better price than other brands like YETI or s'well.
Reviewers have also reported hot drinks staying hot for more than 24 hours in a Manna!
Unfortunately some users have reported their plastic lids breaking on some models after dropping the bottles.
Regardless, many reviewers have mentioned online that Manna is the best bottle of water they've ever owned!
Our Review
We were able to get our hands on 4 different models of Manna Water bottles for this review: the Titan, Rezi, Retro, and Convoy. Here's what we thought.
The Retro
The Retro models are Manna's most basic model of 20oz water bottle. They're more of a no frills vacuum sealed water bottle, but with a fancy coating. Unlike other powder coated water bottles, the 20oz bottles are wrapped in a tight plastic "wallpaper." This is actually kind of nice from a durability stand point since you can't chip the powder coat off, but it can still rip. These bottles are most similar to S'well bottles, but they do lack a little in terms of performance in comparison. These stainless steel bottles still have the double walled design, and keep your drink hot/cold for hours, but they're not the best bottles Manna makes.
The Convoy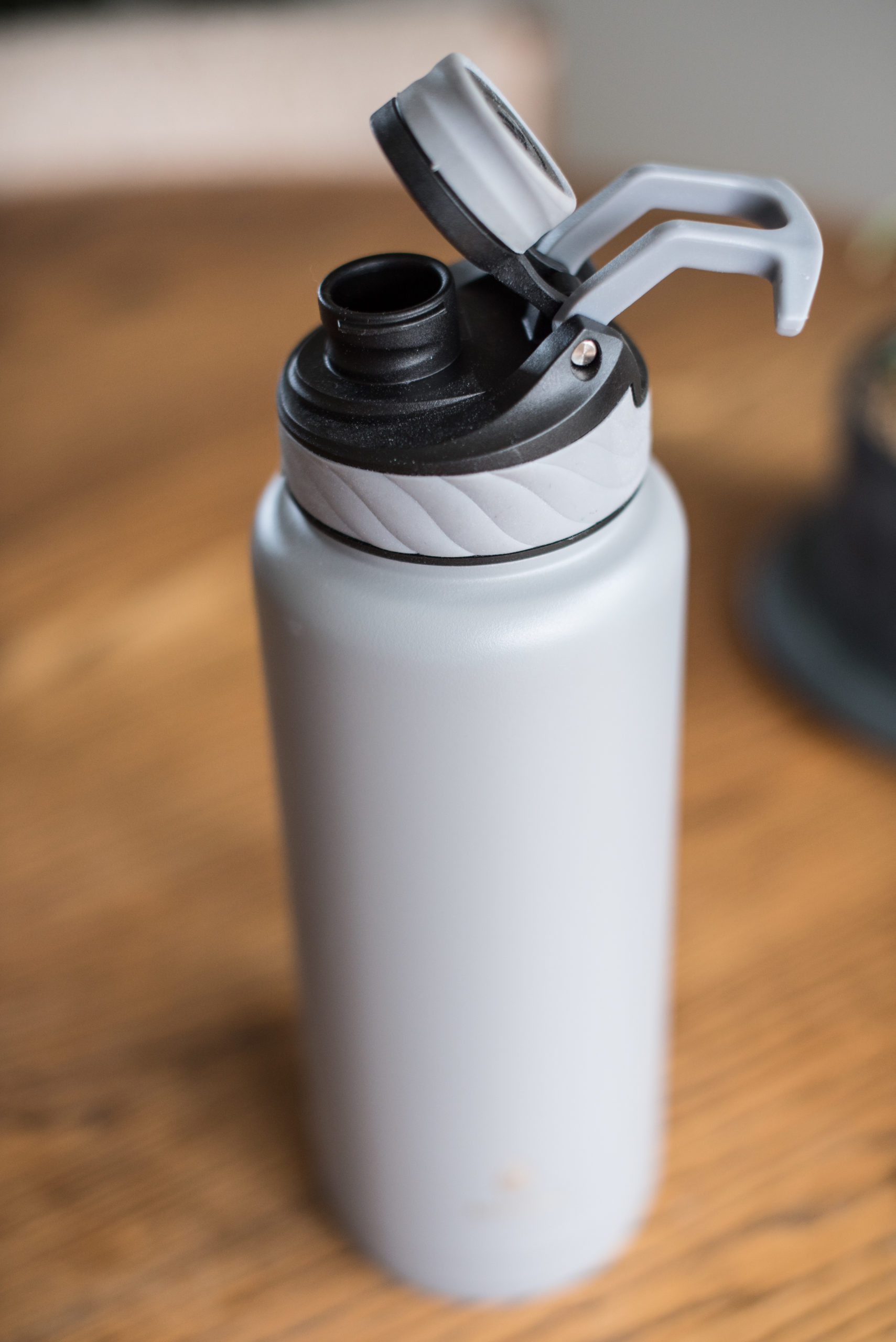 There are a few different models of Convoy bottles, but the one we have is the 40oz powder coated model. And – we absolutely love it. It's a great size and it looks really awesome. The loop on the lid folds down to keep a low profile so it doesn't stick out, and the cap on the lid is attached at the same point using a metal pin. It's a pretty cool design we don't see often. Whatever drink you have in there should stay cold all day, and this has really become an every day bottle for me. The small details like the grippy rubber around the lid and cap really make it special. The one downside – it can be a little too easy if you're in a hurry to close the cap and have it crooked, changing the bottle from leak proof to leak machine, but as long as you close it properly there's no issue. I worry at times about the pin keeping the loop and cap on failing over time, but so far, no issues. Overall, love my Convoy!
The Rezi Sport
The Rez Sport i is what we see as the equivalent to a small Klean Kanteen, with a thick, immovable loop and a flip-up straw. The only reason that I personally have made the Convoy may day-to-day bottle is that I enjoy the 40oz size vs. the 22oz Rezi, but the Rezi has some awesome features I love, such as the flip-up mouth piece attached to a straw. That being said – it fits most cupholders unlike the 22oz so if that's a big deal for you, it might be the Rezi sport you need! It's got a little loop on the straw that you can thumb open so you can keep the bottle closed and sealed but still open it up with one hand, perfect when you're running or driving. The large thick plastic loop is awesome and can be attached or clipped to anything you need, and it definitely won't break. The one downside is that if you don't keep the bottle dry when not in use, the straw can get a little yucky, so make sure you clean and flush often to avoid any issues! Otherwise, this is an awesome stainless steel water bottle that will hold your drink cold for hours and hours wherever you end up.
Titan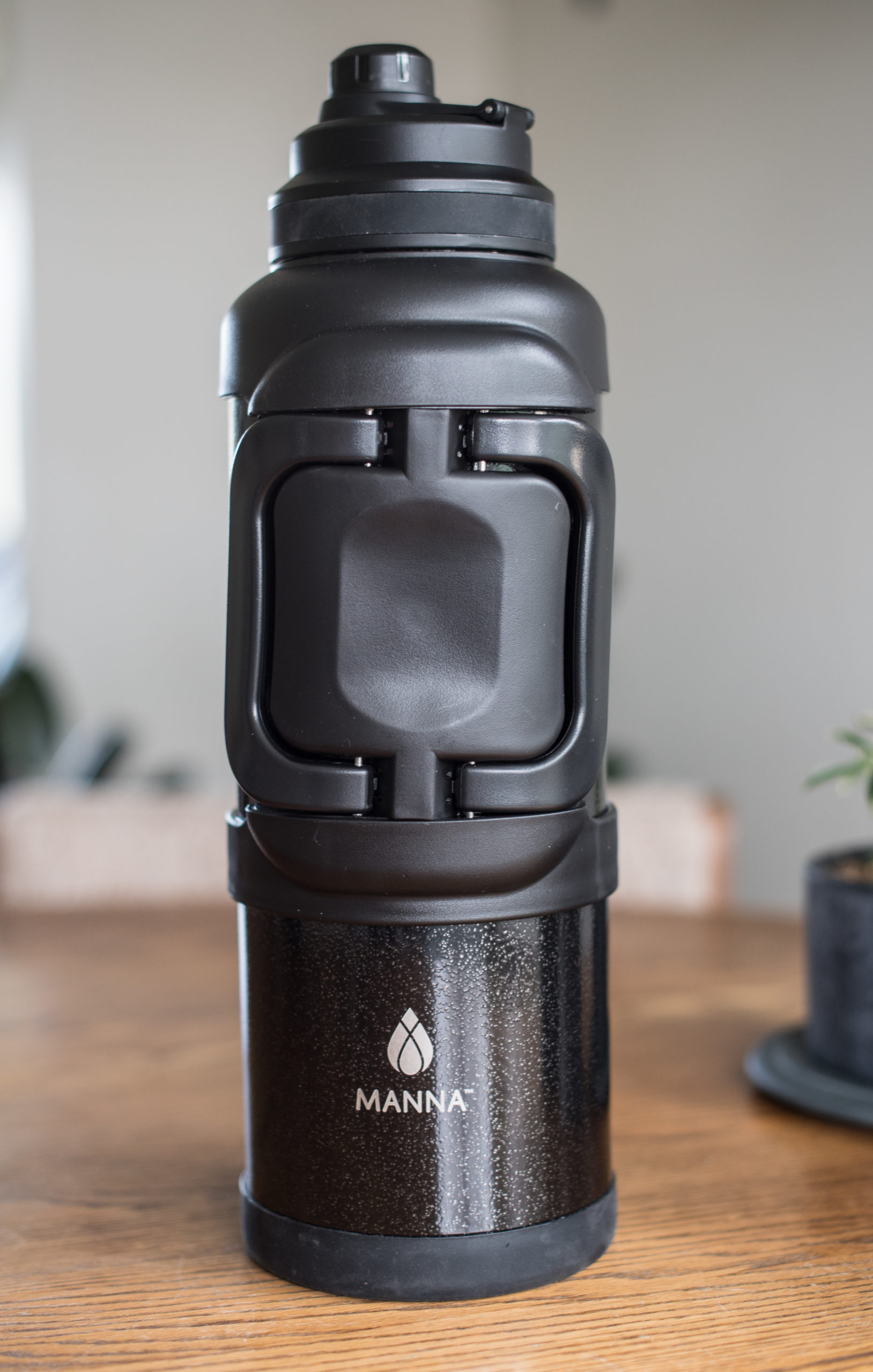 Ah, yes the Titans! These behemoths are Manna's largest offerings at a whopping 128oz and 78oz. These bad boys are perfect bottles for water when camping, hunting, fishing, sports or for use as a growler! They've got a very similar lid to the Convoy, making it easy to pour and drink from, but with a cap that stays attached to the lid via a small metal pin. Two folding handles make it easy to hold or carry, and also fold down to maintain a low profile for packing into the vehicle or gym bag. These double-wall vacuum sealed, leak proof monsters claim to hold the cold for 120 hours and heat for 24 hours – so we actually put them to the test. Okay – I actually only tested for 24 hours, but when you see the results for yourself, you'll see why I didn't even really need to.
The Test
Really quick preface: I know this isn't a perfect test, but it does a darn good job of showing you how good these bottles are keeping things cold, and hot. In order to test the two Titans, I filled the 78oz Titan half way with ice cubes, then to the top with water and sat at room temperature for 24 hours. The temperature inside the bottle was around 3-4 degrees celsius (37F), and room temperature at the time was around 22 degrees celsius (72F). The 128oz was filled with hot water around 57 degrees celsius (134F) and left in the same spot for 24 hours.

The Results
After 24 hours, I had some pretty promising results. The 78oz Titan only gained a few degrees, coming in at 7.6 degrees celsius (45F), so that water was still pretty icy! Had there been more ice cubes in the bottle at the beginning I think there would have been some left. The 128oz bottle went from 57C / 134F to 45C /113F, which was a bigger difference than the cold test, but still pretty remarkable how hot the bottle kept the water hot! I know this isn't a perfect test, but for the purposes of this review, these Manna water bottles performed excellently. And honestly, when do you need your drink to stay hot or cold for longer than 12 hours anyways?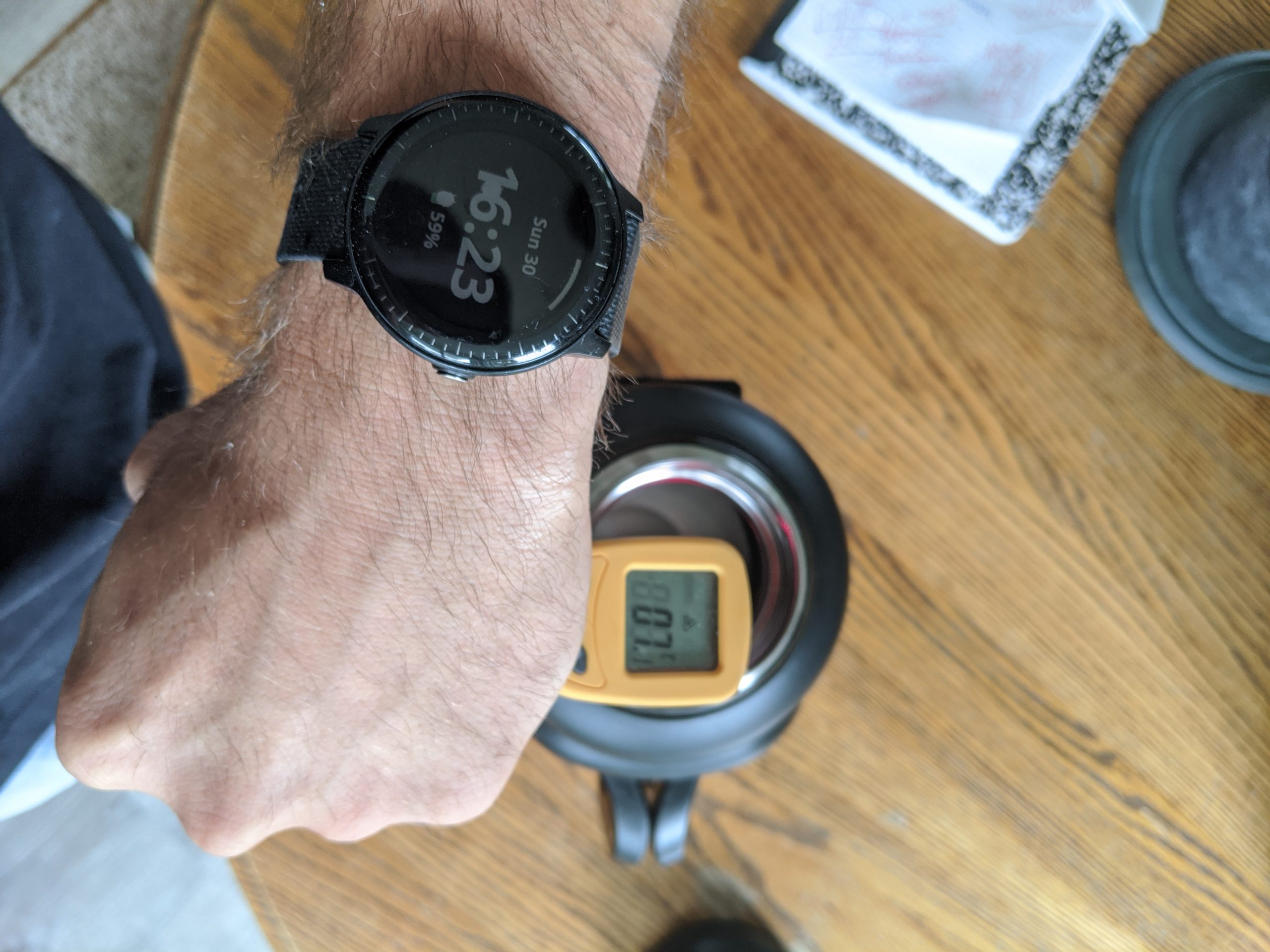 The Round up Review
So, what's the final verdict? Well, in our opinion after this thorough review, a Manna water bottle definitely deserves a serious look when you're in the market for a new stainless steel water bottle. They're made of top notch materials, with great features. Specifically the Rezi and Convoy were our favourites, followed by the Titan for special occasions like camping or tailgating. Definitely consider one of these Manna bottles for your next purchase, and check out the rest of the site for more great product reviews!
Frequently Asked Questions:
Are Manna Water Bottles Safe?
Yes – made with kitchen grade 18/8 stainless steel, and are guaranteed lead-free and BPA-free.
What is the healthiest water bottle to use?
Honestly, the healthiest water bottle is the one that you use. That's why companies like Manna focus on style and features to make it more than just a bottle for water, and make it a habit and an accessory, increasing the chances you'll actually use it frequently.
What is the best material for a water bottle?
Although the easy answer here is stainless steel, a steel water bottle is only useful if it's double walled and vacuum sealed, since without the two walls, the bottle will sweat like crazy when filled with cold water in a warm environment or warm water in a cool environment.
Are manna water bottles stainless steel?
YES! Have you even been listening? They're widely considered one of the top stainless steel bottles you can get your hands on.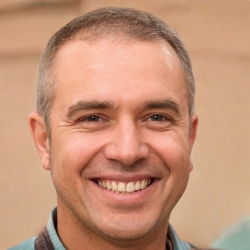 Latest posts by James Kennedy
(see all)