5 Best Robotic Pool Cleaners of 2018
Purchasing an in-ground pool is one of the best investments I ever made. But there was one thing I wasn't prepared for – all of the maintenance work required! I found myself checking the temperatures daily, trying to strike a balance between an affordable power bill and a comfortable temperature. I'm also constantly adding and adjusting my chemical balance, and spending an awful lot of time cleaning a shocking amount of crap out of the filter. All this work made me consider hiring a pool boy, until I found one handy little tool that cut my workload in half. Today, we're going to look at a piece of technology that behaves like a rhombus, if a rhombus was designed to be used under water. We'll help you choose the best robotic pool cleaner, so you can keep your water squeaky clean without all of the manual effort.
Quick Look: Our Top Choices
| Model | Algea | Small Debris | Large Debris | Clean Time | Price |
| --- | --- | --- | --- | --- | --- |
| Dolphin Premier | ✔ | ✔ | ✔ | 90 min | |
| Hayward SharkVac | X | ✔ | ✔ | 150 min | |
| Nautilius Plus | ✔ | ✔ | ✔ | 180 min | |
| Aquabot Jr | ✔ | ✔ | X | 240 min | |
| Nautilius | X | ✔ | ✔ | 360 min | |
Can't decide which one is right for you? Scroll down to read out individual reviews of each individual model. We'll show you the pros, the cons, and give you a final verdict so you can decide which one best suits your needs. After, we'll go in-depth and explain why you might want to choose one of these units instead of the more common filtration systems.
2018 Dolphin Premier Robotic Pool Cleaner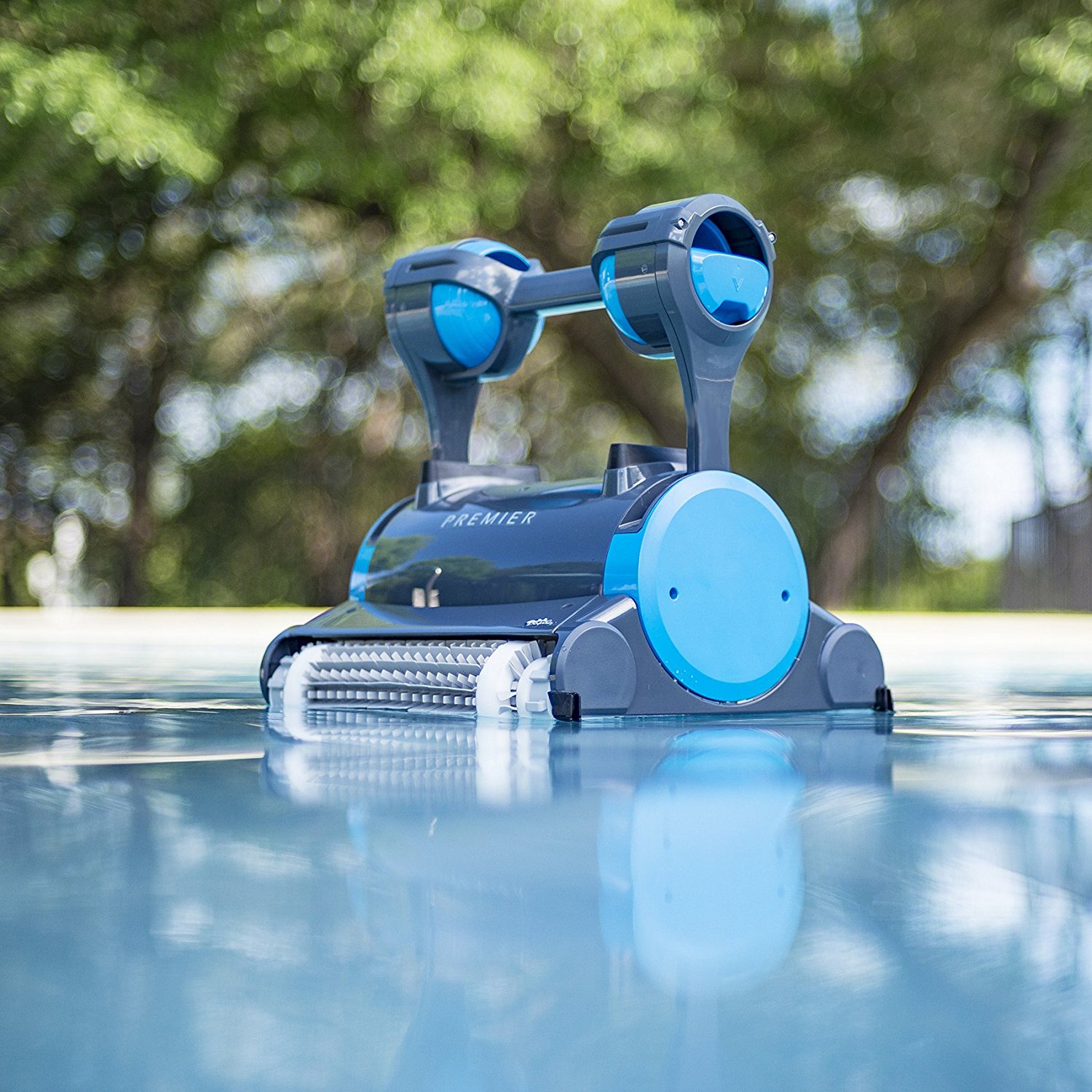 Pros
The robot cleaner features a 4-media types for all your pool cleaning needs
Cleans small & large debris, as well as microbes
It comes with a high engineering patented Anti-tangle 360 degrees angle cable swivel
The robotic cleaner comes with smart navigation design
3,000 Revolution Per Minute DC motor
Capable of running daily, twice or thrice a week program option
Cons
One of the best, but comes at a premium price
Final Verdict: The Best Automatic Pool Cleaner
The name Dolphin in robot pool cleaners sets a very high standard yet again with the launch of the Dolphin Premier. From its commercial-grade DC motor, one of a kind Multi-Media filtration system, tangle free cleaning, to undisputed efficiency in cost and time in cleaning any pool area, this robot truly encompasses everything a robotic cleaner should possess.
Hayward SharkVac RC9740CUB Robotic Pool Vacuum
 Pros
This SharkVac robot pool cleaner features innovative steering technology that scours pool floor
It covers the pool floor as fast as two hours
The cleaner reduces the any filter backwash cycle as it runs independently from the main filtration system of the pool
Designed with 2 filter elements which can be easily removed
Easy to clean
Quick removal of debris with its top-accessed filter
Cons
doesn't clean at the microbial level, best suited for physical debris
Final Verdict: One of The Top Rated Pool Cleaning Robot
The Hayward® SharkVac robototic pool cleaner is designed with tested and proven technology for a reliable and consistent performance. The high quality materials the product is made of allows maximum efficiency and functionality in cleaning pool floor for 2 hours. The robust and simple design but top performance in filtering the pool water and easy clean up makes this pool cleaner a wise choice for 2018.
Dolphin Nautilus Plus
Pros
The latest and by far the best design among Dolphin's pool cleaners
Patented swivel design for uninterrupted cleaning due to tangled cables
The Nautilus Plus comes with updated weekly timer to optimize the pattern and complete cleaning coverage
Ideal for 50 ft. in length pools
Cons
Longer runtime than other Dolphin models
Final Verdict
This Nautilus Plus is another  great product from Dolphin which is a trusted name when it comes to automatic pool cleaners. This model is very ideal for large pools but works perfectly for all pool sizes that allows for cost effective and time efficient cleaning only possible with Dolphin.
Aquabot Junior Pool Cleaner  
Pros
This pool cleaner is equipped with excellent cleaning abilities and durability
It provides front as well as back super grip scrubbing brushes
Capable of climbing and cleaning walls at 90 degrees angle
This pool cleaner can be set at 4-hour cycles
It contains a filter bag capable of filtering water as tiny as 2 microns
The cleaner focuses on scrubbing pool floors preventing debris to settle in.
Cons
Large debris (such as leaves) must be cleaned manually
Final Verdict
The unique and latest technology featured in this Aquabot Junior Pool Cleaner  proves that not all cleaners are created equal.  The ultra-fine filtering bag lets you have a crystal clear and super clean water for quality pool experience all the time. Running at 4 hours interval, cleaning your pool has never been this efficient and effective without dipping your toes in your pool or adding in too much chemical in the water.
Dolphin Nautilus (CleverClean)
Pros
It comes with innovative design as well as advanced cleaning system
Features a CleverClean  technology to clean areas as long as 40 feet
Ideal for pools in all types and shapes
Designed with active brush perfect for cleaning and scrubbing effectively
It comes with easy to clean filter basket  for  filtering water and capturing debris
Latest Nautilus navigation system allows for complete robotic pool cleaning coverage
Programmable for weekly running at intervals of 2-hour cycle
Cons
Final Verdict
The Dolphin Nautilus (CleverClean) is ideal for thoroughly cleaning the waterlines, walls, and floor of small to large pools. Regardless of your pools shape or surface, the CleveClean technology will ensure systematic scanning and cleaning of this improved robot cleaner. With its navigation system, setting this pool cleaner every week ensures your pool is always clean and ready to use anytime of the day or week.
How To Choose The Best Pool Cleaner
If you're still not ready to buy, there are a few things you'll want to consider. First off is the type of cleaner you'll need. There are three types to choose from: Suction side, pressure-side, and robotic. They all operate on one basic principle: in order to clean your water, you have to keep the water moving. And each of these three types is installed in a different location in order to work off the water flow.
Water flows around through a few different parts. Water is taken in through the skimmer, named because it takes water off the surface of the water and pulls it into a series of pipes. The water then flows through a pump, and is pushed out through either a single jet (for above ground models) or multiple jets (used in in-ground models.) Now that you understand that, we can explain the different types of cleaners available.
Suction Side Cleaners are permanently installed in a fixed location. There are attached somewhere between the skimmer and the pump. They're called suction side because they attach where the water is sucked in to the pump. Suction side cleaners are cheap, easy to install, and generally considered the best option for consumers on a tight budget. However, you have to drain the water and disassemble the piping in order to install it. If you're handy, this can be done yourself. But some consumers will want to hire a professional. Additionally, suction side cleaners require a lot of maintenance. You'll have to clean out the filter and catch basin. Failing to do so can ruin the cleaner at worst, and leave you with dirty water at best.
Pressure Side Cleaners are often considered to be the most popular type. They are installed right after the pump, cleaning the water before it is fed back into your pool. Because the filter is installed after the pump, the water flows through at a much higher pressure. This allows the filter to be much higher quality, doing a better job of cleaning up debris. Additionally, since it's installed after the pump (which has it's own debris catch basin) all of the large debris will be removed. This means that the chances of clogging up the pressure side filter are much lower.
A Robotic Pool Cleaner is, by far, the best option. Unlike the other two types, robotic cleaners are not installed in your pump system. They are designed like simple vehicles. You just place them inside the water, and they drive around sucking up all of the dirt and debris that settles on the bottom of your pool. This is better because it picks up dirt from all around the water floor, not just the stuff that happens to float into your pump. This leads to a much cleaner water, and a much simpler maintenance schedule.
Key Advantages of Robotic Models
The more gunk you have in your water, the more chemicals you need to add to neutralize contaminants. Because these types of filters pick up more debris than pump-mounted models, you'll use less chemicals. Not only does this save you money, but it's healthier for your skin!
By moving around in the water, these little cleaners can move a lot more water through the filter than a pump-mounted model. Typically, most clean between 50 and 80 gallons per minute, compared to 20 gallons per minute for fixed models.
Not only is it moving more water, but it also cleans that water more thuroughly. The filters are much finer, picking up particles as small as 2 microns. Suction filters typically only go down to 10 microns, while pressure side can get as low as 5 microns.
If you're using a manual water vacuum, buying a robotic model can save you tons of time and energy having to clean up all the time. It does the job of a pool boy, and all you have to do is turn it on.
Automatic cleaners like the ones on this list do not require any extra components to be installed, and will work on any pool! No modification to your pump system, and no research needed to find something compatible.
Disadvantages
There are a lot of good reasons to pick up one of these handy cleaning units, but no product is perfect. Like anything, there are a few reasons you might not want to buy one.
The primary reason consumers go with other types of cleaners is price. Robotic units can be expensive. While all the models in our list are high quality, the all require a mid-three figure to low four figure budget. While there are cheaper models available, the cheapest ones tend to be fairly poor quality. If you budget doesn't accommodate any of the models on our list, we'd recommend staying away from the budget options, and go with a pump-mounted cleaner.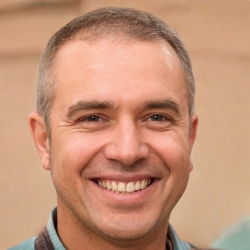 Latest posts by James Kennedy
(see all)