Selecting The Best Pressure Washers 2018
Pressure washers make your cleaning job easier and faster. You can blast off dirt and keep everything clean. A pressure washer uses a diesel or gas powered pump to serve as a compressor that concentrates water into a high pressured stream. The pressurized water can be aimed at objects to blast off old paint, dirt and grease.
One of the best things about pressure washers is that it uses less water, so you can save on your bills. You will also spend less time, muscle power and sweat to do the job. Pressure washers are often enough to clean items without using toxic detergents. It can include various attachments for different cleaning needs. If you are looking for the best pressure washers, here are some of your best options.
| Model | Pressure | Fuel | Price |
| --- | --- | --- | --- |
| Arkensen | 3000 PSI | Electric | |
| Yard-Force | 300 PSI | Battery | |
| Ironton | 2600 PSI | Gas | |
| AR Blue | 1900 PSI | Electric | |
| Potek | 1800 PSI | Electric | |
How did we choose these models? We carefully went through all of the most popular options, giving special attention to diversity. We didn't want 5 models that were all very similar in design. We tried to represent high and low pressure models, as well as portable and powerful ones. Pay special attention to what you'll be using it for, and you'll surely find something suitable in this list. Want more detail? Read on to learn the pros and cons of each model.
Arksen 3000 PSI Electric Pressure Washer
Pros
 It can be used to clean driveways, lawn equipment, structures, vehicles, decks, patios, boats and other surfaces.
Produces up to 1.7 GPM of water flow and 3000 PSI of water pressure for maximum cleaning power
Has a safety lock switch that automatically shuts off the machine when it's not being used to extend pump life and save energy
Five interchangeable nozzles
Equipped with an onboard hose rose reel for easy and quick storage and clean-up.
Unit comes with a garden hose adapter, power cord and high pressure hose
Cons
Soap container occasionally leaks soap if not tightened down enough.
There are no instructions on how to turn the detergent tank on or off.
While there are several nozzles that come with the machine, there are no instructions or descriptions about what they are, how to use them or what they are for.
Install indicator diagrams are so small that it's hard to read.
Final Verdict: One of The Best Electric Pressure Washers
The 3000 PSI Burst pressure washer from Arksen can meet the washing and cleaning needs of most homeowners. It can be used to clean sidewalks, driveways, cars, and decks. The pressure washer is lightweight and equipped with plastic wheels and pull handle that make it easy to move around. It also comes with a 120 VAC GFCI power cord and 20′ pressure hose that allows you to reach difficult spots.
Yard Force YF4050PB Lithium-Ion Bucket Pressure Washer
Pros
Since the unit is cordless, you don't need a power cord.
The Yard Force YF4050PB is ideal for cleaning house siding, cars, ATVs, campers, RVs, farm equipment and other cleaning jobs.
Package includes a 40V 4.0Ah Lithium-ion battery, soap applicator nozzle, charger, 19′ hose, 3 quick-connect tips and trigger handle
The pump unit can be stored inside the bucket for easy transportation and storage.
Can be used in your driveway or remote areas that don't have easy access to power
Cons
Doesn't have as much pressure as a wired model
Final Verdict: The Most Portable Model Available
The Yard Force YF4050PB is ideal for those who are always on the go. The 40v Lithium-Ion battery allows you to complete different cleaning projects at full charge. The unit has a hopper bucket that you can fill from a clean source of water. You can also attach a garden hose connection to the unit, so you can enjoy continuous water supply. The Yard Force YF4050PB comes with a soap dispensing bottle, quick-connect wand, spray handle and quick-connect tips that make cleaning a lot easier for you.
Ironton Gas Cold Water Pressure Washer
Pros                              
Equipped with a .95-gallon fuel tank
Sealed pump
Easy to assemble
Onboard hose wrap keeps the hose organized
Doesn't overheat thanks to its thermal protection
The unit automatically shuts down when it's low in oil to protect the engine from any costly damage.
Cons
Some customers had some trouble starting the unit. Replace the paper air filter if needed.
Final Verdict: One of The Best Rated Gas Models
The Ironton Gas Cold Water Pressure Washer has a durable 1″ steel tube frame and 8″ tires that allow you to move it around with ease. It also comes with several accessories that make your cleaning job a lot easier and faster.
AR Blue Clean AR767 Industrial Grade 1,900 PSI Electric Pressure Washer
Pros
Generates up to 1,900 PSI of water pressure and 2.10 GPM of water flow
Has a pressure gauge that allows you to make adjustments
Triplex Plunger pump has an axial wobble plate
Comes with an adjustable spray head with fan jet settings, 25-foot high pressure hose and in-built detergent injector
Cons
Pressure hose is not very flexible
Final Verdict: Affordable but Reliable Option
The AR Blue Clean AR767 has a powerful Triplex Plunger pump and pressure gauge that lets you make the necessary adjustments. It also comes with several accessories, so you can save money.
POTEK 1800PSI 1.4 GPM Electric Pressure Washer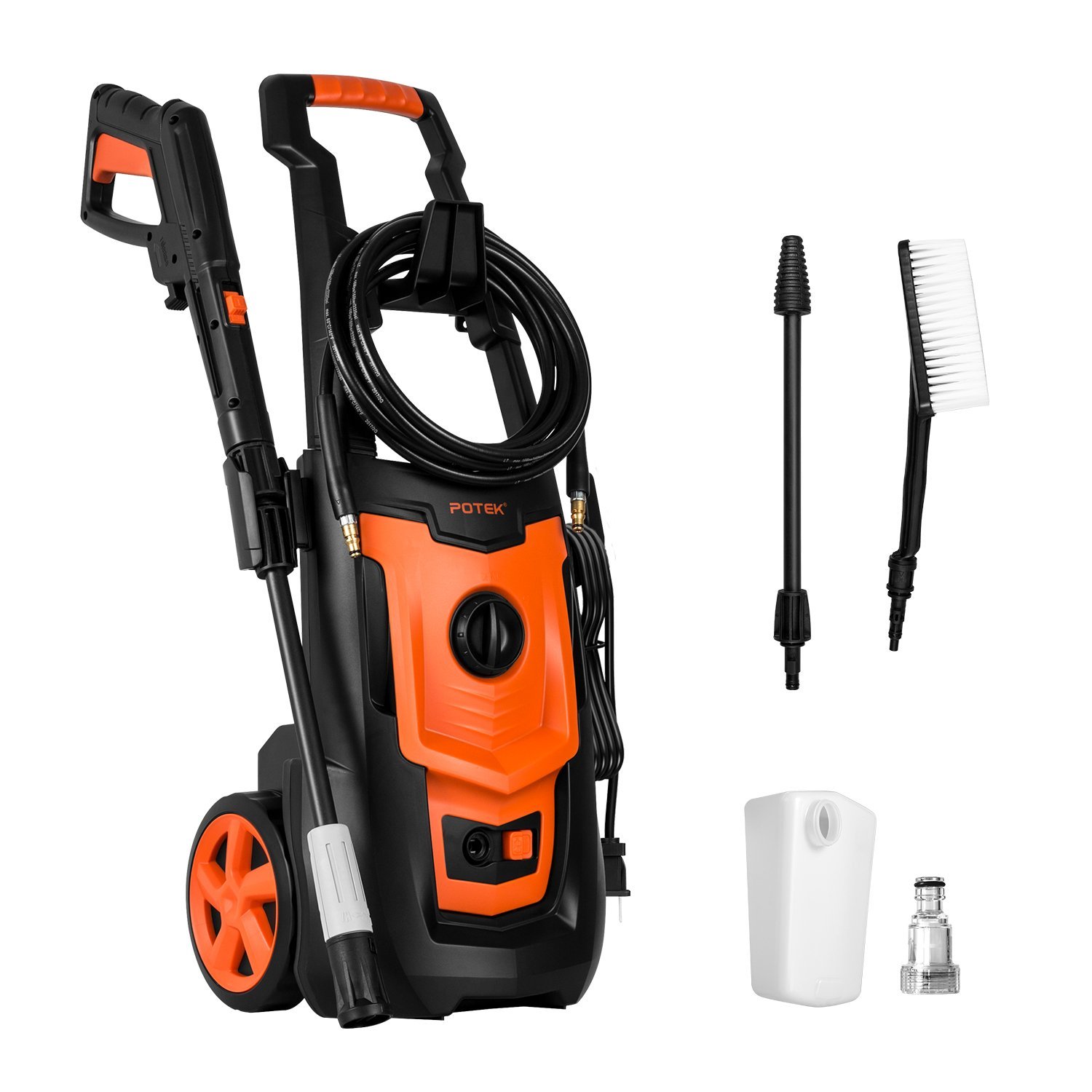 Pros
Can be used horizontally or vertically for better stability
1500 PSI of water pressure blasts through dirt and grime with ease
Comes with a 5-meter high pressure hose and several accessories
Cons
Some customers find the adapter quite useless. You can use a quick disconnect adapter instead.
Final Verdict: The Most Affordable Model Available
The 1800PSI Electric High Pressure Washer Sprayer Cleaner Machine is ideal for cleaning RVs, decks, cars, homes, boats and doors. It's very easy to assemble as well. The unit comes with accessories that make your cleaning job easier.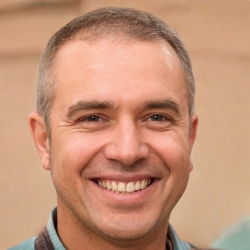 Latest posts by James Kennedy
(see all)