Best Gas Powered Hedge Trimmer
A gas powered hedge trimmer is an awesome tool to keep your lawn neat and trim. Ever walk by a house with perfectly straight or extremely ornate hedges and wonder how they did it? Well with a hedge trimmer, no doubt. Gas power tools are slowly being replaced by electric and battery powered versions, since they are typically more affordable to own and maintain. They also produce less noise and smelly emissions. But, where technology is at right now, you just can't replace the pure power of a fuel powered model with a battery. Plus, as good as these batteries have gotten, you are hard-pressed to find an affordable model that lasts more than 40 minutes. If you have got a big job of hedge trimming ahead of you, both in terms of time and branch-size, your best bet is grabbing a gas-powered device. For these reasons, most commercial or professional landscapers often use fuel powered clippers. There are tons of options out there, so here's everything you should keep an eye out for, as well as our list of the three best gas hedge trimmer models you can get.
Don't have time to ready every last detail? Check out this comparison chart to help make a decision. Read onwards if you want to get into the nitty gritty like we did.

| Poulan Pro PP2822 | Tanaka TCH22EBP2 | Echo HC-152 |
| --- | --- | --- |
| | | |
| 15lbs | 10lbs | 12lbs |
| 22 inch blades | 22 inch blades, also 20" and 30" available | 20 inch blades |
| Cuts up to 1" branches | Cuts up to 1" branches | Cuts up to 3/4" branches |
| 2-Year warranty | 7-Year warranty | 5-Year warranty |
| 2-position rotating trigger handle | 5-position rotating trigger handle | Non-rotating handle |
| 28cc Engine | 21.1cc Engine | 21.2cc Engine |
| Runs on 40:1 gas:oil premix | Runs on 50:1 gas:oil premix | Runs on 40:1 gas:oil premix |
| Can be heavy for some | Slightly more fumes than the others | Short blades limit versatility |
| Powerful all around trimmer | Best for commercial use, or irregularly shaped hedges | Great, versatile trimmer |
| $ | $$ | $$$ |
| | | |
The Best Hedge Trimmer
Looking for more than just gas? Check out our complete buyers guides for electric and cordless hedge trimmers.
The Best Gas Hedge Trimmer and Buying Tips
Not sure what to look for? Here are four main criteria we used to select the best options
1. Weight
One thing to consider when buying these machines is who is going to be using it. Power tools that use fuel will typically be heavier than electric ones, so you'll want to consider if your kids or wife from time to time, you will want to keep your eyes out for a lighter one.
2. Blade Size
How long of blades do you want? Getting longer blades gives you greater cutting capacity, but will also add more weight to the unit. You'll typically find blades between 20-inches and 24-inches.
3. Warranty
A warranty is always great, but for gas engines with all those moving parts it's an even greater luxury. We've seen warranty length range from 2 to 7 years, so keep in mind that there is a lot of variation. There are also often options for purchasing extended warranty which could be a good idea in some cases.
4. Usage
What are you going to be using this hedge trimmer for most? Big, thick briars and prickly bushes? Thick-branched hedges or even small trees? A massive maze of hedges? If you have big, thick greenery to work through, look for a more powerful engine. If you just need it to last you all day, look for one with a larger gas tank.
Now that we know a couple things to look for, let's dive into our product reviews!
1. Poulan Pro PP2822

Our top pick for gas powered hedge trimmer is the Poulan Pro PP2822. It's got the greatest combination of features – power, blades, fuel capacity – making it the best overall choice. Read on for a closer look.
This Poulon clipper features a 28cc engine that powers the dual action blades. In general, all things being equal, a higher "cc" engine produces more power. Although that's not always the case depending on the exact internal components of the engine, but for the PP2822, it certainly feels powerful. This thing absolutely shreds through basically any type of bush, shrub or hedge. The engine runs off a 40:1 pre-mix of gasoline and oil, and it's important you never use just gasoline. The operator's manual has the full information you'll need to run it. Besides that, the engine starts up easy and idles well, although you may need just a few primer pumps before igniting.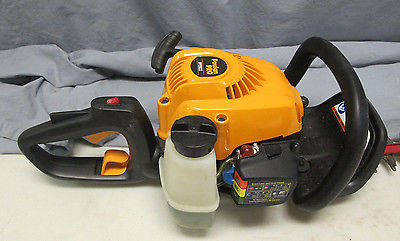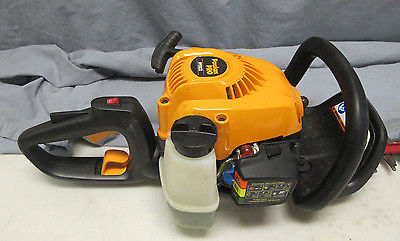 The engine powers a 22-inch long dual action serrated blade. The blade comes quite sharp and has no problem cutting whatever you give it. It is a really powerful unit, and you can be cutting branches even up to 1 inch in diameter, although it will take a few cuts to get through. Anything less, like half an inch it just slices through like butter. The blades get into action using momentum, so you should always pull the trigger and get the blades running before you dive into the bush you're planning to cut. Even a small branch will prevent it from starting up – but once it's running it has no problems.
The handle that you hold with your trigger hand can swivel, which is great for when you're switching from vertical to horizontal trimming. You'll want to have your second hand gripping the rounded handle on top to steady the clipper since it is on the heavy side. There is a small guard mounted behind the blade that helps prevent shrapnel from shooting back at you.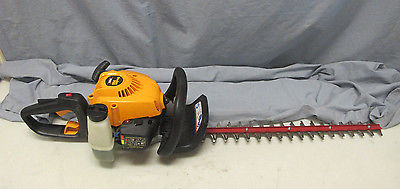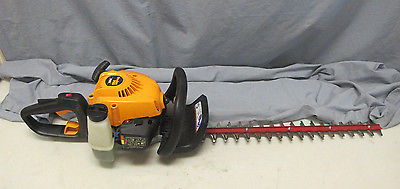 The biggest drawback to this gas hedge trimmer is that it is a bit heavy. It weighs around 15 pounds, which can tire out some people's arms too quickly. As long as you're using good posture and use the swiveled handle appropriately you should have the energy to finish the job, and you'll get used to the weight, but it will take some time to build the
strength. Plus, you'll finish the job much faster than an electric clipper so you won't need to be carrying it for as long. The fumes from this machine are also a bit of a pain, so you'll want to wear clothes you don't mind getting a bit smelly and potentially even a face mask if you want to be really careful.
Poulan provides a 2-year limited warranty with this device, which you can check out on amazon.
Although it is quite heavy and a bit smelly, this gas hedge trimmer gets the job done, and done fast. It's so powerful that it can handle up to 1-inch branches, and makes quick work of anything smaller. Pair its impressive performance with affordable price and you'll be hard pressed to find a better option.
2. Tanaka TCH22EBP2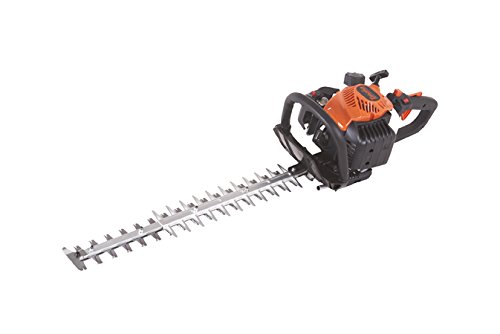 CHECK PRICE ON AMAZON
Next up on our list is a Japanese made gas hedge trimmer, the Tanaka TCH22EBP2. While it's not as powerful as the Poulan, it still provides ample power to slice through any hedge. The reliable Japanese engine starts up and idles well and runs efficiently. For the power and reliability at this price point, you could certainly do worse. This is a commercial-grade trimmer designed for professional landscapers, so if you want to cut your hedges like a pro, this is the one for you.
The Tanaka gas powered hedge trimmer actually comes in three different models, differing only by the length of the blade. The TCH22EBP2 we are reviewing has 22-inch long blades, but there is also a 20-inch and 30-inch model available. If you don't think you need the extra cutting capacity, the 20-inch model may be more suited to your needs. But if you have large, tall hedges to work through, the 30 inch blades may be a better option, since you can work through a larger area quicker. Keep in mind a larger blade will make the tool heavier. The dual reciprocating blades are sharp and have no problem cutting through most plants, even thick woody ones.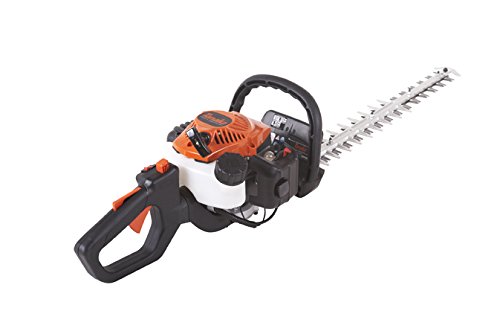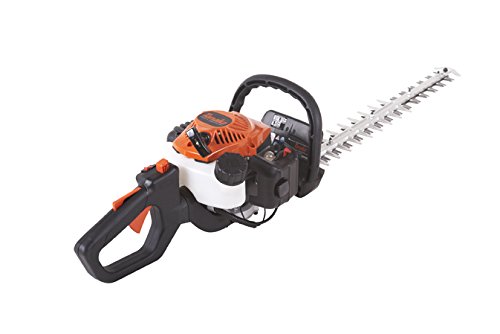 The 21.1cc engine starts up quick, and with Tanaka's S-Start technology, which reduces the force required from the pull-start by 50%.You'll want to pump the purge bulb a couple times before starting to help it out. The engine runs on a 50:1 ratio of premixed gas/oil, so you'll want to make sure you're following the operator's manual and premixing appropriately. The gas tank has a 10.1 ounce capacity, enough for several hours of operation, depending on the job.
The 22-inch Tanaka gas powered hedge trimmer weighs just over 10 pounds, so while not as heavy as the Poulan, it's still heavier than an electric model. For such a powerful engine, 10 pounds is also a very manageable weight. It's much more manageable for folks that may tire more easily, compared to the 5lbs heavier Poulan. The handle rotates into 5 different positions, from upright to sideways in both directions. Whatever direction you are facing or cutting, or whichever hand you prefer to hold the trigger with, you can cut comfortably.

The Tanaka balances performance with usability, providing great power and cutting capacity, without too much extra weight. It's not the most powerful, but it may just take a little longer to get through the thickest of branches. Plus, you can choose from three different blade lengths so that you can pick the one best suited for your needs. This is a professional-level hedge trimmer and so you are getting a machine made with long days and hard work in mind. Tanaka provides a 2-year warranty for commercial users and a 7-year limited warranty for household consumers, the best we've seen. This is a great tool and definitely worth a consideration.
3. Echo HC-152
Last on our list is the Echo HC-152 gas hedge trimmer. This is another machine designed for professional use but also makes a great companion for household jobs. It's got impressive power while maintaining a decently light weight. It starts up well, is comfortable to operate, and cuts through most jobs with ease.
The Echo HC-152 is powered by a 21.2cc 2-stroke engine. The engine is powerful and gets the blades running very fast. The engine has a very good air filtration system, that will keep it running for several years. The air filter is easily changed, using the easy access cover. Like the other trimmers, it runs off a premix of gas and oil, in this case a 40:1 mixture. The operator's manual will have more details on maintenance and fueling. Starting up is quick, though you should use the primer pump when going from cold start. The fuel tank has a very large 15 ounce fuel tank which should have you running this tool for hours and hours.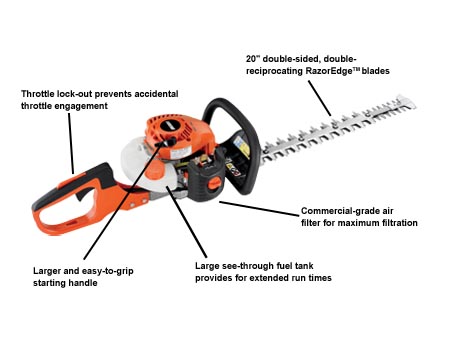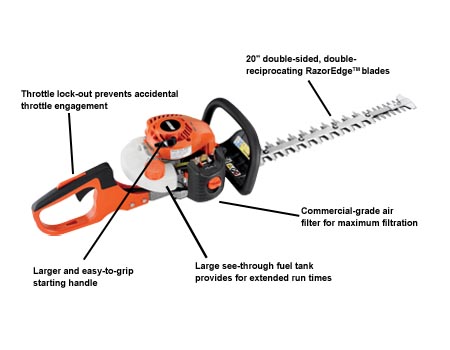 The Echo gas hedge trimmer has the shortest blade on our list at just 20 inches. It's up to you if you think moving up in inches will really speed up your job that much. Having an extra few inches on the blade means less time working in a specific area, so it's something to keeping in mind.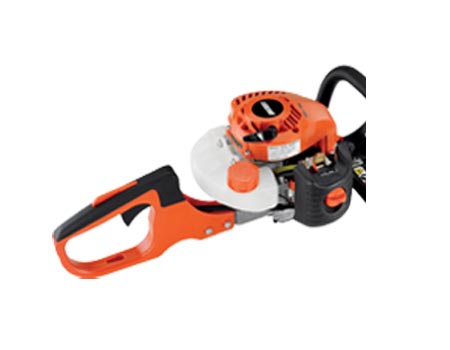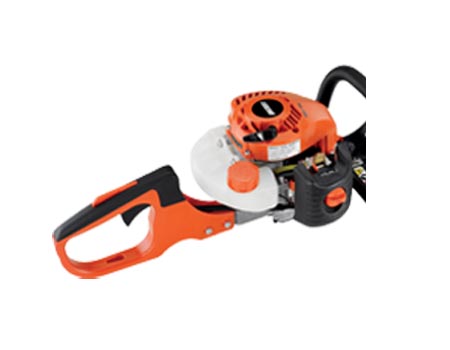 In general, 20 inches is fine for most folks, especially since the shorter length means a lighter tool to lug around. The blades are laser cut and very sharp, and shouldn't need sharpening at least not for many years. Cutting branches around 1/2 of an inch is no problem and anything smaller doesn't stand a chance. Anything larger, around 3/4 of an inch and larger will likely take a few passes.
This tool weighs around 12 pounds, so slightly heavier than the Tanaka yet lighter than the Poulan. It's a good middle ground between weight and power. The handles are comfortable and to hold and designed to be ergonomic, however unlike the other two models we reviewed, they do not swivel and adjust. But vibrations are minimal and you can get some pretty precise cuts. There is also a safety guard to protect you from any flying debris. Of course, you should always be wearing safety goggles and gloves!

In general, the Echo gas hedge trimmer is an awesome tool for household or commercial use. The 21.2cc engine is powerful enough to get the blades hummin' and zipping through almost any job. The blade is a bit shorter at 20-inches, but it helps keep the weight down. Echo provides limited 2-year commercial warranties and 5-year consumer warranties, so you've got some peace of mind in that regard, as long as you're following maintenance and usage per the operator's manual. This is another great affordable gas hedge trimmer that is great for all uses.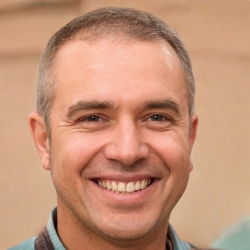 Latest posts by James Kennedy
(see all)