Choosing The Best Electric Hedge Trimmer
With spring right around the corner, our snow shovels and scoops will soon be replaced with shears and mowers. If you're looking to keep your lawn looking great this spring, an electric hedge trimmer is a must have. If you want your bushes and shrubs to look like this, you're going to need to get yourself a hedge trimmer. Here are a few things to consider when buying an electric hedge trimmer. How long of a cutting arm do you want? Can you go all day holding a heavy tool, or do you need to choose a lightweight one? How thick of shrubs are you going to be chopping up? Keep these questions in mind as you read through the article. There are tons of options available, so we've curated a list of the best 3 models available in this article of electric hedge trimmer reviews. Read on and take your pick!
Don't feel like reading every single detail? We put together this comparison chart just for you. If you still haven't made a decision, then you can read the full reviews below!
| GreenWorks 22102 | Makita UH6570 | Black & Decker HH2455 |
| --- | --- | --- |
| | | |
| ShedHeads Pick: Best for Small Budgets | ShedHeads Pick: Best Quality | ShedHeads Pick: Best Overall |
| 7lbs | 8.4lbs | 7lbs |
| 18 inch long blades | 25 inch long blades | 24 inch long blades |
| 2.7 amp electric motor | 4.6 amp electric motor | 3.3 amp electric motor |
| Cuts up to 3/8" thick branches | Cuts up to 1" thick branches | Cuts up to 3/4" thick branches |
| Pros: lightweight, affordable | Pros: powerful, very few vibrations, good quality | Pros: lightweight, handle swivels 180 degrees, locking on/off switch for extended use |
| Can use with one hand | Must use with two hands (safety feature) | Can use with one hand |
| Cons: not very powerful, thin plastic design | Cons: More expensive | Cons: Not the most powerful |
| 4-Year warranty | 1-Year warranty | 2-Year warranty |
| $ | $$$ | $$ |
| Check Latest Price | Check Latest Price | Check Latest Price |
Best for Small Budgets | GreenWorks Hedge Trimmers

We are going to start off our list with the top corded hedge trimmer for small budgets. The GreenWorks 22102 is our pick, being one of the most affordable models available, without skimping on quality and performance.
The GreenWorks uses a 2.7 amp electric motor to pump the blades of the of the arm back and forth. 2.7 amps is definitely not the most powerful motor you can get for one of these tools. You won't be slicing through thicker branches quickly and may have to spend a little more time working through thicker patches. But, because of the lower power consumption, it's very energy efficient and will save you money.
The dual steel blades of the GreenWorks is typical of most hedge trimmers we usually see. Two long serrated blades are mounted above one another, that then shift back and forth at high speed, shredding up errant branches. The button to engage the engines does not have a locking mechanism, in order to ensure safe operation of this tool. The arm the blades are mounted on are also just 18 inches long, one of the shortest we've seen. This could be an issue for some, but again if you're working smaller areas it will do the job.
It weighs just over 7 pounds, making it one of the lightest available as well. Having such a lightweight tool is great since most of the hedges you'll be keeping nice and trim are probably pretty large and will take some time. 7 lbs is light enough to operate with one hand, and also light enough for (responsible) teens to operate comfortably.
The power cord only extends about 6 inches past the handle, so you'll definitely need to pick up an extension cord – if you don't already have one. But, the cord has a nifty locking mechanism that prevents that annoying accidental unplugging from stepping on the cord, or getting caught on a corner.
This GreenWorks tool is backed by a 4-year (limited) warranty. The user manual will have all the details, but it's nice to know GreenWorks is standing behind their products – even the cheaper ones. All these reasons make the GreenWorks our pick for best electric hedge trimmer for small budgets. The plastic isn't the thickest or most durable, but like most things you're getting what you pay for. It will certainly get the job done for lighter shrubs and bushes, and for a power tool around $40, What more could you ask for?

Battery-Powered Hedge Trimmer 115iHD55
Cut free from cords and hassle of a gasoline engine with the 115iHD55 battery-powered hedge trimmer. Designed to make any yard project a simple one, the 40V lithium-ion battery delivers top of the line performance while being quiet enough to use in any residential area. The comfort and durability of the 115iHD55 provides users with the ability to work long hours, as it is equipped with a brushless motor and innovative savE™ function to deliver higher torque to weight ratio for increased efficiency and longer runtime. The lightweight trimmer's 22-inch dual action knife blades serve as the perfect solution for cutting through hedges and branches, making it the smart choice for any homeowner looking to clean up around their home without disturbing the neighbors in the process.
Best Quality | Makita Electric Hedge Trimmer
While the previous model is a great option for those staying within a smaller budget, this next one, although more expensive, is a superior product. The 25-inch Makita electric hedge trimmer is our pick for the absolute best you can buy. This thing is for real, packed with great features and absolutely shreds branches, even those up to an inch thick.

The Makita has a massive cutting capacity, with 25-inch long cutting arm. Mounted to the cutting arm are dual ½ inch shifting blades, that are very sharp. The
se things will cut through even thick shrubs and hedges with no problem. The blades are powered by a 4.6 amp engine, almost twice that of the GreenWorks, so you've got plenty of power. Despite the larger motor, it runs surprisingly quiet, since Makita has engineered it to operate quietly and with little vibrations. The fewer vibrations and ergonomic handles make it comfortable to use for longer periods of time.
Because the Makita can really go to work, there are some important safety features included. The tool can only be operated while both hands are in contact with the two grips. This is a great safety feature to prevent any accidents if you slip, fall or just lose grip. Releasing one hand stops the motor, and the blades. This is a great safety feature, but if you think you'd be preferring to operate your trimmer one-handed like for harder to reach areas, it could be an issue. Although it weighs over 8lbs, so using it with one hand AND keeping your cuts clean and straight would be pretty tough – we recommend just grabbing a ladder.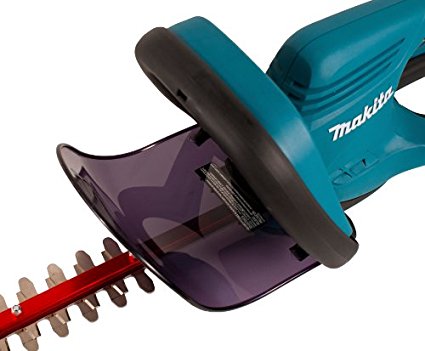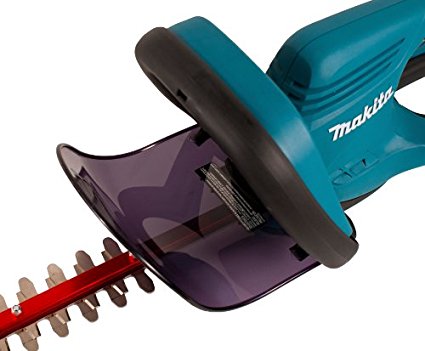 There is also a large transparent guard mounted to the front of the tool, which serves two functions. First, it helps to prevent any shrapnel from the branches you're shredding up from coming back and hitting you. By making it transparent, Makita has allowed you to keep a closer eye on what you're actually cutting. The guard can scuff over time making it harder to see through, but you can still tell what you're doing with no issues.
Makita backs these hedge trimmers up with a 1-year limited warranty, as well as a 30-day satisfaction guarantee whereby they will replace or refund it if you don't like it. Based solely of Makita's impressive reputation for manufacturing quality power tools, we can't foresee you having many issues. This Makita is a little more expensive, but you are getting an impressive tool built with quality materials. This baby absolutely hums and will have you whipping through your yard work in half the time.

Best Overall | Black and Decker Hedge Trimmers

If the Makita is a little out of your price range, this Black and Decker corded hedge trimmers are our pick for best overall – providing a perfect balance between affordability with performance.
At 24 inches, the cutting arm of the Black and Decker rivals that of
the Makita. The dual action blades are slightly less effective, though. That being said, the hardened steel design of the blades is impressive, and you should have no problems cutting branches up to three quarters of an inch thick. It's going to take some time though, if you have a lot of branches that thick to cut, best to get some shears for the big ones. The blades are powered by a 3.3 amp motor, which power-wise sits right in between the two previous models. The power cord isn't long, but has a retention system that prevents that annoying accidental unplugging.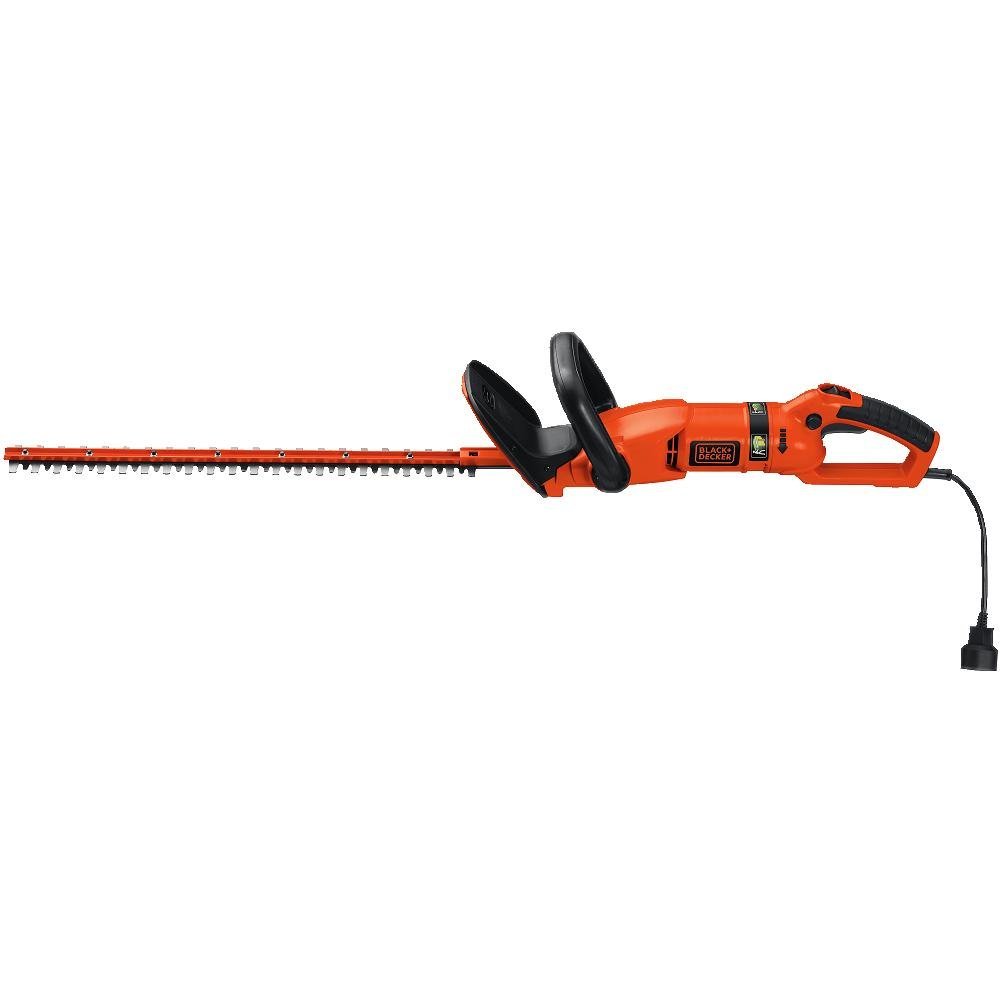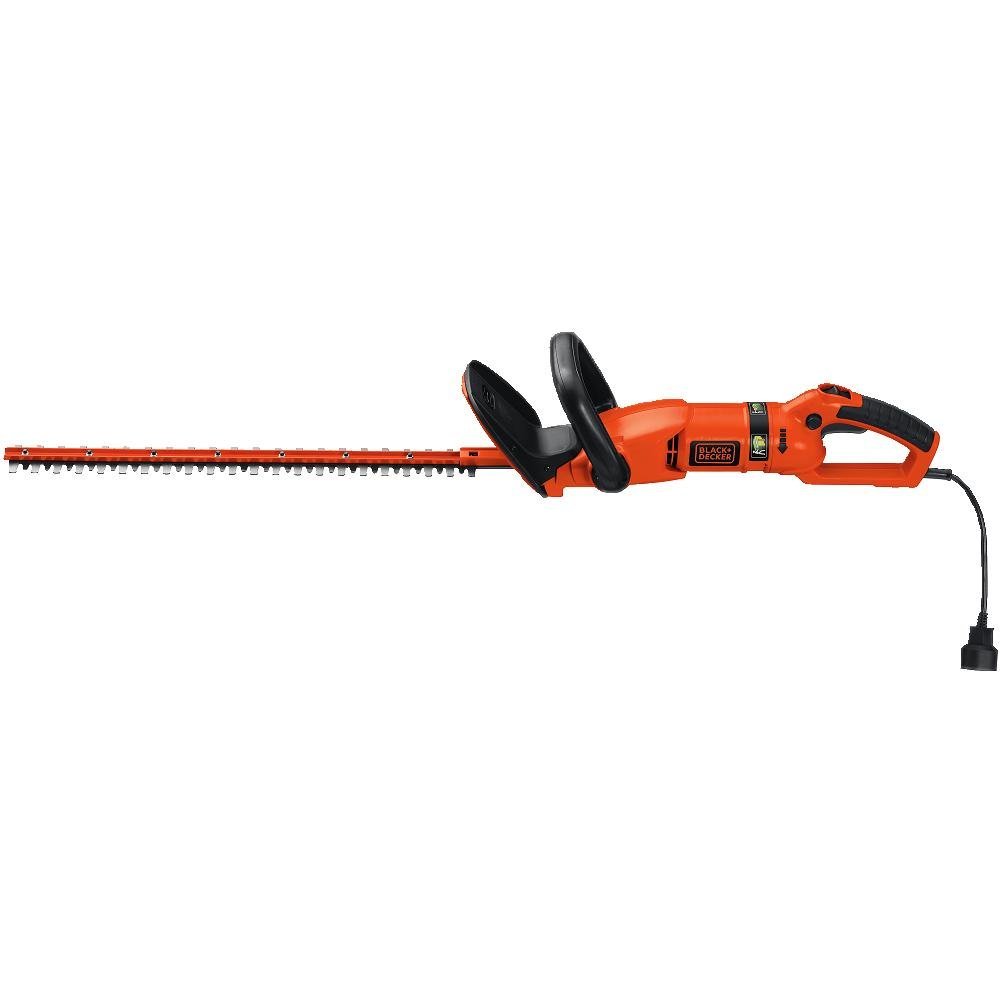 The Black and Decker corded hedge trimmers weighs just under 7 pounds, which is impressive considering the long arm and larger motor. You can run this thing all day and won't tire easily. The vibration reduction isn't as good as the Makita, but it's not enough that your teeth are chattering by any means, and it's comfortable to use for long periods of time. The handle actually can swivel 180 degrees, which is a great feature the other two models are missing. When you move from vertical to horizontal while cleaning up those bushes and shrubs, adjusting the handle as necessary makes it much more comfortable to operate with dual action blades.

This model actually has a locking on switch, that when turned on will continuously run the engine, without your finger on the trigger. It also has a lock-off switch to prevent it from accidentally being started up. Just don't mix the two up! The locking switch is great since you don't have to squeeze the trigger down constantly, making it easier to use, and is also useful for harder to reach areas. But, it can be a safety hazard so you need to be more careful.
While it doesn't pack the same punch as the Makita, this Black and Decker corded hedge trimmer certainly holds its own. The rotating handle and locking switch are definitely the best features, making it great for cleaning up those hard to reach spots. It's a great option if you need something more powerful, without the big price tag.
What's The Best Corded Hedge Trimmer for My Needs?
If you still haven't decided which corded hedge trimmers are right for you, we've got you covered. Out of the three hedge trimmers we've reviewed, here's how we break down oru recommendations.
The Makita UH6570 line of hedge trimmers are top of their back in durability, featuring an ultra long 25 inch blade and dual action cutters for chopping down branches up to 1 inch thick. It's the pricier option of the bunch, but it's easily the most powerful hedge trimmer you can get for your money. Makita makes great tools that are easy to use, so we highly recommend them.
next up in our hedge trimmer recommendations is the Black & Decker HH2455. These hedge trimmers are a little shorter at only 24 inches, but the powerful 3.3 amp electric motor make easy work of thick branches that other hedge trimmers just can't cut.
Finally our last hedge trimmer is the GreenWorks 22102. This economical model is compact, lightweight, and still very functional for tooling around your yard. Don't let the price fool you, while this is a more household type of hedge trimmer it is still very easy to use and performs well.
Overall, what hedge trimmer works for you all boils down to the tools you use and how much you plan to use them. For casual use, an inexpensive hedge trimmer is plenty and will actually be very easy to use. For power users who take pride in having an immaculate yard, a high end hedge trimmer might be a better bet. You'll be able to cut through thicker hedge branches and you'll get your job done more quickly.
Did this article of corded hedge trimmer reviews help you choose one for yourself? Do you own one of these models? Let us know your questions or comments below!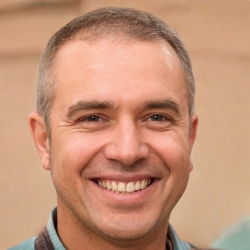 Latest posts by James Kennedy
(see all)