Is An Electric Chainsaw Worth the Money?
An electric chainsaw has a multitude of benefits over a gas-powered device. They are much better for the environment due to the lack of harmful fumes. They are also much more affordable, since the actual devices themselves require less expensive components, less maintenance, and you don't need to buy gas! However, you do still need to oil them. They are lightweight and quiet, making them much more user friendly. You also don't have to worry about the annoyance of starting them – you just plug it in and pull the trigger! They're no replacement for someone in forestry who will be deep in the woods, but they're great for smaller jobs around the house and woodworkers.
However, they do have their own set of setbacks. You won't be able to get quite the same amount of power than a gas powered unit, so even with the best electric chainsaw, most professionals will opt for a larger gas-powered one. That being said, the electric units can still crank out power and you can slice through even thick trunks.
As well, although you do save on gas and avoid fumes, you will need to use an extension cord to reach whatever job you're working on if you're using a corded model – another reason the pros stick with gas. Otherwise, you'll need to get an electric generator. Battery operated chainsaws avoid the cord issue, but the battery life isn't always the greatest for larger jobs, and you may lose power as the battery drains.
Overall, they are great for what most folks need them for: small to moderate sized jobs within 100-150ft of your property(unless you plan on using a generator which kind of defeats the purpose) and for woodworkers. They provide a surprising amount of power, and likely won't even notice that it's powered by electricity. So now that you understand the benefits and pitfalls of an electric chainsaw, you know what to expect when buying one.
What is the Best Electric Chainsaw?
There's so much misinformation out there on the internet today, it can be difficult to decide. Our team got together and researched and reviewed over a dozen different models of electric chainsaws and narrowed it down to this short list of the 5 best for you to decide from. Let's dive in!
Remington Electric Chainsaw
First up on the list is the Remington electric chainsaw. This small and lightweight tool is great for smaller jobs, as its name suggests: the Limb N' Trim. The 14-inch bar the chain is mounted on is powered by an 8-amp motor and absolutely hums when you pull down the trigger. The body is plastic, and a little less durable than some of the others on the list, but for an around-the-house trimmer. It's light enough for the wife or your teenagers to use, too. It will slice through 12″ logs fairly easily, but larger that will take some time and you will need to work it from both sides. For the price, around $50, it's a great buy for small jobs. Read 539+ More Reviews
Bar Length: 14″
Weight: 6.2lbs
Warranty: 2-year limited warranty
Recommendation: Affordable, best suited for small jobs, branches and trimming
See the Remington in Action:
Makita Electric Chainsaw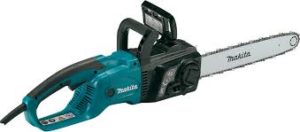 Makita is an awesome brand of power tools, and we almost always have a Makita on our lists of power tools. You still have to put oil into an electric chainsaw, and this one has a large reservoir with a little window that shows your the current reservoir level. The rubberized handles are comfortable and reduce vibrations while using it, so you can work for a few hours without getting too fatigued. Another great feature is the tool-less blade and chain adjustment. If you need to tighten the chain you don't need to use a special tool to do so. The electric motor is quite powerful and gets the blade going up to 2900FPM, so you'll breeze through your chores. There is also a current limiter safety feature, that will reduce the power draw if it starts to overload, protecting the cord and motor from any damage from excess heat. You shouldn't have issues cutting trunks and branches 20″ thick, possibly larger. Read 69+ More Reviews
Bar Length: 16″
Weight: 15lbs
Warranty: 1-year limited warranty
Recommendation: Not quite the same power as gas, but can handle big jobs. Little bit on the heavy side.
See the Makita in Action:
Poulan Electric Chainsaw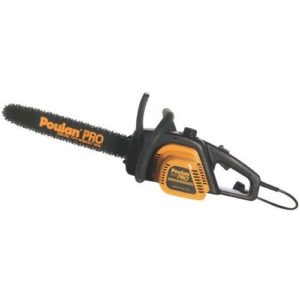 Poulan is a French manufacturer that produces some great quality power tools. This Poulan electric chainsaw is very powerful and is a great option for those who want that extra power. The 18″ bar is a little more versatile than some shorter models, and the 4HP motor gets the blades moving very quickly. Because of the high power motor, it seems to consume oil a little more than some others, so make sure you keep an eye on the oil level. There are also some great safety features like the anti-kickback tip, inertia blade brake, and the wrap-around safety handle. The inertia blade brake is an awesome safety feature as it engages if the saw is suddenly lifted upwards. This is a quiet and powerful tool that should handle trunks more than 20″ thick with ease, although larger than 24″ may take a little longer. Read 496+ More Reviews
Bar Length: 18″
Weight: 13lbs
Warranty: 1-year limited warranty
Recommendation: Powerful while still maintaining a light weight. Great for bigger jobs. 18″ long bar can be a bit annoying to maneuver for more detailed jobs.
See the Poulan in action:
WORX Electric Chainsaw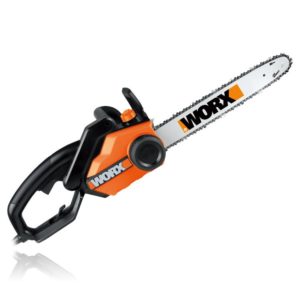 Next up is this WORX electric chainsaw, which is an excellent balance between affordability and performance. The 14.5A motor provides almost as much power as a gas powered saw, without the fumes, weight or cost. The chain has an auto-adjusting tension feature, making it a breeze to maintain. The 16″ bar has a anti-kickback mechanism as well as a chain-brake which you can quickly engage to stop the blade if you're making contact with something you shouldn't be. The plastic handle and body feels a little thin, but that seems to be the area that WORX saved on their costs since the powerful motor is quite impressive considering the price. 16-20″ logs shouldn't be an issue with this tool. Read 1014+ More Reviews
Bar Length: 16″
Weight: 11lbs
Warranty: 3-year limited warranty
Recommendation: Powerful and affordable with a great warranty. Great for the occasional user.
See the WORX in action:
Oregon Electric Chainsaw
Last on or list is this Oregon saw, which is yet another example that even electric powered saws can hold their own against gas-powered. This thing is a beast, and you won't have any issues cutting large logs even larger than 20″. The long 18″ bar makes it easy, but it can also be difficult to handle for more detailed jobs like just taking the limbs off. It's also quite heavy at 18lbs, so it may not be suitable for everyone. The chain tensioning system doesn't require a tool to tighten the chain which is great, but where it is mounted can get in the way sometimes. It's marketed by Oregon as "low-maintenance" but it's very important to keep the saw properly lubricated as it can cause serious failure if not maintained appropriately. Overall this is a surprisingly affordable tool with professional level power. Read 142+ More Reviews
Bar Length: 18″
Weight: 18lbs
Warranty: 2-year limited warranty
Recommendation: A heavy-duty saw with industry-level power from an electric motor. May be too heavy for some. 18″ bar is great for larger logs greater than 20″ but can be more difficult to maneuver for smaller jobs like de-limbing.
See the Oregon in action: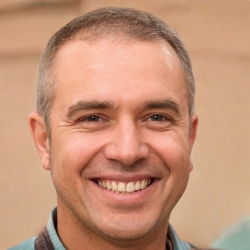 Latest posts by James Kennedy
(see all)