Choosing the Best Cordless Hedge Trimmer of 2019

The end of winter is almost upon us, and while we finally get to ditch the shovels, snow removal is quickly replaced by other chores. If you're like us and you love having a beautifully kept lawn, there's a few tools you're going to need. One of the most important tools for keeping your yard looking professionally cared for is a cordless hedge trimmer.
Want to get right to it? This comparison table should help you make an informed decision. We reviewed countless different models and narrowed down the list to these three options. Want to get into every last detail of each one? Read on! 
Updated: June 25, 2019
1. The Best Hedge Trimmer You Can Buy
Black & Decker LHT2436

✔ 

Affordable
✔ 

Lightweight, only 7lbs
✔
24″ blades are great for almost any job
✔ 

40V, 2Ah lithium battery provides medium battery and power
✔ 

Cuts branches up to 3/4″ thick
✔ 

Well known, reputable brand
✔ 

Two Year Warranty
– Not as powerful as the Dewalt (further below)
CHECK PRICE ON AMAZON
2. A Good, All-Around Hedge Trimmer
Black & Decker LHT2220

✔

Affordable
✔ 

Lightweight, only 8lbs
✔
22″ blades are great for almost any job
✔ 

20V, 2Ah lithium battery provides medium battery and power
✔ 

Cuts branches up to 3/4″ thick
✔ 

Well known, reputable brand
✔ 

Two Year Warranty
– Not as powerful as the Dewalt (below)
CHECK PRICE ON AMAZON
Our pick for best overall, is the 20V Black and Decker Cordless hedge trimmer. This battery operated tool provides the best combination of all the most important features, and doesn't come with a huge price tag. This 22-inch cordless tool is comfortable to hold and operate, with an ergonomic gripping handle as well as support handle for two-handed steady use. It's lightweight, great for everyone in the house to be using at just 5.7 pounds (without the battery installed). The clear plastic guard protects your hands and face but allow you to still see what you're cutting!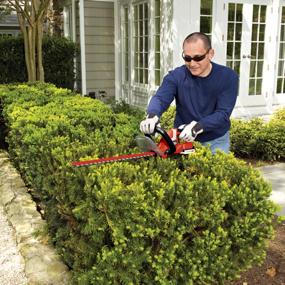 The dual action cutting blades are very effective, especially considering the affordability of this tool and its 20V battery. The blades are The 22-inch cutting arm is a nice middle ground – long enough to reach fairly high spots without adding too much weight. Black and Decker claims that it can cut branches up to .75 inches thick, and while that may be true, it's not as effortless as we would like. It takes the tool a little bit longer to chew through these thicker branches so you may want to consider a more powerful tool if you are going to be regularly cutting branches this thick.
The tool is powered by a 20V lithium-ion Black and Decker hedge trimmer battery. While there are more powerful 40V batteries out there, 20V does the job for almost all situations while shearing shrubs. The battery last an impressively long while for such a powerful tool, around 40 minutes of use. Battery longevity is partly dependent on how hard you are pushing the tool however, and for light shrubs you could easily get longer life. The lithium-ion battery does not have a "memory" meaning that even a few years down the road you will get the same great performance. Depending on the size of your yard you may want to consider grabbing an extra battery.
Overall, this Black and Decker cordless hedge trimmer hits all the important requirements. It's light enough for anyone in the house to use it, while still providing enough cutting capacity with the 22-inch arm. The battery performance is impressive, giving you at least 40 minutes of operation, likely more. While it's not the most powerful tool, it will certainly get the job done. And, it's one of the most affordable options out there. There is also a 24-inch,
40V battery version of this same clipper, which you may want to consider if you need the extra battery and power. But, if you're looking for an affordable tool with impressive performance, this is the one for you.
3. The Best Battery Life AND Most Powerful 
DeWalt DCHT860M1 40V

✔ 
Powerful motor cuts thick branches with ease
✔ 

Dewalt is an industry leader in power tools
✔
22″ blades slice through the thickest branches
✔ 

40V, 4Ah lithium ion battery lasts for more than 70 minutes
✔ 

Cuts branches up to 3/4″ thick
✔ 

Three year Warranty
– 

Heavier than the others at 12lbs
– 

Slightly more expensive
CHECK PRICE ON AMAZON
If the Black and Decker just won't cut it (pun fully intended) for the type of job you've got, then this DeWalt clipper will have you covered. Although the Black and Decker is great for smaller jobs and the average shrub, thicker branches do give it some issues. In that case, this 40V DeWalt battery powered hedge trimmer has you covered. This tool boasts impressive battery performance and power and will have you shredding through shrubs like it's your day job.
The DeWalt battery operated hedge trimmer boasts a massive 40V, 4.0Ah battery. While many folks dread moving from gas operated to battery powered units due to the lack of power, the DeWalt ensures that isn't an issue. The motor absolutely hums when you pull the trigger, and the dual action blades absolutely hum. The battery is impressive, providing around 70 minutes on a full charge. This time will vary depending on the job, but you should get almost an hour every time. An LED indicates the charge state of the battery, letting you know approximately how much run time you have left – so you know if you need to hurry up and finish the job.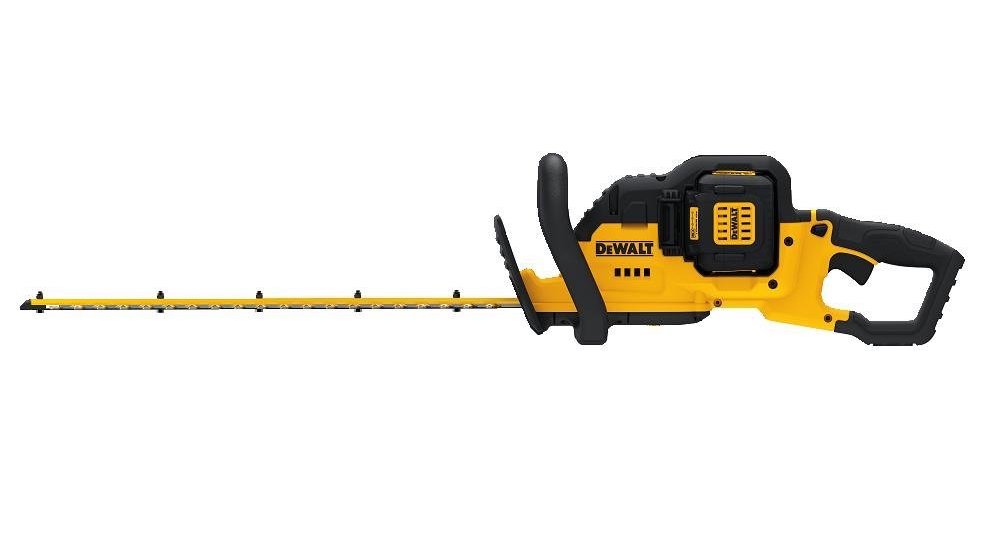 There are two laser-cut serrated blades mounted on the arm, 22-inches long. This is good length for getting taller branches without adding too much weight to the unit. The gap between teeth of blades fits .75 inch branches, and it shreds them with ease. Branches of larger size don't fit between the blades so they will require some more time in order to chew through. The blades are thick, quality steel and you should rarely or never need to sharpen them.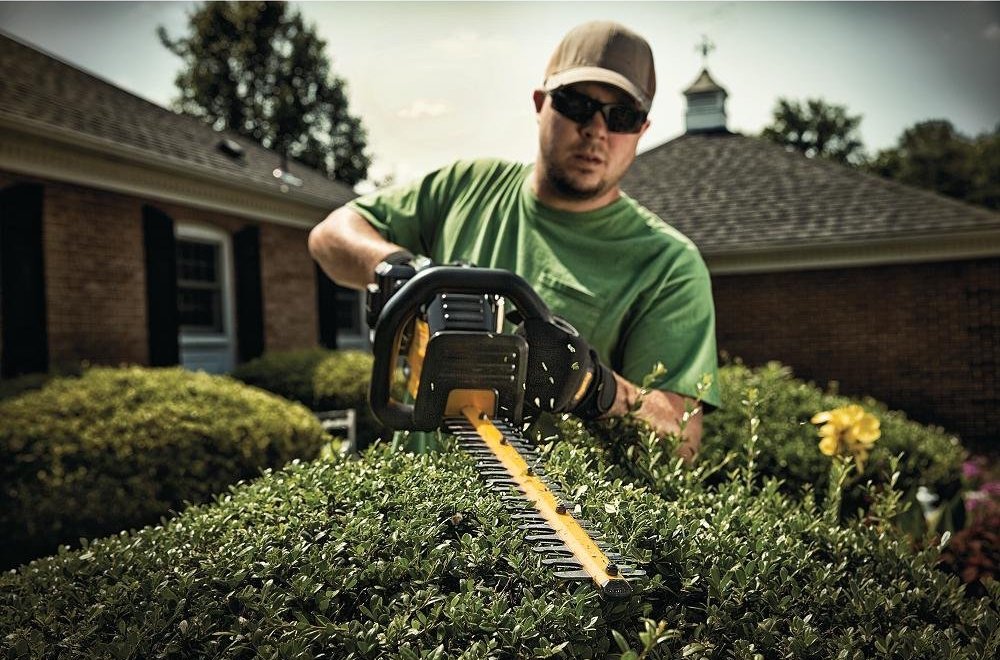 Due to the larger battery and engine, this battery powered hedge trimmer is a little on the heavy side. It's around 14 pounds with the battery attached, so you may need to consider who will be operating it primarily and if they can handle it. Not that 14 pounds is really that heavy, but after an hour of trimming it can sure feel like it. This DeWalt tool is a heavy-duty machine giving you impressive cutting power, so you should expect it to be a bit heavier, although vibrations are surprisingly minimal.


DeWalt provides a 3 year limited warranty with these shears, which is an awesome bonus. Although this isn't the cheapest model available, you get what you pay for. This is a more heavy-duty tool that prioritizes power and battery life over weight and price. There is also a 20V version of the DeWalt you could consider if you don't need quite this much power. But, if you need a powerful, long-lasting hedge trimmer for bigger jobs, the 40V DeWalt battery operated hedge trimmer is the one you need.
4. The Best Pole Hedge Trimmer
GreenWorks 22272 Pole Hedge Trimmer
✔ 
3-position head gives you control and
✔ 

Extends to over 6 feet
✔ 
20″ blade cuts up to 5/8″ branches easily
✔ 

40V, 2Ah lithium-ion battery lasts for over 45 minutes
✔ 

Affordable price
✔ 

Four year Warranty
– 

May be annoying to use for shorter hedges
✔ 

Only 10lbs, but is harder to use when fully extended
CHECK PRICE ON AMAZON
The last on our list is a cordless pole hedge trimmer. This tool is ideal for trimming those tall, hard to reach shrubs and bushes, without the use of a ladder. Our pick for the best available is the GreenWorks 22272. It's lightweight, has a long-lasting battery and the pivoting head makes it ideal for controlled shaping and shearing. If you've got big, tall hedges you've got to keep in check, this is an awesome choice.
While the other hedge trimmers we put on the list have just more than a
20-inch reach of the blades, this GreenWorks machine provides an extra 2-3 feet of reach with the extendable adjusting pole. Adjusting the length of the pole is easy, just lifting the latches on the head and handle and then pulling the pole out to your desired length. The head of the tool, where the blade is attached, can also be adjusted and pivoted into three different positions, so you can cut at a comfortable angle, and get the exact shape you need.
The two blades are 20-inches long, with 5/8 inch gaps between the cutting teeth. This makes the GreenWorks best for greenery with smaller branches. That being said, the motor whips the blades pretty quick and does pack a punch. Because this pole hedge trimmer is designed for use overhead, they've done a good job at giving the tool a lightweight design. It weighs just under 8 pounds without the battery installed. So regardless who is using it, you shouldn't tire out too quickly.
The battery of the GreenWorks isn't quite as impressive as the other two models, providing around 30-35 minutes of operation. Depending on the job
you can get up to 45-50 minutes though, if it's a smaller, lighter job. Grabbing yourself a second battery is definitely recommended if you have a lot of hedges to work through. The batteries charge to full capacity fairly quickly, though. You also have options for a 2Ah or 4Ah hour G-MAX battery. Plus, if you have other GreenWorks G-MAX batteries, they're all compatible and interchangeable.
The lightweight GreenWorks pole hedge trimmer is a great option for most households.
It makes quick work of smaller branches, but can struggle on anything larger than three quarters of an inch. The battery is good, not great, but you can opt for the 4Ah battery which will increase the life. Plus, the batteries are interchangeable with all of GreenWorks' tools which is a huge bonus. GreenWorks also provides a limited 4-year warranty and 2-year battery warranty. This is a great purchase for pole hedge trimmer with a good battery at a good price.
Things to Consider Before Buying

How long do you need the battery to last?
If you have an enormous yard with lots of trimming to be doing, then you'll want to pick a model with a battery that lasts you a few hours. In general, the Ah (amp-hours) unit of a battery will tell you how long the battery will last, larger number meaning longer operating time.
How thick of branches will you be cutting?
In general, the greater the voltage of a battery, the greater the power output. If your hedges have many thick, stubborn branches, you'll want to pick up a higher voltage battery. Another important thing to remember is that any hedge trimmer will lose its effectiveness over time as the blades dull. As long as you keep your blades nice and sharp you shouldn't have any problems.
How tall are your hedges?
If you are going to be trimming up tall, hard to reach shrubs and bushes, it may be worth your while to invest in a pole-style battery powered clipper. These come with extendable poles to help you reach higher than a normal model.
Who is using it?
If you are going to be pawning off your yard care chores to your kids, you may want to consider a lighter clipper. Some of these cordless hedge trimmers can weigh up to 12 pounds, while some hover around the 7 pound mark. If you are considering a more powerful unit, note that the larger tool with a larger battery will add some weight. Make sure you will be able to get all the work done before tiring out!
What brand of power tools do you own?
If you already own some battery powered power tools like drills or saws, you can save money by buying the same brand of hedge trimmer. Check to see if the batteries are compatible and interchangeable (they often are). Not having to buy extra batteries will definitely save you some dough. Amazon carries tons of brands, so even if you don't have a brand on our list, you can see if they have one that matches your existing tool arsenal.
Now that you know what to look for, let's dive into our cordless hedge trimmer reviews. We've curated a list of the best available, so you don't have to spend hours researching every different aspect of each one yourself – we've already done it!
The Best Cordless Hedge Trimmers vs. a Gas or Electric One
Although wired and gas-powered versions of these tools are great, having a battery powered version is arguably much better. Most shrubs and bushes that need clipping are likely at the outer limits of your yard or garden, pushing your extension cords to their limits. Gas powered units are powerful, but bad for the environment, noisy and smelly.
A battery powered unit will get the job done, giving you good shearing power but still with the flexibility to move around without a cord wrapping you up (or accidentally chopping it up). Follow these tips of what to look for when buying a cordless hedge trimmer and check out our curated lists of the best cordless hedge trimmers of 2017 to make sure your yard stays looking like this. If you've never trimmed your own hedges before, take a look at these tips to help you out.
Did this article help you choose a cordless electric hedge trimmer? Do you own one of these already? Let us know your questions or comments below!