A wheel well tool box is one of the most handy and ingenious storage solutions you can add to your truck. Wheel well tool boxes typically fit in the empty space between the wheel well of your truck bed and the tailgate. These nifty little tool boxes add storage to an otherwise unused space. Most of the wheel well tool boxes we see are roughly L-shaped, and wrap up and around the wheel well, while some are simple square-shapes. There is even a wheel well tool box with drawers to maximize your organization. Even without the option of style, there are a ton of brands to choose from of wheel well tool boxes. It's actually surprising how much quality on these boxes is lacking. Even brands we recommend for full-size truck tool boxes like Dee Zee, BetterBuilt and Northern Tool have struggled to produce a quality wheel well tool box. Because of this, today we present the best wheel well tool box in just two categories: best overall and best wheel well tool box with drawers. Read on to pick the right one for you!
Wheel Well Tool Box Best Overall
Undercover Wheel Well Tool Box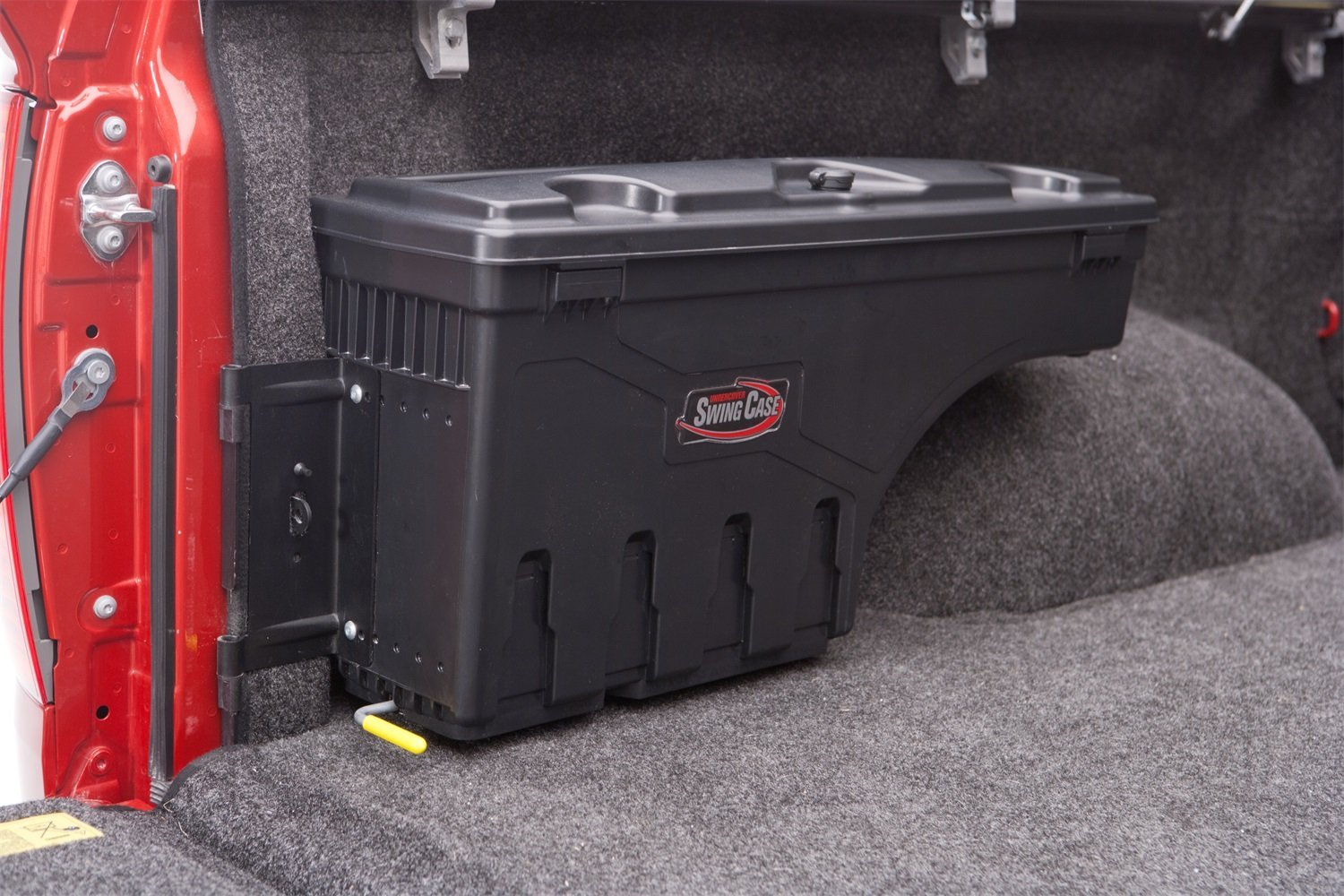 Quick Glance
– Sturdy plastic construction
– Works with tonneau covers and canopies
– Weatherproof seal
– Swing out wheel well tool box
– Lockable Lid
– Drivers or Passenger sides
–
Free shipping from Amazon
Our pick for the best overall is the Undercover wheel well tool box, and for a number of reasons. It has the best combination of versatility, storage space andaffordability of all the boxes on this list. These swinging tool boxes mount to the side of your truck bed walls, and swing out for easy access. There is one for the driver's side and one for the passenger's side, so you can maximize storage with an otherwise unused space.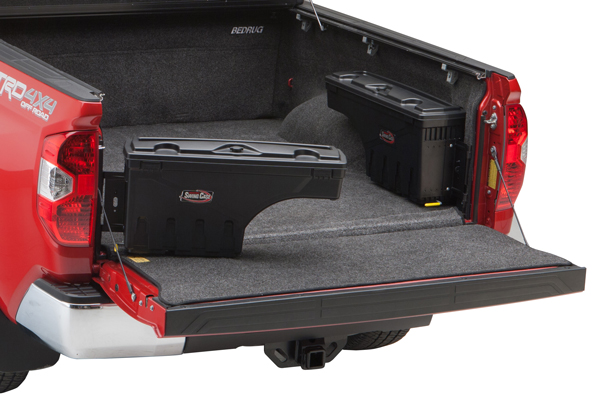 The box is made of strong and sturdy heavy-duty ABS material. It's a great  way to provide strength to the box without adding a lot of extra weight to your truck bed. The lid not only locks, keeping your tools and gear safe from theft, but can be covered with a plastic housing. This prevents water from sitting in the lock causing any rusting, since the lock is on the lid of the box. The lid is also equipped with a rubber moisture seal, ensuring that water and dirt stay outside your tool box, keeping your tools dry and rust-free.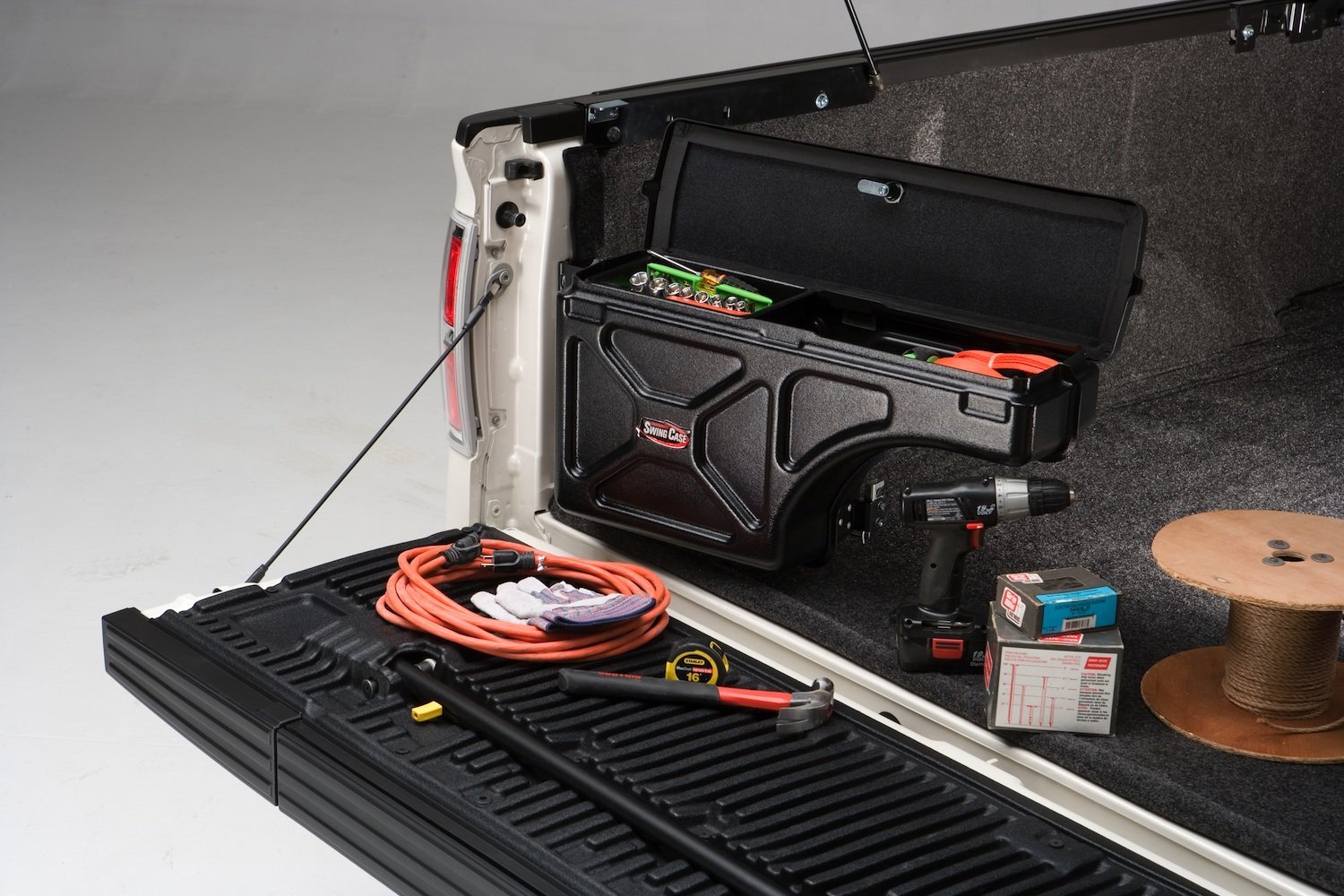 Installation does require some drilling into the walls of your truck bed in order to properly fasten the mounting brackets. However, it is easy to remove the boxes and leave the brackets should you need that space for something else. Once installed properly, the box should hover over the floor of your truck bed, and will be able to hold up to 75lbs of gear – more than enough. For the box to swing out towards you, simply pull the small handle near the bottom of the box.

Once installed, accessing your tools is extremely easy, since the boxes swing out over the tailgate without requiring you to get into the truck bed. Great for those with back or knee problems, or folks who will be in and out of their tool box all day. Because of the size of this wheel well tool box, it will likely be compatible with a tonneau cover or canopy on your truck. You will want to double check the measurements of your truck to be sure. If you don't use a canopy or tonneau cover, there is a latch to use a padlock to secure the box to the brackets (making sure no one makes off with the entire box and breaks into it later!).

These wheel well tool box models mount to either the driver's side of the passenger side of your vehicle. The driver's side models end in a D, while passenger with a P (ex. SC201D = driver's side; SC100P = passenger side). The numbers of the Undercover models don't mean much, they haven't changed the design in years. Make sure you pick up the correct one – driver's or passenger side (or both) when buying!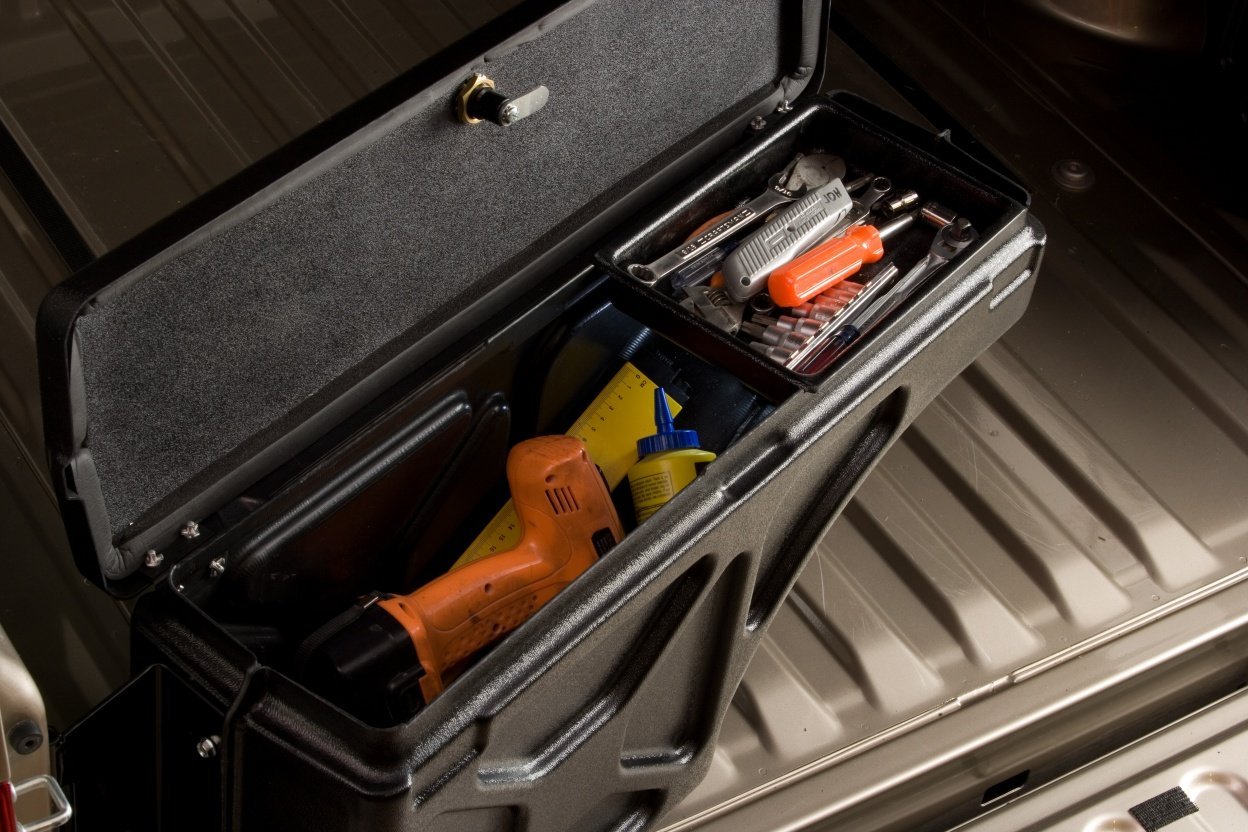 Overall, the Undercover wheel well truck tool box is an awesome addition to your truck. The locking lid keeps your gear safe, and the weatherstripping locks out moisture. This swing out wheel well tool box makes it easy to access your tools, and can be used with a tonneau cover or canopy. Undercover also provides a limited one year warranty on this box. Although this is a plastic box, not aluminum or steel like we often see with truck tool boxes, this box is secure and versatile and deserving of our best overall spot.
(Driver's Side) 
(Passenger Side)
Wheel Well Tool Box With Drawers
UWS 18-inch Drawer Tool Box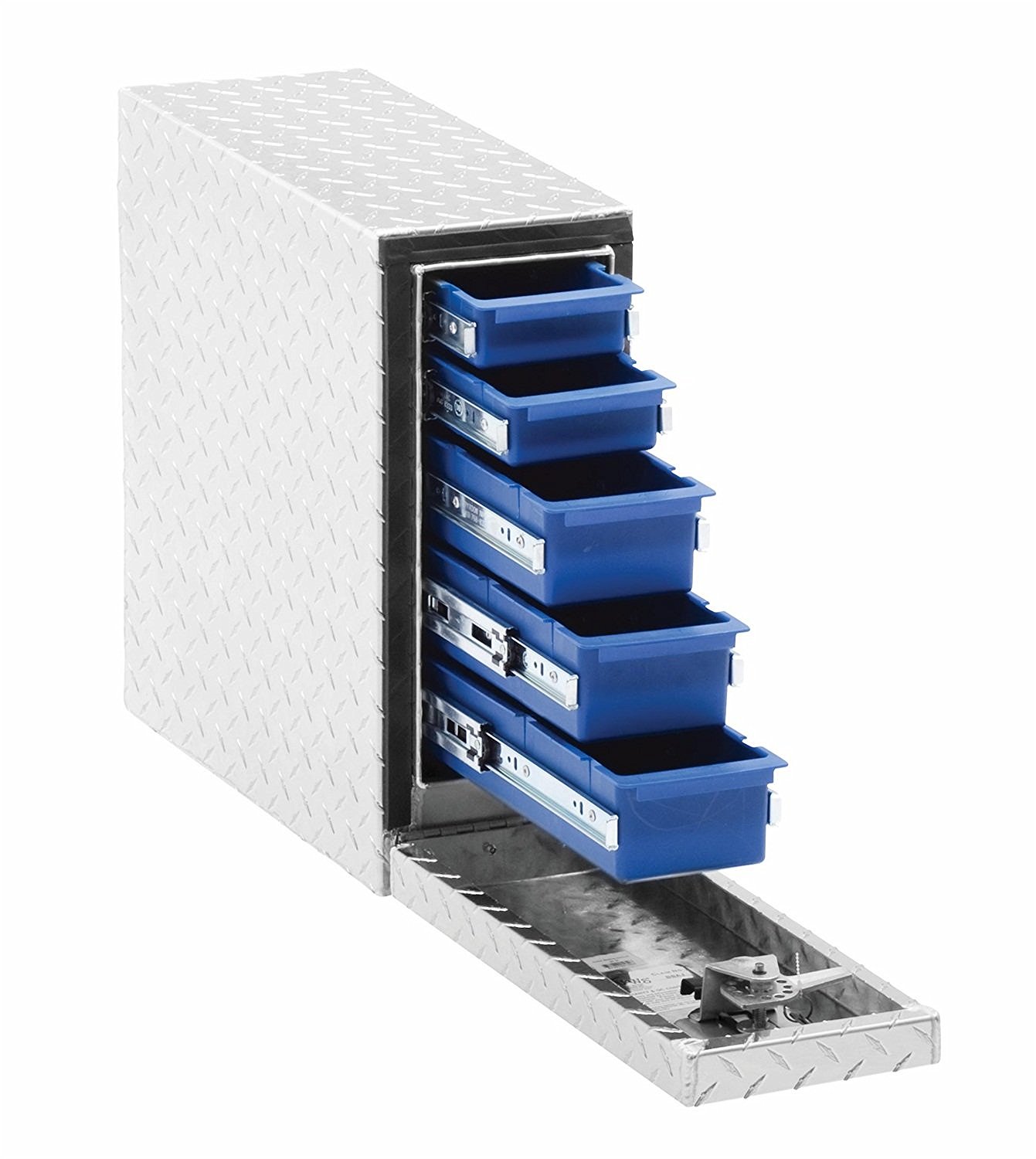 Quick Glance
– 18 3/4 inches high
– 5x 18 inch long Sliding drawers
– Microseal weatherproof strip
– Lockable, two keys included
– Quality aluminum box, stainless steel handle
–
Free shipping from Amazon
While the majority of pickup wheel well tool box models we see out there are the roughly L-shaped ones, designed to mount over the wheel well, the irregular shape doesn't allow for drawers. For some, the best use for a wheel well tool box is smaller gear or small hardware like fishing gear, or screws, nuts and other materials. The best wheel well tool box with drawers we have found is the UWS 18 inch wheel well tool box.


This aluminum wheel well tool box is a great addition to your truck bed. The box itself is 18 inches in depth, so it should fit between most trucks' wheel wells and the tailgate. It measures 18 ¾ inches high and so depending on the height of your truck bed, this box would also be great with a canopy or tonneau cover. And it only take s up 7 ¾ inches of space and so it won't eclipse the width of your wheel wells. The high-quality diamond tread plate aluminum looks great and won't rust.

There are five commercial-grade sliding drawers in a single one of these tool boxes. The bottom three drawers also feature small dividers, which help keep smaller items separate. The drawer sliders themselves are coated in zinc to help resist rust and also feature stainless steel ball bearings that open smoothly and won't rust either.

This wheel well tool box is lockable, and UWS provides two keys for you. The lid isn't on the top of the box, but will be the face of the box closest to the tailgate, swinging down to open. The piano hinge is integrated into the entire bottom of the lid and box for maximum strength and security. UWS has also included their MicroSeal weatherproof stripping along the circumference of the lid, sealing out water, dirt and other dust particulates. This should ensure your gear and hardware remain dry and rust-free.

To properly secure the box to your truck, it is suggested that you drill holes into the truck bed. This isn't technically necessary if you use a tonneau cover or canopy, since the locks on those covers should keep the box safe from theft, but you will still need to somehow fasten the boxes down so they don't slide around. Even though you're drilling holes in the bed, it's fairly non-invasive and only requires four holes for proper installation. Then, you can remove the drawers and fasten the box directly to the bed of your truck.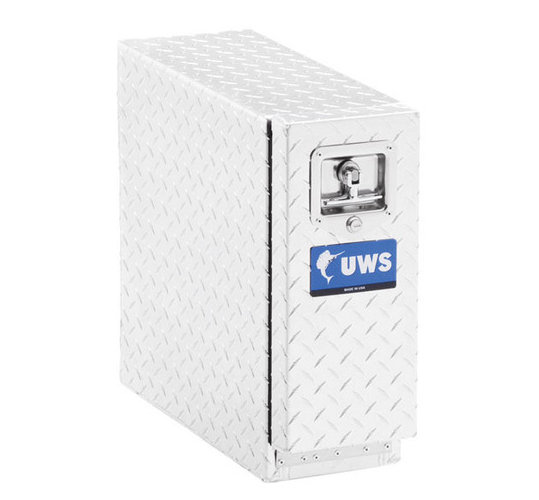 If you're looking for a wheel well tool box with drawers, this UWS 18-inch tool box is the best option out there. The quality aluminum construction and locking door keeps your tools safe from theft. The weatherproof lid keeps your stuff dry and rust-free, while the 5 sliding drawers keep everything neat and organized. To properly mount the box in your truck it will require drilling in the floor of your truck bed, but that's the price you pay for a secure storage space. UWS also includes a 1-year limited warranty for this wheel well tool box. If you're in the market for a wheel well tool box with drawers, this is the best one we have found.
Price: 
Did this article help you choose a wheel well tool box? Let us know your questions or comments below!