Quick Summary
Although Goodyear produces tires for a number of applications, they've also got several sub-brands they use to sell tires for specific applications. The Kelly Edge line is a set of one-size-fits-all tires designed to make the lives of dealers, and consumers, easier. They're marketed as having above average performance, at a below average price. If you find that you like the tires, their large range of sizes and shapes allow you to throw a set on all of your vehicles.
The Kelly Edge A/S tires are some of the cheapest you'll find, and fit virtually every vehicle. However, they are one of the few tires in this price category that we'd recommend. For casual drivers who don't need to take on challenging conditions, these could be a great buy. 
Unfortunately, not everyone is sold. What works well for a truck won't work well for a small car, and vice versa. But the tires have consistently scored well in other all season tire reviews, so we decided to test these tires out for ourselves to see how they perform.
Pros
✅ Very affordable
✅ Good in dry conditions
✅ Quiet ride
✅ Fit most vehicles
Cons
– Hard ride
– Poor wet traction
Rating:
7.3 


5

Check Current Selling Price On:
Compatibility
When they say these tires fit every vehicle, they weren't kidding. From 185/65R14 all the way up to 255/65R18, you can throw these vehicles on everything from a Fiat 500 to a Ford F350. Speed and weight ratings vary from size to size, but are generally appropriate for the size. Overall, these tires cover 85% of the entire market, with only a few oddly porportioned vehicles being left out. One example would be the iconic westfalia camper – a van that has a wheel size common to small cars, but needs a very high weight rating.
That aside, both common economy cars and sports sedans are covered, as well as most standard trucks. Even some exotic cars (that are excluded by the V speed rating) can technically use the tires, as long as you keep your foot out of it. After all, do you really plan to be travelling above 149 Mph anytime soon?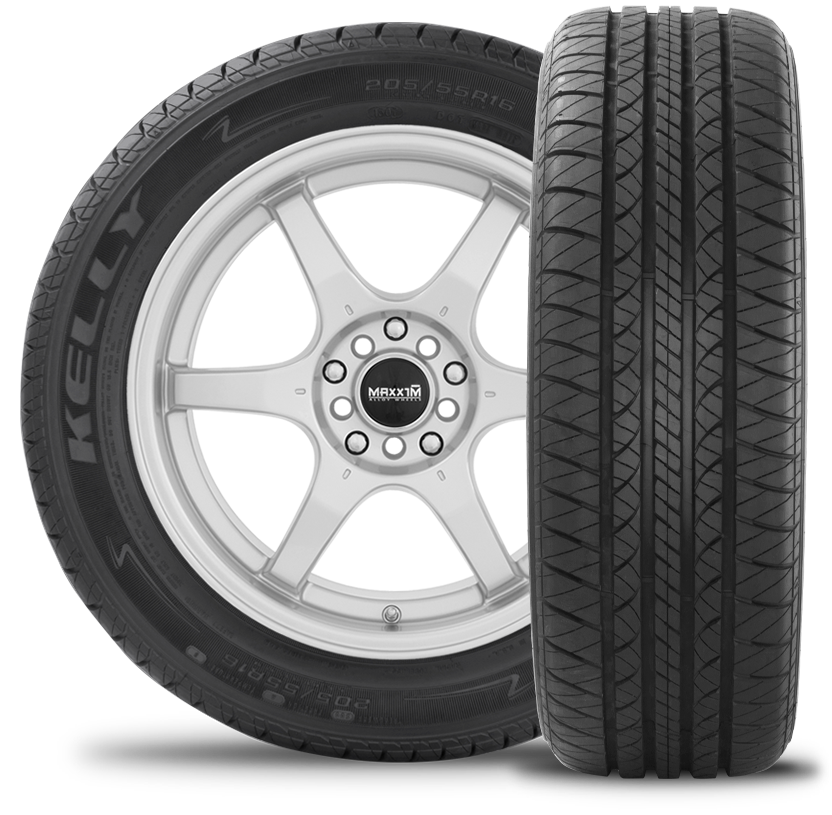 Value
The Kelly Edge tires are among the cheapest on the market. Of course, when you've got as many different models as this tire does you're going to see a bit of variation. But most common sizes are in the $80 to $100 range, with only a few high speed or load tires commanding a premium.
Dry Performance
As an all season tire, they offer above average performance in dry conditions. Our Kelly Edge a/s review found that the biting treadblock edges help to grip the road, keeping handling and traction exactly where we wanted them. Because the design is kept consistent from one size to another, your performance will depend a bit on your vehicle. Small, fuel effecient, lightweight vehicles will have excellent performance, as these are not very demanding platforms. Heavy, high performance cars will have average at best performance, as your vehicle demands a little more from the tire.
Wet Performance
These tires use the solid tread block design with directional grooves that we like to see in an all season tire. This allows them to maintain contact with the ground while going through puddles, removing water from the contact area as necessary. There is little risk in hydroplaning, and handling / traction remains consistent in these conditions.
Snow and Ice Performance
We're not very enthusiastic about the idea of using all season tires in the snow. With the exception of a few specially designed models, they usually offer underwhelming performance. These tires are not great in the cold, as the rubber hardens and becomes smooth. They're particularly bad in deep, heavy snow, so if you live in a snowy climate you'll want to get a dedicated winter. But a pleasant surprise for us was how well they performed when braking on ice. The outer tread blocks have an aggressive grooved pattern to them, so starting and stopping on ice was surprisingly responsive.
If you live in a coastal region, or any mild climate where snow is more of an occasion than a fact of life, you'll be fine to leave these tires on all year. But in colder climates, you'll want real winters on.
Ride Quality
These are a reasonably soft tire, which makes for a smooth, airy ride. You don't 'feel the road' like you do with many other budged branded tires, although this does increase the rolling resistance a little. There are a few first generation electric cars that require low rolling resistance tires to compensate for motor inefficiencies, so this might not be the best option. But for most users, our Kelly Edge A/S review found that they are a pretty smooth and enjoyable ride.
Durability
Since these tires are entry level priced, we didn't expect much in terms of a tread warranty. Impressively, Goodyear offers a 55,000 mile warranty on them. This is an average warranty for more expensive tires, but a great find in this situation. Generally, softer, smoother tires provide a better ride, but wear out quicker. But if yours get below average durability, you'll get them replaced.
How It Compares To Our Other All Season Tire Reviews
Overall, the Kelly Edge A/S is an incredibly cheap tire with surprisingly good performance. We'd usually recommend that anyone stay away from tires in this price range, but there are a few gems like the Kelly Edge in there. While they don't offer the same ride comfort as a $200 tire, they were more than adequate in almost every regard. Thanks to their large inventory, we're pretty confident that you'll be able to find a pair for your car.