You likely have at least one surge protector somewhere in your home – even if just in the form of a power strip – maybe protecting your modem, computer or TV. Surge protectors are great since they can take the hit of a power surge, saving your expensive electronics.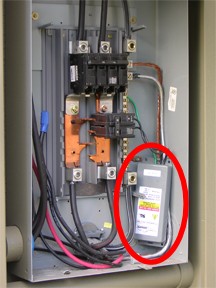 However, many power strips may not be able to handle a larger surge. And you've likely overlooked your most expensive electronic devices, leaving them unprotected. Larger (and much more expensive) electronics such as your stove, refrigerator washer/dryer or air conditioning unit are all equally susceptible to surges, yet most folks don't bother to protect them. It's estimated most households have around $10,000 of unprotected electronics on average.
With our growing reliance on electronics and our inevitable move towards smart homes, it's just not feasible to get a power strip for every single outlet in your home. But, you can protect every electronic device in your home with a <$200 investment, using a whole house surge protector installed into your breaker panel.
Common Causes of Power Surges
Most people think that a whole house surge protector is designed to protect them for surges caused by lightning strikes. But, around 80% of surges are smaller, and we actually cause them ourselves. While lightning strikes do certainly cause surges, there is really no protection from a direct strike. They're also quite rare, but if you are really worried about it, you may need to look into a lightning rod. A nearby strike can cause surges in your home that these units may protect from, however.
These 80% of smaller surges are produced from motors and generators in large appliances like air conditioners or clothes dryers, when starting up and stopping, diverting electricity from other devices. The surges then spread directly into the electrical lines of your home spreading to your other connected electronics. While most of these surges may not be large enough to cause a direct failure of an appliance, they can also add up over time, slowly degrading your electronics' performance and lifespan, until their eventual demise. That is of course, you let the surge protector take the hit.
How it Works
Most surge protectors (whole house and even those in power strips) employ a technology known as sacrificial shunt mode technology using MOVs or metal oxide varistors. A varistor is basically an electronic component that absorbs excess electrical current, taking the hit for your valuable appliances. These MOVs allow current to flow normally to your electronics under a normal voltage. If the voltage level rises to an unnaturally high level – like in a power surge – then the potentially damaging excess electrical current is then shunted away from your connected electronics and into the sacrificial MOVs. Most household power strips have MOVs that can only handle a certain size of surge, and will not be usable afterwards – hence the term sacrificial. But, whole house surge protectors have MOVs that are built to shunt multiple large surges and can last you several years. Here's a good video that you can watch if you want more detail.
It may help to think of it kind of like the overflow hole in your bathroom sink. You can fill your sink up with water for normal uses and the hole doesn't do anything at all. But, if you fill the sink up too high with water (power surge), instead of the water overflowing and leaking everywhere causing expensive damage to your floors, the overflow hole shunts the water safely down the secondary drain hole (MOV). To make it a more complete analogy, technically the secondary drain hole would empty into a bucket, which will eventually need to be replaced after too many overflows (surges). You get the idea.
Why You Need a Whole House Surge Protector
Not everyone has one of these units, but we think they're a great investment, or think of it like insurance. Some of your most valuable electronic devices like your TV or computer are likely protected by smaller power strips with surge protection. But, you may not have considered some other appliances that you can't or don't use a power strip for. For example, do you plug your phone into a surge protector every single time you charge it? What about your dishwasher, fridge, chest freezer air conditioner, washer/dryer, treadmills or that expensive espresso machine or blender you spent a few paycheques on? While most single surges in the home aren't large enough to cause failure of these appliances (although it could happen), over time they can wear down the circuitry causing failures.
Is it worth spending several thousand dollars to replace these appliances, or are you better of spending between $100-$200 to protect every electronic device in your home?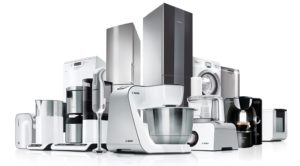 What to Look For
Surge protectors are often rated by the amount of current (measured in kiloamps, kA) that the unit can manage. Most homes will never see surges greater than 10kA. However, if you buy a unit that only has a 10kA rating and then experience a 10kA surge, the capacity of the MOV shunt will be all used up in one go. Most households can be properly protected using a 50-80kA rated unit. Of course, the higher rating you go the better, since it can handle a larger surge and will hopefully last longer, but often the price will increase as the rating does. You should also ensure that the unit is certified by an independent laboratory such as UL. The other small thing to consider is to get one with an LED indicator light that indicates whether or not the unit is properly functioning. No point of having it installed if you don't know whether or not it's working.
Products We Recommend
Easton CHSPT2ULTRA

Leviton 51120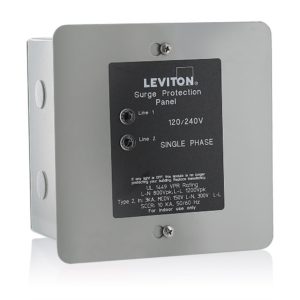 Leviton 51120
14.4″ x 8.4″ x 6.9″
120/240V
50kA rating
Standard J-Box metal enclosure
NEMA Type 1 rated enclosure (indoor use)
LED indicator Lights
$25,000 max equipment coverage
Limited lifetime warranty
Full warranty details
UL 1449 3rd Ed. Certified
$$
Read 73+ More Reviews
Schneider Electric HEPD80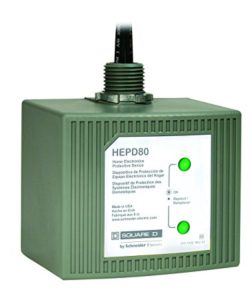 Schneider Electric HEPD80
2.7″ x 3.8″ x 3.6″
120/240V
80kA rating
Sturdy plastic square enclosure
NEMA Type 4 rated (indoor and outdoor use)
LED indicator Light – can be seen without opening panel
$50,000 max equipment coverage
5-year limited warranty
Full warranty details
UL 1449 3rd Ed. Certified
NEMA Type 4 rated enclosure (indoor and outdoor use)
$
Read 187+ More Reviews
Siemens FS140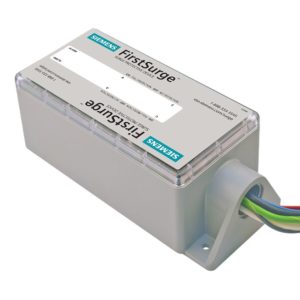 Siemens FS140
6″ x 10″ x 4″
120/240V
140kA rating
Sturdy plastic enclosure
NEMA Type 4 rated (indoor and outdoor use)
LED indicator Lights – protection status and service now
Audible alarm
$25,000 max equipment coverage
10-year limited warranty
Full warranty details
UL 1449 3rd Ed. Certified
$$$
Read 17+ More Reviews
Installation
Now that you've picked out the write protection unit, it's time to talk installation. We always recommend that you have a professional electrician install these units, despite the simplicity of it. Because of the high voltages involved with installing a unit like this into your breaker box, there can be severe consequences and damages to your home, or injuries and even death to yourself. If you're comfortable installing it on your own like many others, then great – but we don't advise it and aren't liable for any damages or injury if you decide to do so. It typically only costs around $100-150 for a professional to install it. Here's a video of someone installing their own Leviton unit, so that you can decide if you have the skills necessary to do so.
The Truth About Warranties
Many of the units you can buy offer limited warranties of varying lengths and amounts. The warranties offer tens of thousand dollars to cover any damages caused to connected electronics due to failure of the protection unit. However, it's often quite difficult to prove and verify that damages are due to your correct use of the device. If you do ever pursue warranty action within the specified timespan, keep in mind that it may not be successful if the manufacturer decides that you may have done something to void your claim.
For example, for a successful claim with Schneider Electric's unit, you need to follow these steps: 1) have your original receipt 2) have an independent repair company verify the cause of any damage 3) file a homeowners insurance claim within 30 days 4) before repairing any damaged devices, Schneider must be contacted 5) then you can send in the receipt, independent evaluation, proof of insurance claim and the damaged protection unit to Schneider for them to evaluate. Another customer from Leviton only received half of the total claim, due to the exclusion of outdoor equipment from their warranty.
The lesson here? Read the fine print; follow every single installation, maintenance and usage instructions to a tee.
Layering Your Protection
Lastly, we simply recommend that you layer the protection you use for your electronics. Installing a whole house unit is not perfect, and it doesn't mean you can just toss all of your smaller power strips and other surge protectors. The safest home and the safest thing for your electronics is to layer the protection by still using those smaller protection devices. The other thing to consider, especially with home theatres and large audio systems, is to pick up a power conditioner. Power conditioners ensure that your devices are getting the "better quality" electricity (proper amounts), filter out noise and also act to protect against steep voltage changes. They're not a necessity, but just an additional layer of protection and can increase the lifespan of your electronics.
Frequently Asked Questions:
Q: How long does one of these home protection units last?
A: Unfortunately there is no exact lifespan on these units, due to the varying severity of surges that you may encounter. A single lightning strike could fry the unit, or it could take 5-7 years of a few smaller but still significant surges. You could also have very few surges and get up to 15+ years out of one. It's hard to say and depends on a lot of factors. It's important to frequently check the indicator lights to ensure the unit is still functioning properly.
Q: If the surges com from appliances like AC units and larger appliances, what good is the protector doing at the breaker panel?
A: Any surge on a dedicated circuit like an air condition unit will transfer back to the breaker panel, where the protector can then shunt the surge, protecting everything else in your home, the actual internal wiring, and everything connected.
Q: Do these companies honour the warranties?
A: While we haven't heard any horror stories of warranties not being honoured, it is always possible that you overlook a small detail in the warranty info leading to an unsuccessful claim. As long as you follow installation, maintenance and use instructions included by the manufacturer's warranty info, and follow the steps for a warranty claim, you shouldn't have any issues.