Water is an essential part to daily life. Staying hydrated is crucial for good health for you and your family. But is your tap water safe to drink?
Even though many municipalities have water treatment processes, the water coming from your tap can contain harmful contaminants and pathogens. Chlorine, is often a
dded to city tap water in order to sterilize your home's water, however 1) not all bacteria can be killed and 2) the chlorine itself can be harmful to your body.
Drinking bottled water is potentially a safer and healthier option, but it can be very expensive and is a huge contributor environmental waste. The perfect alternative is to install a faucet water filter straight to your sink.

Faucet filters remove pathogens and harmful chemicals straight from the tap providing safe water for you to drink and cook with. The filters are composed mostly of "Activated Carbon" which is a porous substance that sucks out these harmful compounds from the liquid. Activated Carbon filters are extremely effective at removing chlorine from water, as well as toxic compounds such as mercury, bacteria or herbicides such as atrazine. If you are worried about your tap water, you should invest in a faucet filter. We've scoured the web to put together a list of the best faucet water filter models that you can buy to help you make an easier, informed decision.
Don't have time to read every last detail about each filter? Use this table we put together to make an easy and quick decision. Read on if you want to get into the nitty gritty like we did
| PUR | Culligan | Brita |
| --- | --- | --- |
| | | |
| Chrome Finish | Chrome Finish | Chrome Finish |
| 3 Stage Filtration | 3 Stage Filtration | 3 Stage Filtration |
| Best for removing asbestos, atrazine, bacteria | Best for removing chlorine smell/taste | Best for removing unwanted sediments and minerals |
| Not compatible with pull-style faucets | Water flow can be slow | Leaks when attached to some sinks |
| Has On/Off Tab | Has On/Off tab | Has On/Off tab |
| 100 gallons per filter | 200 gallons per filter | 100 gallons per filter |
| Filter Price: $ | Filter Price: $$ | Filter Price: $ |
| Change indicator light | No indicator light | Change filter soon, and change filter now indicator |
| Read Reviews | Read Reviews | Read Reviews |
1. PUR 3-Stage Horizontal Chrome Faucet Filter

PUR is a well-known brand of water filtration systems and has been for some time. They produce some of the best filters available, providing crisp, chlorine-free tasting water. It looks great, is a breeze to install and filters water very effectively giving you clean, healthy and great tasting water.
This advanced PUR faucet filter has 3 stages of filtration. The first stage, a sediment wrap, removes larger particles like dirt, rust or sand. The second stage involves the activated carbon filter that is extremely effective at removing chlorine, microbes and heavy metals. The third stage is a sort of mineral flush, that replaces some of the natural minerals to the water. These trace amounts of minerals such as sodium, potassium and magnesium give the water a great, refreshing taste. Plus, these trace amounts of minerals are crucial for good health.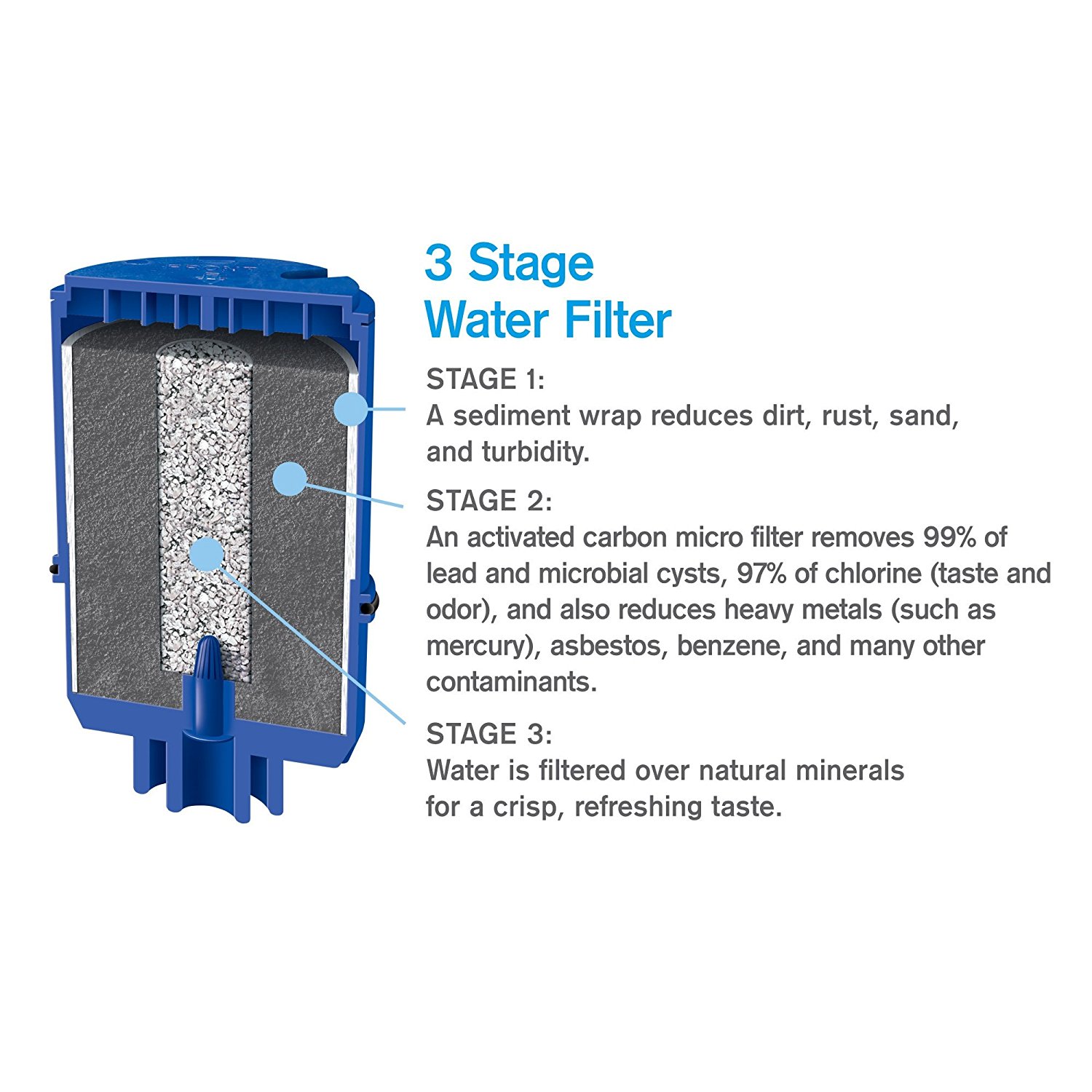 A single filter provides up to hundred gallons of filtration, typically around 100 gallons (2-3 months) worth of use in an area with hard water. The exact length a filter lasts will vary depending on the water quality of where you live. The small LED light will change from green to red when it's time for a
new filter which is super convenient. We find you can usually use these filters a little bit past that point before you order some more, but it's best to stay on top of changing it so you are drinking the best water you can.
The filtration system can be turned off, which we recommend doing when you don't need the fresh water like when washing dishes, watering plants, or boiling water, although some folks may prefer to just leave it on all the time. You just flip a switch to turn the system on or off.
Installing the PUR 3-Stage is extremely simple, It's also not compatible with a pull-out or hand-held style faucet. The system comes with four different connectors, so we're confident that it will fit your sink regardless of its size or shape. There are also more specialized metal adapters available directly from PUR. Overall, it's a great system with fairly affordable filters.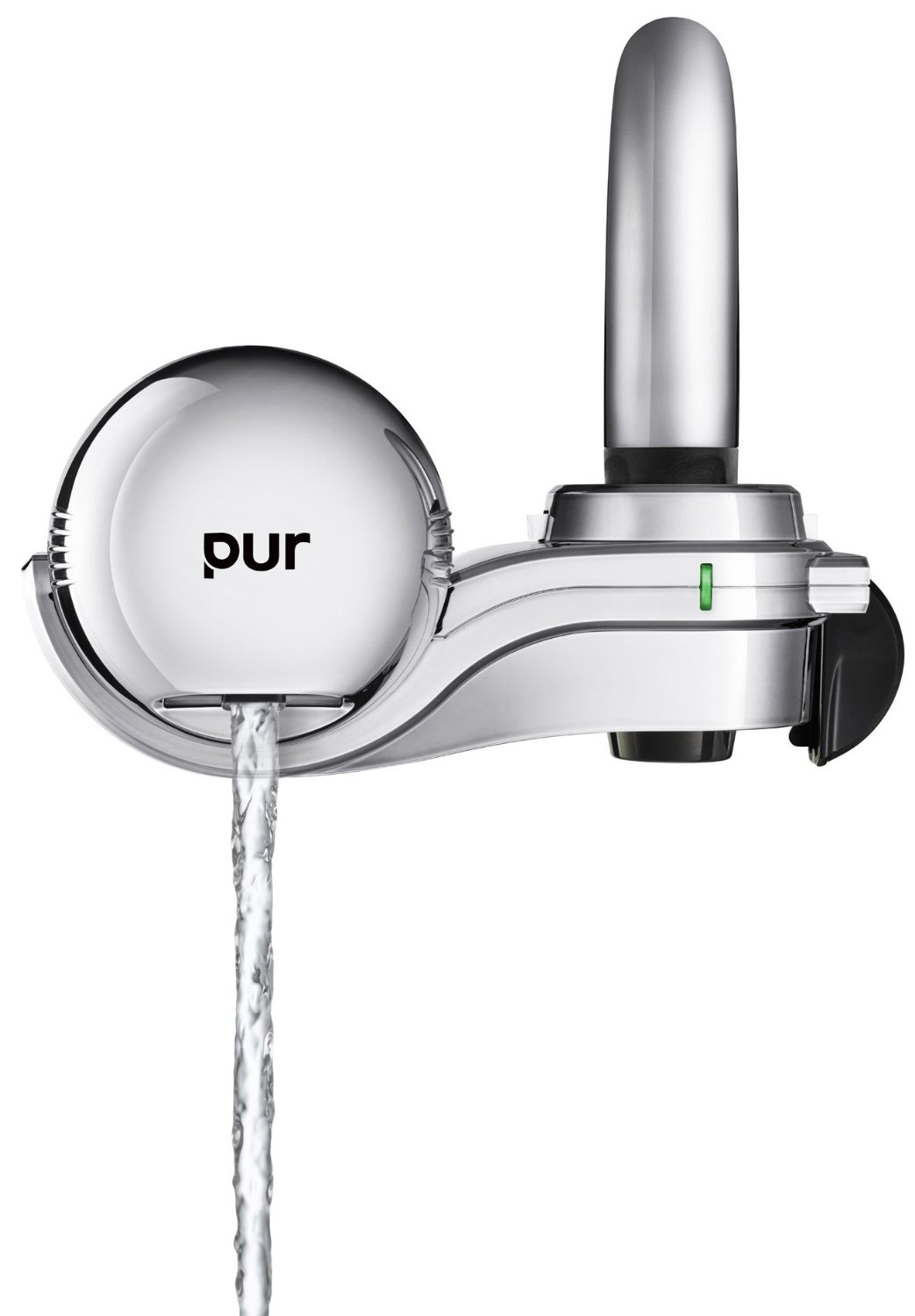 Not only does this PUR system work great, it looks amazing. It's also available in white, but the chrome will look flawless on most stainless steel faucets, so that it will blend right in with your existing appliances and won't stick out or be too noticeable. The filters are sometimes more expensive (around $2 more for a pack of 3) than Culligan or Brita, but if you buy in bulk you can really save. Overall, the PUR 3 Stage Water Filter is an awesome system for your home.
2. Culligan FM-25 Faucet Mount Filter

The Culligan FM-25 is next up on our list. Culligan is another industry leader in water filtration systems, and for good reason. Their filters are very effective at removing chlorine, and other water contaminants produce great tasting, safe to drink water. This is an extremely simple system to set up and to maintain, and is a very compact system that is barely noticeable in your kitchen.
The biggest draw to the Culligan FM-25 is undoubtedly its extremely simple and compact design. It's very small, and the chrome design will blend in with your stainless steel sink and appliances. No tools are needed for installing, as you just screw the filter onto your faucet using the provided threaded adapter attachment. This Culligan unit is very easy to use, and by sampling pulling the small tab on the side to activate, water will divert from the faucet through the filter.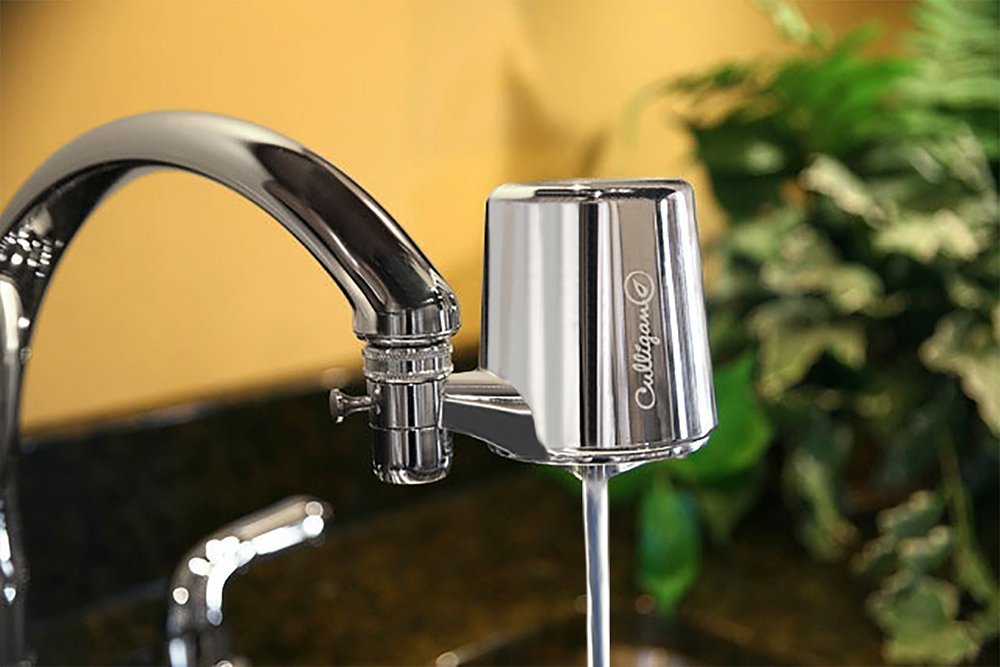 The water filtration of the Culligan is impressive, with level 3 advanced filtration greatly improving the taste and odor of your tap water. Their filters effectively remove larger particles like sediments, lead, and other toxic compounds like atrazine or lindane. They also effectively remove bacterial cysts from pathogens such as giardia or cryptosporidium. Each filter will provide about 200 gallons (3-4+ months) of use, almost twice that of the PUR filter. There's no indicator like the PUR system to notify you when it's time to change filters, but the water flow from the device will significantly slow down letting you know it's time for a replacement. You can find Culligan's filters just as affordable as the other two on our list.
The Culligan FM-25 is another very popular water filtration system for good reason and is one of the best faucet water filter systems you can get. The affordable filters provide excellent performance and taste. The system itself is compact and inconspicuous, and the chrome design looks great when installed.
3. Brita On Tap Best Faucet Water Filter System

For many years, the name Brita was synonymous with drinking water filtration systems. And for some folks, it still is. Although other brands like Culligan and PUR have now solidified themselves in the picture, Brita still produces some of the best filters in the game and deserves a spot on our list.
This is another chrome system (although it is available in white if you prefer) that really does look great on your sink. Some folks prefer to use a filtered pitcher, simply because these on tap systems can be bulky and ugly. But why take that extra step, and take up all the space in your fridge, when you can have a filter that not only works, but looks great too?

Brita filters have always been great and they've only improved over the years. Their advanced carbon systems significantly reduce chlorine levels and the accompanying taste and odor. They also are effective at removing lead, bacteria and even asbestos from your water. An extra layer of filtration removes larger sediments, and up to 99.99% of cryptosporidium and giardia cysts are removed from your water. The resulting H2O tastes great and is safe for you, your family and pets to drink or cook with.
Installing the Brita on tap system is quick and easy, using the provided adapters. It's equally simple to operate, by just flicking the small black tab to release filtered or un-filtered water. You'll want to use un-filtered water in situations like when you're washing dishes in order to conserve the life of the filter. The filters provide around 100 gallons of use (2-3 months) and a small indicator light lets you know when the filters are needing a replacement soon, and also right when it's time to swap out.
This Brita system is another affordable and compact on-tap filtration unit that provides crisp, great tasting water that filters out all the bad. The filters are affordable, and you can rest easy knowing the chlorine, sediment and pathogens are being effectively removed from your drinking water. You can't get much better than Brita.
Be sure to also check out this article where we review water pitchers with filters built right in!