Unless you've got a high-powered hydraulic splitter, a splitting maul is a much better tool for chopping wood than a regular old axe. We've compiled the best models for you to compare in our best splitting maul reviews. Use the quick comparison chart below, and check out the full reviews further down to help make an informed choice  and pick the right one for you!
Gransfors Bruks

Fiskars

Husqvarna

Wilton

Pros
Best Quality, Overstrike collar,
Most popular
Pros
Shock-absorbing handle,
Overstrike Collar
Pros
Leather sheath, Hand-crafted,
Pros
2-year 300% warranty,
"Unbreakable" Handle,
4.5lbs head
8lbs head
6lbs head
8lbs head
Cons
Price
Cons
No sheath included
Cons
No overstrike collar
Cons
Heavy
$$$
$
$$
$
Check Latest Price
Check Latest Price
Check Latest Price
Check Latest Price 

What is a Splitting Maul?
A splitting maul is a large, wedge-headed wood chopping axe designed to quickly and efficiently split wood. Most people think that the most-used tool of a wood splitter is an axe, however a maul is the preferred tool in most cases. Mauls differ from axes in two distinct features. Axes typically have a sharp fine edge on a thin, slender head. The best model will have a large, heavy wedge-shaped head, that may be sharp or blunt. The splitting axe uses its large weight and momentum to crush wood fibers and split logs along the grain. The timestamped clip below gives a good example of an axe vs maul, despite his bad English!
Choosing the Best Splitting Maul: What to Look For
When choosing a wood splitting axe, there are a few things to consider. Will you prefer a handle made of wood or synthetic and metal materials. Synthetic material such as a fiberglass/steel combo handles function to reduce shock and may be more resilient than wood handles. How heavy of a wedge head do you want? Synthetic/metal handles tend to be heavier than wood handles since they are reinforced with steel. A heavier wedge will provide greater force, but it will be more tiring to use. You should also ask yourself how much are you willing to spend. Some chopping axes can seem expensive; however cheaper models will also be manufactured from cheaper materials. You really do get what you pay for and if you plan on using your axe for a while, the investment will be worth it.
Gransfors Bruks Splitting Maul
The Gransfors Bruks Splitting Maul is undoubtedly one of the most capable axes on our list. This Swedish made axe is the clear favourite among most folks. It is well forged and has a beautifully shaped and sharpened head and blade. The blade comes The handle of the Gransfors Bruks is made of hickory, a good and sturdy reliable woo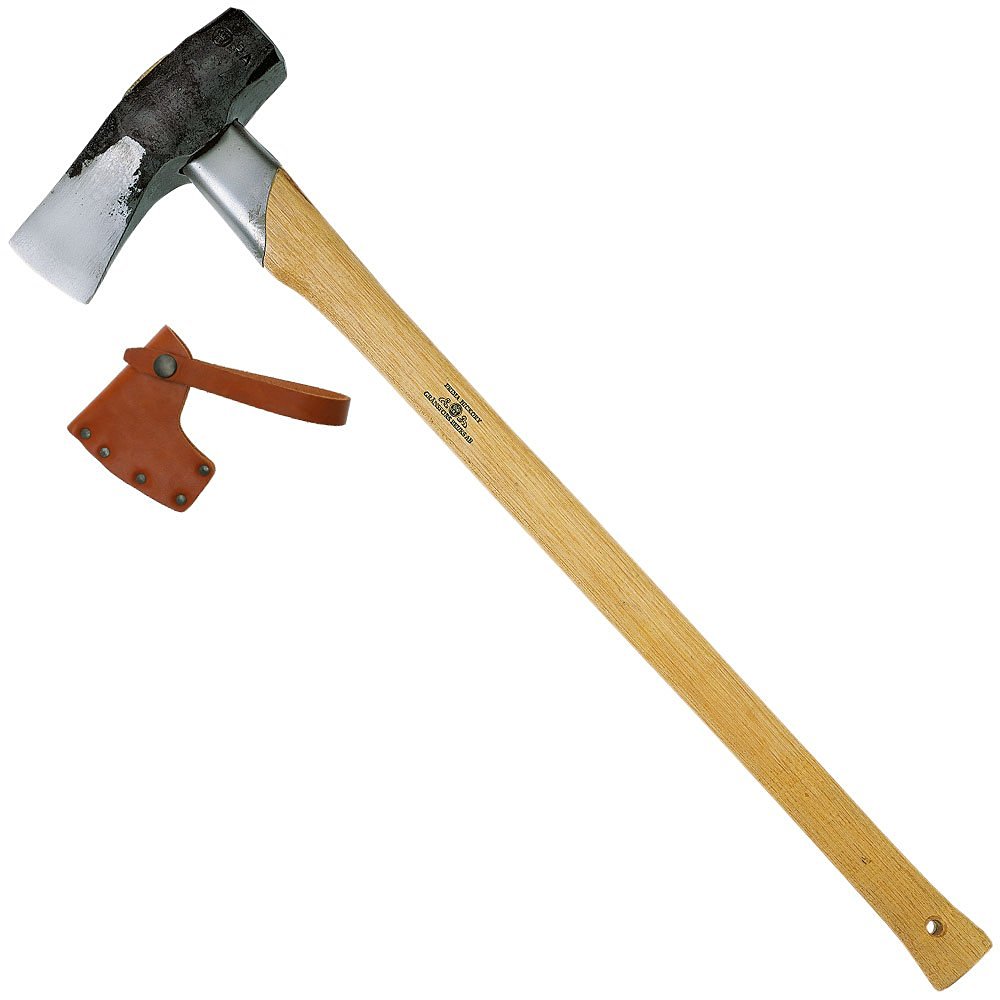 d. The 31 inch handle is a perfect length, ergonomic and well-shaped to fit perfectly in your hands. The head weighs 5.5 pounds, which is a little smaller than some of the other mauls on our list, but it is more than capable of chopping large logs with ease. The lighter head allows you to generate more speed during your swing, translating into a greater force on the log.
Another great feature of the Gransfors Bruks is the Overstrike Collar. The overstrike collar is the metal collar wrapped around the handle directly below the head. If you strike the log too close to the center, you may bash the handle directly on the log if your swing does not fully split the log. The overstrike collar protects the handle from this abuse, which helps reduce damage to the handle, providing you with a longer lasting product.
The axe also includes a leather sheath to protect the wedge while storing and prevent dulling or other such damage. Although the Gransfors Bruks can be on the expensive side, you are paying for quality. You can check out what the forum users have to say, and amazon reviews here. The Gransfors Bruks is the best overall you can buy.
The Fiskars Splitting Maul is the first non-wood handle model on our list of reviews. This axe features Fiskars' patented IsoCore Shock Control System in the handle. The handle is constructed of thick plastic, with a steel-reinforced fiberglass core for extra strength. The inside of the handle is also insulated to reduce shock and force to your hands while splitting. It's clear that Fiskars put a lot of thought into the design of this tool. The handle is contoured, fitting comfortably in your hands, and is also textured for a better grip – great for that extra grip when your work gloves or hands get a little wet or sweaty. Less slipping means less blisters. Fiskars also has include their version of an overstrike collar. The handle directly below the wedged head is a thicker, durable plastic which functions to protect the main handle from damage.
The Fiskar features an 8lbs head that is made of heat-treated forged steel and a rust-resistant coating. The head has more than enough weight to generate the force required to split most logs. It can be a bit heavy for some, which may cause some folks to tire out a bit quicker. The Fiskars is the most affordable of the axes on our list, so if you're looking for an effective, powerful wedge on a budget, this is a great choice.
Husqvarna is a brand that is essentially synonymous with wood work and related activities. They manufacture some of the best work tools and other forestry industry tools available, and the Husqvarna Splitting Maul is no exception. This Husqvarna axe has a 6lbs treated steel head that is hand crafted to Husqvarna's exact specifications. A leather sheath is provided to keep the head protected during storage.The 31 inch handle is wood, but left untreated, so you will want to finish this handle before using it with a some sort of varnish. We recommend linseed oil for outdoor tools, but most any wood finish would be fine.
One drawback to the Husqvarna is the lack of an overstrike collar. The handle can take a bit of a beating if you're not careful and striking your logs too close to the center. This could cause problems with cracking of your handle or other damage over time. Thankfully replacement handles are a dime a dozen and a breeze to replace. For a wooden handle and a hand-crafted steel head, the Husqvarna axe is a good option at the price point, but can leave some a little disappointed.
The Wilton Splitting Maul is another synthetic handled model that is really making a name for itself in the wood chopping community. Wilton has manufactured this axe with "unbreakable technology". They've actually reinforced the handle with steel rods to eliminate any risk of cracking or breaking like a wooden handle would, even when over striking. Wilton is actually so confident in their unbreakable handle, that they offer a 2-year, $1000 warranty should the handle break from regular use. That's right, if the handle breaks from regular wear and tear over 2 years, Wilton will give you $1000. They've tested the Wilton to 25,000 overstrikes, so you know that this tool can really take a beating. The handle is also covered in a non-slip vulcanized rubber grip, which eliminates any hand slip, which could lead to blisters or more dangerous injuries.
Similar to the Fiskars, this Wilton features an insulated shock-reducing handle that absorbs the vibrations that would normally make your hands and arms shake – especially from the steel rods being struck. The bright green recognizable hi-visibility wedged head is an 8lbs crusher that will easily handle any log you put it in its way. It's definitely on the heavier side, due to the 8lbs head and steel handle, but that only makes it easier to split the logs once you get it swinging. The Wilton is an excellent choice for most situations.
We hope this article helped you pick the best model for your needs! Comment below with questions, and let us know which one you order!