UWS is an American company that is actually a division of Thule (a company that makes quality roof racks and other automotive accessories). If you're looking to buy a UWS tool box, you likely won't be disappointed. UWS has been designing and manufacturing accessories for professional trades people and enthusiasts for years. They produce high quality, sturdy and reliable aluminum truck boxes for all truck types.  They also have a ton of different options available, so it can be difficult to narrow down the best one for your needs. We've done our research and compiled a list of the best UWS tool boxes, doing all that work for you. Check out our reviews of our Top 3 UWS models below.
69 inch Black Low Profile UWS Tool Box
Quick Glance
– Low profile, crossover style
– Sleek black finish
– Quality diamond plate aluminum
– Stainless steel handles and locks
– Fits full size trucks
– Made in USA
Style & Organization
The first UWS tool box on our list is a crossover style. The crossover style is undoubtedly the most common type you will see. It sits on the bed rails of your truck and spans the width of the truck bed.
Depending on the height of your bed rails, it will hang down without touching the floor, leaving room in your truck bed for hauling gear and longer materials like lumber. There are 2 built-in trays included with this UWS low profile, that make it great for storing smaller tools and hardware. There are also screwdriver holders included.
Materials & Finish
This UWS low profile is manufactured from industrial grade 0.063 inch diamond plate aluminum. It's not the thickest aluminum you can find in a truck tool box, but it is still strong and sturdy while keeping weight down. The UWS low profile comes in a sleek looking black powder coated finish. The black finish looks great with any truck. It's only for the looks, since aluminum is naturally corrosion resistant, but even if the finish develops some scratches, you won't have to worry about it rusting underneath. The lid of this UWS has a patented design. The lid is filled with a patented insulating foam that provides extra rigidity to the lid without adding a lot of weight. You could even stand on the lid.
Security & Weatherproofing
The handles of the UWS low profile are made of stainless steel. Having the handles made of stainless steel vs. aluminum allows for extra strength, avoiding any risk of bending or denting, and the stainless steel won't rust. Two self-closing struts will automatically close and latch the lid after just a slight pull downwards. This is a great feature for when your hands are full of tools. There is a lock on one of the paddle handles that will keep your tools locked up safe from theft. The lid has a rubber strip running along the inside of where it meets the tub, and seals out water and particulates of dirt and dust. Your tools should stay dry and clean safe in this UWS truck tool box.
Measurements & Installation
Due to its length, this low profile UWS is meant for full sized trucks (don't worry, we will cover a mid sized truck tool box further down our list). This model measures 69 inches long, so you will want to double check and make sure your truck bed is wide enough to accommodate this box. It then measures 21 x 20 inches, roughly square, which should fit most trucks, and hang down without touching the bed. There is also a much smaller "slim" option of this UWS low profile tool box
 available.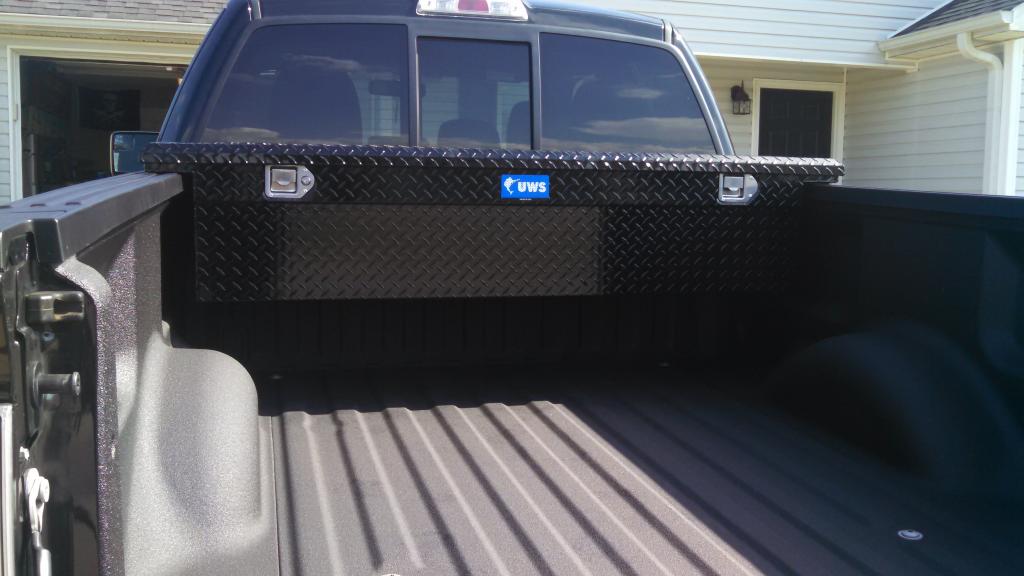 It still measures 69 inches across, but has just a 12 x 12 inch tub. It's much smaller and shallower but that may be a good option for some folks. Installation is like most crossover models. You simply lay it across the truck bed, and open the lid. Then, you can use two simple J-hooks to fasten it to your bed rails, no drilling required.
Recommendations
Overall, this UWS low profile tool box
is a great affordable option with made in USA quality. We love that UWS includes two small trays that help keep your smaller tools and hardware all together. It is water tight and locks, keeping your tools safe and sound. The sleek black finish looks great, and the aluminum, although slightly thin, is of high quality and won't rust. The foam insulated lid is strong and sturdy enough to even stand on top of. And if you only need a smaller amount of space, the smaller, shallow slim version is also a great option and won't take up as much space in your truck bed. And, you can order it from Amazon, straight to your door.

63 inch Black Low Profile UWS Tool Box
– Low profile, crossover style, wedge shape
– Fits mid sized trucks
– Diamond plate aluminum with black finish
– Stainless steel handles, insulated lid
– Made in USA
Style & Organization
Similar to the model we've reviewed above, this is a crossover style low profile option, but designed for mid-sized trucks. The low profile is great since the lid doesn't inhibit your view out the back window at all. Crossover boxes are definitely the most popular style you will see. This UWS low profile tool box is meant to fit mid sized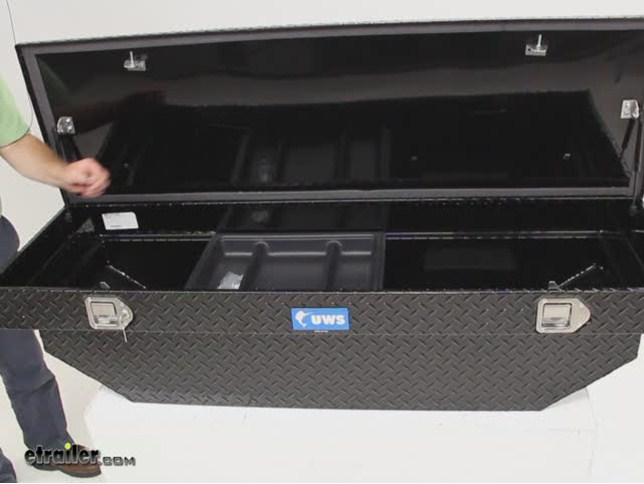 trucks however, so it is a little bit different. The ends of the tub are tapered inwards, which reduces some of the storage space, but make sit compatible with smaller trucks whose wheel wells would often inhibit how a classic rectangular model would fit. UWS also sends it out with two built-in trays which are great for organizing hardware and other small tools and gear as needed.
Materials & Finish
This UWS black tool box
has the same matte black powder coat finish as the full size box we reviewed earlier. The black finish looks super good and will fit in with any colour of truck. Remember that aluminum is corrosion resistant naturally, so this black finish is purely aesthetic. Should it develop any blemishes or scratches, you won't have to worry about it rusting underneath the finish. They've also included the same patented foam insulated lid. The insulated lid makes a for a strong and rigid lid, maintaining the light weight design. The 0.063 inch grade diamond plate aluminum isn't the thickest in the industry, but it definitely provides a good balance between ruggedness and light weight.
Security & Weatherproofing
Two weatherproofed stainless steel handles keep the lid shut tight, and won't bend easily or let water in. There are two auto-closin
g struts that engage from a gentle manual pull. When your hands are full, this is a great mechanism allowing you to just use your elbow to pull it closed. This UWS tool box has rubber weather stripping mounted in the inside of the lid, that will keep a clean, tight seal locking out moisture and dirt, keeping your tools clean and dry.
Measurements & Installation
Because this UWS is intended for use with mid sized trucks, it measures 63 inches in length. Definitely make sure you double check the measurements of your truck bed before ordering, or input your truck's make and model when ordering to make sure it fits. The wedge shape should ensure that even if your truck's wheel wells are close to your cab, they shouldn't hinder how the it sits. It measures is 13.5 inches deep and 16 inches wide, and because of the wedge design, there isn't quite as much space as there would be with a square-edged model. There's still enough space to store plenty of tools and gear. Installation is a breeze, using simple J-hooks to mount it on the bed rails and fasten the box tight without needing any drilling.
Recommendations
If you drive a mid sized truck, and are looking for a decently sized storage solution for your rig, this UWS low profile should be a perfect option for you. The black finish looks great with trucks of any colour, and the lightweight aluminum design won't add too much weight to your truck. The insulated lid is strong and won't dent easily, and the included trays helps you keep smaller tools and gear organized keeping the box neat and tidy. It's weatherproof and lockable, keeping your tools safe and dry in any weather. At 63 inches in length, it's a perfect affordable option for mid sized trucks, with made in the USA quality. You can check out the latest price on Amazon
and ship the box straight to your door.
36 inch Side Mount UWS Tool Box
Quick Glance
– Side mount style
– Fits most trucks
– Shiny, unfinished look
– Quality diamond plate aluminum
– Made in USA
Style & Organization
Next up is this UWS side mount tool box. Side mount models are great for folks who need quick and easy access to their tools throughout the day. Because they mount above the wheel wells of your truck rather than across the truck bed, it's much easier to access your tools. Crossover styles may require you to get into the truck to get at certain tools, while side mount tool boxes are easily accessed from beside the truck. And, because of their small size and mounting style, they're great to be used in combination with a crossover style box and even another side mount box for maximum storage. A side mounted UWS like this one is a great for tradespeople who have a ton of gear to haul around.
Materials & Finish
This side-mounted UWS is made from the same quality USA-manufactured aluminum as all UWS boxes. Unlike the other two boxes on our list, this UWS is unfinished. The unfinished look is actually quite nice, embracing the shiny metallic look of the aluminum. Aluminum has naturally rust-resistant properties so you don't need to be concerned that the lack of finish will mean a shorter life. The box won't rust, although it may dull a little bit. You can always buff it back to its proper shine. There are tow gas auto-lift struts make the box easy to open with even one hand.
Security & Weatherproofing

The side mount UWS has a single paddle handle with an included locking mechanism. Locking the box up will keep your tools safe from
anyone looking to make off with your tools. The handle and lock are stainless steel so they're tougher than aluminum, but still won't rust up on you. The perimeter of the lid is equipped with a rubber strip to weatherproof the tool box. Your tools will stay dry and clean as the rubber strip makes a tight seal locking out moisture and other airborne particles.
Measurements & Installation
One great thing about this side mount UWS tool box is that it will fit many different sizes of trucks, full size and mid size, although it may require a bit of tinkering. It measures 63 inches long, 12 inches high and 12 inches wide (minus the one corner that fits over the bed rail). Make sure that this is enough space for the tools or gear you're looking to store in it. Depending on the difference in height of your wheel well and bed rail, this side mount box should fit most trucks
. If there is a small difference, you can lay underneath a small piece of wood, metal, plastic or other type of shim to make a snug fit and keep the box level. There are two standing brackets included that sit in your truck bed and hold up the rear of the tool box (the side not resting on the bed rail). You will need to pick up your own hardware to mount the legs and box properly in your truck bed. Some folks on Amazon have claimed they required some drilling, while others have figured out a way to avoid any drilling in their truck bed. It all depends on your truck's dimensions and how you want to mount it.
Recommendations
This side mounted UWS is an awesome addition to your truck. Side mounted models are great for those who work in a trade and need quick and constant access to their tools all day long. You won't have to hop in the bed to get at your tools, you can get to them easily from beside your truck. Or, if you need the extra storage space, you can use it in tandem with a crossover style. The unfinished shiny aluminum look is really nice and will match most trucks, and won't rust. The stainless steel handle and lock are solid, and the lid seals tight and locks out moisture and dust. Installation may be a bit more complicated than a crossover tool box depending on your truck, but overall the USA-made quality of this aluminum tool chest is a great option for those looking for a side mounted version. Plus, you can order it straight  from Amazon
and have it sent right to your door.
Did this Top 3 Article help you choose a UWS tool box? Do you own one already? Let us and (other readers) know your questions and comments below!